Lake Stats
Acres: 7488
Max Depth: 22 feet
Average Depth: 7 feet
Drains to Lake Superior
Fish Species
Northern Pike
Walleye
Yellow Perch
White Sucker
Watch us fish Whitefish Lake, June 18-23rd
Landings
There are many resorts along this lake, which is where most people will launch their boat. I launched from the "Come by Chance resort." There is one public boat landing that I am aware of. It was about one mile east of the resort, so I checked it out.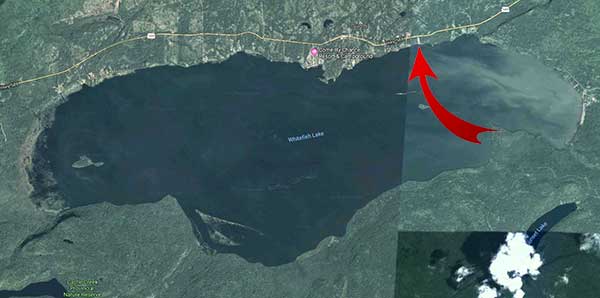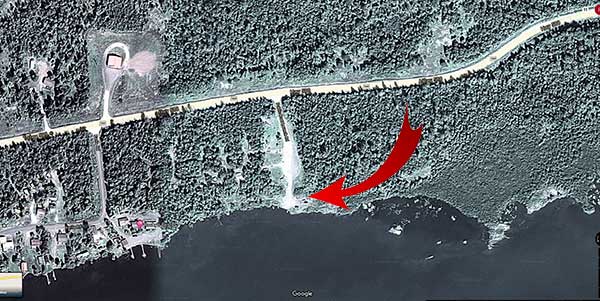 It's a gravel road off of hwy 588. There is a large open area with a couple of RV's parked off to the side. They didn't seem to be occupied for quite some time.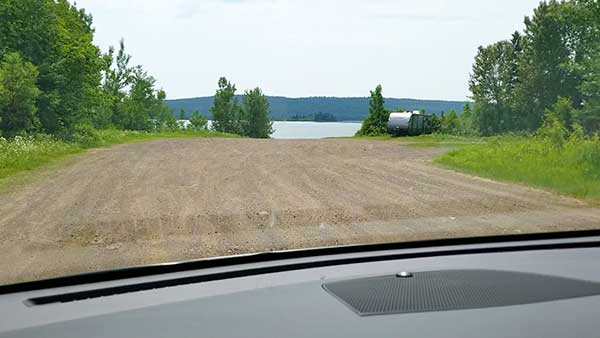 Then it goes down a small hill to the actual landing. It opens up again into a round circle and is easy to turn around. It also jets off to the side where a couple trucks can park.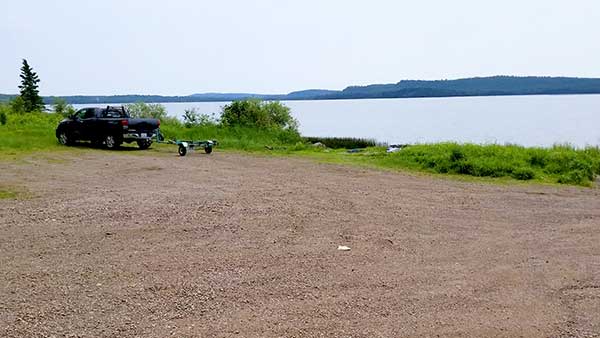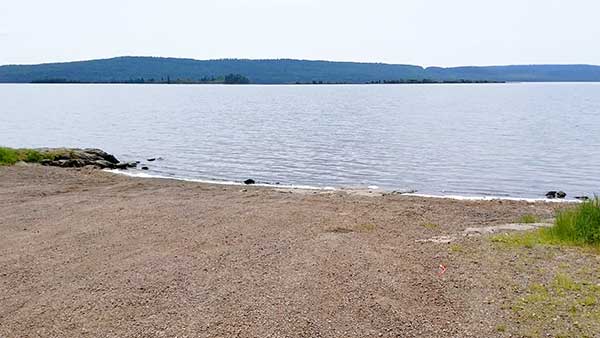 There is no dock and the water was very shallow at this landing. The bottom was gravel with very clear water, so you might enjoy wading in while launching your boat.
Commentary
If you like to get away from it all, this is the place for you. It seemed like we drove forever on a small winding road through dense forest before we popped out at the resort. We actually arrived at 1am, so we were the only ones on the road, well, except for the moose!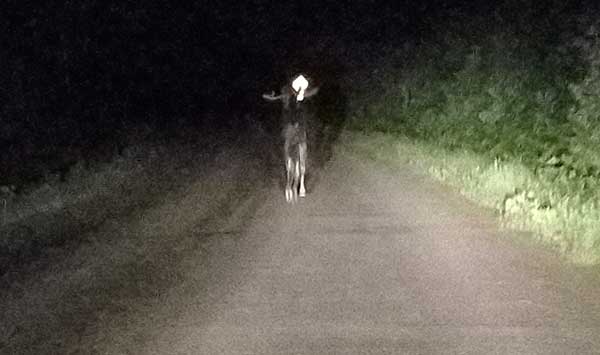 We had to follow him for 5 miles. We tried to pass several times but he kept blocking us. Finally the road made a sharp right turn and the moose continued straight onto a gravel road.
As far as the lake goes, it is a very easy lake to fish. It is only 7 feet deep across much of the lake. We fished along the western edge and in the bay the resort is on. The fish are abundant and the water is clear, so it was easy to spot them in the shallow water.
This lake is mainly known for its perch. I caught several fly fishing off the resort dock. We also caught several while fishing for walleye with leeches on a slip bobber. I enjoy throwing crankbaits and spinners, which got me quite a few northern pike. From what I was told by the locals, the northern pike have exploded in the last few years. I guess it was hard to catch one a while back, but now they seem to be everywhere.
The scenery is outstanding! Everywhere you look, it is beautiful. We stayed out late in search of the walleye bite, and saw some spectacular sunsets.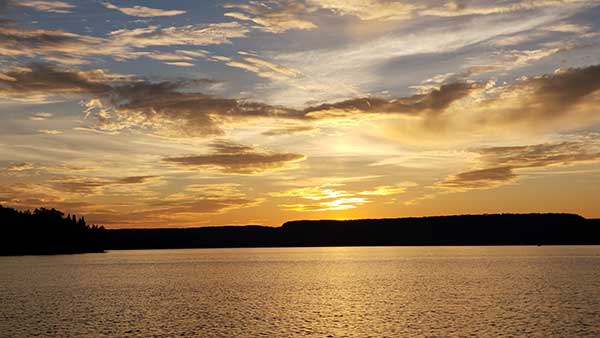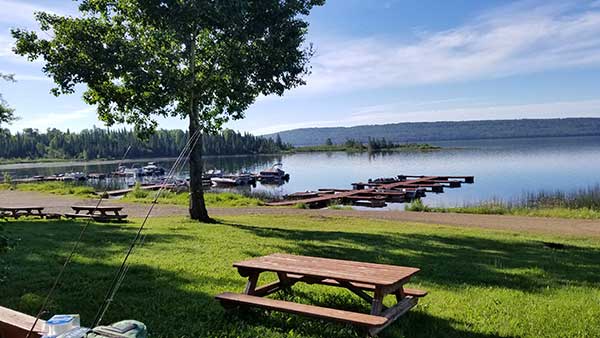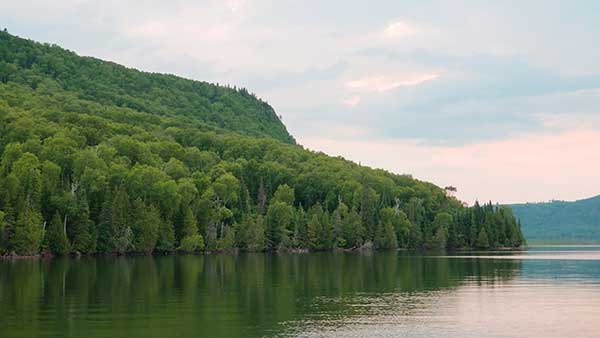 Walleye is the other fish people come here for. They do seem abundant, but we had a hard time catching some that were a decent size. We were lucky to get one over 12 inches. I did pull in one at almost 24 inches, so they do exist.
Even though we were in the middle of nowhere, its really not that far if you want to find civilization in Thunder Bay. We spent some time seeing the sights. If you've never been to Kakabeka Falls, this is a must see.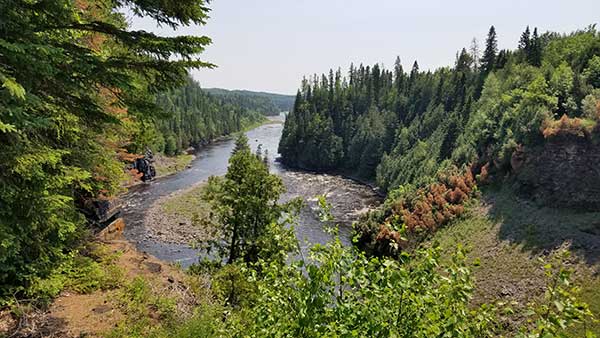 Fishing Experience
This was a six day get away to relax and do some fishing. We left on Monday June, 18th. After a six hour drive from Minnesota we arrived after midnight on Tues. We stayed at the Come by Chance Resort until Saturday morning. That gave us four days of fishing, mixed with some exploring of nearby areas.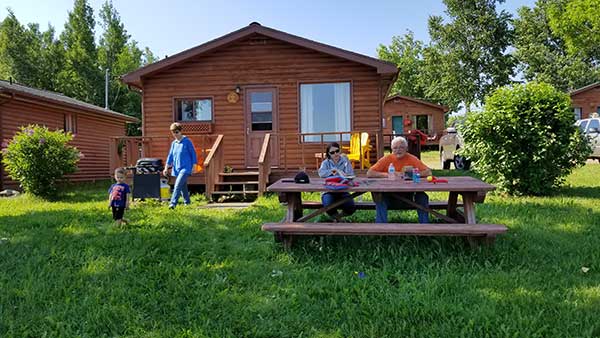 I found fishing off the resort docks to be some of the best fishing I experienced there. I pulled in several perch on the flyrod. I also spotted several large smallmouth bass, which I briefly had on my flyrod, but he got off and I couldn't get them to bite again. The northern pike were vicious and attacked my bait. I even managed to catch a lunker basking in the sun.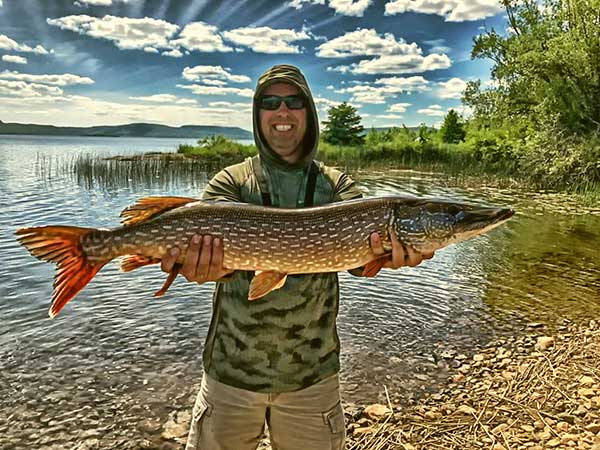 My other trophy I caught was a 23.5 inch Walleye on a slip bobber and leech on the west end of the lake. There is a large emerged weed patch that stretches halfway across the lake. We were fishing up against that weed edge when I caught this walleye.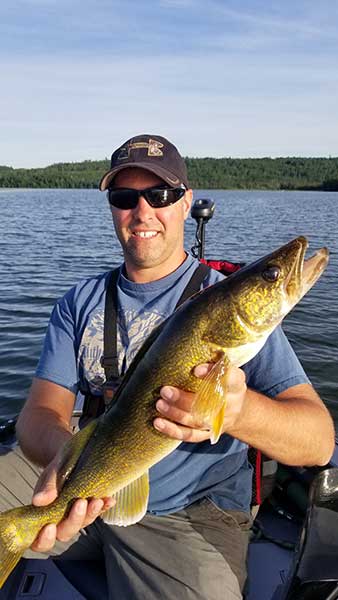 Here are the two main spots we fished. We never even made it to the eastern end of the lake.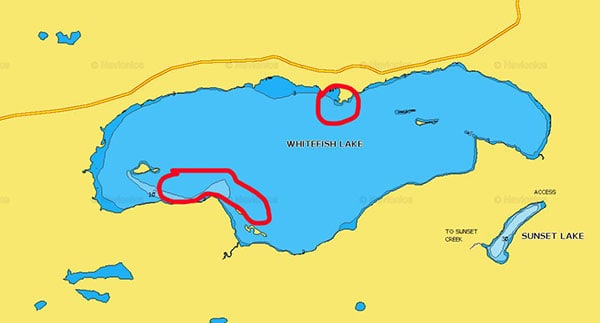 There were only a couple other boats on the lake. Most of them showed up at sunset to fish the jumbo perch in the weed beds on the western side. I saw them cleaning buckets full of nice perch in the fish cleaning house.
If you would like to get a better feel for this lake, check out the video below to see all it has to offer.
Just for the fun of it, you should check out the video I made of the moose in the road.
Thanks for visiting Go Midwest Fishing lake reviews. Don't forget to check out our other articles, like "How much does a boat motor weigh." You should also check out our YouTube channel.