Bald Eagle Lake Stats
Acres: 1049
Max Depth: 36 feet
Mean Depth: 13.3 feet
Shore Length: 9.23 miles
Fish Species In Bald Eagle Lake
Muskellunge: average abundance, average size
Northern Pike: average abundance, average size
Walleye: above average abundance, average size
Largemouth bass: average abundance, variety of sizes present
Crappie: average abundance, smaller than average 
Yellow Perch: low abundance, small average size
Bluegill: above average abundance, average size
Bullhead species: lower than average abundance, larger than average size
Watch us fish Bald Eagle Lake in January
Boat Landings At Bald Eagle Lake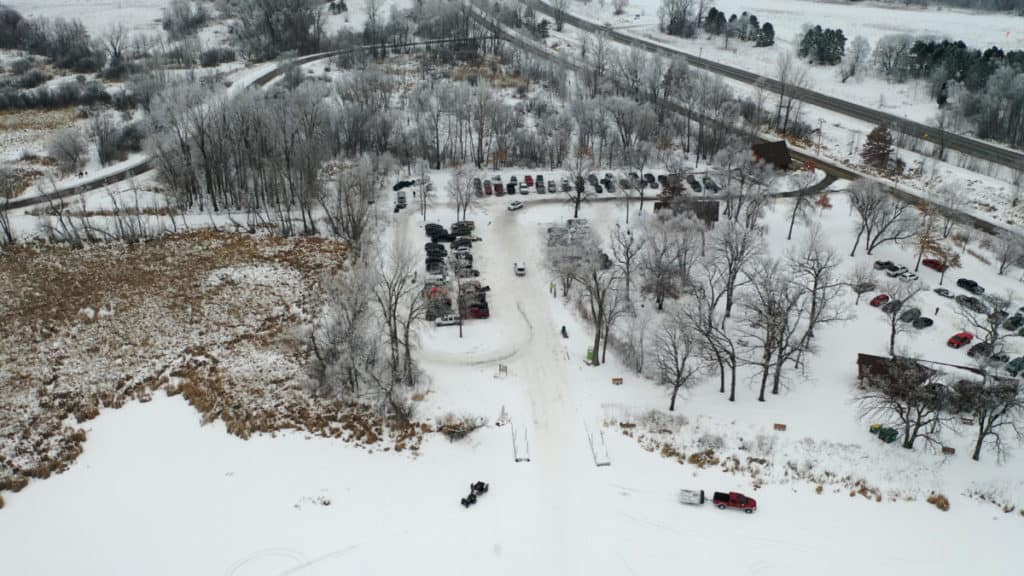 The public landing is located within the Bald Eagle /Otter Lake Regional Park. Even though there are many parking spots, this is a popular lake, and spots get taken quickly, especially on the weekends and on nice weather days.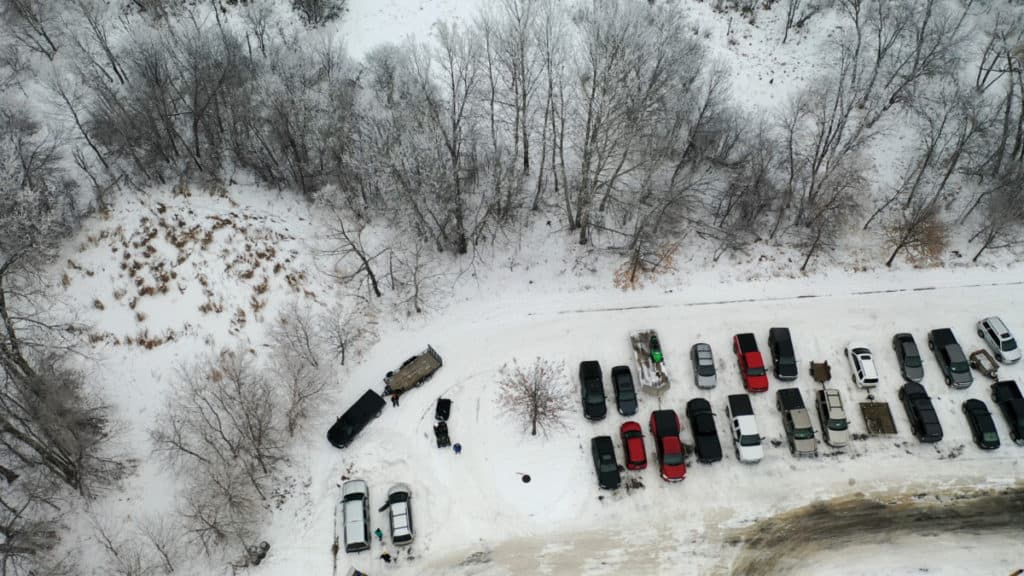 We had to drive around several times before making our own spot behind a snowbank. Normally you can just drive on the ice in the winter, but the ice has been a little thin this year, so everyone was walking or taking ATV's.
Commentary About Bald Eagle Lake
Bald Eagle Lake has it all. It's good fishing for many species, its close by, has a big parking lot, and is surrounded by a regional park. This is also the reason you may want to avoid this lake. If you don't want to share your favorite fishing hole with hundreds of others, then you might want to find a more secluded lake.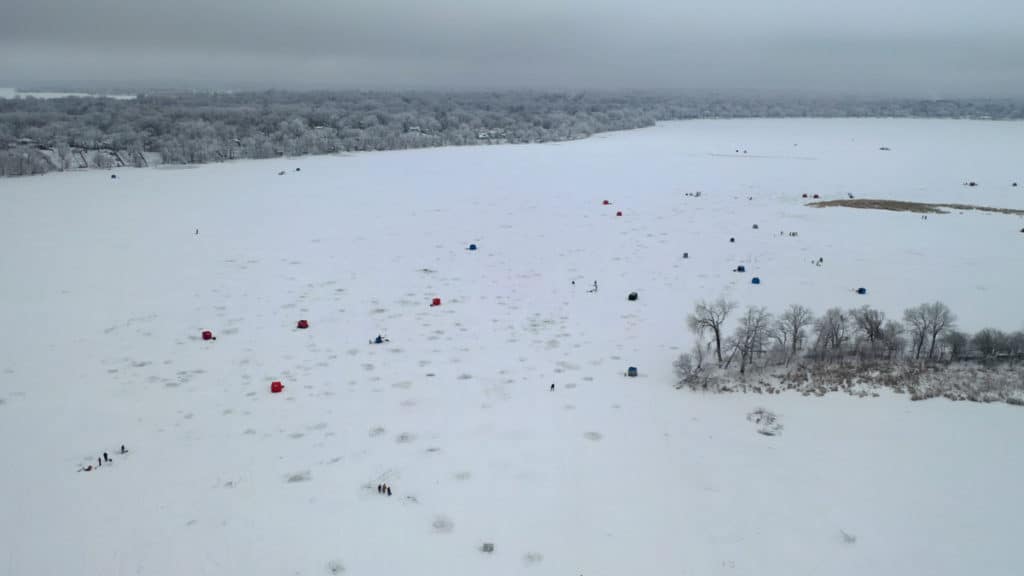 The photo above shows just how many people fish this lake. The ice is starting to look like swiss cheese! In this case, most people were set up close to the landing due to the fact they were not driving on the lake yet.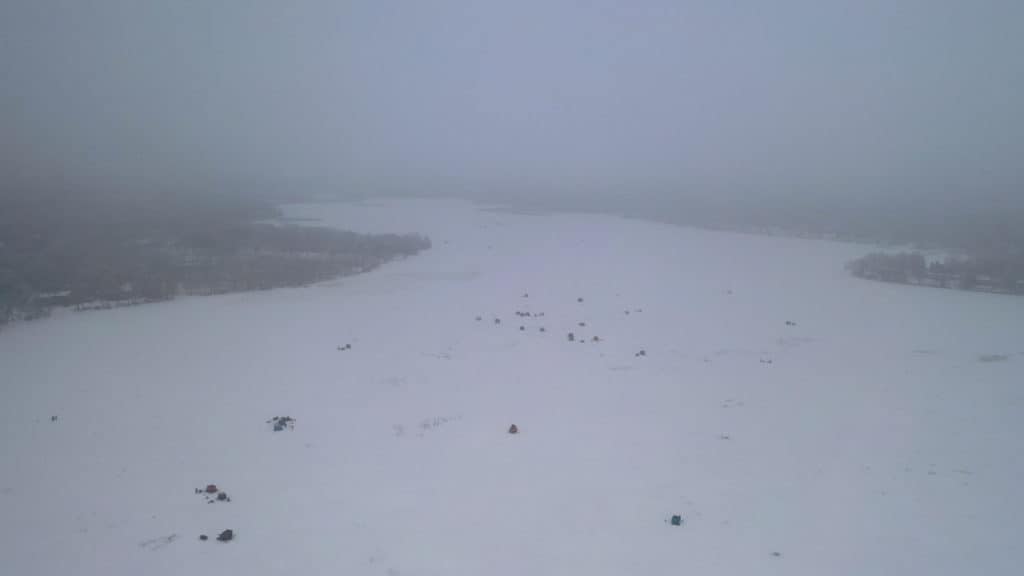 People with ATV's made their way up the lake further. Above is a shot of the north end of the lake. As you can see, it's still a busy area.
Not only is this lake popular for fishing, but it is also popular for recreation. I drive my son to preschool on a route that goes along the southwest side of the lake. In the winter, the lake is lined with homemade hockey rinks along the shoreline. It would seem that every house along that shore line has its own skating rink.
Most of Bald Eagle Lake lies in Ramsey county, but it is actually surrounded by three counties, Ramsey, Anoka, and Washington.
Around Christmas time you should take the family for a drive around the lake. Many of the homes decorate their houses with lots of Christmas lights, and its worth the drive. They even have a facebook page about it.
Fishing Experience On Bald Eagle Lake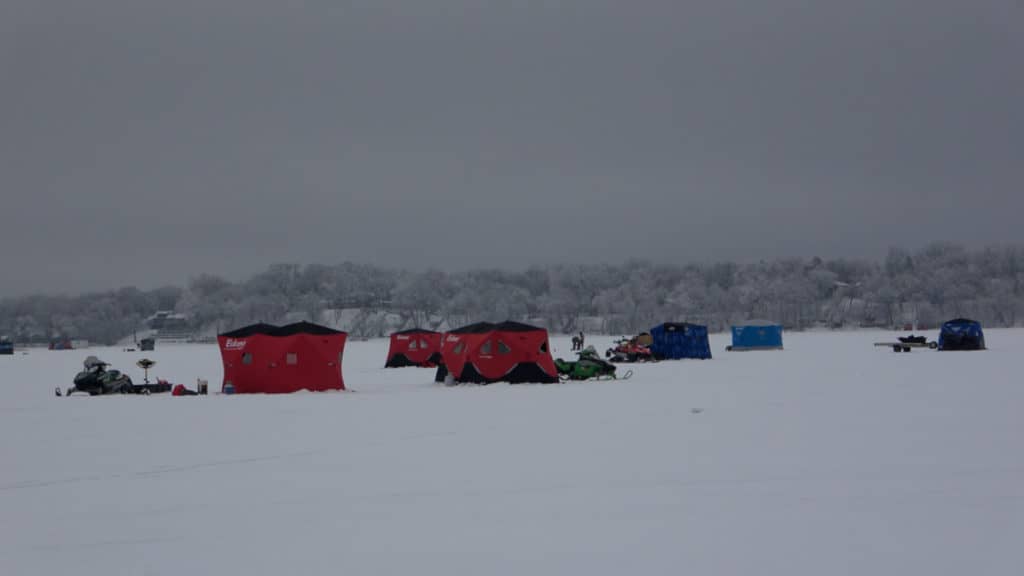 I've fished here twice. The first time it was -25 degrees below zero. I set up near the island in the middle of the lake. I stayed a couple of hours, but never caught one.
The second time, it was a beautiful Saturday in Early January. I drove around several times before just making my own parking spot behind a snowbank. The fishing spots near the landing were all taken, so we went out by the island in the middle of the lake. Again, most of the good spots were taken, so we tried a spot further to the north of the island.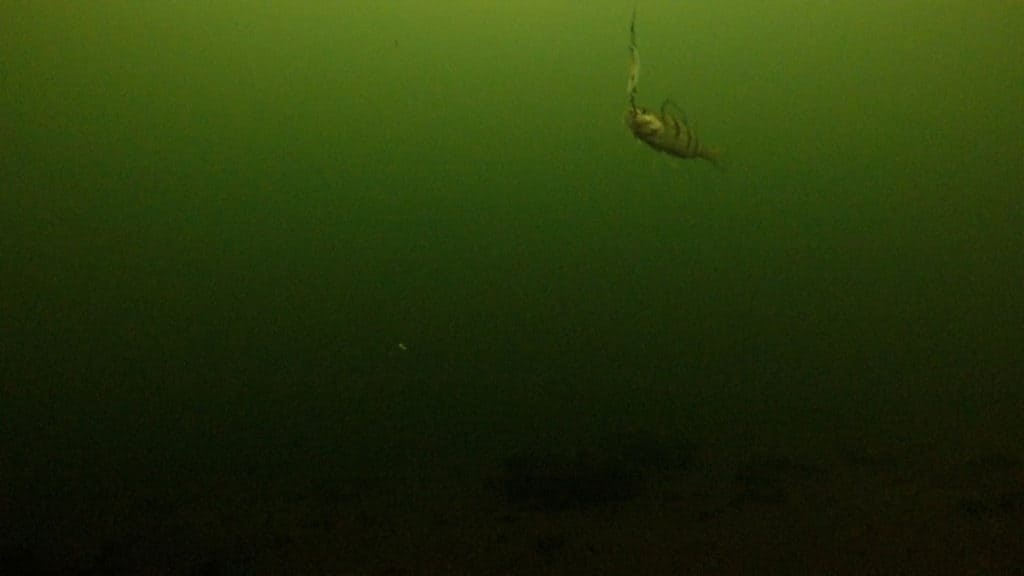 We set up in 15 feet of water on a steep slant. The bottom was bare, with just a few rocks and muck. We had a few perch come by, and one of them swallowed a minnow head almost as big as its mouth.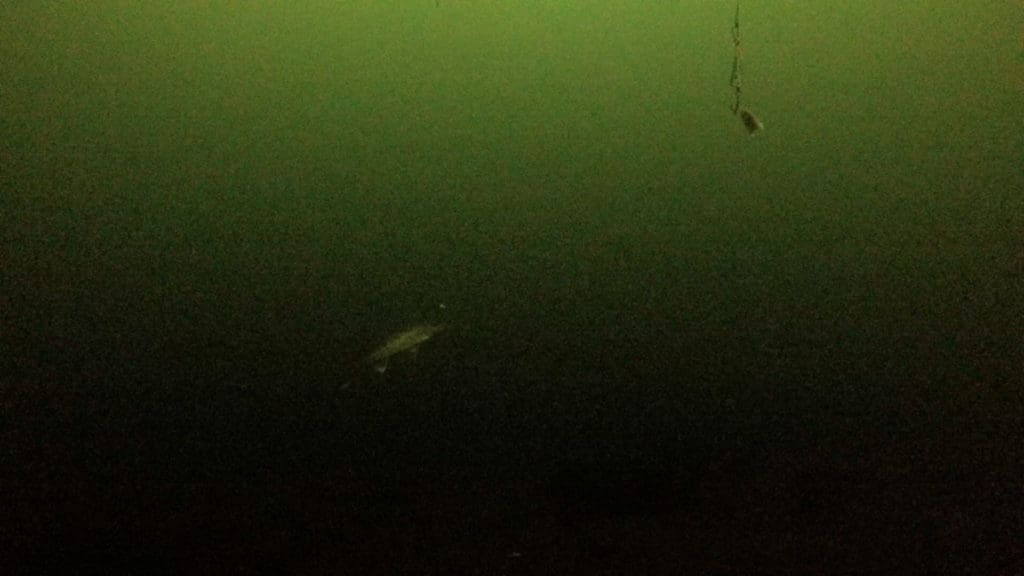 We even had a small walleye come by. He did bite, but we never got a hook into him. The water clarity was low, so I had a hard time seeing underwater, especially down 15 feet.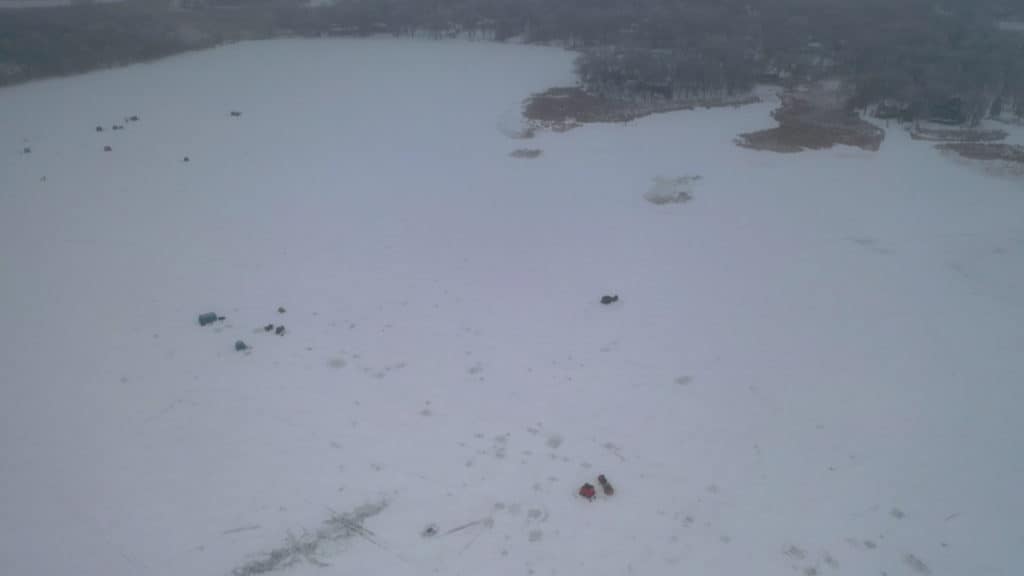 We moved further north to find the weed line. We found a thick weed bed in this location, and we immediately saw lots of bluegills hovering just above the weed tops.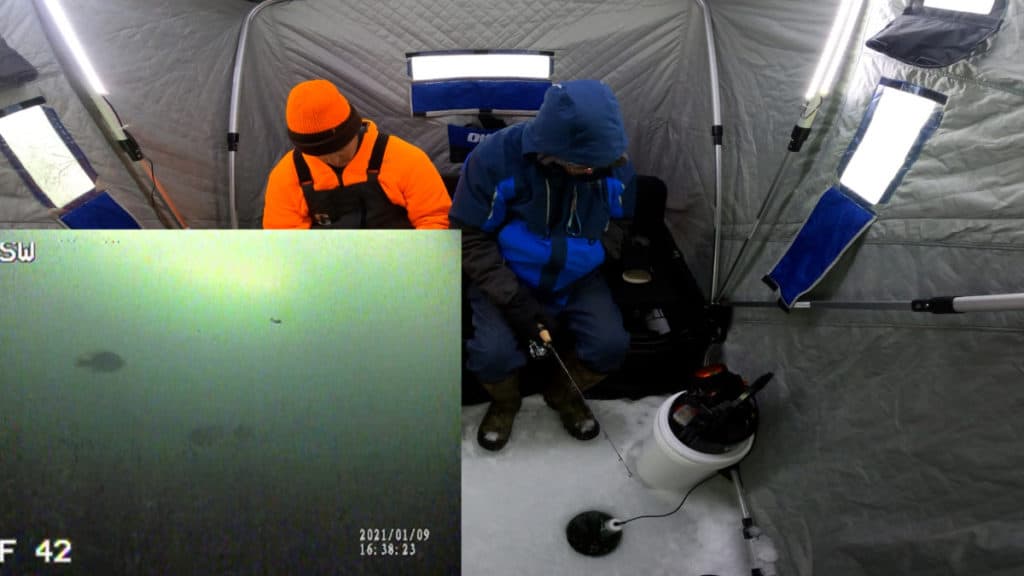 Even though we saw a lot of fish, they weren't in the mood to bite. We did catch one nice one, and had a few bites, but that was about it.
They do stock Bald Eagle with Muskie and Walleye. There are a variety of sizes of fish here, including some that would be classified as "lunkers." Bass and panfish are also a popular species. So far I haven't hook into anything significant here, but I' sure if I spent more time here on the less busy days, I would do pretty well.
Thanks for visiting Go Midwest Fishing Lake Reviews. While you are here, check out some other interesting article like, "Cargo Trailer to Ice Fishing House." Also, come hang out with us on my YouTube channel here.