Lake Stats
Acres: 1799
Max Depth: 60
Shoreline: 16.8 miles
Good Water Quality
Fish Species
Largemouth Bass: above average abundance, above average size
Northern Pike: above average abundance, small average size but occasional larger ones caught.
Walleye: average abundance, average size.
Bluegill: above average abundance, small average size.
Crappie: average abundance, average size with some larger ones present.
Bullhead species: average abundance, average size.
Yellow Perch: average abundance, small average size.
Watch my last outing on Big Marine, Jan 21st 2019
Landings
There are three public landings on Big Marine. One at the very north end of the lake, and two on the south end.
The landing on the north side (1) is popular among the ice fisherman. It's a short drive to their favorite fishing spots in this narrow end of the lake. This is the landing that I use while ice fishing. You get to this landing via Mayberry Tr N, which is a skinny, winding little road, that's often ice covered and slippery. It's a decent landing though, with plenty of parking.
Landing number 2 is on the south end at the Washington County Park. There is a fee to enter the park, but no charge to launch your boat. This is the nicest landing on the lake, if you are willing to pay the park fee.
Landing number 3 is a shallow, unimproved landing that may not be suitable for larger boats. The first time I fished Big Marine, I used this landing. It was a hot July day, and the landing was being used as a beach. There were so many people there, who didn't want to move out of the way, I had a hard time launching my boat. The road to the landing goes down a steep hill to a small turn around. If there is more than one vehicle there at one time, it can get jammed up. Unfortunately, all the beach goers like to park down there as well. I had to unhitch the boat trailer just to get my truck turned around. Some people had a volleyball game going on right where I was trying to launch my boat. I had to ask everyone to move because apparently they didn't notice me backing into the water.
I'd recommend not using this landing if you don't have to. I'm sure its fine in the winter months, but it's difficult to use in the summer. There isn't much for parking spaces either. Most trucks park alongside the road at the top of the hill.
Commentary
I've ice fished this lake several times, but only been on it twice in the summer months. It's a beautiful lake, with lots of shallow bays, and open water with deep holes. It is a great lake if you are into bass fishing. It has nice clear water with enough weeds to hold plenty of fish.
The northern pike are abundant here too, but on the small side, so not really worth fishing for. Walleye are present, but hard to catch. Bluegills are small to average sized and worth fishing for if you like panfishing.
I never got to spend a good amount of time here in the summer to give a good review on this lake. I plan on going back out there when summer rolls around so I can give you a more thorough review. The few times I've been ice fishing here have been hit or miss. I either do well, or I don't catch a thing. From talking with the locals out on the lake, it seems you have to be out there early in the morning, or in the evening when it starts getting dark if you want any action. I've mostly fished it during midday, so no wonder I didn't catch much.
Fishing Experience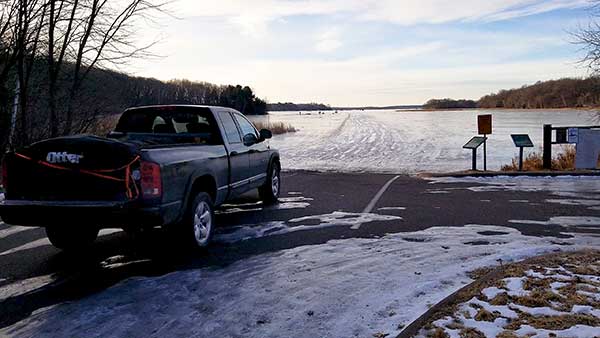 The last time I was on this lake was Jan 2019. We haven't had much snow this year, so the lake was a giant sheet of slick ice. I enter the lake from the north landing. This seems to be where most ice fisherman go.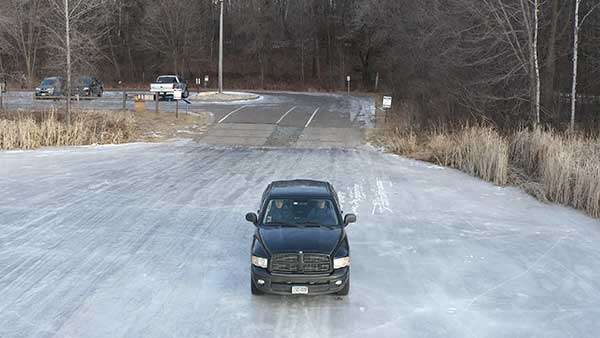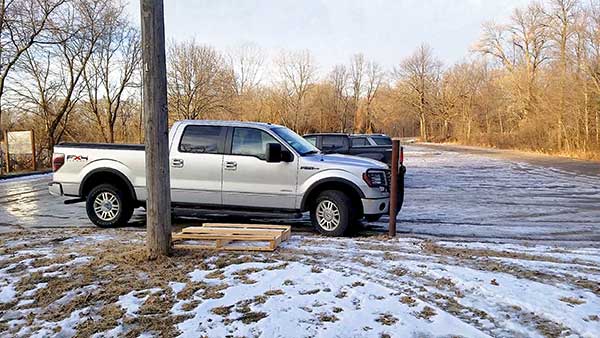 The first small round opening right off the landing is where to fish if you are looking for Northern Pike. You will usually see a group of shacks parked here.
I usually fish further down this narrow channel to the spot right before it opens up into the big part of the lake.
I've found fish anywhere from the deep hole in the middle to the ridge-line that separates the north end from the open lake. The ridge-line gets fairly shallow with lots of weeds, so you will want to find the edge of those weeds, otherwise you will get lots of snags.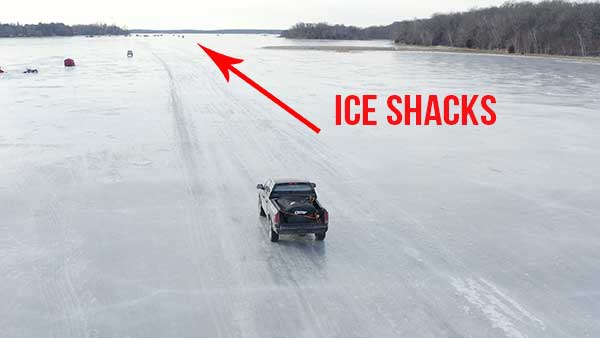 Most ice shacks are along the eastern edge, right along that steep drop off. I believe most of these guys are after crappies. I've watched them all show up just before dark.
" That lake back in the day had a huge pike population and a cazillion panfish. I wonder what happened, I was out there 3 weeks ago and did a nadda day too. We were having better days just a little north of there in Lindstrom, bass and pike on the tip ups."
Thanks for visiting Go Midwest Fishing Lake Reviews. Check out other interesting articles like, "Is It Legal To Fish With An RC Boat?" Come hang out with us on my YouTube Channel.