Forest Lake Stats
Acres: 2,270
Max Depth: 37 feet
Mean Depth: 11 feet
Shore Length: 6.6 miles
Water Clarity: 5.3 feet
Water Color: green
Forest Lake Fish Species
Muskellunge: average abundance, average size with some larger fish present
Northern Pike: average abundance, average size
Walleye: average abundance, average size
Largemouth Bass: average abundance, average size
Yellow Perch: average abundance, small average size
Crappie: average abundance, smaller than average size
Bluegill: above average abundance, small average size
Rock Bass: average abundance, average size
Bullhead Species: low abundance, average size
Watch us fish Forest Lake in early January
Watch us fish Forest Lake in Late September
Forest Lake Boat Landings
Forest lake is made up of three basins called, 1, 2, and 3. Each basin has its own public landing, along with a couple private ones that you might be able to use with a fee.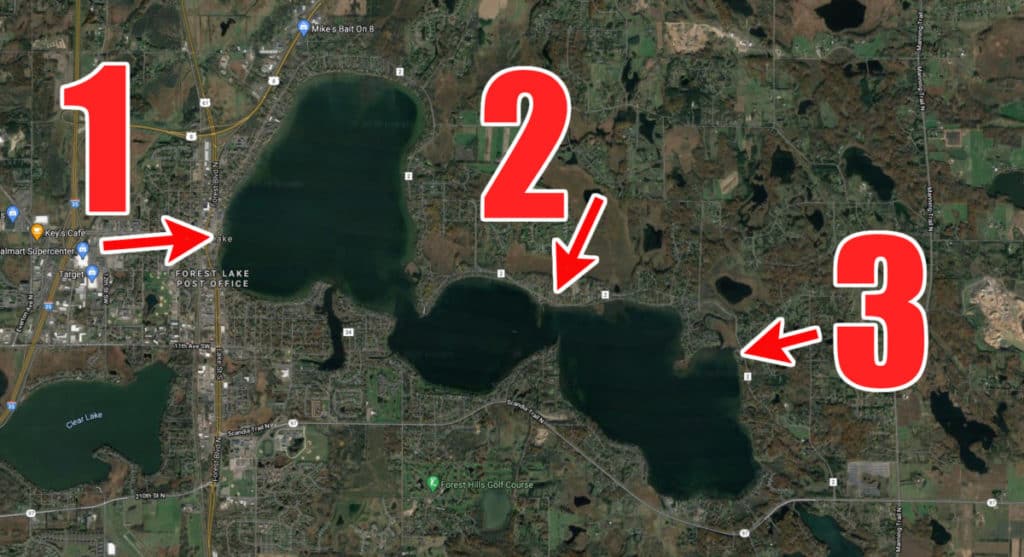 Landing number 1, is right off Hwy 61 in a busy part of town next to Lakeside Memorial Park. This is the landing that I used in the winter. It has twenty trailer spaces, and despite being in a crowded area, it isn't too bad to navigate.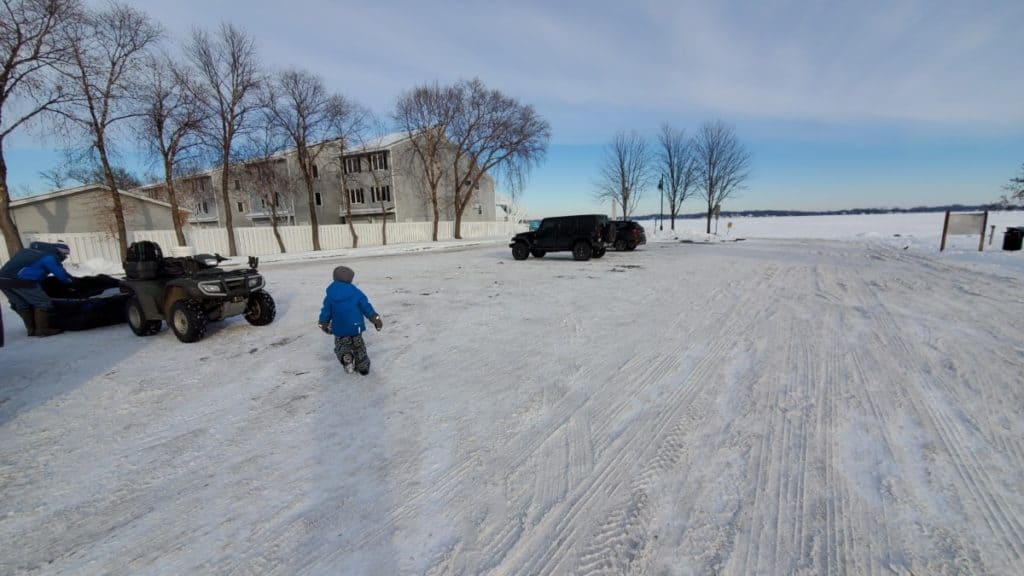 When I was here in the winter. Some people drove on the ice, while most either walked or used ATV's. It wasn't too crowded despite the number of people on the lake.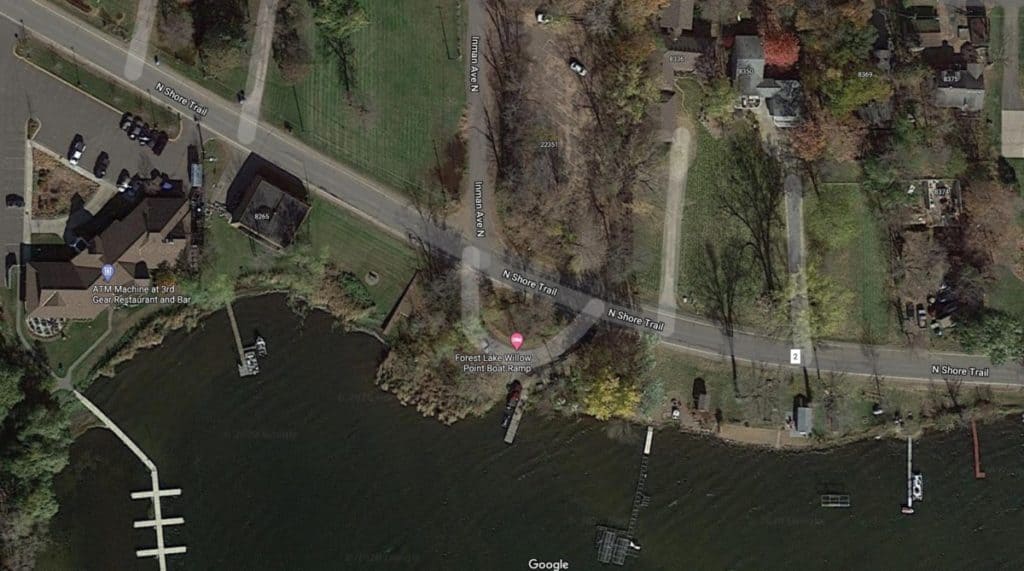 Boat landing on lake 2 has eleven parking spaces. I haven't been to this landing yet, but it appears the boat launch and the parking lot are on opposite sides of N Shore Trail.
Boat landing on lake 3 is a little larger at fifteen parking spaces. I used this one during the summer. Its a nice landing and what you would expect at a larger lake.
The boat launch is tucked back into the reeds, and can be fairly weedy at the landing. On the plus side, it is protected from the wind which makes it easy to load your boat.
Commentary About Forest Lake
Forest Lake is a busy lake year round, and for good reason. It has just about anything you are looking for. The fishing is good, it has a good assortment of fish species, and it is easily accessible.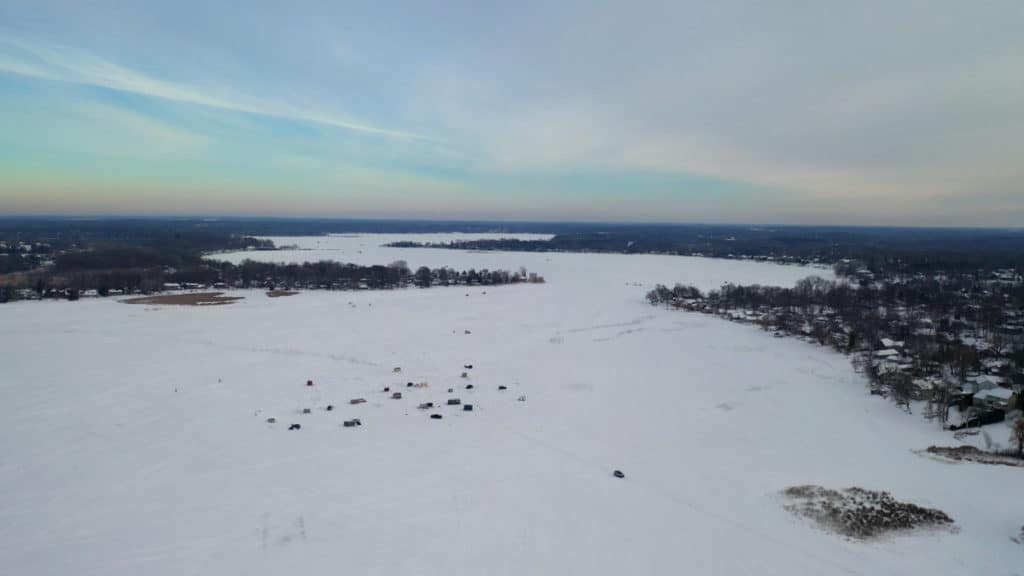 Forest lake is primarily manages for musky and walleye. Both species are stocked regularly. According to the Minnesota DNR website, they are stocking 1,531 pounds of Walleye fingerlings annually, and 766 muskie fingerlings.
Walleye fishing is popular in the early ice fishing season. Willow point on lake 2 is a good spot to fish for them.
Summer angling can limited by abundant vegetation growth and competition with recreational boaters. In the summer, look for northern pike along the weed edges and points. The average pike measures 23 inches, and 17% the northerns netted were 26 inches or bigger.
This is also a productive largemouth bass lake. Try the rocks towards the southeast end of lake 1.
It has the usual assortment of panfish, including, black crappie, bluegill, pumpkinseed, and yellow perch.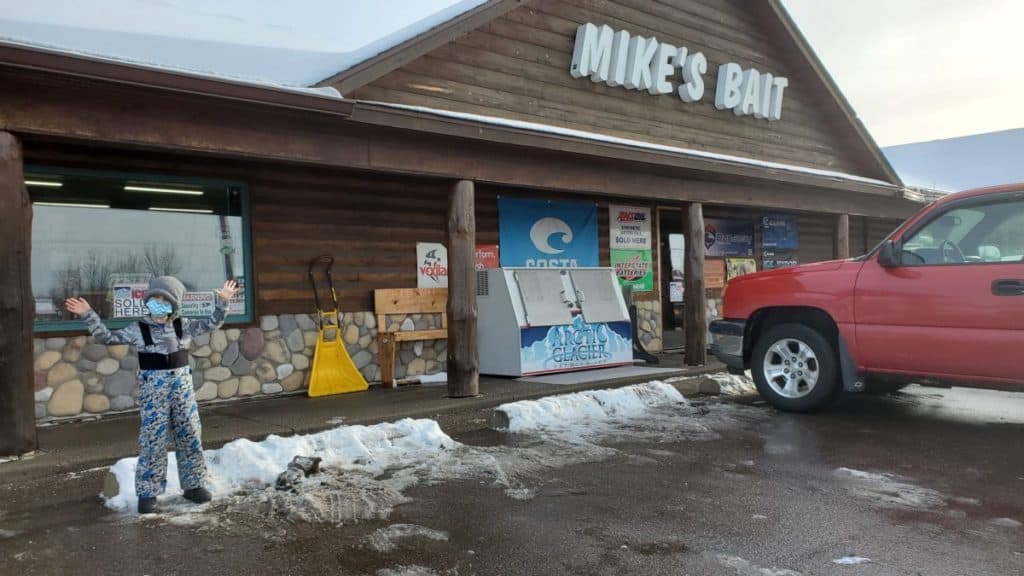 If you are fishing lake 1, you have access to many stores, including Mike's Bait on 8. Its a good place to stop in and get some fishing info about Forest lake. Pick up some Wonderbread Jigs for panfish, they work great!
Fishing experience On Forest Lake
I fished forest lake a few times in the summer months, and once during the winter. The first outing was so windy it was nearly impossible to fish, so we gave up early. The other times we did OK, even there were a fair number of boats out there to dodge, we still managed to catch a bunch of panfish, and even got a decent 5lb northern.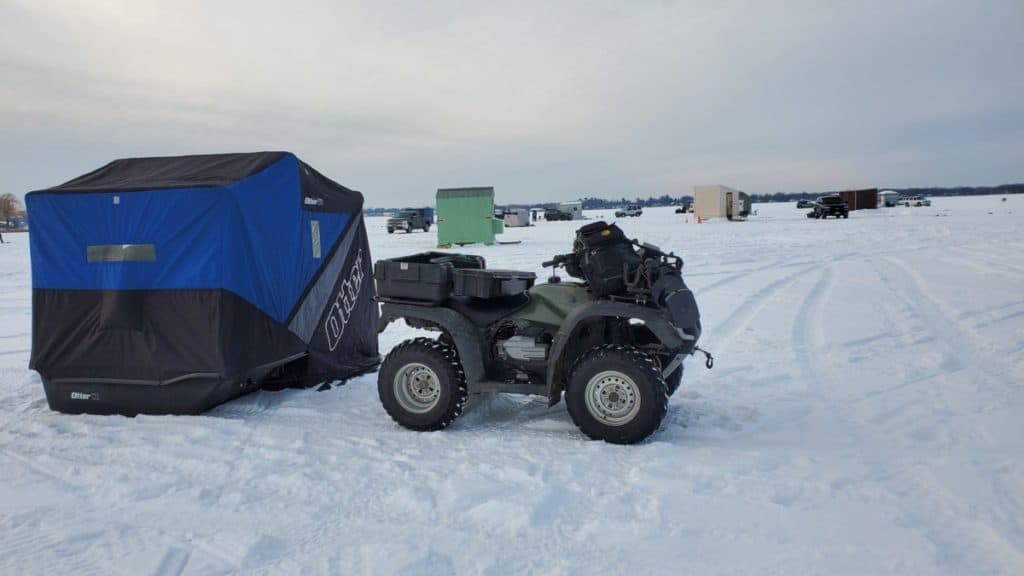 I fished here in early January. The ice was just thick enough to drive on, but I didn't want to chance it yet.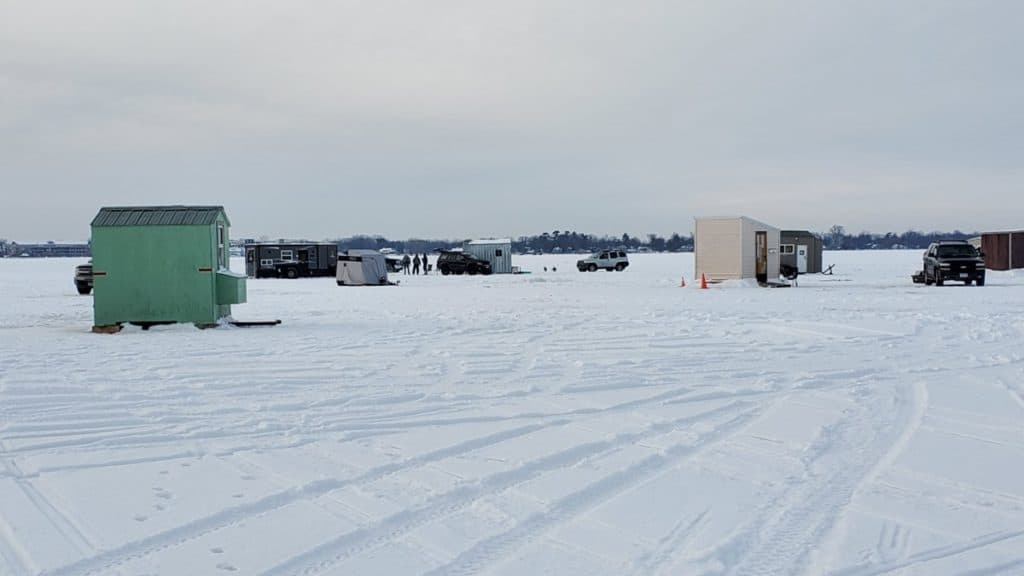 We used the landing on Lake 1, and pulled my Otter Ice Shack out to a group of other shacks near the narrows to lake 2.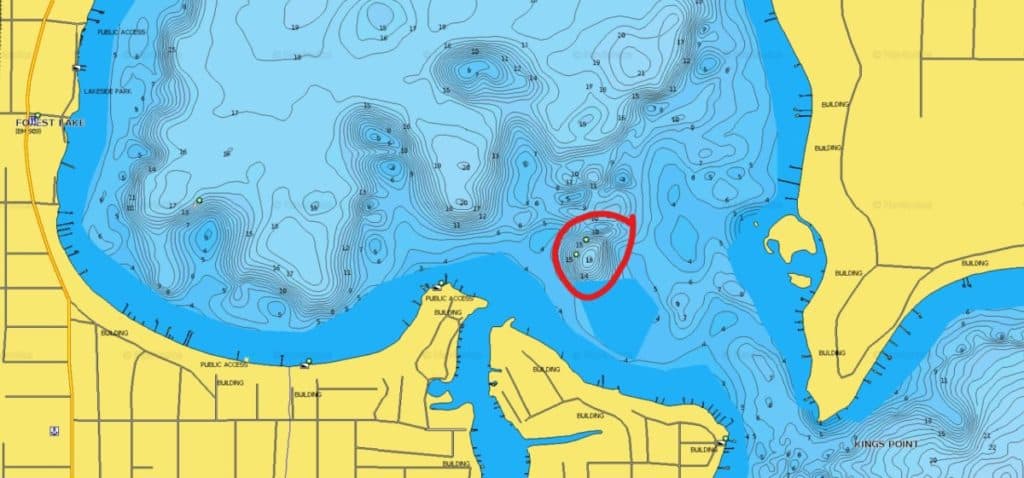 All those shacks were surrounding an 18ft hole. It was a shallow area, except for that deep hole.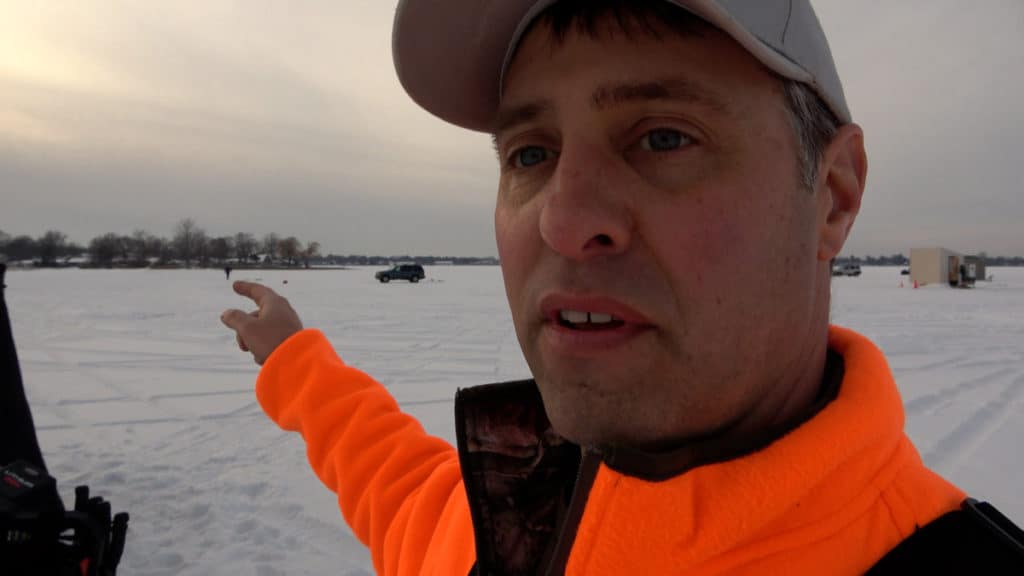 The guy next to us was hootin' and hollerin' every time his tip up flag went up. We watched him pull out at least three fish.
As for us, we had a few bites, but never actually caught one. They didn't seem to interested in biting. I saw a few on the underwater camera. I use the Aqua-Vu Revolution Pro, and I love it. It's a lot of fun to see what's actually going on under the ice… and how many fish ignore my bait!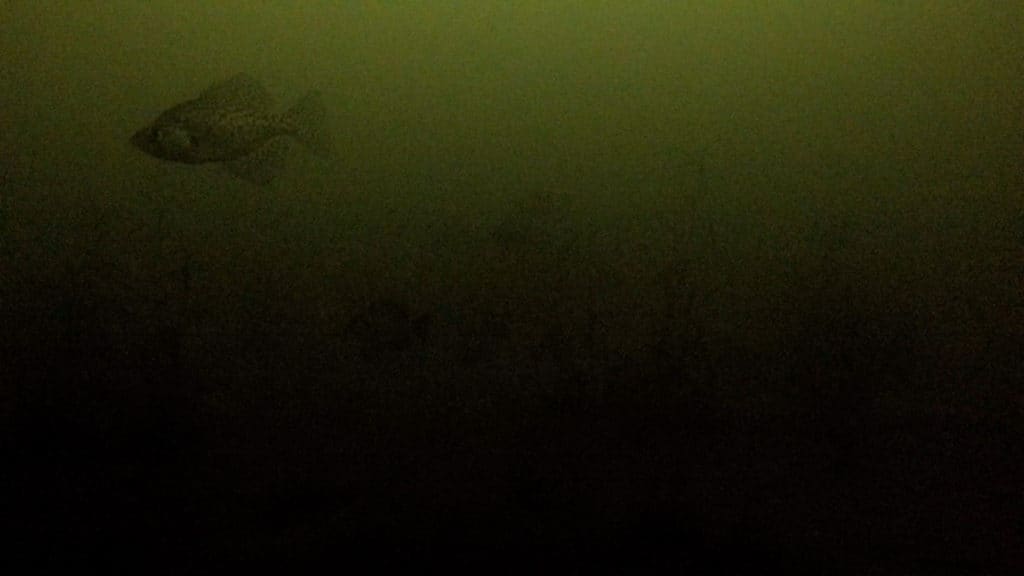 It was quite dark under the ice, but here is a crappie that came through. There are several more behind him that are hard to see.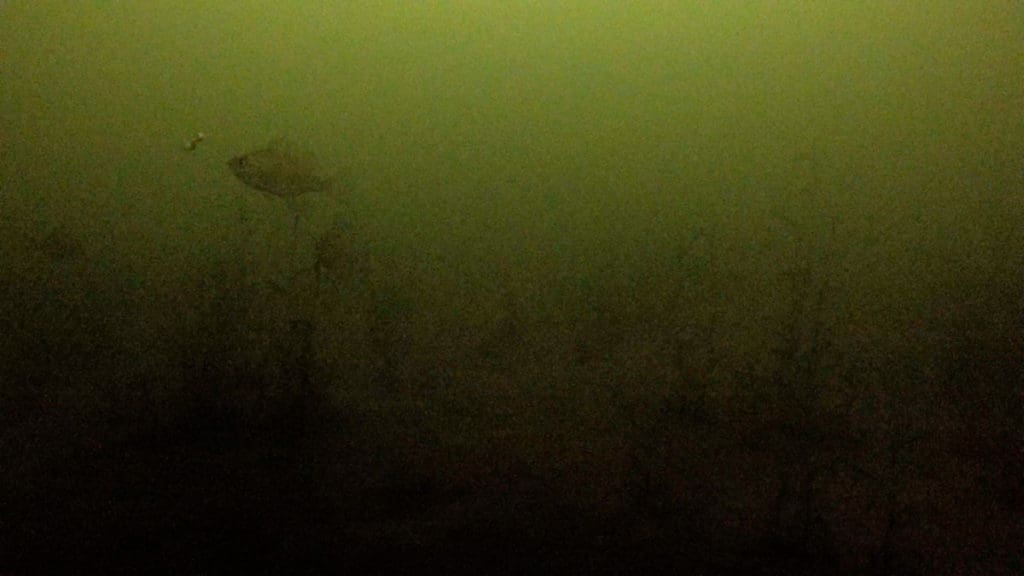 We also saw several bluegills come through. The one above bit a couple of times, but spit it right back out. We fished from 3pm to 6pm. They seemed to shut off at dark, so we went home.
Our last time here in the summer months, we did really well catching panfish, but couldn't get the game fish to bite.
Like most Minnesota lakes, its a great place to see a beautiful sunset.
I think if I had more time to explore this lake, I could do very well here. It is a popular lake, so be prepared to fish alongside many others. Its definitely a lake you should try out if you haven't been here yet.
Thanks for visiting Go Midwest Fishing Lake Reviews. While you are here, check out some other interesting article like, "Cargo Trailer to Ice Fishing House." Also, come hang out with us on my YouTube channel here.