Lake Stats
Acres: 24,034
Max Depth: 80 feet
Mean Depth: 29 feet
Shore Length: 190 miles
Water Clarity: Clear
Google Maps Location: Click Here
Fish Species
Walleye
Sauger
Northern Pike
Smallmouth Bass
Largemouth Bass
Lake Sturgeon
Lake Whitefish
Burbot
Panfish
Watch us fish Kabetogama in late June
Boat Landings
This is a large lake with many landings to choose from. I used the landing at the Wooden Frog Campground. If you use this landing, you either have to purchase a campsite here, or get a day use permit.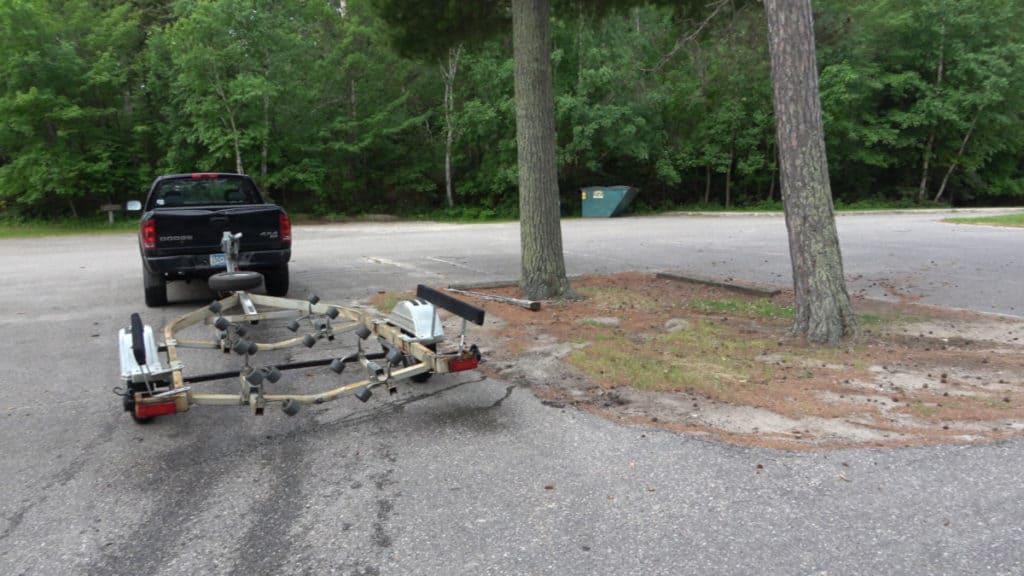 There are plenty of parking spots at the Wooden Frog. Most of the boat traffic was going to the resorts next door.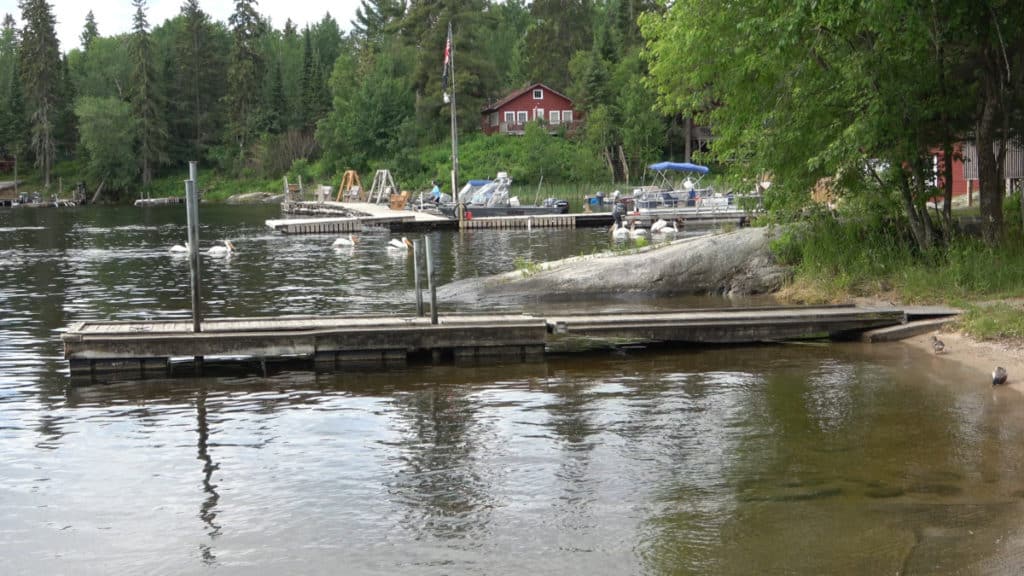 The landing has a picnic area and a large restroom building.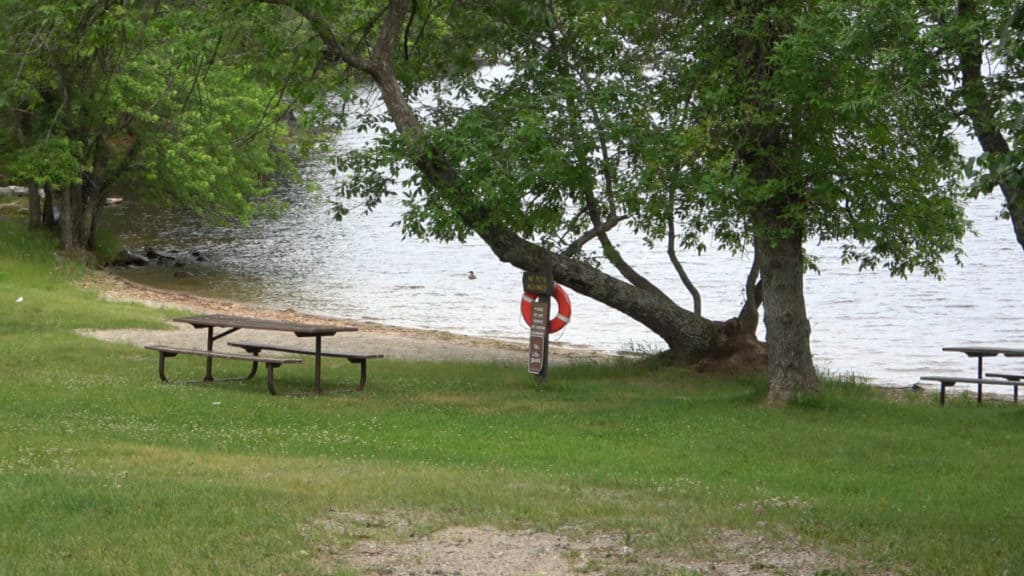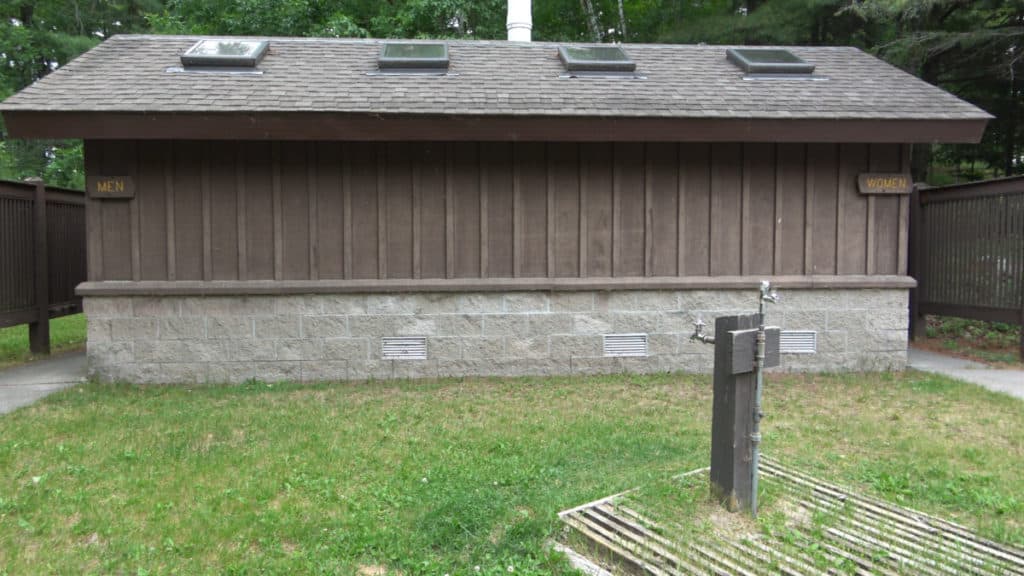 The boat launch is also very nice and has two docks.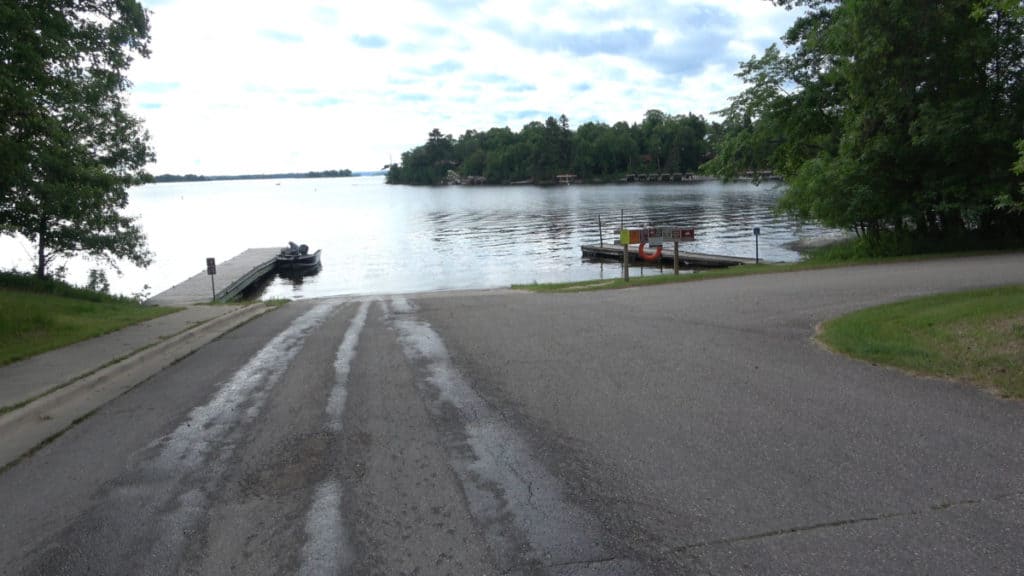 Commentary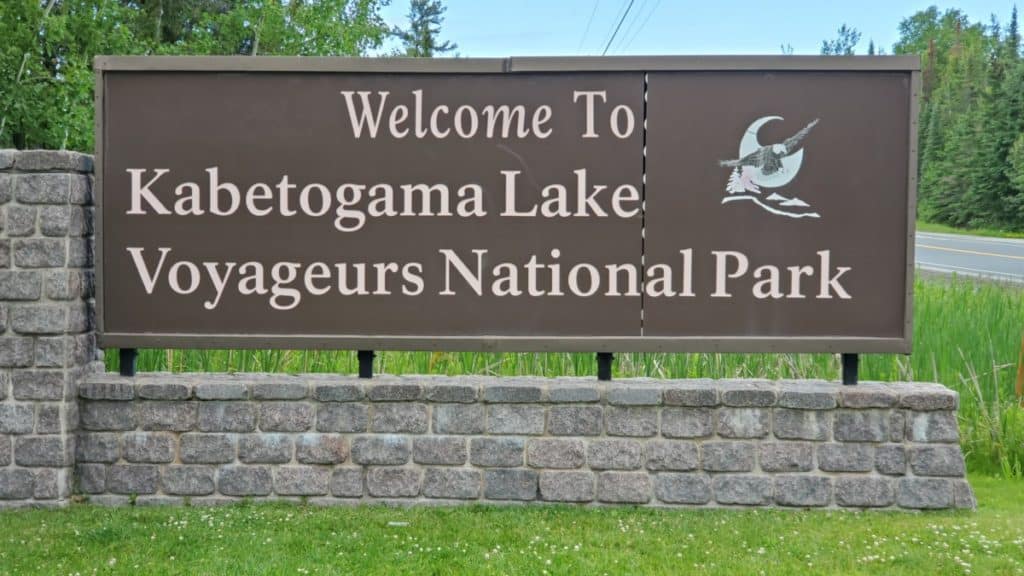 Kabetogama is a boundary area lake, but is completely within the bounds of the United States. It is not included in the BWCA (Boundary Waters Canoe Area) so there are no motor exclusions or restrictions.
Kabetogama is located inside Voyageurs National Park, one of the wildest, most scenic, geologically unique, and historically rich areas of Minnesota. Learn more about Voyageurs in the video below.
The shorelines are generally rocky and lined with jackpine, and other evergreens. The shorelines have a gradual slope, and because the water is fairly clear, you will find healthy weed beds with well defined edges. Weed growth is 8 to 10 feet down and sometimes a long ways from shore.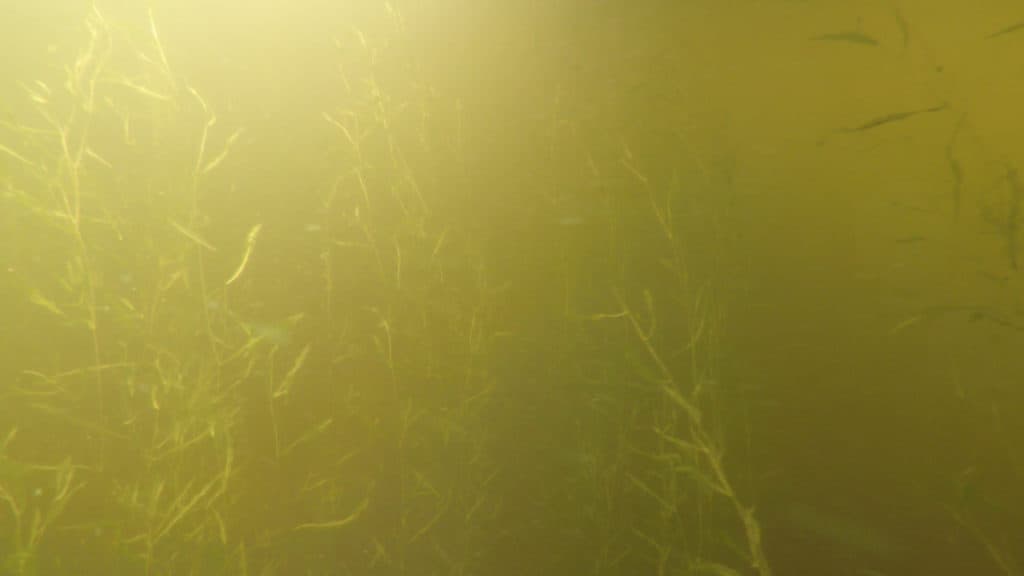 You will also find plenty of rocky areas. Most of them are marked by buoys to keep you from running your motor into them, but be aware, not all the rocks are marked. If you see a buoy, be advised it may be marking an area full of rocks, not just one spot.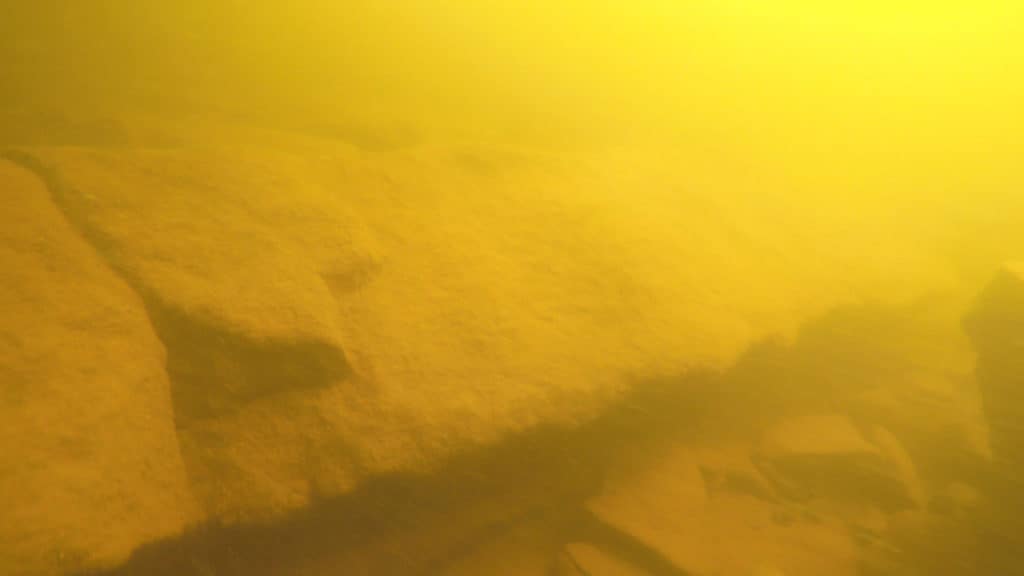 This lake is loaded with walleyes, but it is also a good place to fish for northern pike. There are so many weed beds and rock piles, that you can spend days out here and never hit them all.
Even though you are literally in the middle of nowhere when fishing Kabetogama, there are a few small stores nearby in case you need food, booze, bait, or gas. One store has a nice photo opportunity if you park there.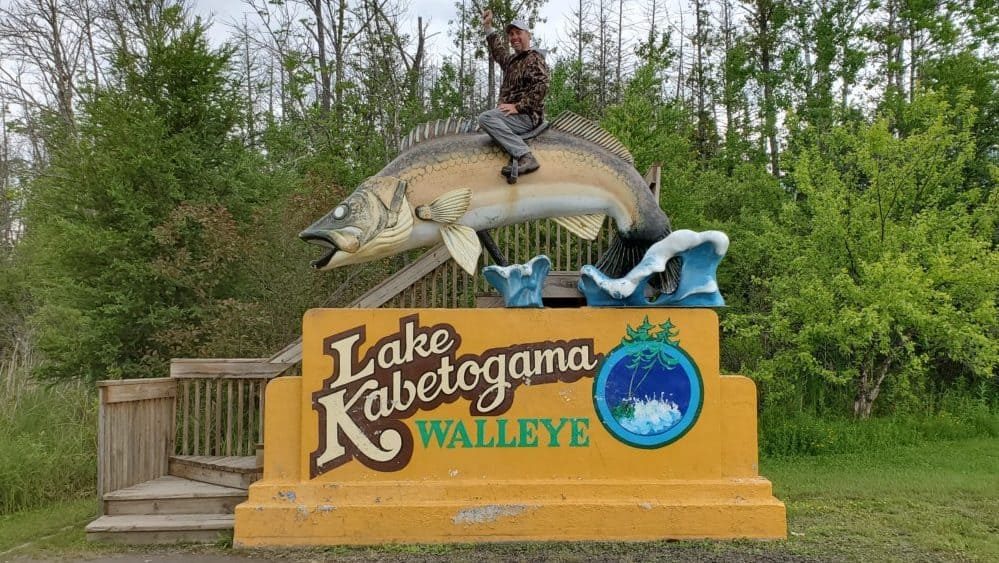 Fishing Experience
One thing is clear, this lake is full of walleyes and most people fishing here are targeting them. I like catching walleye, but will admit, I'm not great at catching them, and I don't often fish for them. With that said, we still managed to put a couple in the boat, even though we weren't trying to.
While most boats were perched on top of rocky points out int he middle of the lake, Reggie and I worked the weedlines and shallow bays. Below is a 20 inch walleye Reggie pulled out of the shallows with a crankbait while fishing for pike. We had to laugh because there was a boat not too far away fishing the deeper water for walleye and not catching anything.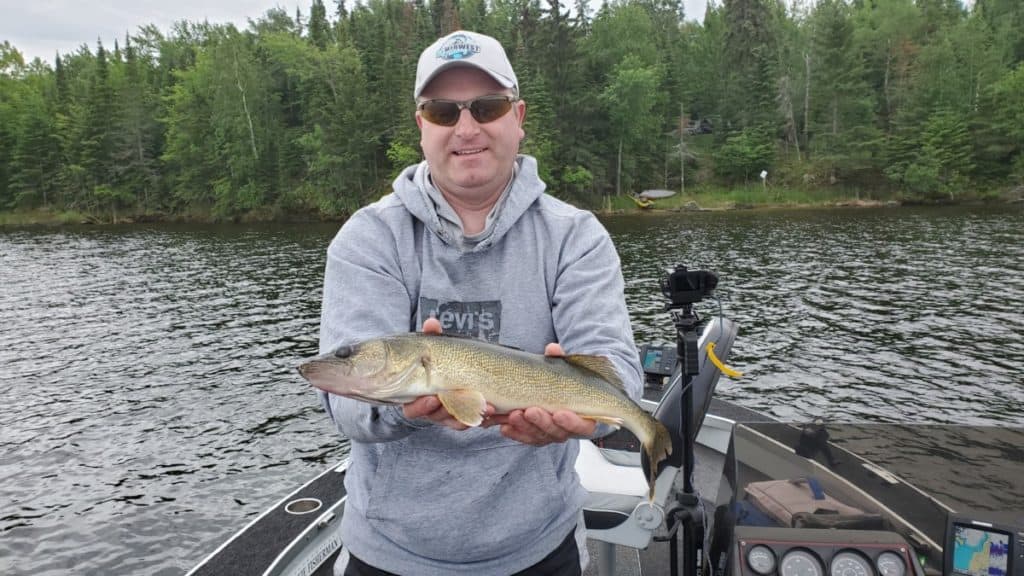 Here is a sauger Reggie caught, again on a crankbait, in shallow weedy waters in duck bay.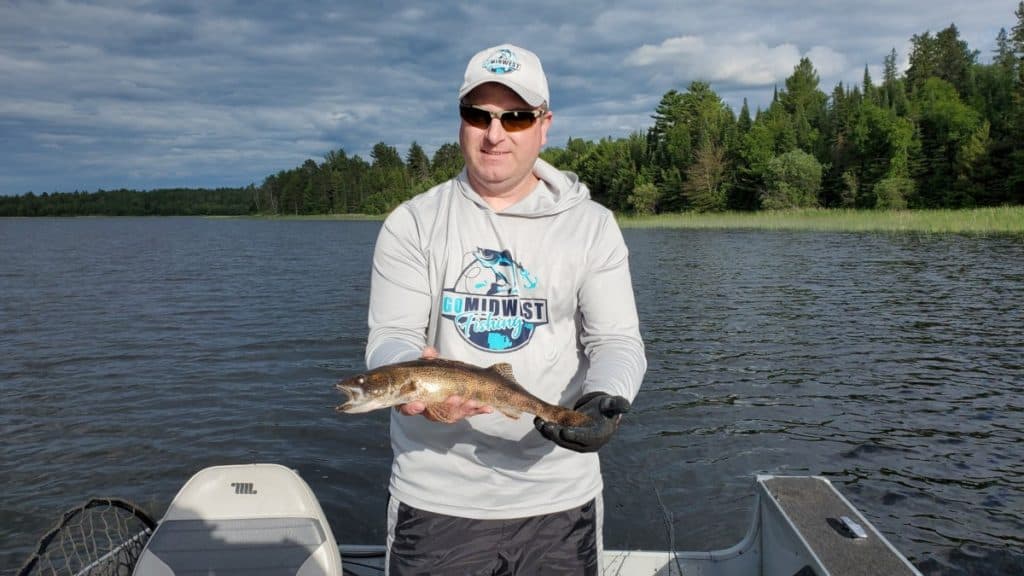 Overall, northern pike made up a majority of our catches. Most of them measured in the low 20's. I have to say, these are some of the hardest fighting pike I have ever caught. Even though most of them were small, they put up a huge fight.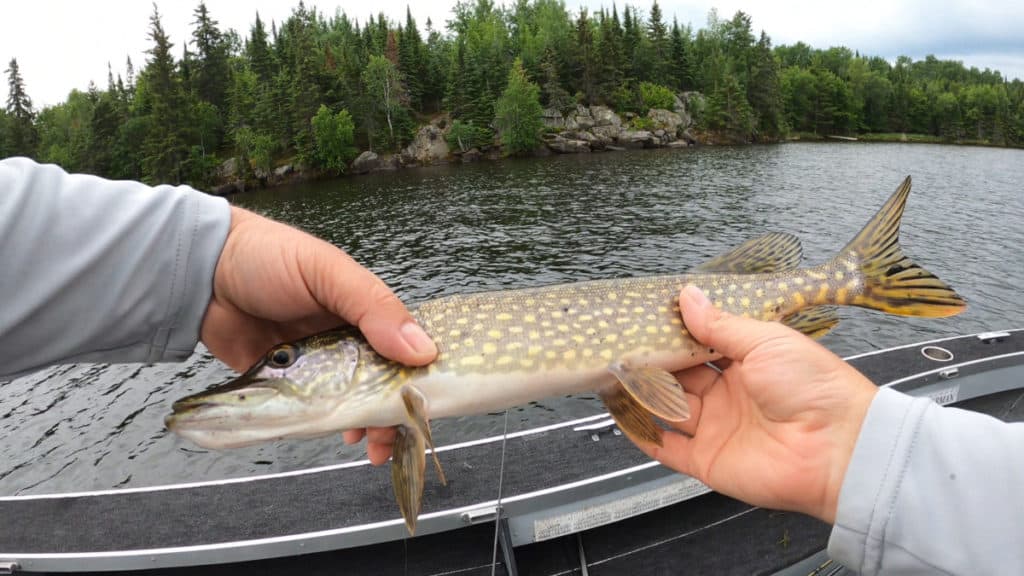 I was reading the fishing regulations with my pole hanging over the edge of the boat. The pike shown above grabbed my lure and almost took my pole out of the boat. I made a diving catch of my pole, injuring my elbow in the process. That just shows how aggressive the fish are here.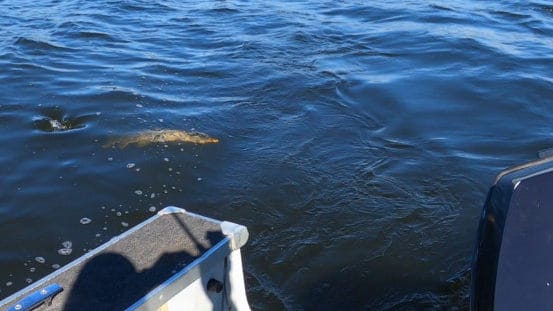 Above is the biggest pike I had on. Unfortunately the lure popped out before I got him in the boat. I estimate it to be 30 plus inches. The wide angle lens in deceiving.
We only had two days to fish this lake, so we focused on the hot spot locations provided by the Sportsman's connection book.
We tried to hit spots across the whole lake, but found ourselves in Duck Bay several times. We love fishing the shallow weedy bays, and Duck Bay has enough space to fish all day.
Here is a map of most of the spots we fished.
There are many resorts to stay at if you want to fish Kabetogama. If you want the most economical place to stay, the Wooden Frog campground is hard to beat. It is a primitive campground, meaning you won't find any RV hookups or showers here. It does have vault toilets and water available. It is a beautiful, secluded campground with lots of privacy between sites.
If you are considering staying there, watch the video below as I take you on a guided tour through the campground, and I point out the best sites to get. It is a first come first serve campground, so you will want to get there early and secure your spot.
Thanks for visiting Go Midwest Fishing Lake Reviews. Don't forget to check out our interesting blog posts like, "How Much Does A Boat Motor Weigh?"