Lake Stats
Acres: 203.05
Max Depth: 68 Feet
Shore Length: 2.42 Miles
Nearest Town: Stillwater / Marine on St. Croix
Great SCUBA Lake
Designated as a Regional "Special Recreation Feature"
Fish Species
Northern Pike: (average abundance, smaller than average size, but some very large pike can be caught here)
Largemouth Bass: (less than average abundance, smaller than average size)
Bluegill: (average abundance, average size, but some larger individuals are present)
Crappie: (lower than average abundance, average size)
Rainbow Trout: (low abundance, average size)
Bullhead species: (lower than average abundance, larger than average size)
Yellow Perch: (low abundance, small size)
Watch us fish Square Lake with the kids in August
Check out "Reed The Naturalist" Fishing Square Lake in the spring
Landings
To access this landing you have to use the Square lake county park, which requires a fee, but its worth it. The boat launch is open from 6am to 11pm during the fishing season. Anglers may also launch at a resort adjacent to the park, but a fee is also charged. The resort rents boats and allows camping too.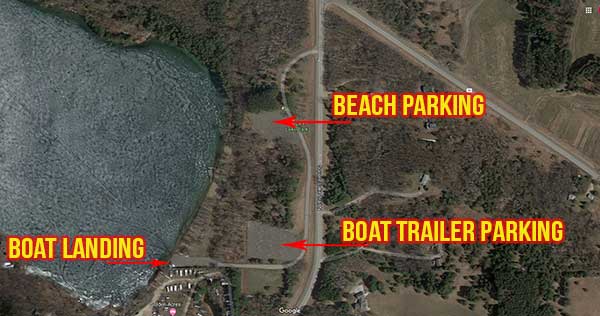 There are a few spots to park right next to the boat launch, but that fills up quickly, so you might have to park on top of the hill in the larger lot.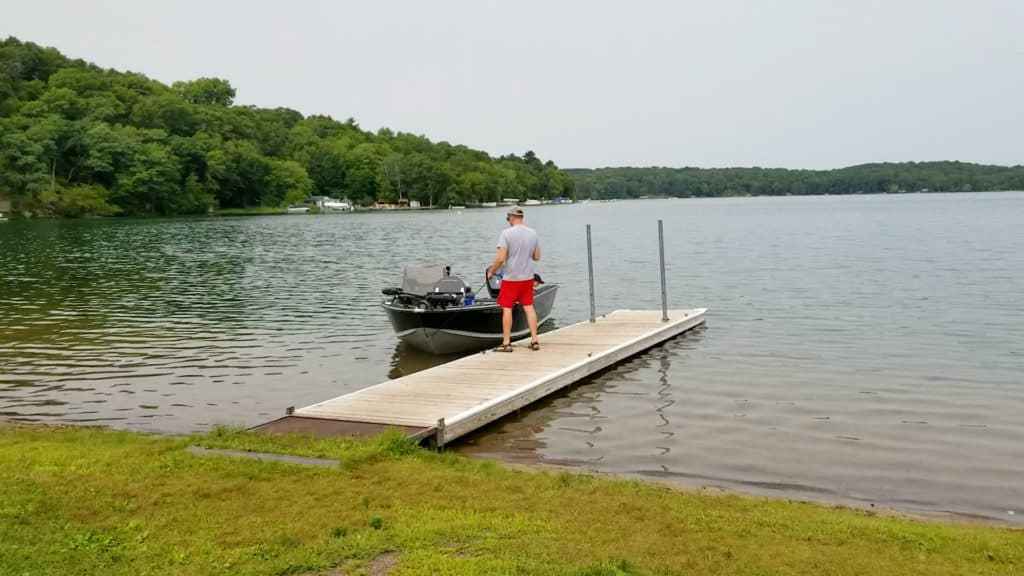 There is a nice dock. It is adjacent to the beach, so there are plenty of spaces to pull your boat up onto the sandy shore if the dock is occupied. Be careful for people in and around the beach area. There can be lots of kayaks and other recreational toys floating around the landing area.
During the winter months, they do keep the road and landing area plowed, so you can also access this lake if you would like to do some ice fishing.
Commentary
This is a popular lake, and for good reason. Square Lake has some of the clearest waters in Minnesota, and draws in SCUBA divers from all over the metropolitan region. It has a 950 foot sand beach, along with changing rooms, restrooms, picnic tables and grills.  During the hot summer months, it can get very crowded. I still enjoy going there because after a day of fishing, you can grab a picnic table, and grill some brats for dinner.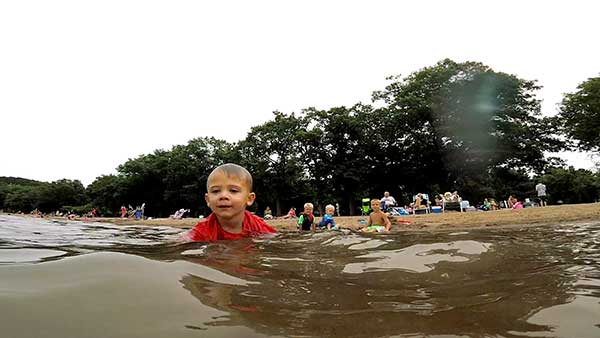 A large fishing dock is on the opposite end of the beach from the boat launch. This is a popular place to fish for those that didn't bring a boat with them.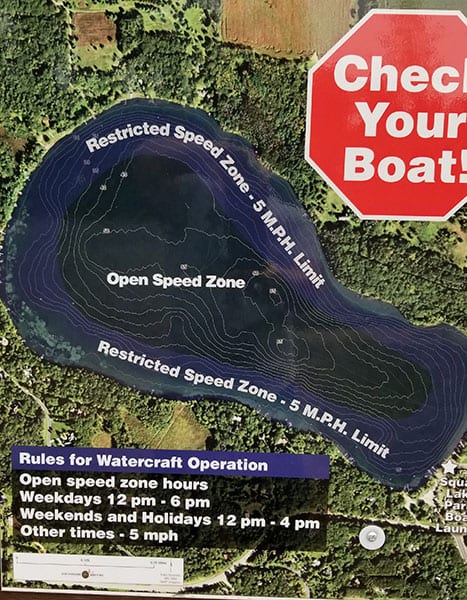 If you do put your boat on the water, be sure to know the speed regulations. Most of the fishing will be in the restricted 5 M.P.H speed zones along the edges.
I'm usually at Square lake to take advantage of the beach and picnic areas, but I have fished it a handful of times too. It's a great place to take kids, because the panfish are easy to catch, and the water is so clear, you can watch them bite.
The best place to fish is on the far back in the northwest corner. You will find nice weed beds in about 6 feet of water. You can troll along until you spot a school of fish, and then throw your bait in the water and have some fun!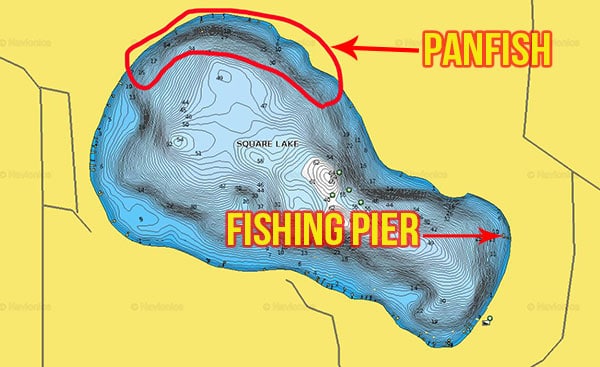 Fishing Experience
I know at certain times of the year you can catch trout here. I've never tried it, but I may attempt it soon. I've caught bass, perch, bluegills, pumpkin seed, and crappies here. I don't believe I've caught any northern pike here, but there are reports of people spearing some over 20 pounds in the winter.
Most of the time I have little kids with me, so I haven't had the chance to get serious about fishing it. I picked up a fly rod for the first time recently and this was the first lake I tried it out on. I had a blast. The panfish went crazy for the flies. I also caught some on worms and wax worms. I threw a few spinner baits too and hooked into some bass.
On the hotter days of summer, I will fish in my swim shorts, and when I get too hot, I just jump overboard to cool off. The center of the lake gets to 68 feet deep, which provides some nice, cool, clear, weed free swimming. Just make sure you watch out for the water skiers.
See my first time fly fishing on square lake below
Thank you for visiting Go Midwest Fishing lake reviews. Check out other interesting articles like, "Steelhead Fishing On The Brule River." Come hang out with us on my YouTube Channel.