Lake Stats
Acres: 2427
Shore Length: 13.57 miles
Max Depth: 83 feet
Mean Depth: 20 feet
Google Maps Location: Click Here
Fish Species
Walleye: average abundance, average size
Northern Pike: above average abundance, average size
Muskellunge: average abundance, average size with some larger individuals present
Largemouth Bass: above average abundance, average size, with some larger fish present
Smallmouth Bass: low abundance, average size
Bluegill: above average abundance, average size but some larger ones present
Crappie: above average abundance, average size
Bullhead Species: below average abundance, above average size
Yellow Perch: low abundance, small size
Watch my latest outing on White Bear, Jan 26th, as I test out my new ice house I just built.
Boat Landings
According to the MN DNR website, there are three places the public can use to launch their boat, but the Ramsey county beach is the only free one. The other two are: Matoska park (annual permit required), and White Bear Docking (private facility with launch fee)
I've been to White Bear several times and have only used the Ramsey county beach, and I would recommend you use this landing as well. It is a beach, so it gets lots of use and during the hot summer months. You might struggle to find a parking spot.
The landing is just off Hwy 96, just east of Hwy 61. When you pull in, the road splits. Go to the right for beach access, and left for the boat launch.
This lake sees a bunch of recreational traffic in the summer which takes up a good portion of the parking spots. If you want to fish, early morning or late evening is best to avoid the recreational boats.
Commentary
White Bear Lake is surrounded by several communities including, White Bear Lake, Mahtomedi, Dellwood, Birchwood and White Bear Township.
White Bear is a popular angling lake, with largemouth bass being a favorite summer species to target. Northern pike are also easily caught, but tend to be on the smaller side. Walleye fishing is best in the spring and fall. As I mentioned earlier, be prepared to compete with the recreational boaters, especially during weekends and holidays.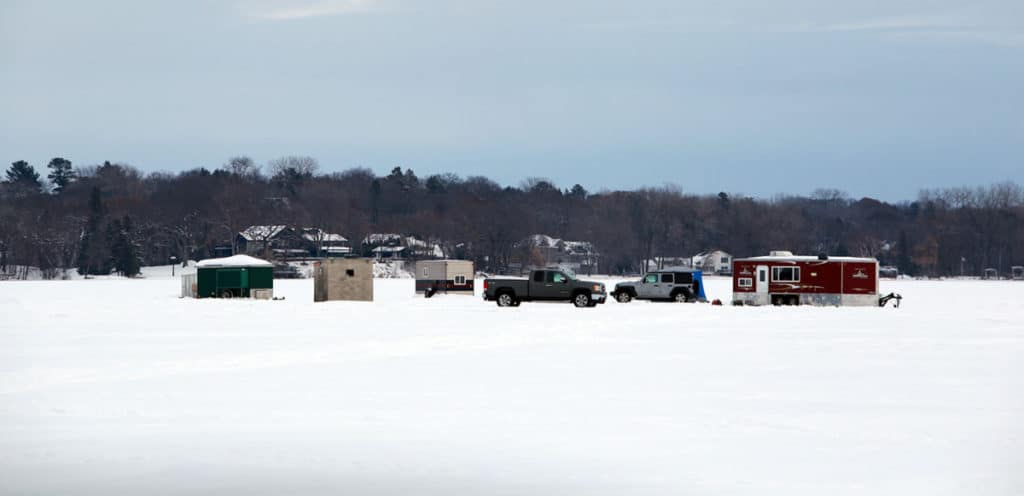 Ice fishing is popular on White Bear. Many anglers targeting panfish, walleye, and northern pike. If you drive out on the ice, just be cautious, as there are several springs in this lake which might create thin ice or even open water.
If you are not from around this area, then you might not be aware of the ongoing battle of the water levels on White Bear Lake. Property owners and residents of the area have filed a lawsuit against the Department of Natural Resources, saying they neglected their duty to protect the lake by allowing too much water to be pumped out through underground wells.
My wife use to lifeguard at the beach there, and they actually shut down the beach due to lack of water. As of 2019, the water has made a comeback and is at its highest levels since 2003. The lakes lowest water level was recorded in 2013. Click here to see the DNR water level chart from 2011 through 2020.
So how does water levels affect fishing? When the water levels were low, it concentrated fish into certain areas. Take a look at a small section of northern side of the lake below. You will notice what a crazy bottom structure this lake has.
As you can see there are many shallow areas and also several areas where its deep. When the lake levels drop, the shallow areas get too shallow and the fish move to the deeper parts. Now that the levels have gone back up, that means the fish are more spread out again and you will need to know where to look for them.
Fishing Experience
I've fished this lake several times, in the winter and in the summer. Like I mentioned above, this lake has some crazy bottom contours. You generally find fish anywhere there is a transition, and this lake has plenty of them. Fish along any of the areas where it goes from shallow to deep, or at the edge of the weed lines.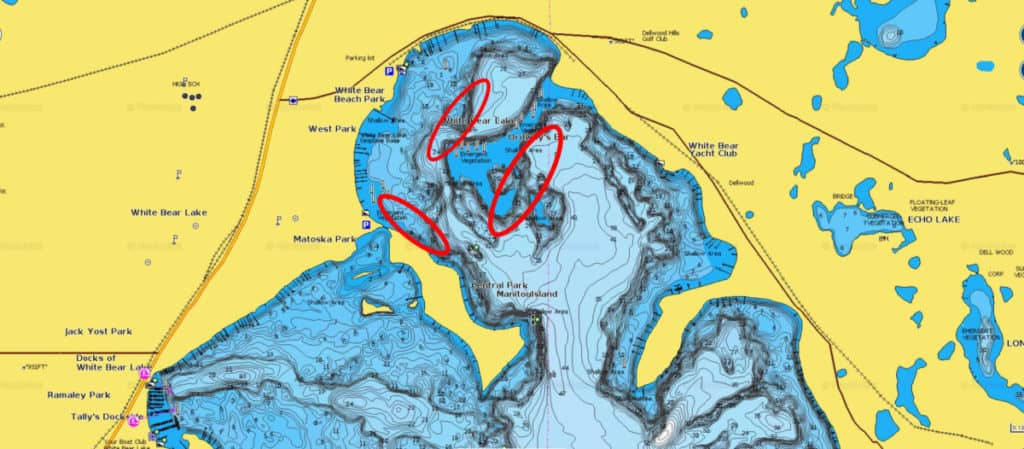 When ice fishing, I have only fished the north section just off the landing. I don't know the lake well enough to know where all the springs are, and don't want to fall through the ice. I always see people fishing in the same spots though.
The first spot is straight out from the landing. There is a shallow bar that runs horizontal. You can easily identify it by the brush sticking out of the ice. If you go a little farther, you will find another group of ice houses. Lastly, on the west side you will see a bridge with a narrow channel that leads to another section of the lake. You will see people fishing in front of that area.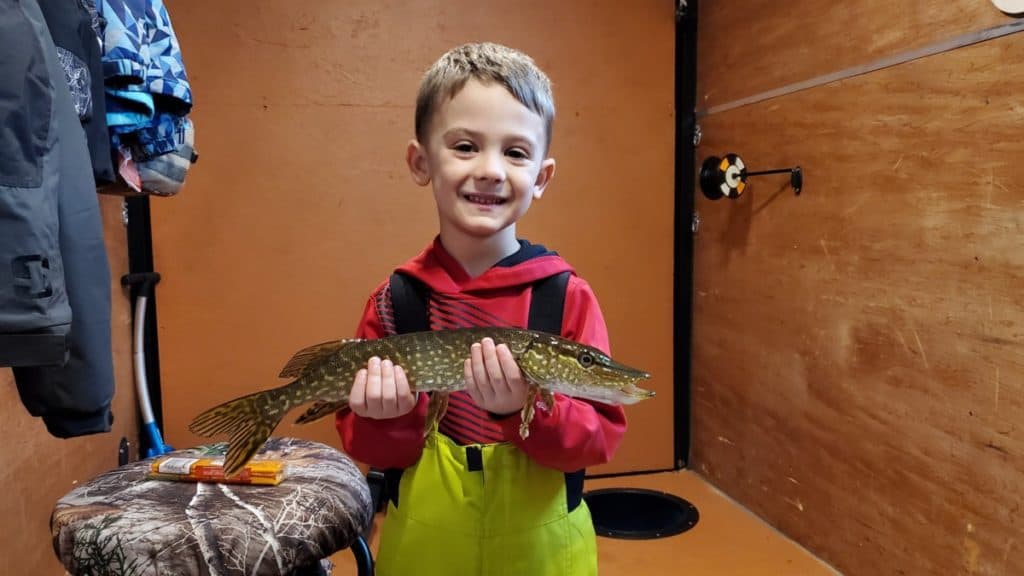 I always manage to catch many, very small perch and occasionally a small northern while ice fishing. I'm sure others have a much more substantial catch, but I've learned that the seasoned White Bear fishermen don't like to share their favorite spots, so you may be left with searching out spots for yourself.
I've had better luck catching larger fish during the summer months. One of my favorite spots is just off the landing. There is a large area of 8-10 feet of water with a nice weed bed. The northern cruise through these weeds and are fairly easy to catch. I usually throw a spinner bait and run it just on top of the submerged weeds.
The other spot I fish is on the west wing of the lake. It is another shallow area full of submerged weeds. I've pulled quite a few bass and panfish out of this spot.
I have yet to fish the south end of the lake. Even though this lake gets a lot of traffic, I still enjoy fishing it. It is a very beautiful and interesting lake. The water is very clear so you can troll around until you see a spot that looks good.
Thanks for visiting Go Midwest Fishing Lake Reviews. Check out other interesting articles like, "Building An Ice House From A Cargo Trailer."