Lake Stats
Acres: 238
Max Depth: 45 feet
Water Clarity: Clear
Shoreline: 3.1 miles
Borders Chippewa National Forest
Fish Species
Northern Pike
Walleye
Largemouth Bass
Black Bullhead
Yellow Bullhead
Bluegill
Yellow Perch
Rock Bass
Pumpkinseed
Watch our day of fishing on Willow Lake in late June
Landings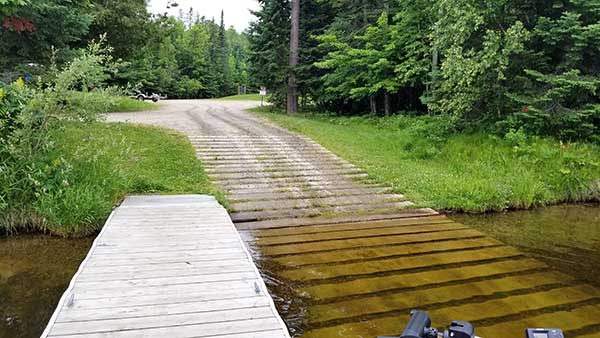 This is a small lake, so there is only one landing. I was actually quite surprised how nice of a landing this is. There is a large turn around area with plenty of parking. The landing has a nice wood dock with a concrete landing pad in good condition. We were the only ones there on the day we went. I suspect this lake gets very little fishing pressure.
Commentary
We were on a five day fishing trip in northern MN, mainly to fish Leech lake. We were camping at Schoolcraft State Park. Willow lake was nearby, and as we kept driving by it, we thought it looked like a good lake to fish.
The first thing to note is it's name. Most of the maps label it as "Willow Lake," but when I tried looking up more information on it, I only found it with the name "No-ta-she-bun." It appears to goes by both names, so confusing!
Upon first impressions of this lake, it looked to be a lake built for bass fishing. I love these types of lakes. It's small and easy to fish. The shoreline is filled with fallen trees which provides lots of cover for the bass to hide under. On the southern end, it has a nice shallow bay filled with lily pads. The center of the lake is 45 feet deep, so it doesn't freeze out. I found the best fishing on the southern end of the lake.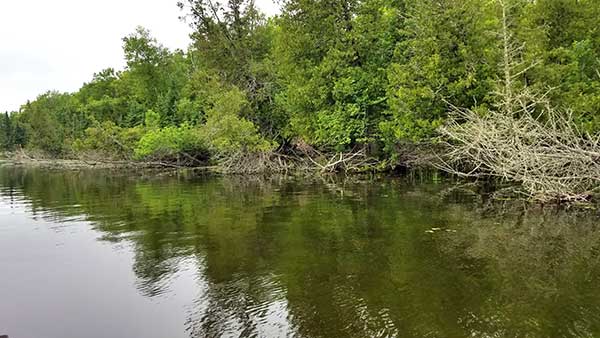 According to the MN DNR website, there are many species of fish here, but largemouth bass are the only fish we caught.
Fishing Experience
We fished this lake at the end of June. I was still tying a bait on my line when Reggie threw out his first cast, and caught a largemouth as soon as his bait hit the water! I hurried up and got my line in the water and had one on soon after.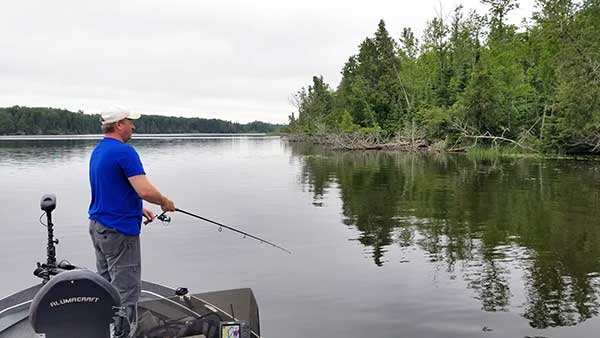 From the landing, we headed south along the shore. It was good fishing along the entire shoreline to the bay on the southern end. Coming out of the bay up the northeast shore, the shoreline gets much steeper. We did have some luck catching a few out in the deeper water, but they were much smaller in size.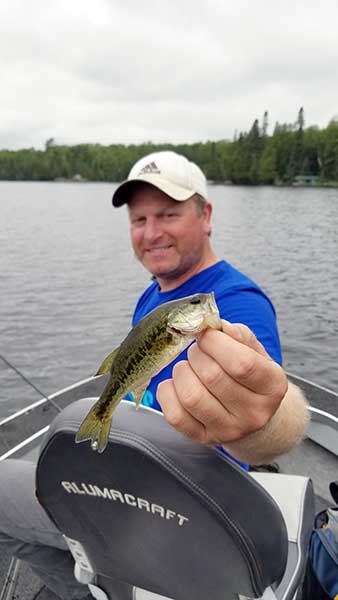 As you can see from the pictures above, the bass varied in size. Along the western shoreline, most of the bass were 14-15 inches. On the eastern shoreline they were much smaller. The one pictured above is the smallest one we caught, but that's OK Reggie, we have a prize for smallest fish too.
I feel this is an awesome lake that is mostly overlooked. If you want some great bass fishing and have a lake all to yourselves, then this is the lake for you. Next time you are up in this area, check it out. It's definitely not a destination by itself, but if you happen to be fishing some nearby lakes, you should stop by for half a day and pull in some easy bass.
Thank you for visiting Go Midwest Fishing lake reviews. Check out other helpful articles like, "How To Refill 1lb Propane Tanks Easily."