Lake Stats
Acres: 56,471
Max Depth: 69.8 feet
Mean Depth: 15.1
Shore Length: 69.8 miles
5th Largest Lake in MN
Fish Species
muskellunge
northern pike
walleye
bullhead (black, brown, yellow)
largemouth bass
black crappie
bluegill
pumpkinseed
hybrid sunfish
yellow perch
rock bass
burbot
white sucker
lake whitefish
You can see the video of our ice fishing trip below
Landings
There are several landings on this lake, but I've only been to two of them. I accessed the lake in February from the High Banks Resort, and in the summer at the Birches State Water Access. Both landing are on the upper east side.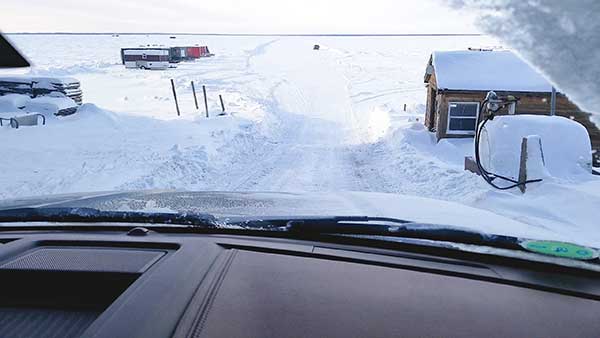 Above is the landing at high Banks Resort. It goes down a fairly steep hill to the lake. You will want a 4 wheel drive vehicle in the winter. The resort keeps the lake roads nicely plowed. They stretch nearly to the other side.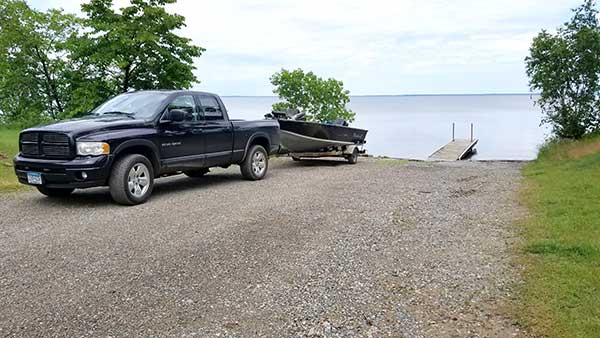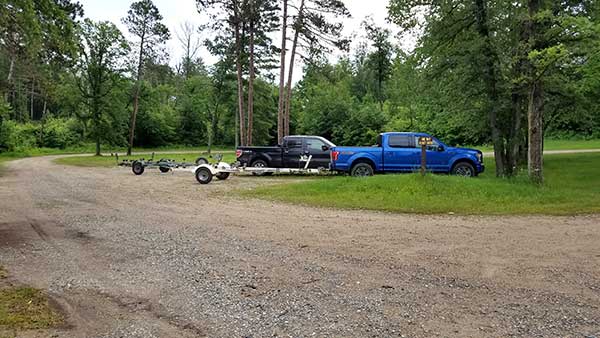 I really liked the Birches State access. You drive down a nice tree lined road in the middle of nowhere and pop out at this landing. It has a large circle drive where trucks can park in the middle. The landing area has a nice wide road to back into the lake.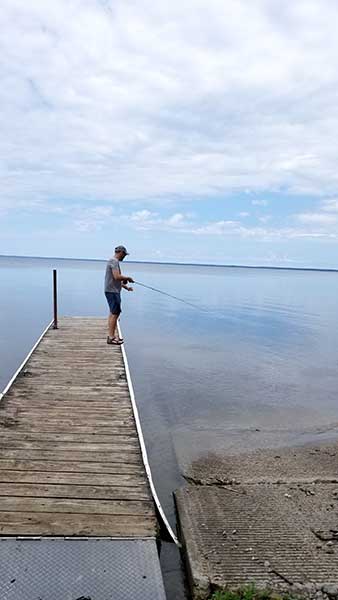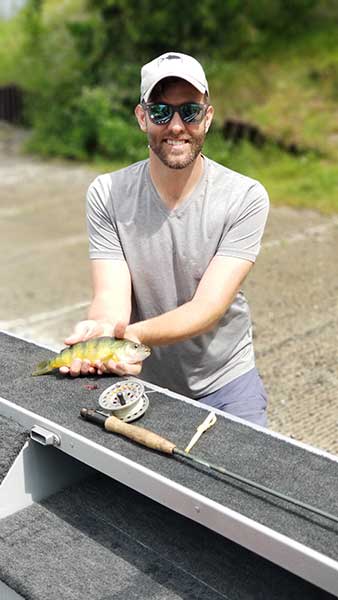 A large thunderstorm was approaching so we waited it out at the landing. While we waited, we threw a few baits off the end of the dock. I was getting some hits while casting a spoon for pike. I realized it was perch! I lured them in with my spoon, then Justin followed me up with his fly rod and pulled in the lunker pictured above.
Commentary
Lake Winnibigoshish, also called Big Winnie (because no one can pronounce the other name) comes from the Ojibwe word, Wiinnibiigoonzhish, meaning "filthy water." It is a popular fishing destination and offers world class multi-species fishing.
Lake Winnie is known for its Walleye, but also has an abundance of jumbo perch, northern pike, muskie, and bass. It is located in the heart of Minnesota, inside the Chippewa National Forest. 95% of it's shoreline is undeveloped, which leads to some spectacular scenery, along with great place to observe its beautiful sunrise and sunsets.
Big Winnie is divided down the middle by the Mississippi river. To the north is Itasca county and to the south is Cass county.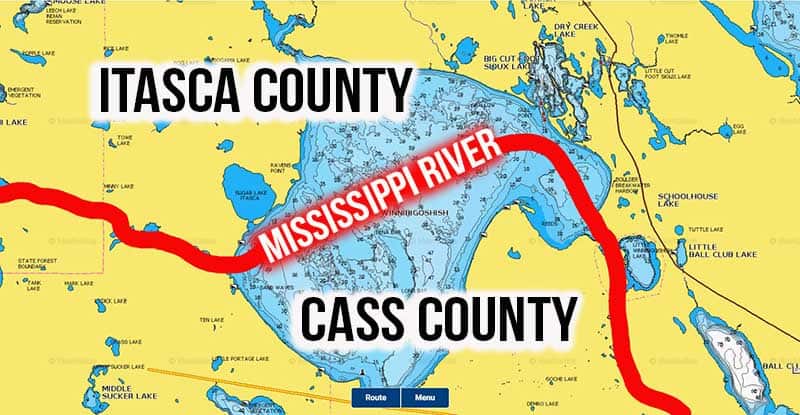 In 1884, the lake Winnie dam was built on the Mississippi river, which created lake Winnibigoshish, Little Winnie, and Cut Foot Sioux. I believe I fished the Cut Foot Sioux many years ago. I only had a small boat, so I never ventured out into the rough waters of Big Winnie. I ended up with a stringer full of northern pike. The other guys that went into the big lake caught nothing.
Fishing Experience
My last outing here was on Jan 31st-Feb 2nd. I have a friend that goes on an ice fishing trip every year with his buddies. They started inviting me along the last couple of years. We usually go to Lake Mille Lacs, but decided to try out Winnibigoshish this year, and I'm glad we did! We caught way more fish here than we ever did on Mille Lacs.
We usually sleep out on the ice in our wheel house shacks, but we're getting older and opted for the comfort of a nice resort this time. We stayed in cabin 12 at the High Banks Resort.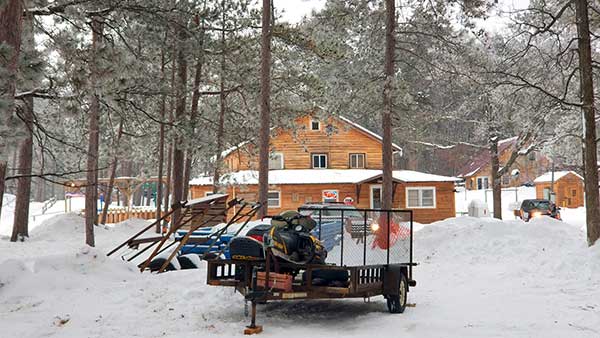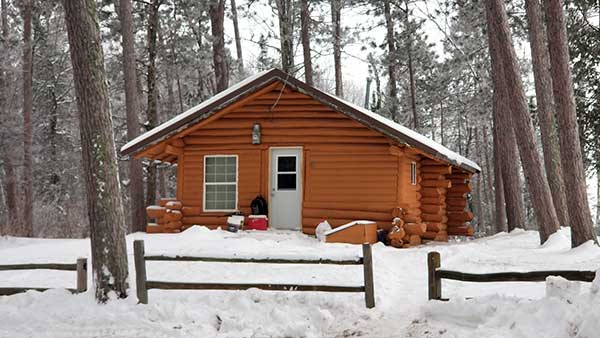 Day one started out at -33 degrees. Cabin 12 is set back into the woods. We mistakenly took the wrong road going to the cabin and ended up on an un-plowed road in the middle of nowhere. Luckily, the resort came to our rescue with their plow truck.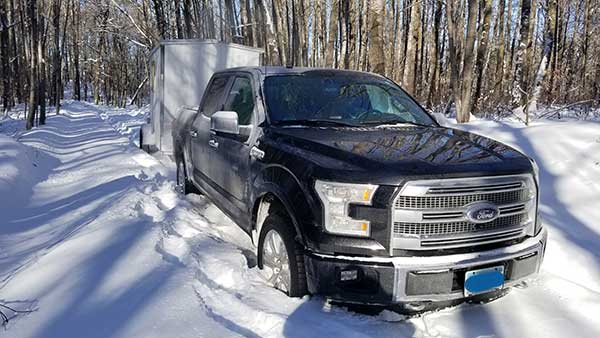 On day two it warmed up considerably and the fish started biting. Up until a week prior, we didn't have much snow, but it dumped a pile on us just before our fishing trip. That forced us to stick to the plowed roads the resort had made.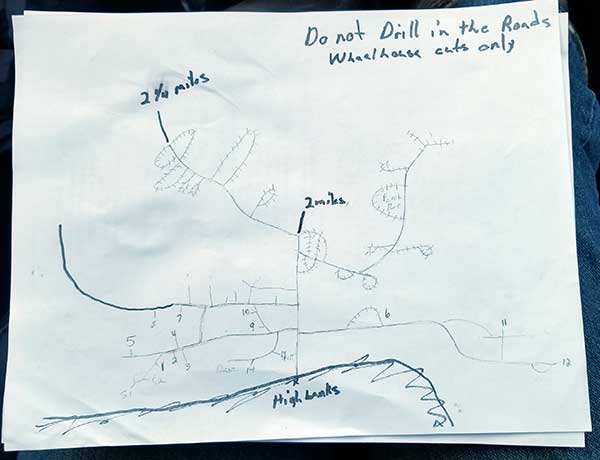 Although the wheel houses were confined to the plowed spots, we decided to venture out and search for the bite with our portable shacks. Right away we got into some perch, followed by a good walleye bite and even a few northern pike.
Here are a couple fish from day two. Winnie has a slot limit for the walleyes, so we had to release most of them, but we did end up with a few to bring back for dinner.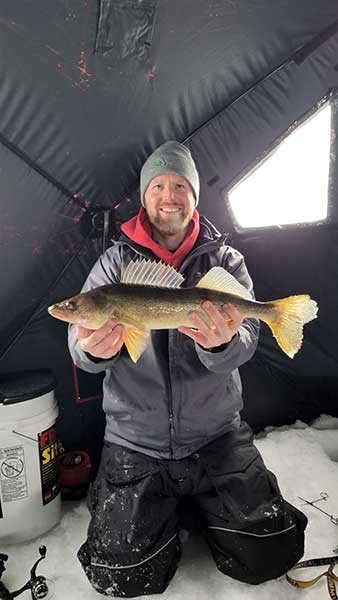 Most of were using some sort of jig with a minnow head. The tip-ups were running 4 inch sucker minnows. We were quite surprised when we pulled up a couple perch on the tip-ups!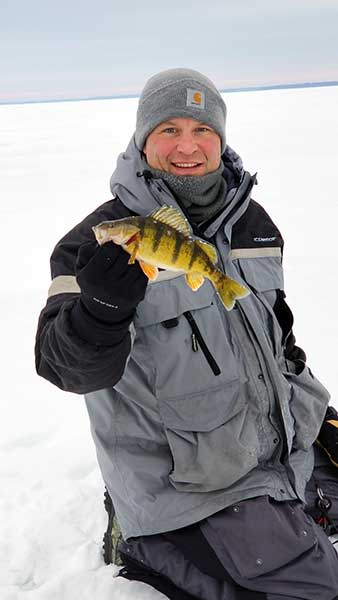 Day three was the warmest day at 12 degrees above zero. That allowed us to fish outside more and move around until we found the fish. It was also the most productive day. The fish really seemed to wake up once we got out of that cold snap.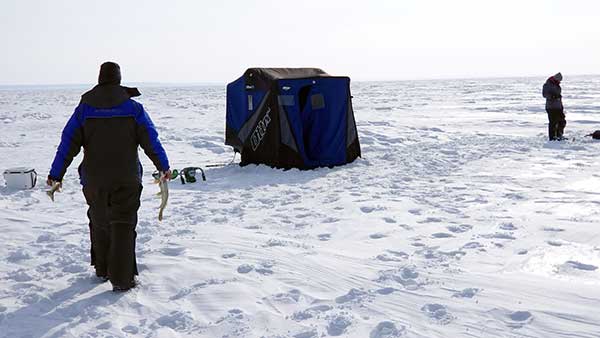 We all did pretty good on day three, but the fish we all got excited about is when Joel pulled in an eelpout! I've never seen one before, so it was a learning experience for me. They are one ugly looking fish and like to curl their tail around you.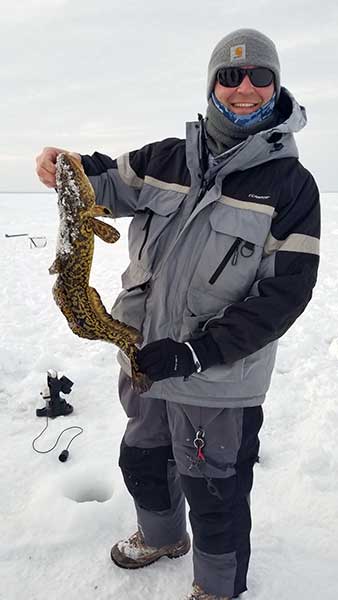 We fried this one up, along with a few perch, walleye and northern. I've never eaten eelpout, but I think its my new favorite fish to eat. It resembles lobster. We fried it up in a cast iron skillet, coated in shore lunch beer batter. From what I understand, the proper way to cook eelpout is to boil it in your favorite pop (or soda, depending where you're from).
This lake is an excellent place to ice fish. Being a large round lake, it can be tough to fish in the summer months because of the large waves. I tried fishing it in June, but was quickly run off the lake by a large thunderstorm. I did manage to pull in a couple of Northern first though.
I will leave you with this beautiful shot of the sun setting over our portable eskimo fish shack.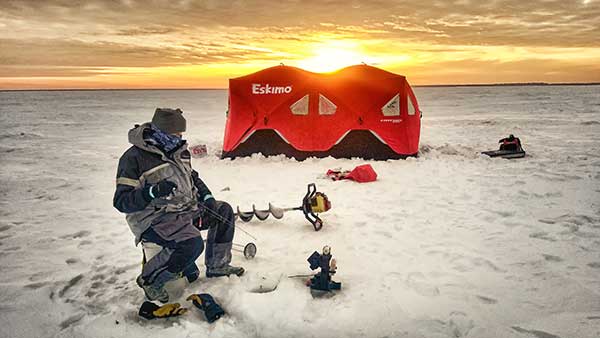 The last time we tried fishing here in the spring of 2018, we didn't have much luck… with anything. We first had to wait out a thunderstorm and some hail before we got on the lake. Then got chased off the water a few minutes after we started fishing by another thunderstorm. Justin fell in the lake, and the boat trailer fell off the boat ramp. Justin did manage to catch a large perch, and I had on a northern on my first cast, but it got off.
Watch us fish lake Winnie in June of 2018
Thank you for visiting Go Midwest Fishing lake reviews. Check out other interesting articles like, "How Much Does A Boat Motor Weigh." Come hang out with us on my YouTube Channel.