On a recent trip to Cabelas with my three year old boy, we spotted a wall full of remote controlled fishing boats. It looked like so much fun, we just had to get one. We took it to the lake the next day and tried it out. We didn't actually catch a fish with it, but still had fun driving it around the lake. I was thinking about it when I got home, and wondered, "Was that even legal?"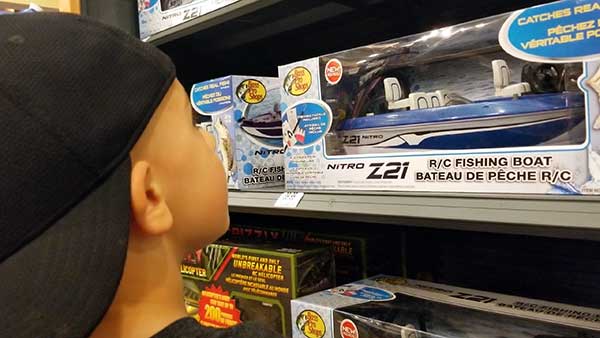 Yes, it is legal, but it depends on how you use the boat. I contacted the Minnesota Department of Natural Resources. Here is their reply:
Thank you for contacting the Minnesota DNR.
It is legal if it does not set the hook for you. So does it release the line when the fish bites? If it does it is legal.
Please feel free to contact us if you have further questions either by email or by calling 888-646-6367 M-F 8:00 a.m. to 8:00 p.m. and on Saturday 9:00 a.m. to 1:00 p.m.
Have a great day, Jim
Every state has it's own fishing regulations, but while researching this topic, I noticed that most states agree to this rule. If you live in a state other than Minnesota, check with your state regulations just to make sure.
**The only exception to this rule seems to be if you are fishing on a private pond.**
What Is RC Boat Fishing
RC boat fishing is the use of a radio controlled boat to place your fishing lure in the desired location. It can sit stationary, or pull your lure through the water. So basically, any boat that has a fishing line and lure attached to it, can be use for RC boat fishing.
What to look for in a RC fishing boat
Powered by an electric motor
Easy to change batteries
Having enclosed propellers will help to keep your line from getting tangled
It should have a long range wireless signal to prevent losing control of your boat
Be visible from long distances
Have a low center of gravity and be stable in the water
Why Some RC Boats Are Not Legal To Fish With
Most of the RC fishing boats for sale seem to be sold at stores such as, Cabelas, Bass Pro Shops, Walmart, Etc. They all seem to be a similar design, with a clip that connects to the boat motor. Then your fishing line ties to that clip. The fishing line is directly connected to the boat, so when a fish bites, the boat sets the hook, and then has to drive it to you.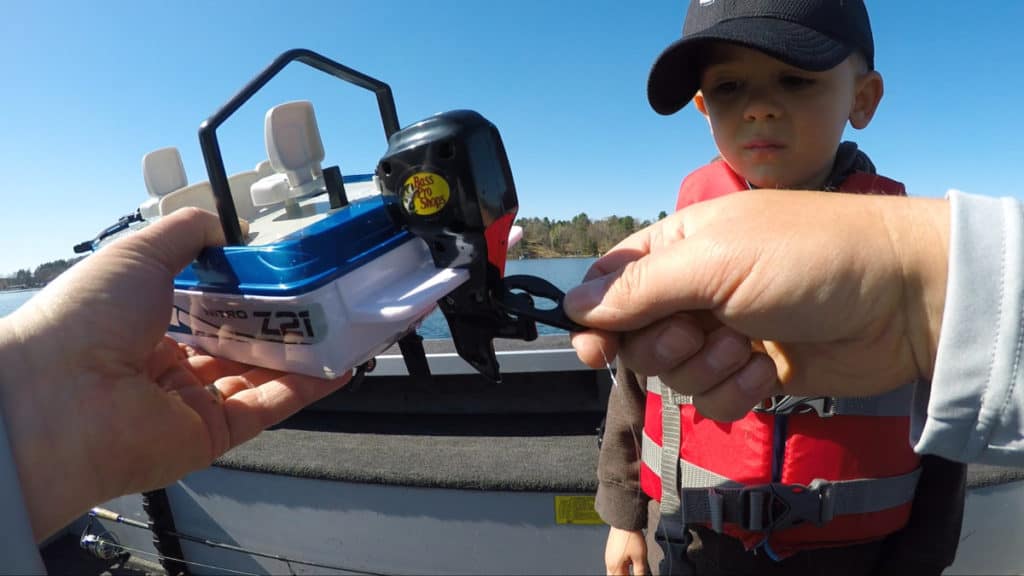 According the the fishing regulations, that is not legal, so if you use one of these boats per it's instructions, you will be in violations of the regulations.
How To Make An RC Boat Legal To Fish With
The easiest way is to buy a boat already set up the correct way. Here is an example of one that's ready to go from RC Fishing World.
These boats will run anywhere from $60 to $100. That's a little more expensive than the one I bought for $40. Another alternative is to buy the RC fishing pole. This will turn any boat into a fishing boat, and is only $19.95.
Here's how to make your line detachable. The kit above uses Velcro. It comes with a small Velcro circle that has a sticky back. You put your line in the middle of the circle and fold it over so it sticks to your line. Then attach that piece of Velcro the the other piece that is on the fishing pole connected to the RC boat. When you give the line a hard enough jerk, the line pulls free.
If you want to make one yourself, you can be creative and come up with designs all your own. Many people just use a plastic clothespin to hold the line.
Bass Pro Shops Nitro Z21 RC Fishing Boat Review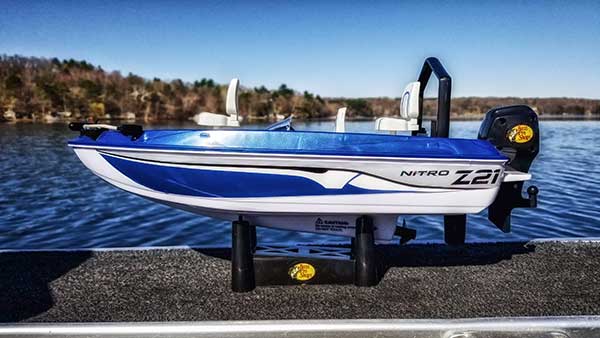 This is a fairly cheap boat at only $39.99. I have seen it for $10 more at other stores though. It comes in a few different looks, but they all have the same design. The instructions say it can catch up to a two pound fish.
What I like about this boat
I like that it looks like a fishing boat, complete with a trolling motor on the bow. It is easy to operate and comes with all the equipment that you need. It is priced low enough that you can try it out even though you don't really need one. It comes with a stand so you can have it on display when you are not using it. I also like that it comes with a handy grabber stick so you don't have to bend over the edge of your boat to pick it out of the water.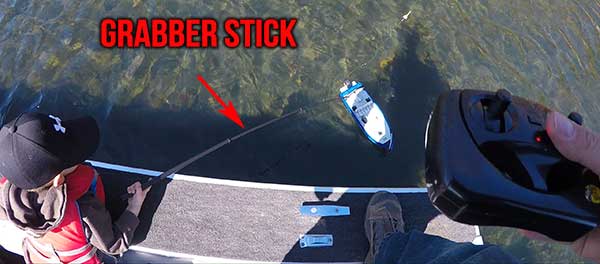 What I didn't like about this boat
Reviews on it say a few people had problems with it working right out of the box. Mine worked great, but there may be some quality control issues. It would be nice if it had a rechargeable battery. It takes six AA batteries. I'm not sure how long it will run on those batteries, but that's a lot to replace each time. Probably my biggest issue with this boat is the throttle. It is either full on or full off. You can't adjust the boats speed. The motor is OK, but I feel it's a little under-powered. Now that I know I can't use it to pull in a fish, it doesn't really matter. Oh… and I should probably mention, if you want to fish with it legally, it will have to be modified.
If you would like to see a video of Reed and I using the RC boat for the first time, check out the video below.
I hope this article was useful. I have many more helpful and interesting articles, so please feel free to browse around and take a look. I'm also building a library of the best lake reviews on the web. Check back often, as I'm constantly adding new lakes.
Thanks for reading, and good luck out on the lake.