I was at Fleet Farm looking for fish baits for my upcoming ice fishing trip to northern Minnesota, when I ran into these Striker Stealth gloves. They looked nice, so I tried them on. Long story short, I walked out with a pair of $45 gloves that I wasn't even shopping for. Were they worth it?
Yes! I love these gloves. It is hard to find gloves that are waterproof, windproof, and perform well all in one package. These gloves hit the mark. They are not for extreme cold weather, but for cool weather applications, they are absolutely perfect. Their biggest downside is the cost. I have tested them out in many situations. Keep reading to see if these gloves are a good fit for you.
How Warm Are Striker Stealth Gloves
The first time I used them was on an ice fishing trip to lake Winnibigoshish in northern Minnesota. It was -15 degrees below zero when I put them on. I can tell you right now that these gloves are not for extreme cold weather. I might as well have had no gloves on at all. My hands instantly froze. To be fair, they don't claim to be for this kind of weather.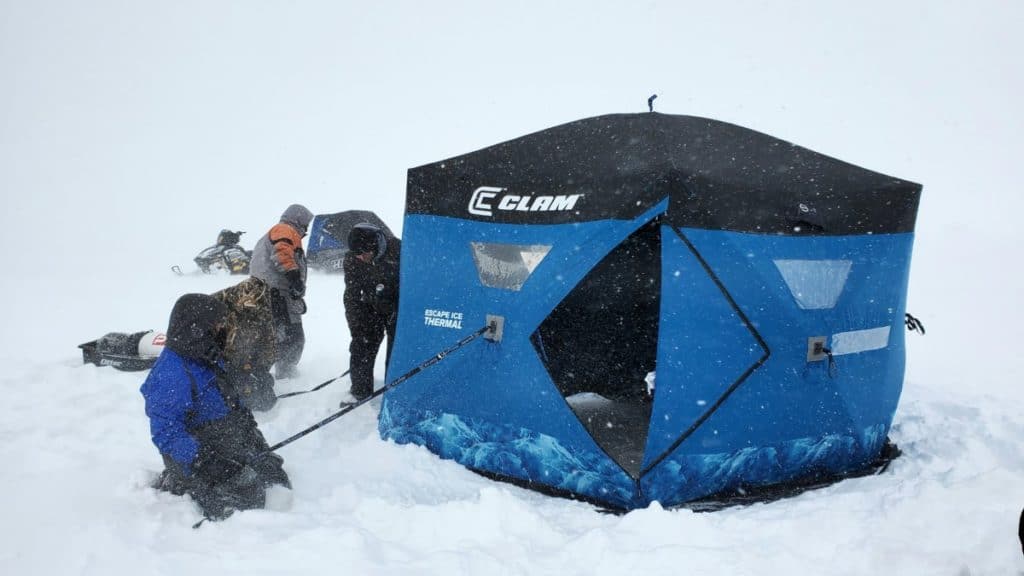 I have also used them for ice fishing on a sunny 35 degree day. They were perfect for this.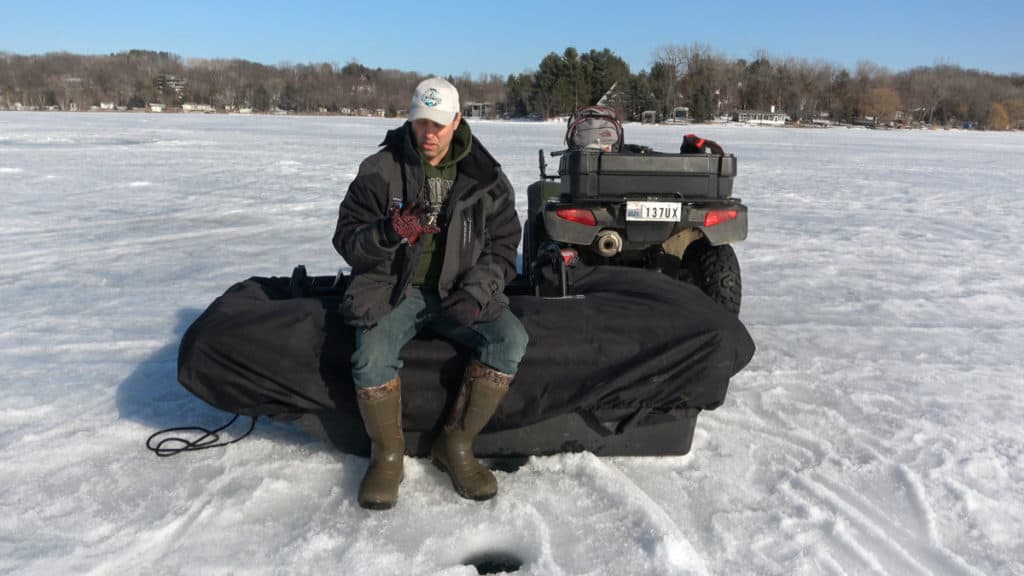 I always like this test, and nothing tests this better than sticking your hand down an icy hole in the lake.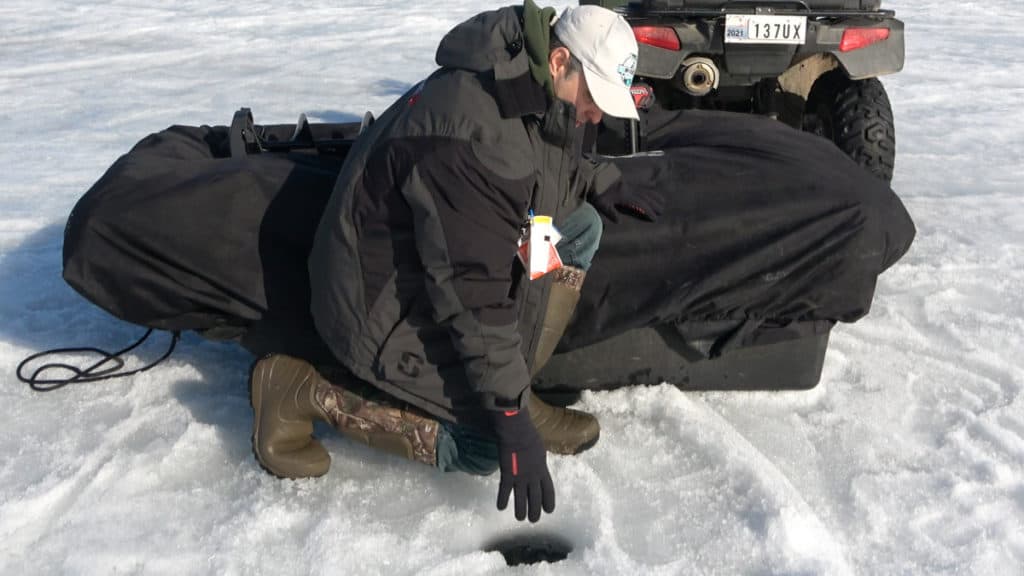 I completely submerged my hand in freezing water for several seconds.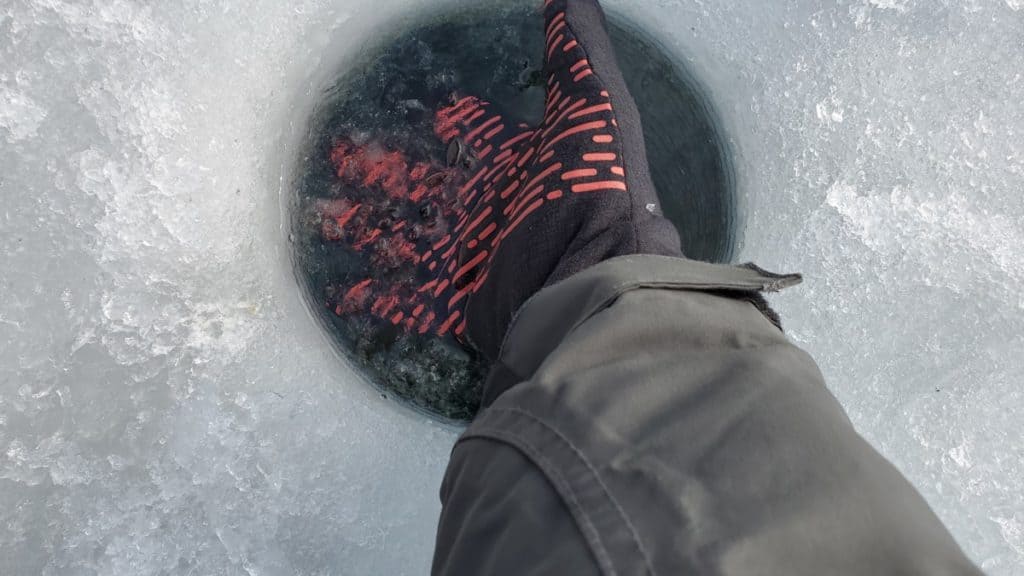 I could feel the coldness from the water, but my hand stayed completely dry. Unlike rubber gloves, the outer shell of the Stealth glove has the feel of soft cloth, and soaks up water.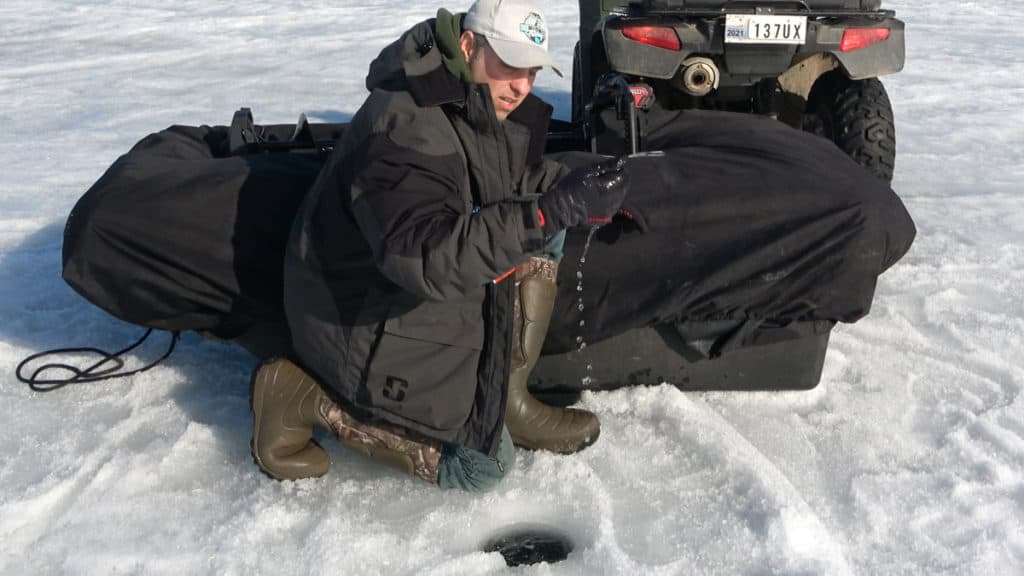 Even though my hand stayed dry, it did make my hand cold because the water stays on the glove and cools down in the cold weather.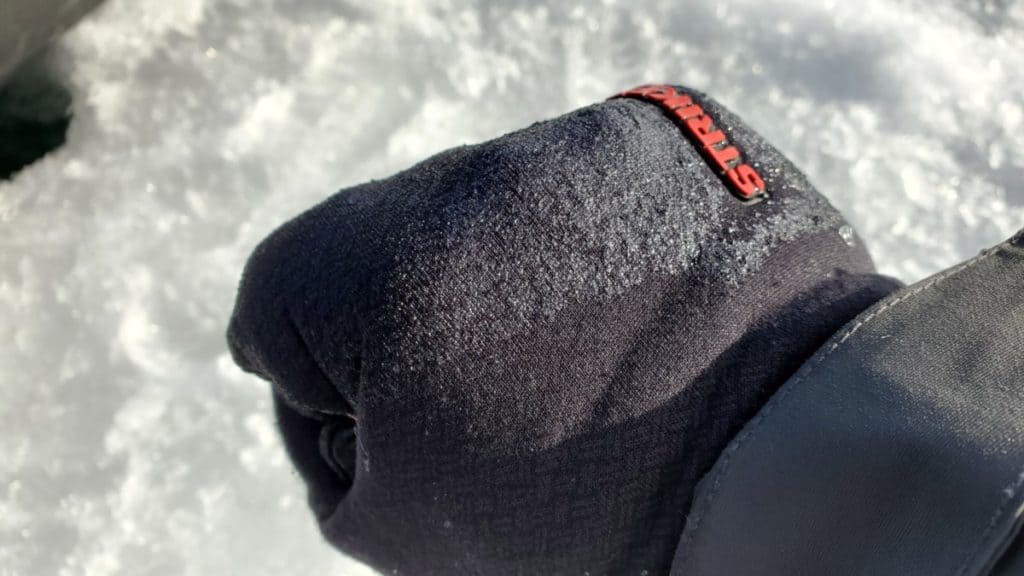 You can see in the picture above how the water soaked into the glove.
How Does The Striker Stealth Glove Feel
To me, they are very similar to a neoprene glove, but unlike neoprene, these gloves are very flexible. They are made of a  waterproof/breathable 4-way-stretch fabric with a water-resistant coating. It's like wearing a neoprene glove with the feel of a soft cotton glove.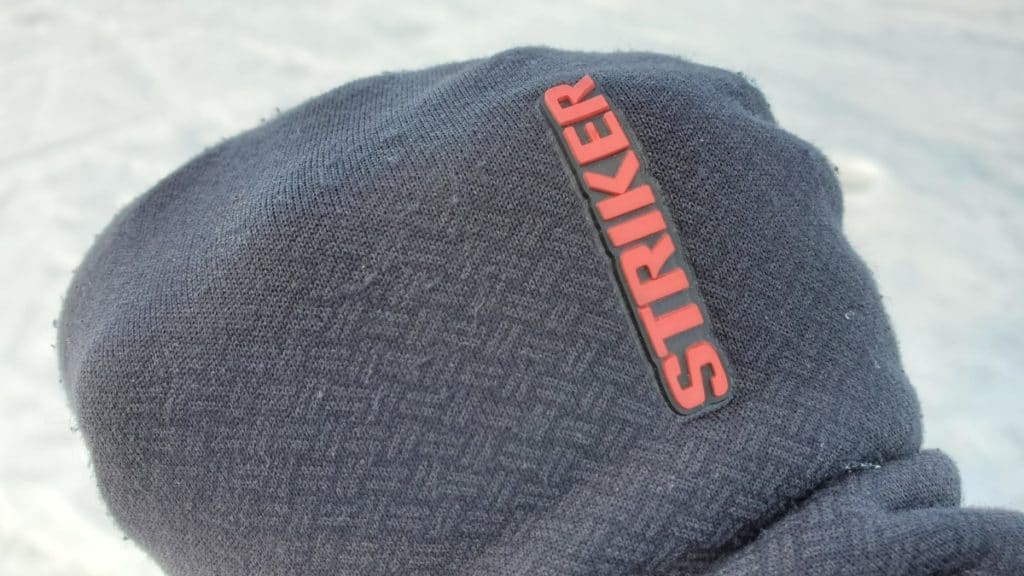 What I liked best, was how snug they fit to my hand. Most gloves are bulky in the fingers which make it hard to manipulate objects. The Stealth glove fits tight to your fingers, but without squeezing them. I can manipulate small objects, like fish baits while wearing them. You won't be able to do jobs like tie fish line with them on, but I don't think any glove could do that.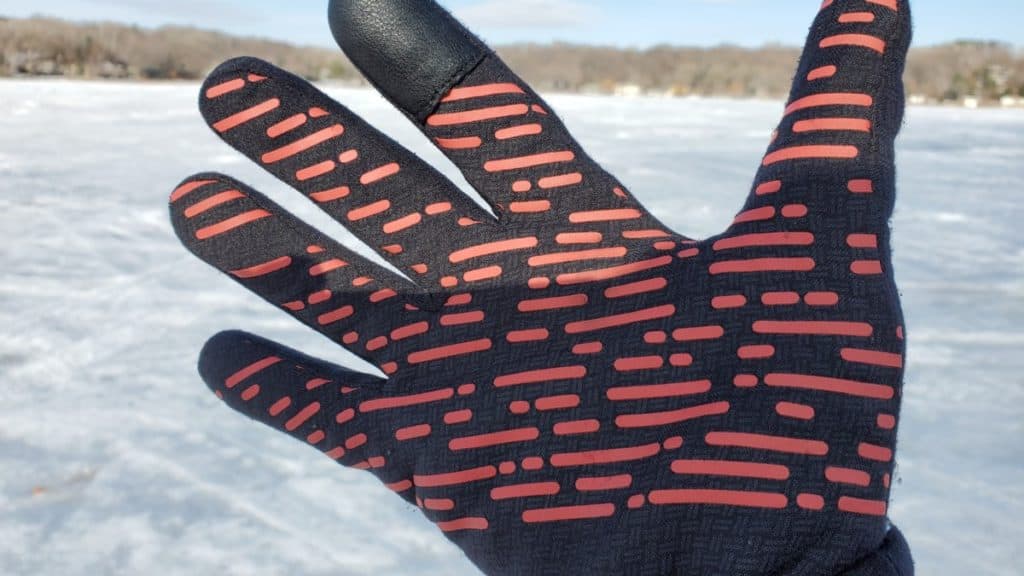 Other Great Features Of The Striker Stealth Glove
The first feature is hard to miss. It has bright red lines running across the palms. These are rubberized strips that help you get a grip. I can see this coming in handy when picking up a slimy fish.
If you look closely at the index finger, you will notice it has a leather tip on it. This is a touch sensitive finger. You can still operate your cell phone or other electronic touch screen with these gloves.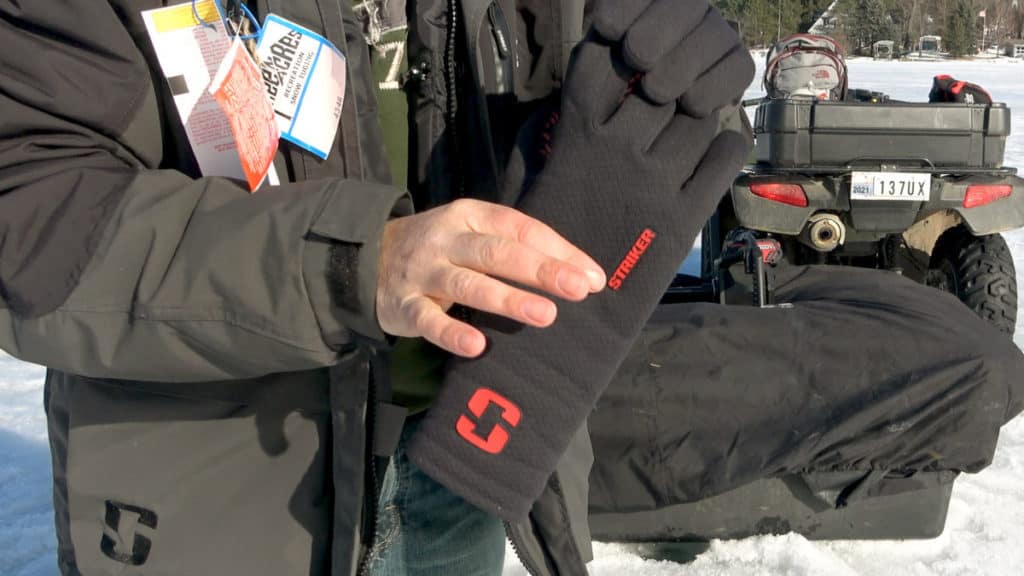 Another feature that might be overlooked, is the length of the wrist. They are actually quite long and can tuck up into your jacket making a nice seal to keep the cold out.
What's Bad About The Striker Stealth Gloves
So far I've had almost nothing but praise for these gloves, but there are a couple of things I don't like.
The most obvious one is the price. I paid $45 for the ones I got. You can check the current price on Amazon here. I paid over $50 for gloves before, but they were gloves for extreme cold weather.
Like I said, they are not marketed for cold weather. If you want cold weather gloves, try the Ice Armor chopper mitts. I've owned these for years, and they are my go to mitts when the weather gets really cold.
The other downside to these gloves is durability. I'm not saying its bad, but I would not use them for rugged use. As long as you use them for fishing or other sports that don't require hard use, I think they will be fine.
They would be great for skiing on a mild weather day, but I think they would get torn up if you used them on the tow rope that pulls you up the hill. Same thing with tubing hills.
My Final Thoughts About The Striker Stealth Gloves
After putting them to the test for two months, I am still very happy I got them. I think I will get lots of use out of them.
Here's where I think they will be best put to use. On cool wet fall days, when fishing on the lake, and you still need the use of your hands to operate your rod and reel.
End of season ice fishing, when there is still enough ice to be on the lake, but warm enough to be out there without a shack.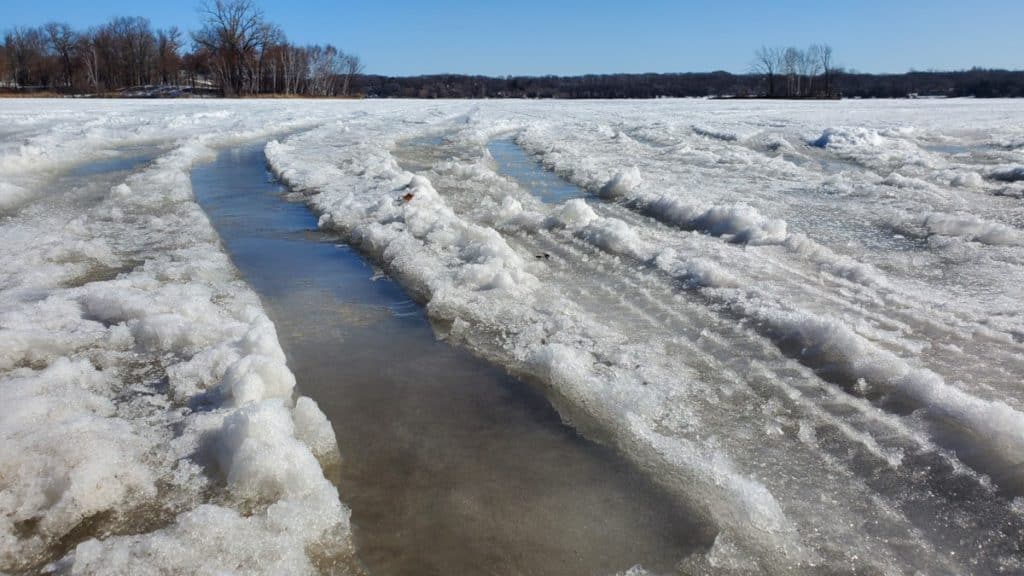 Going on hiking trips, or walking the trails where its just a little too cold for your bare hands.
If you are considering buying these gloves, I would say that if it is within your means to do so, you won't regret it. I realize that not everyone is willing to fork over $45 for a pair of thin gloves. To those people, I would say there are plenty of cheaper gloves that will do the trick, but if you want ultimate comfort and performance, these are the gloves for you.
Watch the review on my YouTube channel below
I hope this article was useful. I have many more helpful and interesting articles, so please feel free to browse around and take a look. I'm also building a library of the best lake reviews on the web. Check back often, as I'm constantly adding new lakes.
Thanks for reading, and good luck out on the lake.