Lake Stats
Acres: 201
Max Depth: 27 feet
Mean Depth: 15 feet
Bottom: 80% sand, 10% gravel, 5% rock, 5% muck
DNR Countour Map: Click Here
DNR Interactive Map: Click Here
Google Maps Location: Click Here
Fish Species
Panfish (Common)
Largemouth Bass (Common)
Northern Pike (Common
Walleye (Present
Watch us fish Big Bass Lake in late Sept
Landings
There is one boat landing on Big Bass Lake. It is located on the north side, just off Old Bass Lake Rd.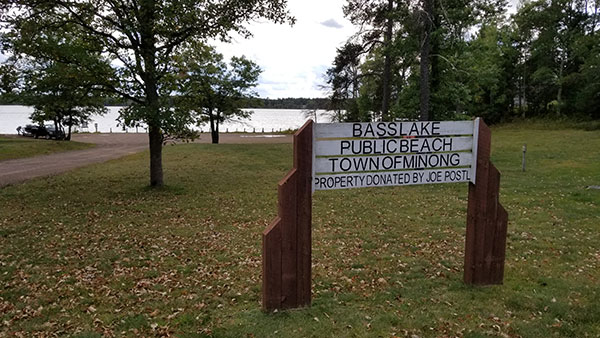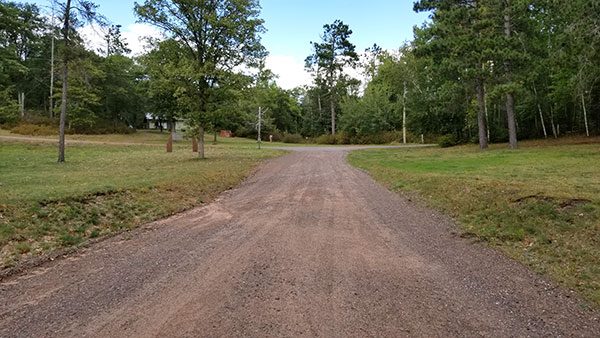 It is in a park with a public beach, although it looked like it has seen its better days. There was plenty of green space with a few sparse trees scattered about. A little red building stood out among the green. I assumed it was a bathroom, so I took a look inside. I would say, "use at your own risk."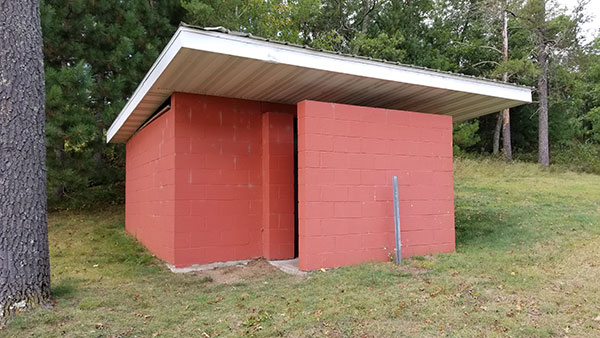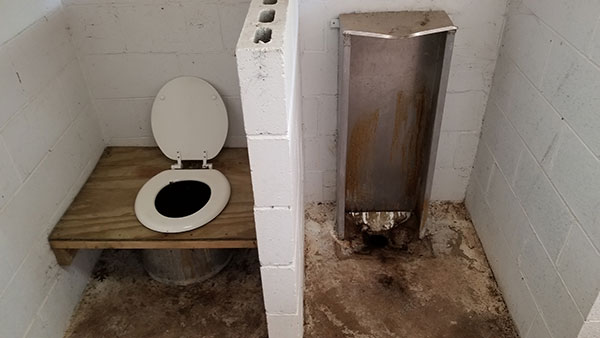 On the plus side, it has a huge turn around area. It was very easy to get our boat into position for launch.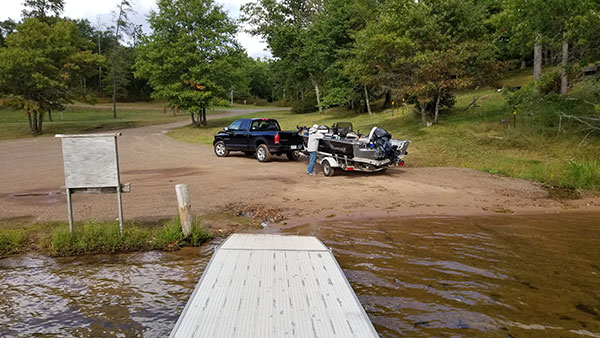 The sign does claim to have a beach… and here it is.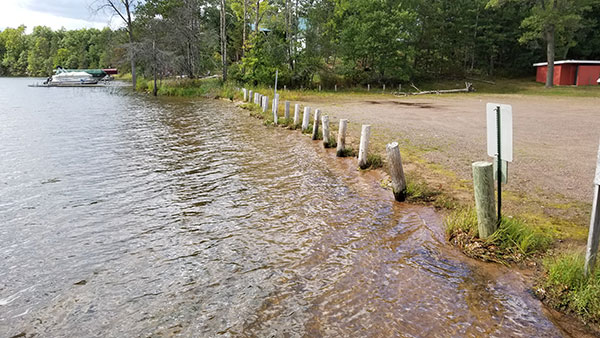 I believe the water level was high the day I was here, but I'm not sure I would call it a beach. It was nice and sandy though.
Zilla Fitness added some clarity with this comment, " I spend my summers in this area and go to this lake fairly often. The "beach" is typically at least 15 feet of sand or more but the water level is so high that it's nonexistent now. That's also why the landing was so shallow for you."
I did enjoy the fact that it had a nice aluminum dock. The water was so shallow though, I had to back my truck into the water to get the boat off. If you happen to be here on a hot day, just pop your shoes off and get your feet wet. The nice sandy bottom might feel good.
Commentary
Big Bass Lake is located near the town of Minong, Wisconsin. It is a small town, but has everything you might need. Have you heard of Jack Links beef jerky? Well, Minong is where it all started. You will see their headquarters here, and just about every building seems to bear their name.
My parents have a cabin nearby, so I am familiar with fishing this area. You have many lakes nearby, so if Big Bass is not producing, you have your pick of other lakes only a few minutes away. All these lakes seem to have a similar fishing experience. They tend to be full of tiny northern pike, bass vary in size, but generally around 12 inches, and abundant panfish.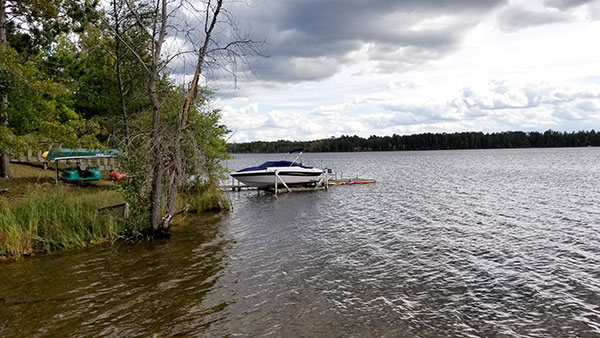 Big Bass is mostly round with a few interesting features. While the middle is the deepest part, it does have a couple of areas that have a shallow shelf area extending out from the shoreline. The east side comes to a skinny tail shape. It looked like it would be good, but we didn't get any bites there.
I wanted to check this lake out because it claims to have musky in it. I can't say I fished it long enough to know. My first impressions made me think this was more of a recreational lake than a fishing lake. It's hard to say because I was here in the fall and was the only one on the lake.
Fishing Experience
I was last here in late September, getting in one last fishing trip before it turns cold. The day I was here, it was windy with thunderstorms on the horizon. We didn't stay long, just long enough to say "we fished it."
We pulled off the landing and headed straight to a shelf area on the southwest side. It was 8-12 feet deep with a nice weedy bottom. We thought it looked like a nice spot for a musky to be hanging out.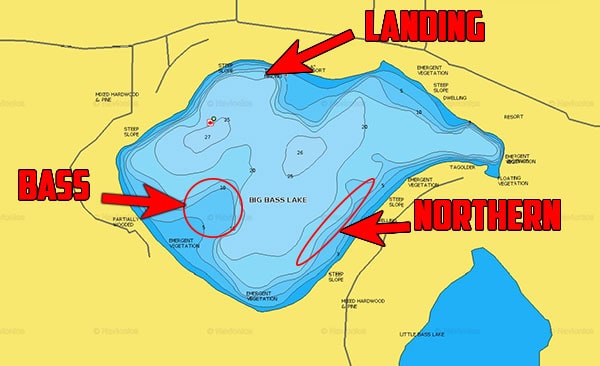 It wasn't long before I caught a 12.5 inch bass on a rattletrap, which is an average size bass for lakes in this area.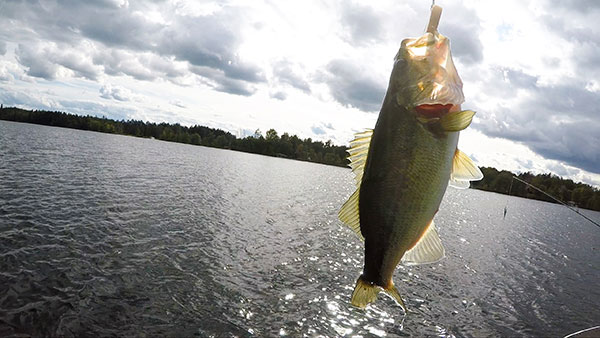 Soon after we pulled in a small northern along the southern shoreline.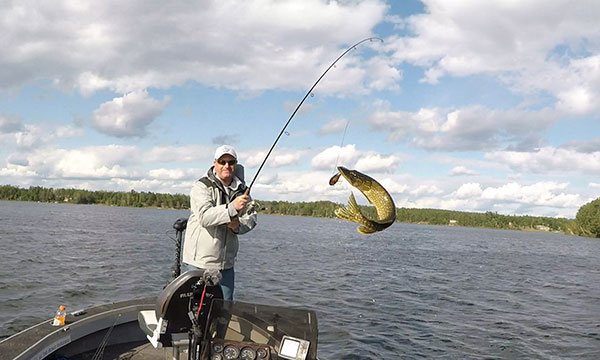 Then we tried some trolling along the southeast corner. I didn't get any bites, but I did discover some bluegills hanging out among the weeds with my underwater camera.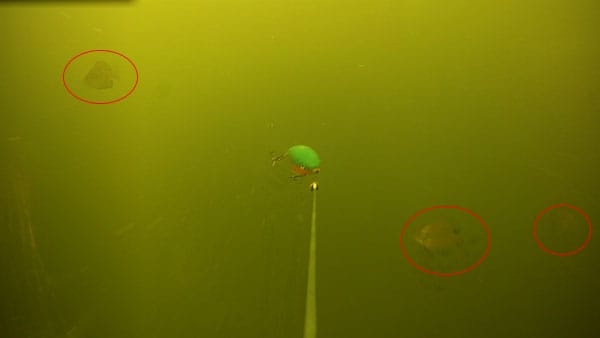 We didn't stay on the lake very long. A thunderstorm was heading our way, so we got off early. I wished I could have tried a few more spots to give you a better idea of what's out there.
Like I said earlier, there are so many lakes in this area, that it is worth trying a few of them in one day. If you are in the Minong area, give Big Bass Lake a try. You probably won't spend the whole day here, but its entertaining for a couple hours.
Thanks for visiting Go Midwest Fishing lake reviews. We lots of other great articles about fishing and camping like, Cargo Trailer To Ice House Conversion." Meet us personally on our YouTube Channel here.