Big Casey Lake Stats
Acres: 240
Max Depth: 27 feet
Mean Depth: 10 feet
Bottom: 28% sand, 30% gravel, 2% rock, 40% muck
DNR Contour Map: Click Here
Google Maps Location: Click Here
Big Casey Fish Species
Northern Pike (Common)
Walleye (Present)
Largemouth Bass (Common)
Panfish (Common)
Watch us fish Big Casey in late September
Big Casey Boat Landings
Big Casey has one public boat landing on the northwest end of the lake. It looked like they had just paved a new road to the landing when I was there.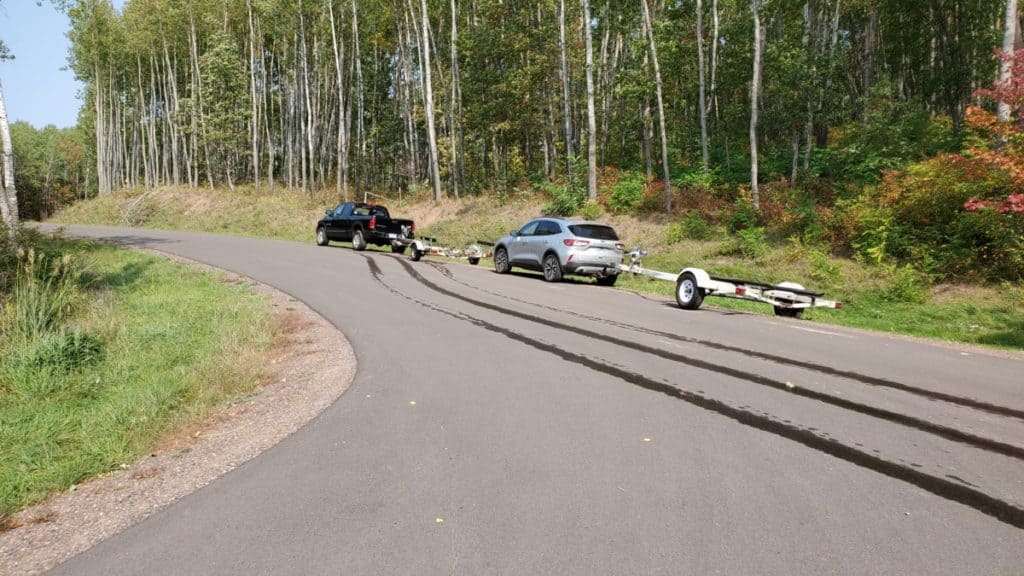 There were no marked parking spots, so we just parked along the side of the road. This newly paved road ends at the boat launch, which by contrast, is a primitive gravel launch.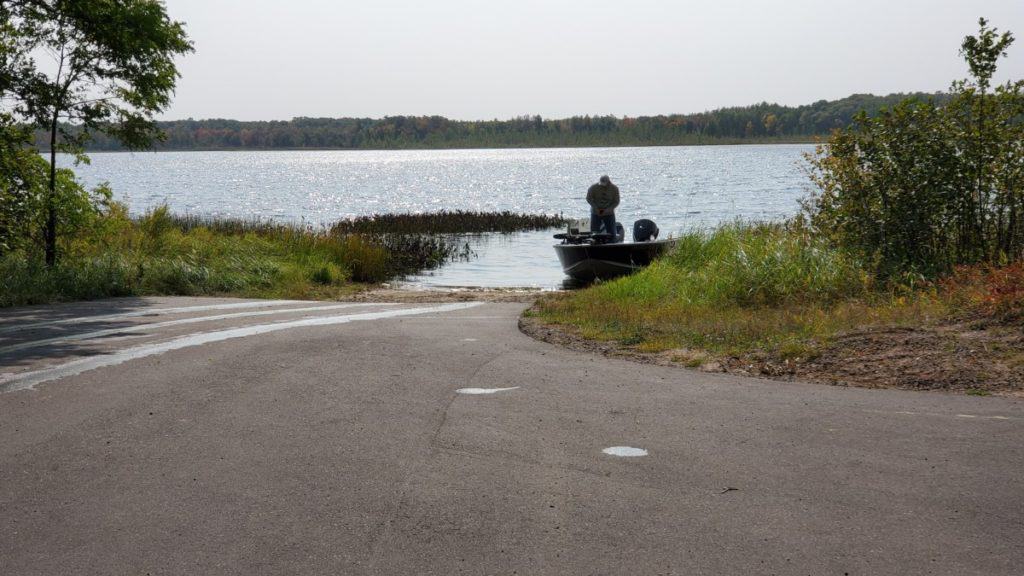 The landing was shallow. We had to put weight in the back of the boat and throttle up in reverse to get off the shore.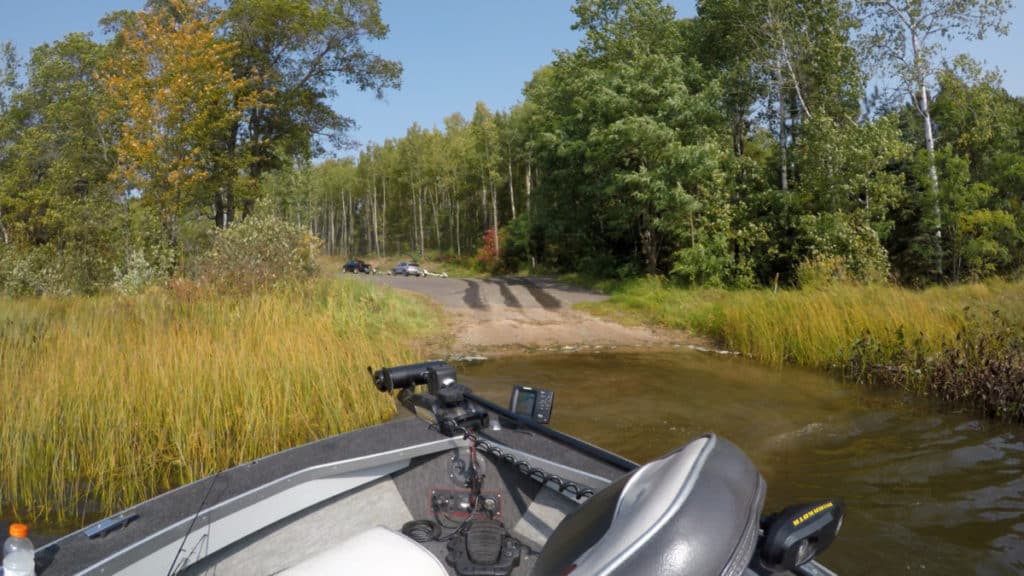 There is no dock here, so you will have to push off from shore to get going. Overall its a decent landing, but you may have some trouble getting going if you have a larger, heavier boat.
Commentary on Big Casey
Big Casey is a 240 acre lake located between Spooner and Minong, WI. It is in a heavily wooded area with few homes. There was only one other vehicle here while we were there.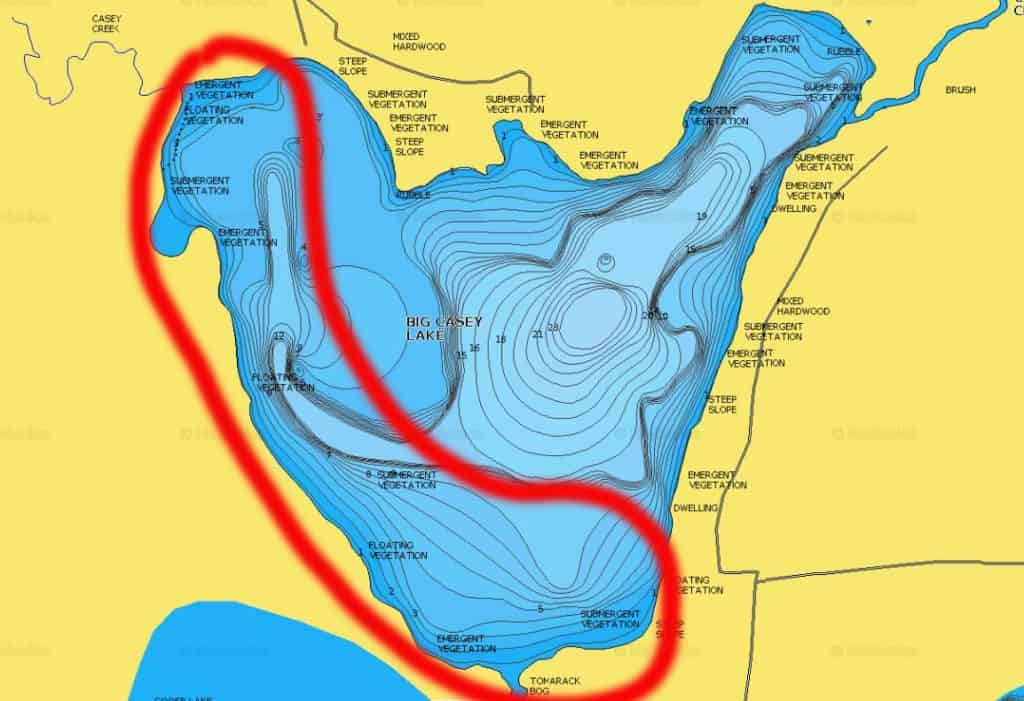 If you follow the western shoreline heading south from the landing, you will find an amazing weedline full of lily pads. It looks like it would be an excellent place to catch some bass.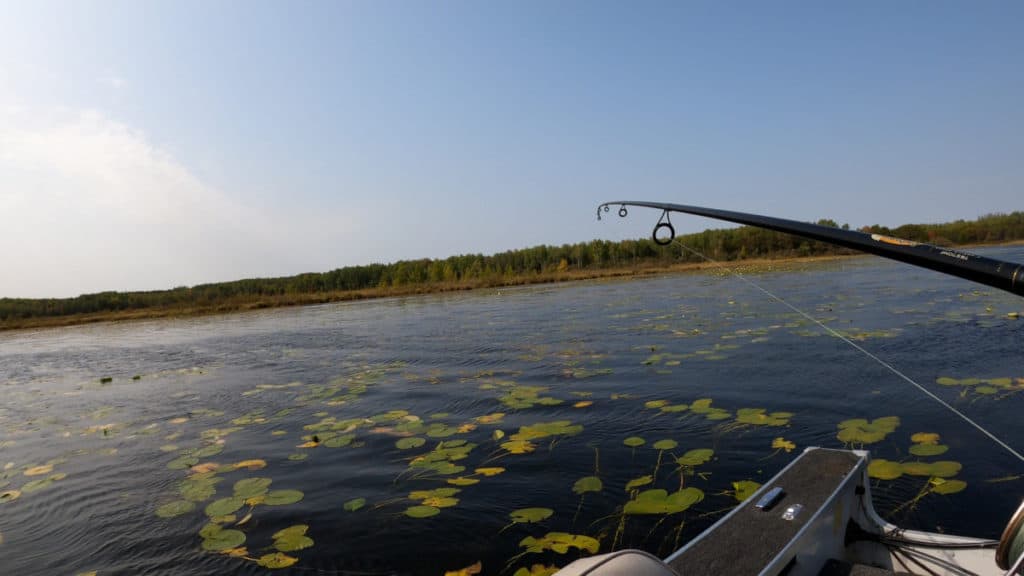 I dropped a camera overboard to see how the weedline looked underwater. Here is a nice shot of a northern pike hanging out on the bottom.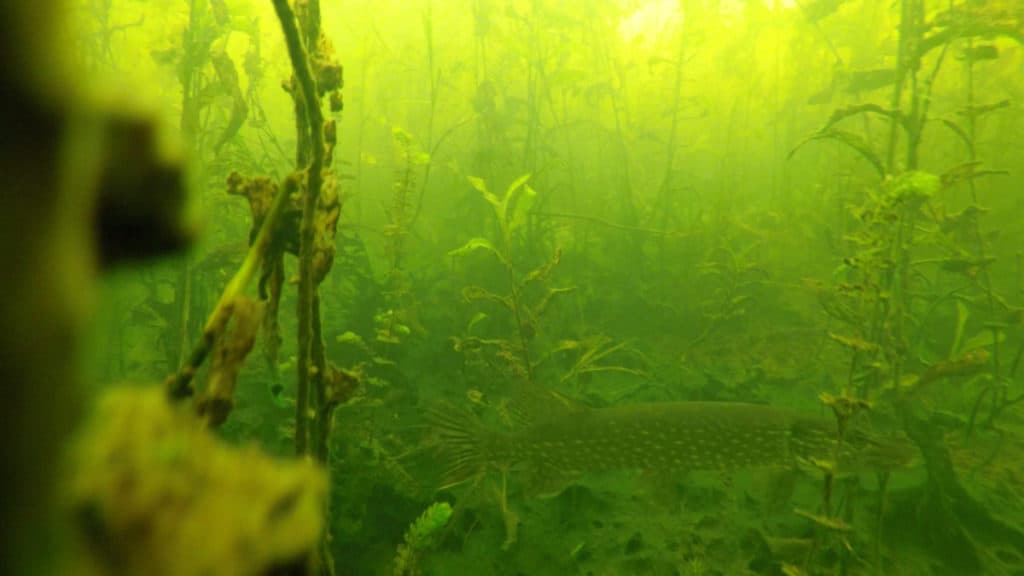 Other than a deeper hole in the center of the lake, most of Big Casey is in the 5-10 foot range with lots of good spots for fish to hide. Since the lake is not real big, you can move around until you find the fish, which is what we had to do.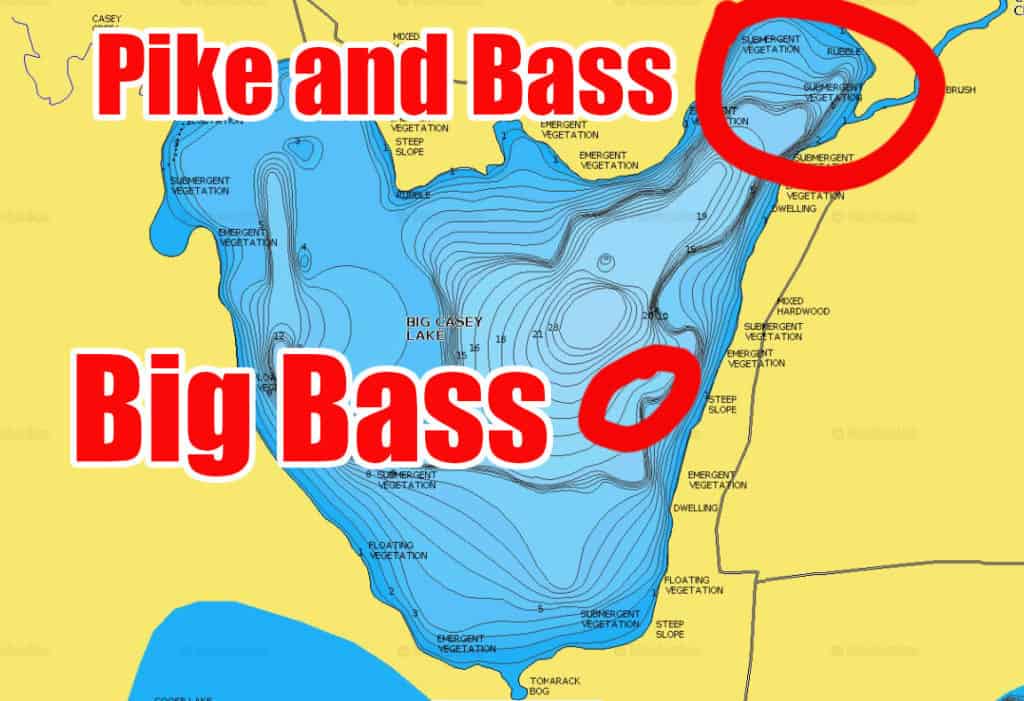 Above is a map of where we found the fish. According the the Sportsman's Connection guide book, Big Casey holds a good number of largemouth bass and northern pike. It also has nice crappies in the 10-12 inch range.
Fishing pressure is light here, with most of the traffic coming from the locals. I can agree with that. We only saw one other boat out here.
Our Fishing Experience On Big Casey
I fished here with Reggie in late September. It was a very windy day, which made boat control tough. According to my hot spots book, the western shoreline was suppose to be good fishing. We had a couple of bites, but never caught a fish in that area. It wasn't until we hit midway up the eastern side that Reggie caught the first fish, and it was a nice one.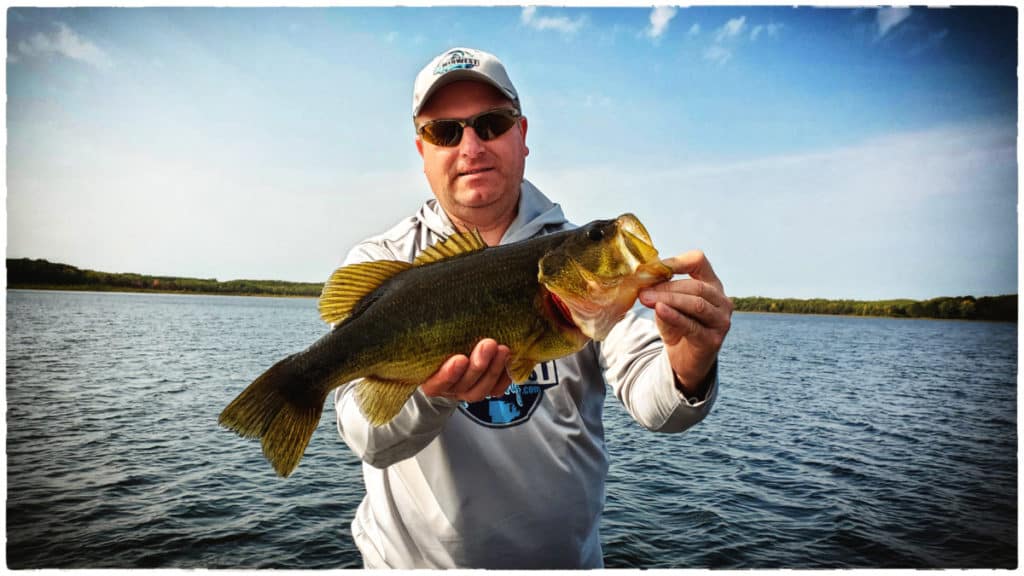 It was a very sunny, clear day which might have caused the slow bite earlier in the day. As we worked our way to the top northeast end of the lake, some isolated storms moved in and it started clouding up. That's when the bite turned on.
For the next two hours, we pulled in northern pike and bass, one after the other. After catching several of each, there was something that was hard not to notice. The bass were very fat, and the northern were super skinny.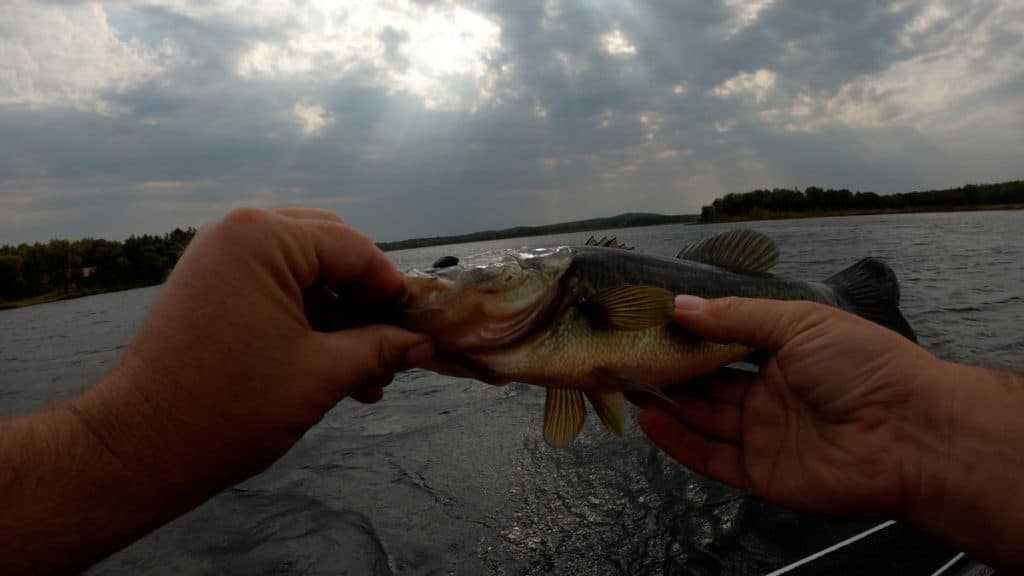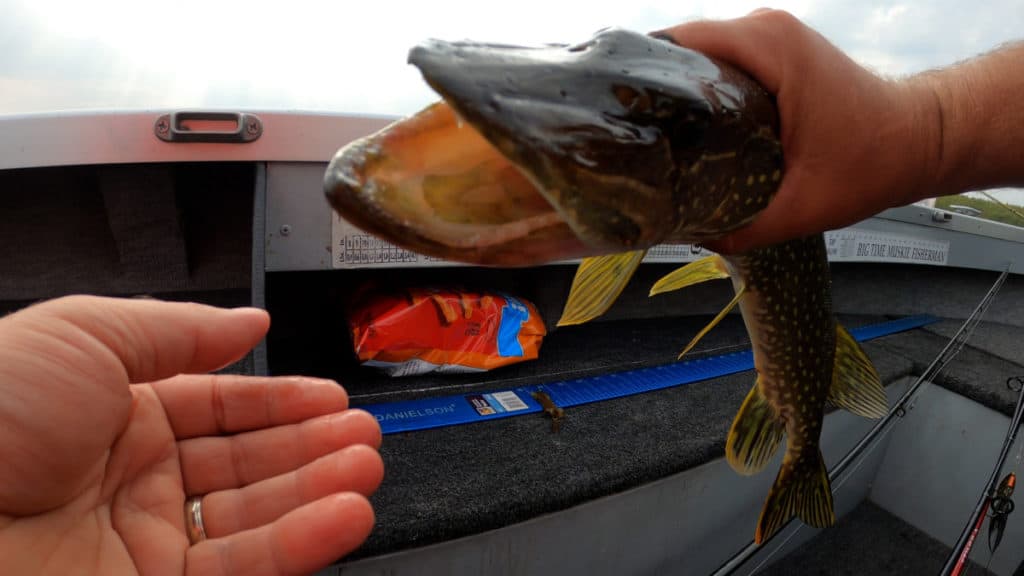 You can see the difference from the pictures above. It's not that the northern were small (which most of them were), because they had huge heads with tiny bodies. That suggests to me that they are severely underfed.
So why are the bass so fat then? There must be plenty of food for the bass, so why are the northerns not eating enough?
We only caught northern and bass while fishing here, so I can't speak for any other species in this lake. We fished late in the year, so that might have affected where we found the fish. I think the weedlines near the landing would be good in the springtime. Work your way around this lake, and you will eventually run into a good bite.
Thank you for visiting Go Midwest Fishing Lake Reviews. Check out my other articles like, Converting a cargo trailer to an ice fishing house. You can also hang out with us on my YouTube Channel Here.