Lake Stats For Birch Lake
Acres: 364
Max Depth: 73 feet
Mean Depth: 24 feet
Bottom: 0% sand, 15% gravel, 85% rock, 0% muck
Fish Species In Birch Lake
Northern Pike (Common)
Walleye (Common)
Largemouth Bass (Common)
Smallmouth Bass (Present)
Panfish (Common)
Watch us fish Birch lake in mid August
Boat Landings On Birch Lake
Birch Lake has two public landings, and several others located at resorts on the lake. The landing I normally use is located at the Birchwood dam.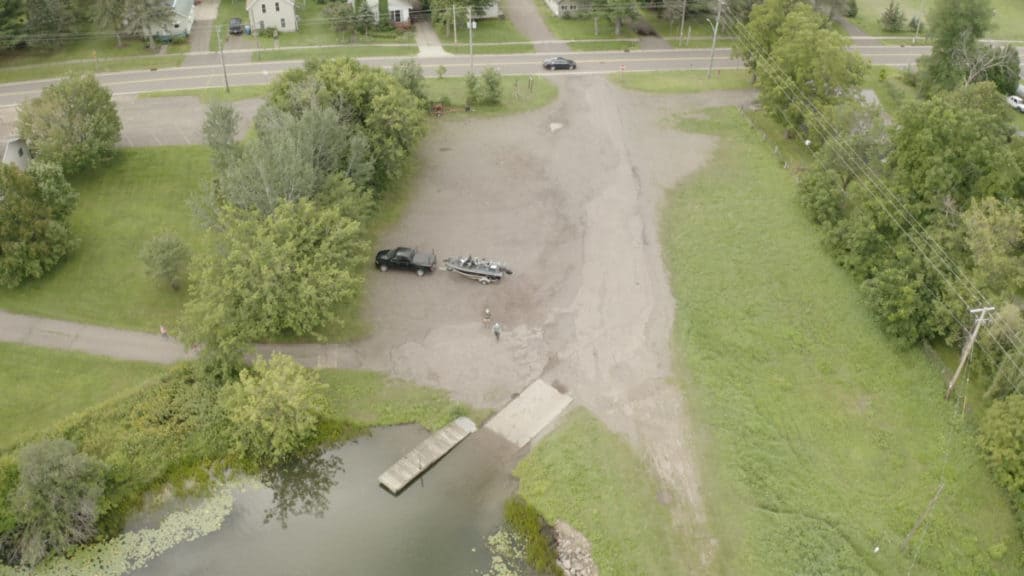 This landing has a concrete pad and an old wooden dock. There is a large area for getting turned around and parking your vehicle. Joe's Bait Shop use to be located next to the parking lot, but is no longer in business. There are a couple of gas stations less than a mile away where you can buy bait if needed.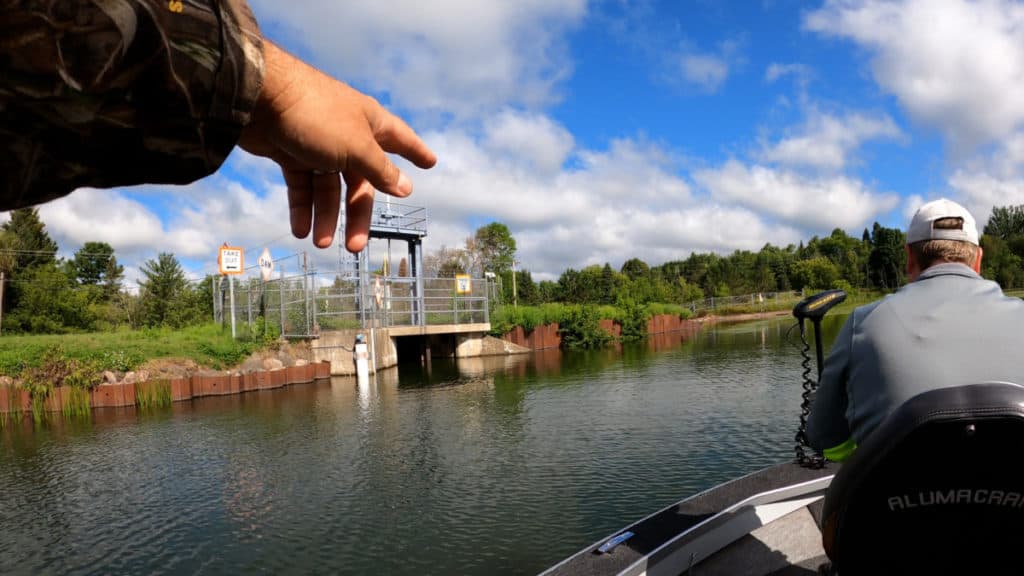 If you launch your boat here, make sure your motor starts, or have a paddle ready. You don't want to start your day with a ride down the dam.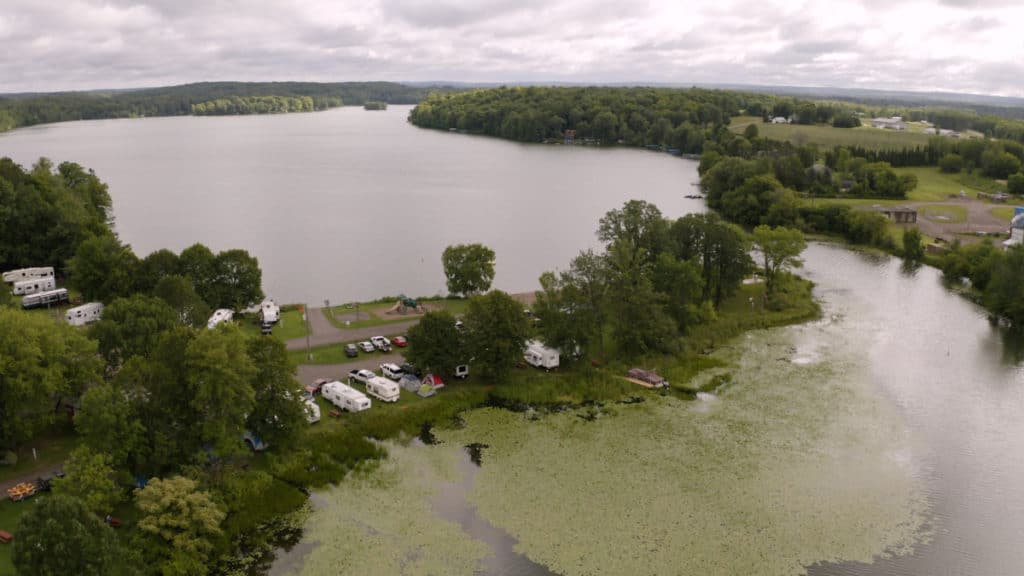 The other boat landing is located at Doolittle Park. It is on a peninsula that divides Birch into two lakes, Little Birch and Big Birch. Doolittle has a beach, campground, playground and a pavilion. It can get quite busy in the summer months. I would suggest using the landing at the Birchwood dam if possible. In the winter months, the Doolittle landing is the safer bet due to thin ice around the dam.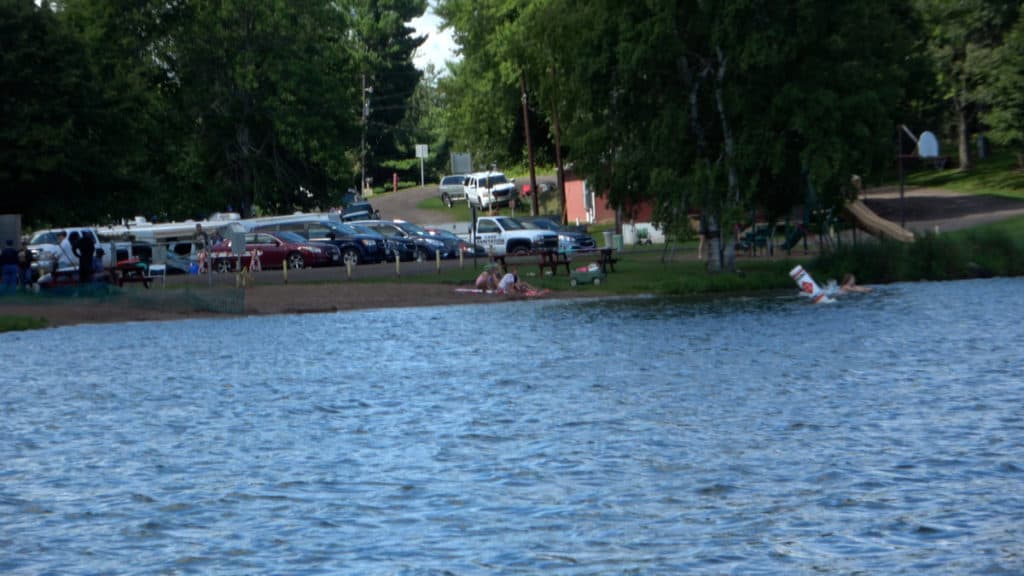 Above is a shot of Doolittle Park in August. You can see how many cars are parked here to use the beach. It can make it hard to find a parking spot for a boat trailer.
Commentary About Birch Lake
Birch Lake is located in the town of Birchwood, Wisconsin. Birchwood is my hometown and is where I lived until graduating high school. I have been to Birch Lake many times and have lots of memories on this lake.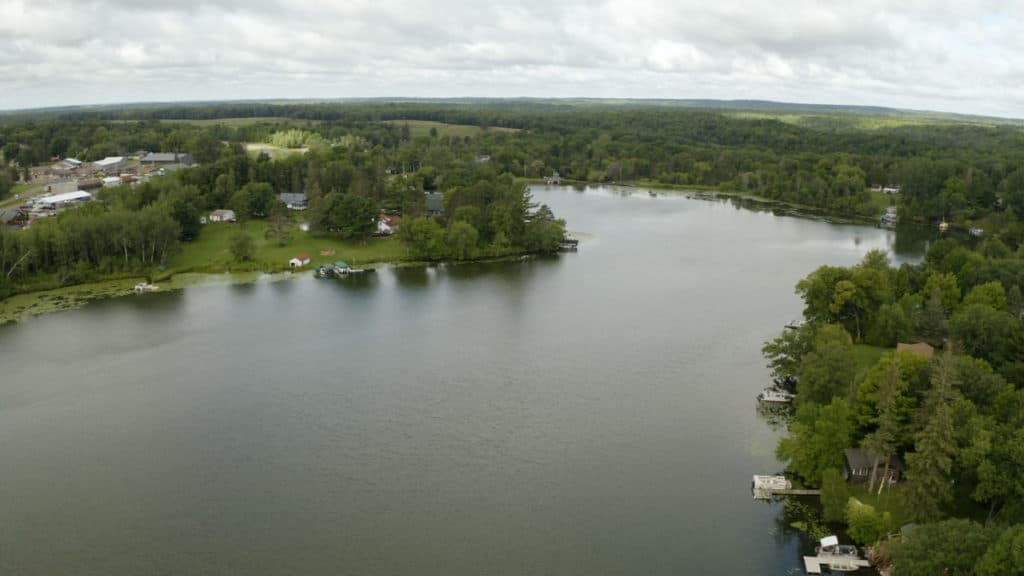 I have never just called this "Birch" lake. It's always been considered two lakes to me. Little Birch and Big Birch. As far as fishing goes, they feel like two completely different lakes.
I personally prefer fishing Little Birch. It is a fairly small lake and is easy to fish. The bottom structure is simple. It has gradual shorelines with a depth around 15 feet in the center of the lake.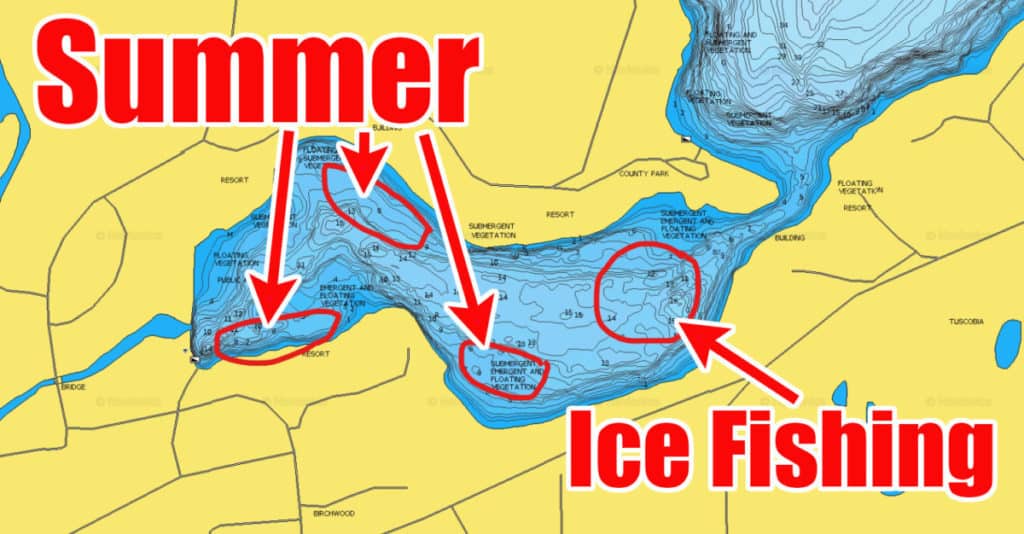 You'll mainly catch panfish here, including bluegills and crappies. You might have some luck with bass too. I've caught several bass through the ice here.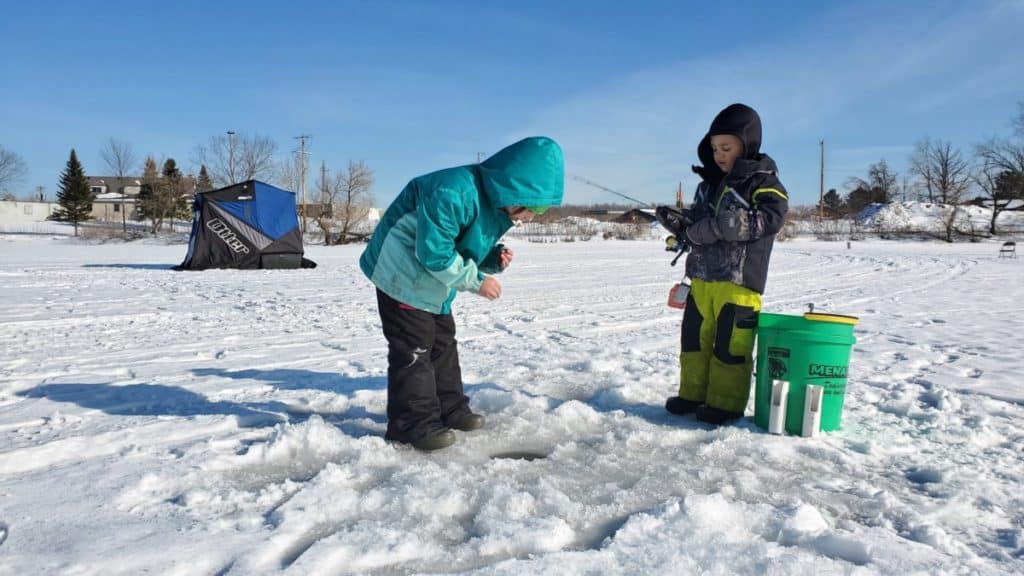 A popular place to ice fish Little Birch is just before the narrows that go to Big Birch. Just be very careful, especially early in the season. The ice is not always safe as you approach the narrows.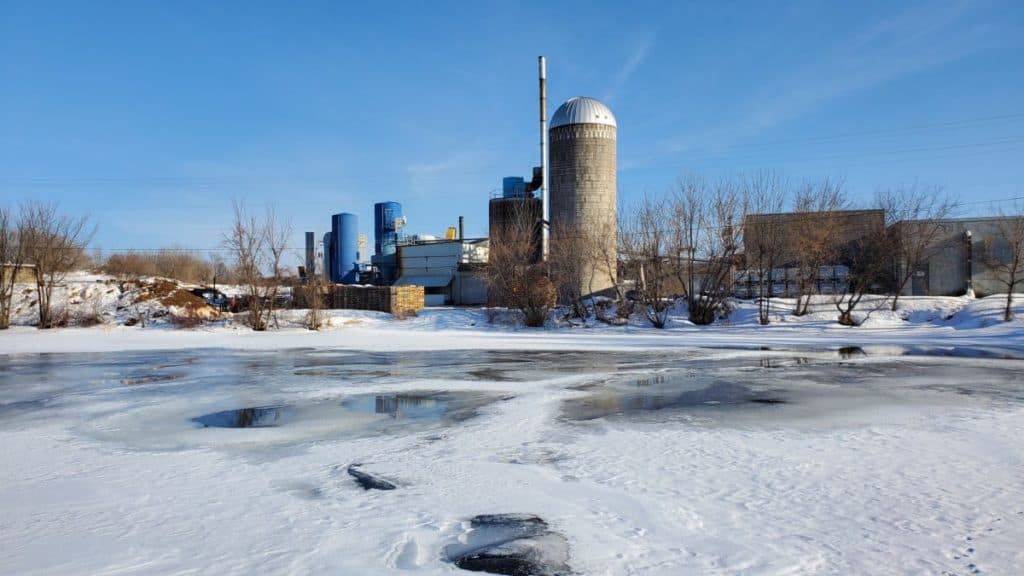 Big Birch is more of a recreational lake than a fishing lake. You will quite a few boats out here in the summer. Most of them pulling tubes or skiers.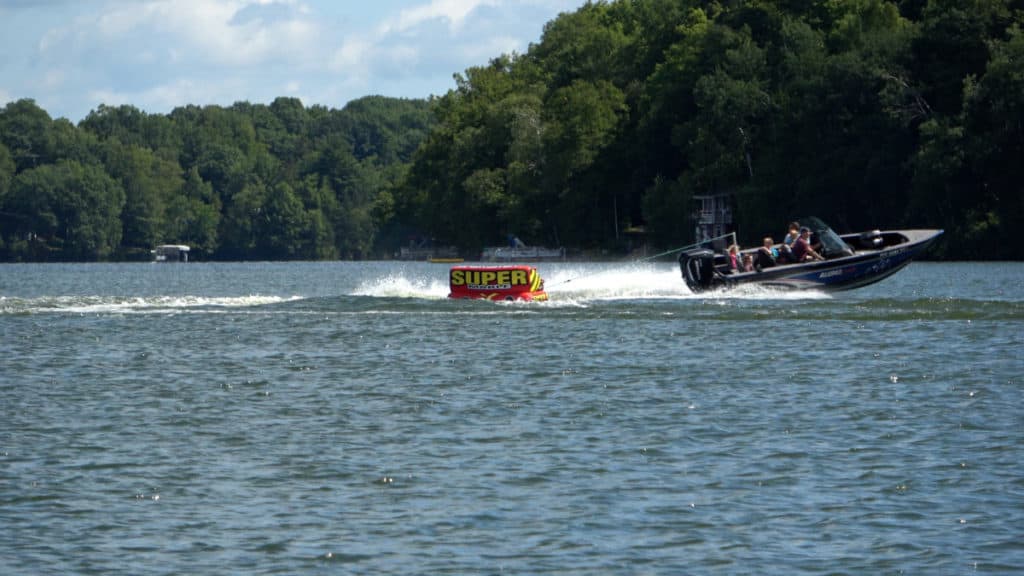 If you choose to fish here, winter is when you will have the best luck. This lake develops a thick algae bloom by late summer. The photo below is about 8 feet below the surface. The water clarity is so low and the weeds are so thick that I couldn't see much.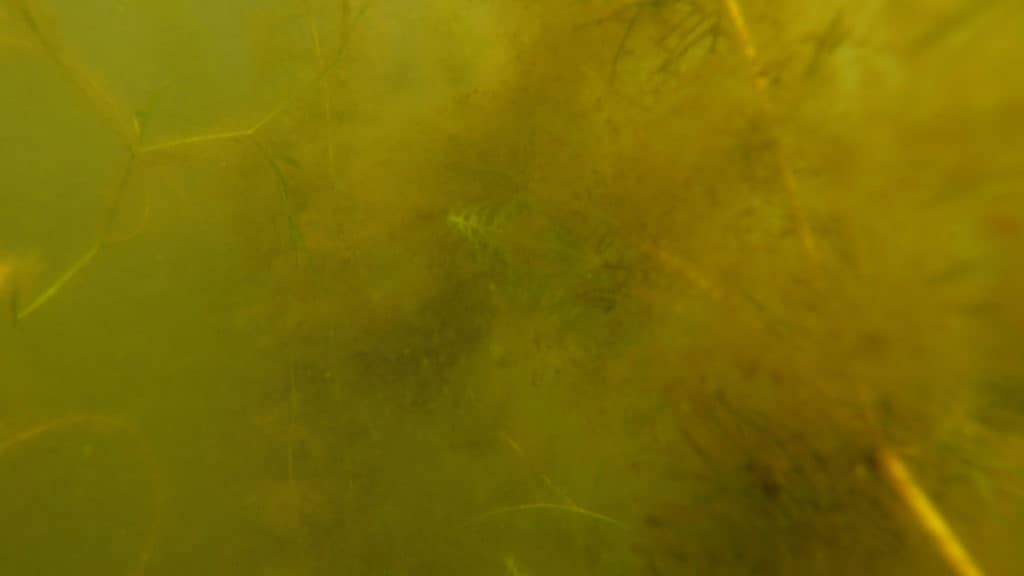 You can catch the usual variety of fish here, but I think most people catch bass and crappies. You might even run into a nice school of bluegills. Here are a few places to try.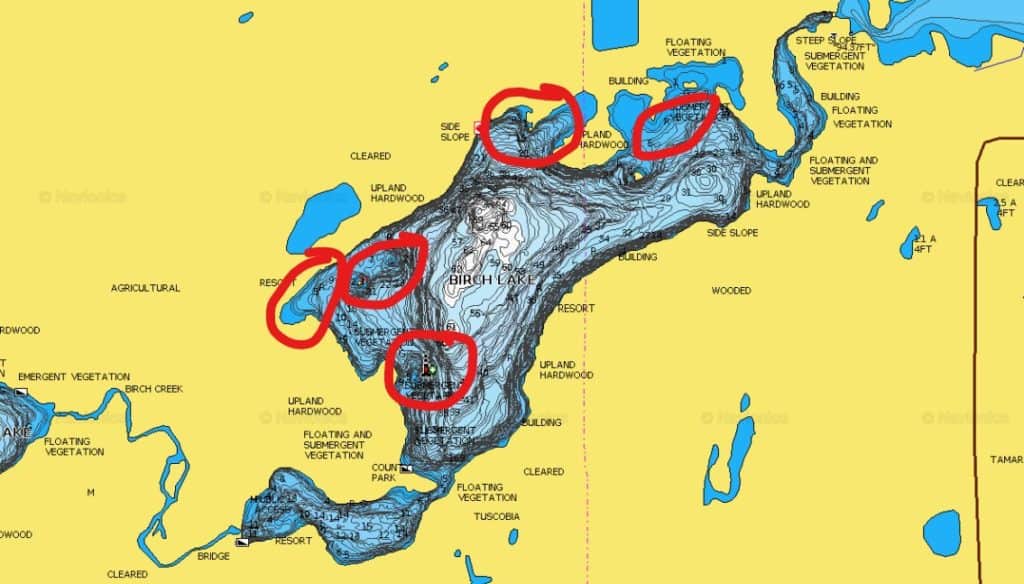 It get very deep in the middle. Look for the rock pile just out from the beach. Then keep going northwest to the bay by Fernwood resort. Then head northeast. You will see a couple of small islands. I usually see people fishing around them.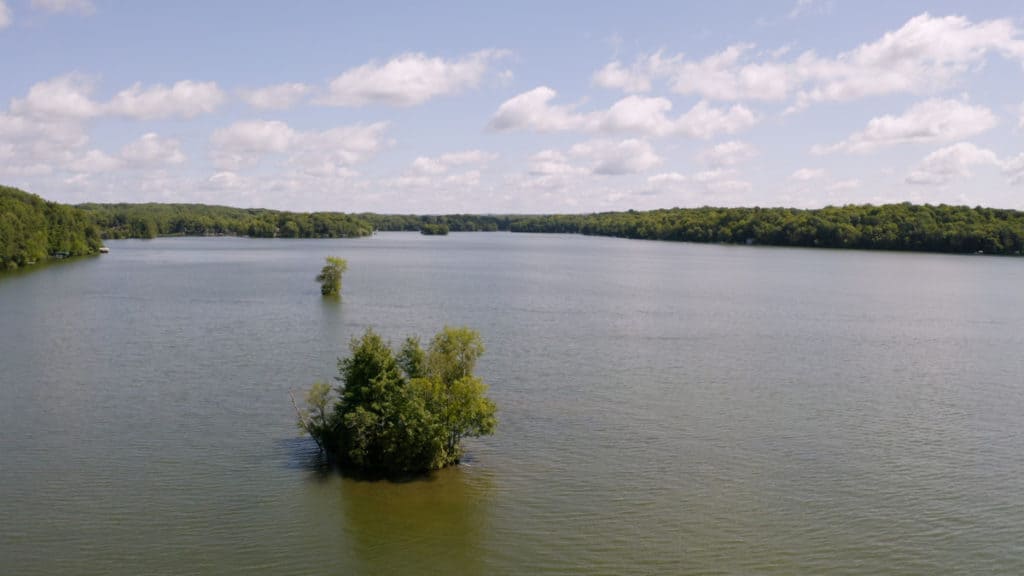 If you keep heading that direction, you will run into a deep bay. This is a good place for bluegills and probably one of your better spots to ice fish. Finally, all the way to the north end of the lake, you might find some nice weed edges to catch a few more fish.
Fishing Experience On Birch Lake
Even though I lived only a few blocks away from here, I didn't fish it that often in the summer. I did however, fish Little Birch quite often in the winter. It is worth your while to check out Little Birch through the ice.
If you want to try fishing Big Birch, I would avoid it in the summer. In the winter, you won't have much competition, so pick any spot you like. I've actually had some good days out there through the ice, but if you have the time to go to a different lake, I would.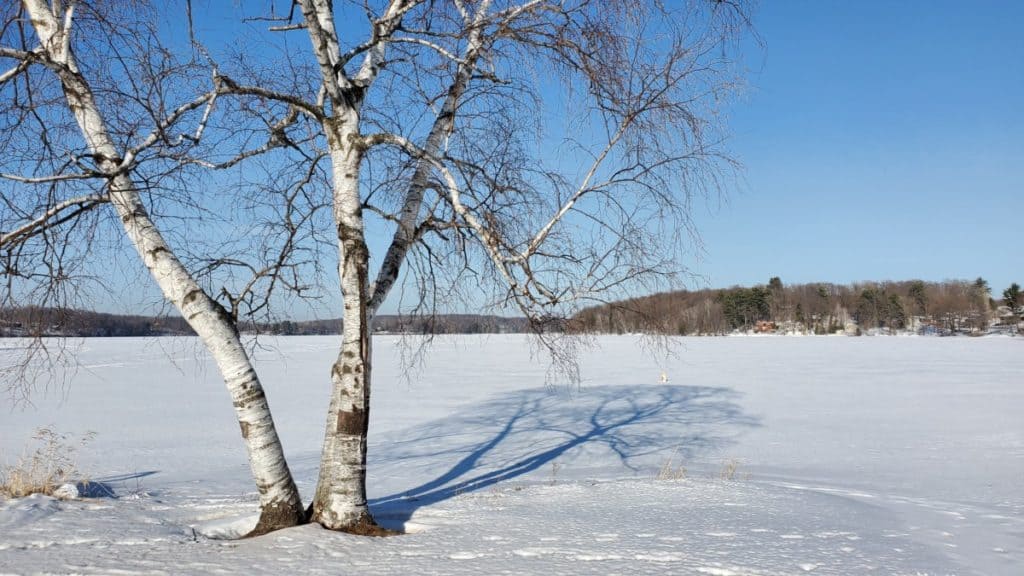 I love the photo above. A beautiful shot of Big Birch from Doolittle Park, with a birch tree in the foreground, how fitting! As you can see, not a sole in sight.
My last time fishing here was in mid August. It was right after a big thunderstorm and temperature drop. I didn't expect to do well, and we didn't. On Little birch, I had a couple strikes from a northern pike, but didn't catch anything. Reggie pulled in a small bluegill. It was just enough to say we didn't get skunked, then moved on to big birch.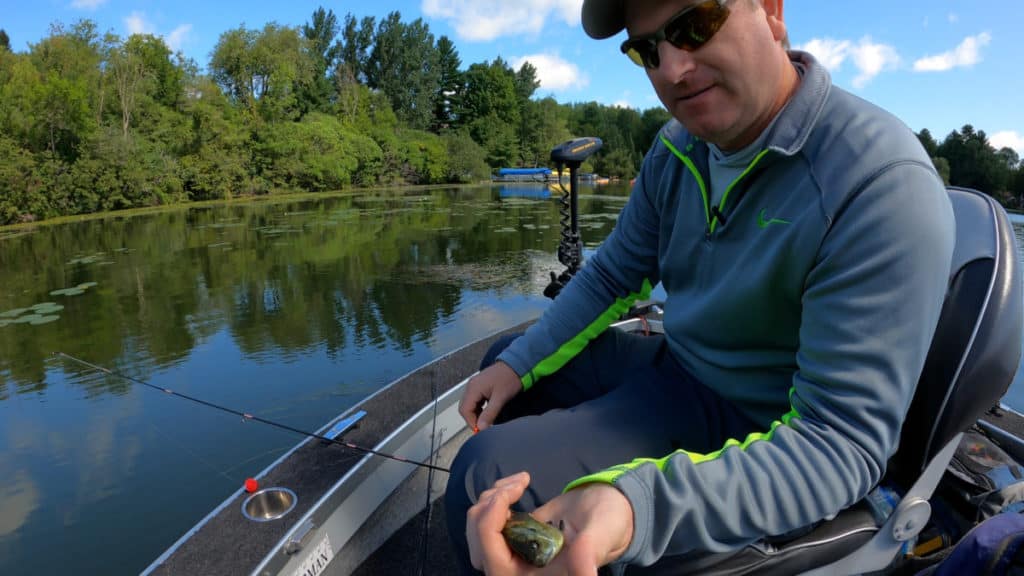 We actually did a little better on Big Birch. Reggie caught a bass off the rock pile out from Doolittle Park.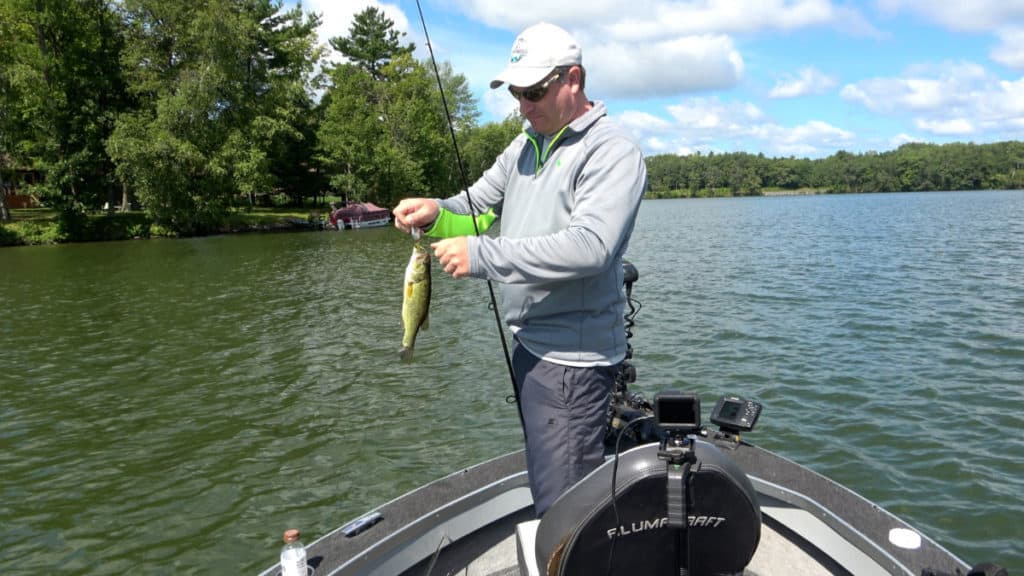 Then we went to the bay by Fernwood Resort. Reggie pulled in a couple more medium sized bluegills. Then we fished that deep bay on the northwest side about halfway up. We did our best here with several bluegills in a row. The weeds were so thick that it was hard to keep the fish from tangling up in them.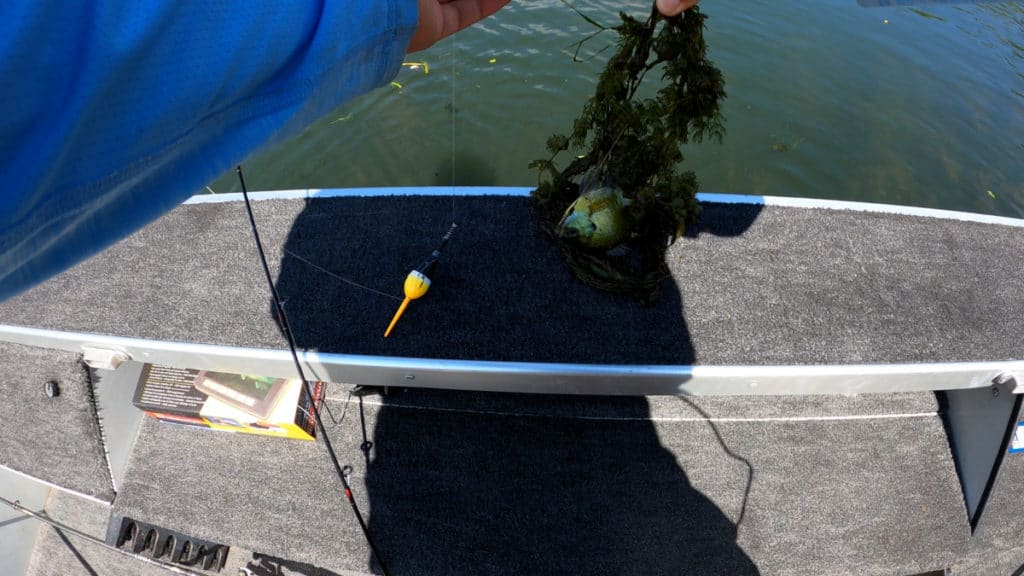 I wish I had better things to say about Birch Lake since its a lake I grew up by and have been to many times. There are so many lakes in this area, and most of them are better fishing then here, so if your main goal is to catch fish, then I would say its best to search out other lakes.
If you just want to have some fun, do some water skiing, and have a picnic, then this is your lake. You will find lots of people and amenities for a fun day on the water.
Thanks for visiting Go Midwest Fishing Lake Reviews. While you are here, check out some other interesting article like, "Cargo Trailer to Ice Fishing House." Also, come hang out with us on my YouTube channel here.