Cedar Lake Stats
Acres: 1120
Max Depth: 32 feet
Shore Length: 8.3 miles
Bottom: 90% sand, 5% gravel, 0% rock, 5% muck
Water Color: Turbid
Cedar Lake fish Species
Musky (Common)
Northern Pike (Common)
Walleye (Abundant)
Largemouth Bass (Present)
Panfish (Present)
Watch us fish Cedar lake in February
Boat Landings at Cedar Lake
The maps show a landing on the north and south ends of the lake. I checked out both landings, and the north end is the only one you can launch a boat from.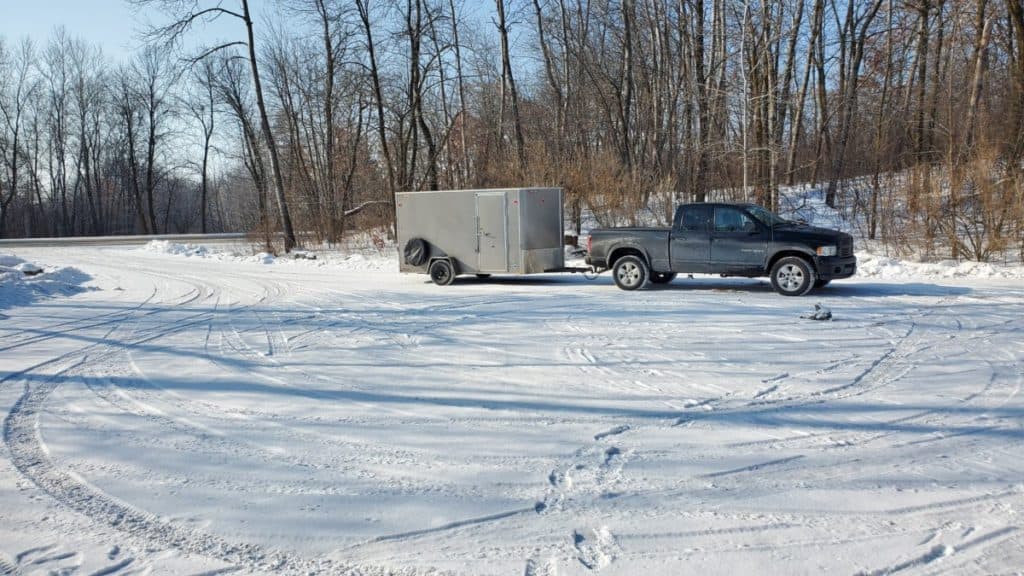 Above is the parking lot on the south end of Cedar lake. It's basically a big cul-de-sac.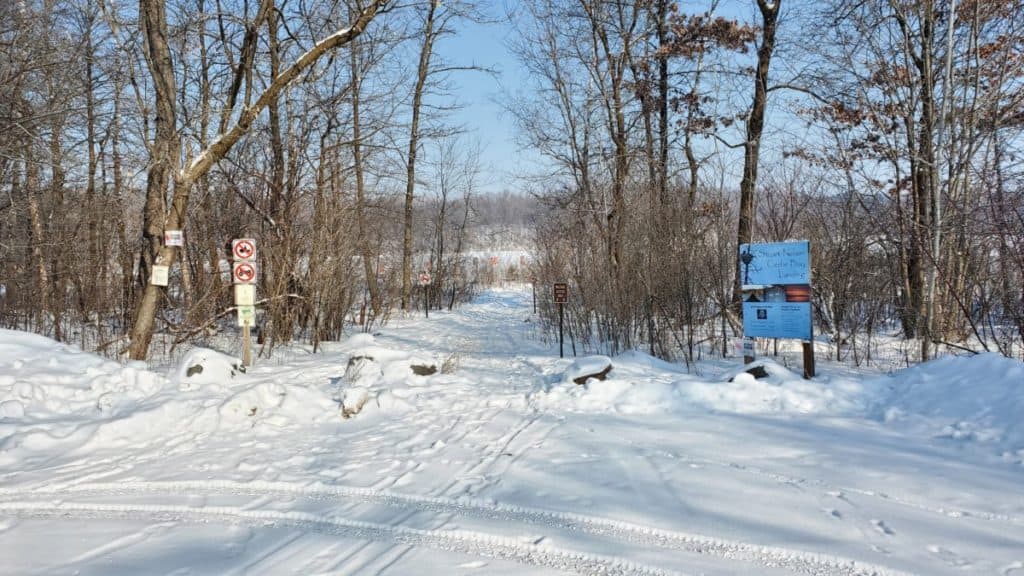 As you can see here, there is no boat access to the lake, just a walking trail. The signs say no ATV or Snowmobile access. You should be able to drag your canoe or kayak to the lake though.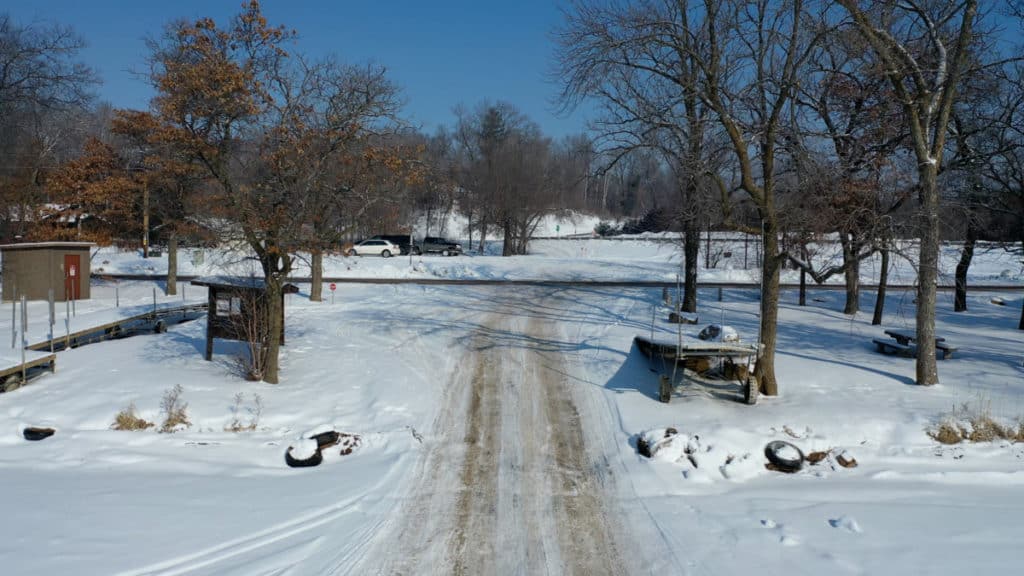 Here is the boat launch on the north end. It is near the intersection of County Rd M and 10th Ave. The parking lot is on the opposite side of 10th Ave.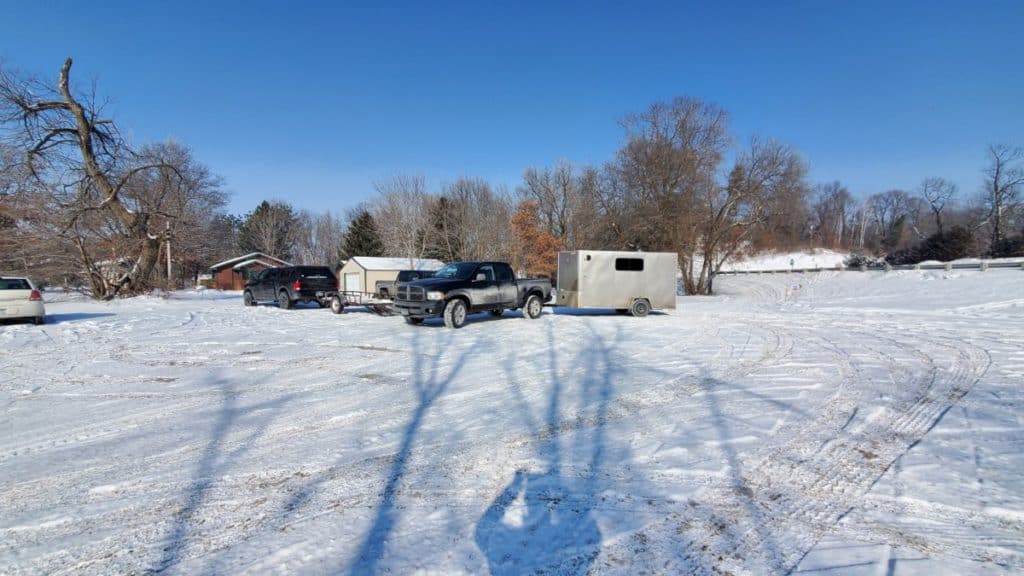 The parking lot is nice and large. I hear it gets pretty crowded in the summer months, so it is probably needed.
Commentary on Cedar Lake
Cedar Lake is about 30 miles from the Twin Cities suburbs and is a fairly well known lake. It is one of the larger lakes in the area, but not very deep at only 32 feet. During the summer months, this lake develops a large algae bloom along with a lot of plant growth. Most of this dies off in the winter and the fish need a place to hide.
With the help of the WI DNR, a Cedar Lake management plan has been developed to help improve the quality of this lake. You can see information about this plan HERE. It contains 143 pages of everything you could possibly want to know abut this lake, so have fun reading!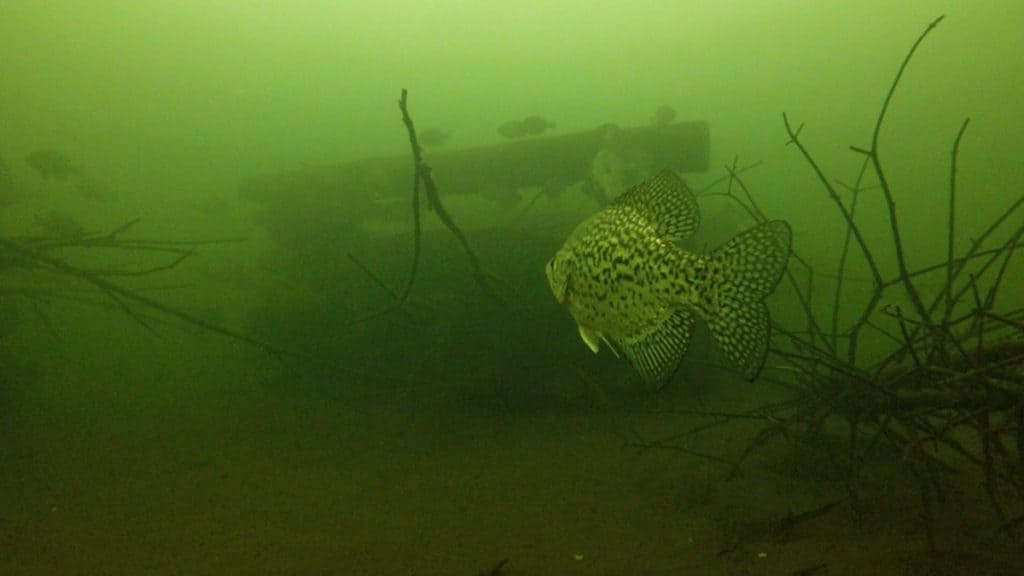 One of the ways they are trying to improve the number of fish in Cedar lake is to give them a place to live, and it is working great! Above is crib site #11 in the northwest side of the lake.
According to the map, there are currently a total of 361 cribs, clustered in 12 different sites. I fished four of these sites and was amazed at how many fish congregated around these cribs. Fish aren't the only ones congregating around the cribs.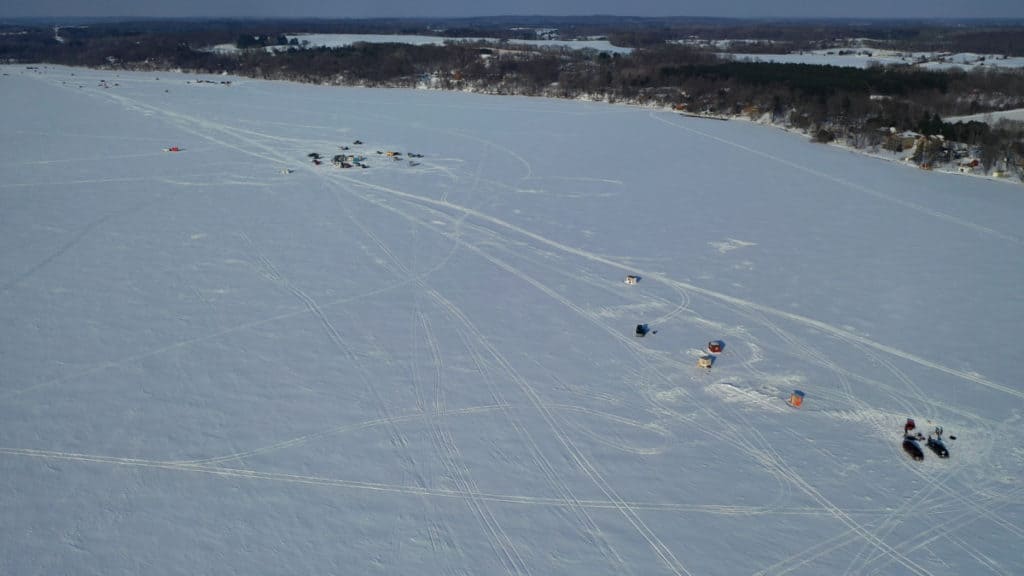 It is easy to tell where the cribs are. Just look for the clusters of ice shacks. As far as ice fishing goes, fish over the cribs and you will find fish. It would be kind of pointless to fish anywhere else.
Fishing Experience on Cedar Lake
A viewer from my YouTube Channel asked if I would do a lake review on Cedar Lake, so that's how I ended up here. He suggested I fish crib site #11, so that's where we started off. It was mid February and we just came off two weeks of extreme cold weather. It was now 8 degrees F and it felt great.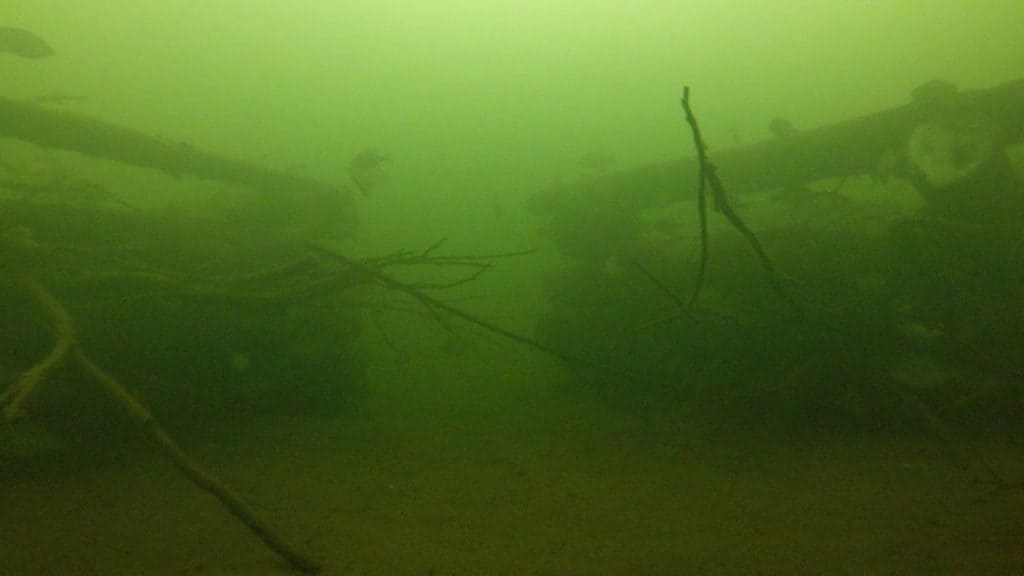 Here is a photo of the cribs at site #11. We were fishing between two of the cribs. We started at 11am and fished here for an hour.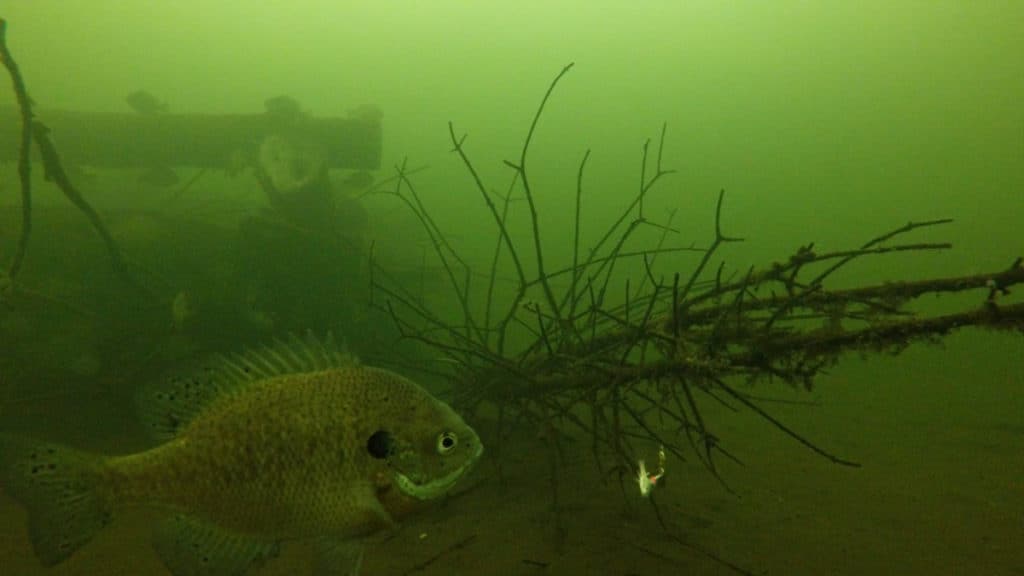 This ended up being our favorite spot that we tried. The bluegills and crappies were decent sized and the crappies weren't afraid to bite. The bluegills were being hesitant, and we never did get one.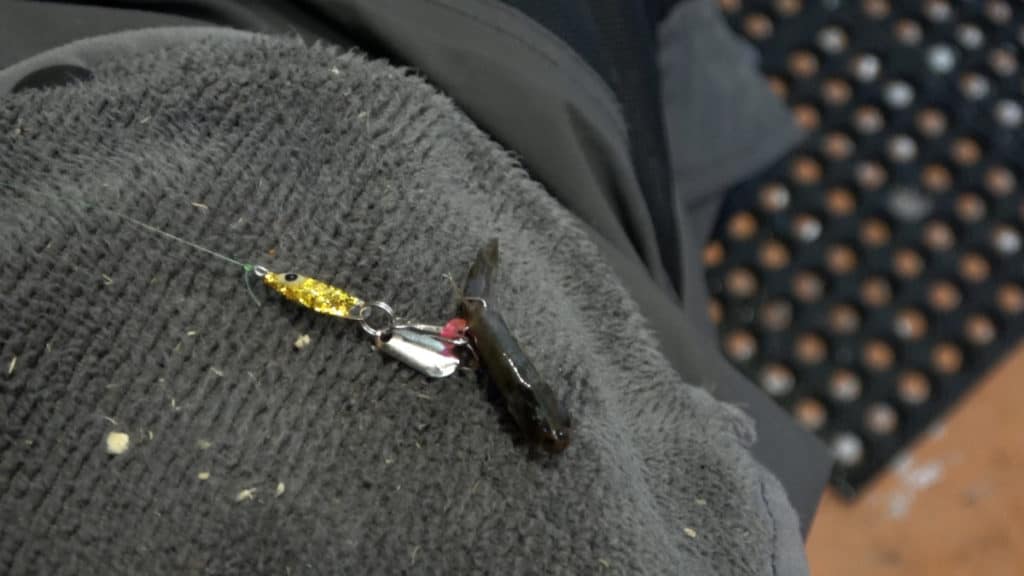 They key to getting a bite seemed to be a whole crappie minnow on a jig. I was using this little jigging spoon and it was outperforming all the rest.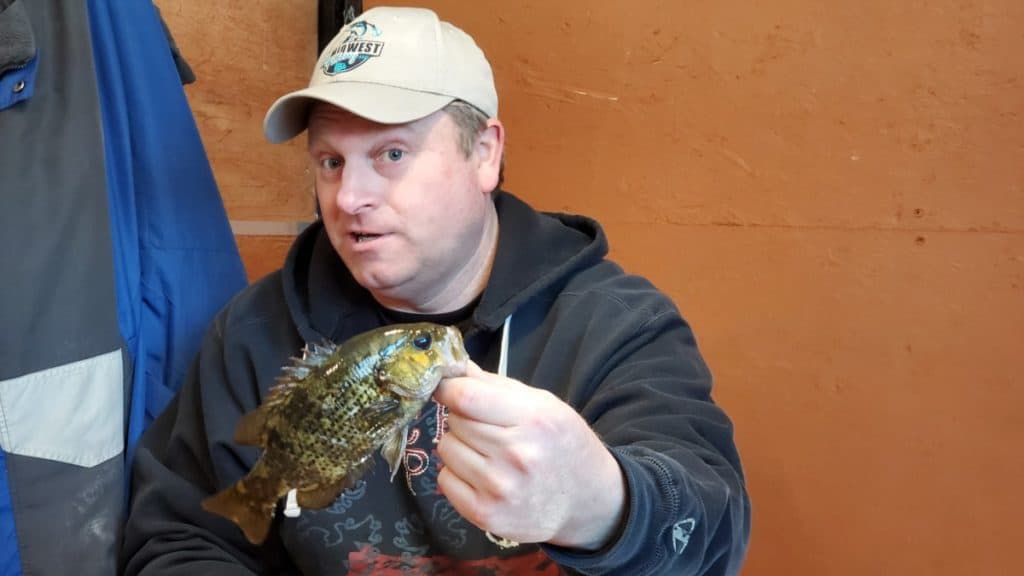 We had a surprise catch at site #11 when Reggie pulled in a rock bass.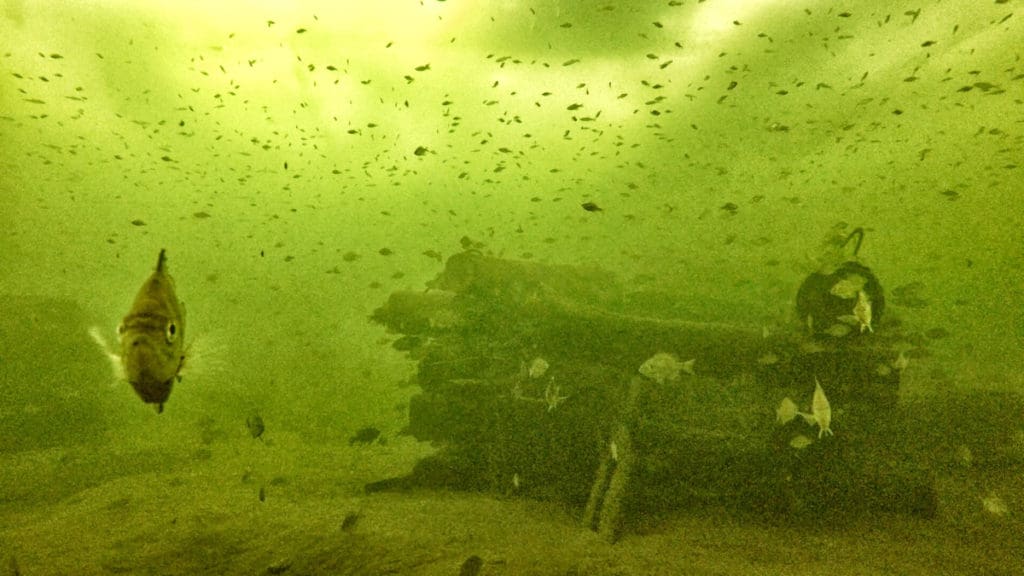 Next stop was crib site #1 on the southwest side. I was blown away. I have never seen so many fish on camera at once before. I increased the contrast on the above photo so it would be easier to see all the fish that are in the picture.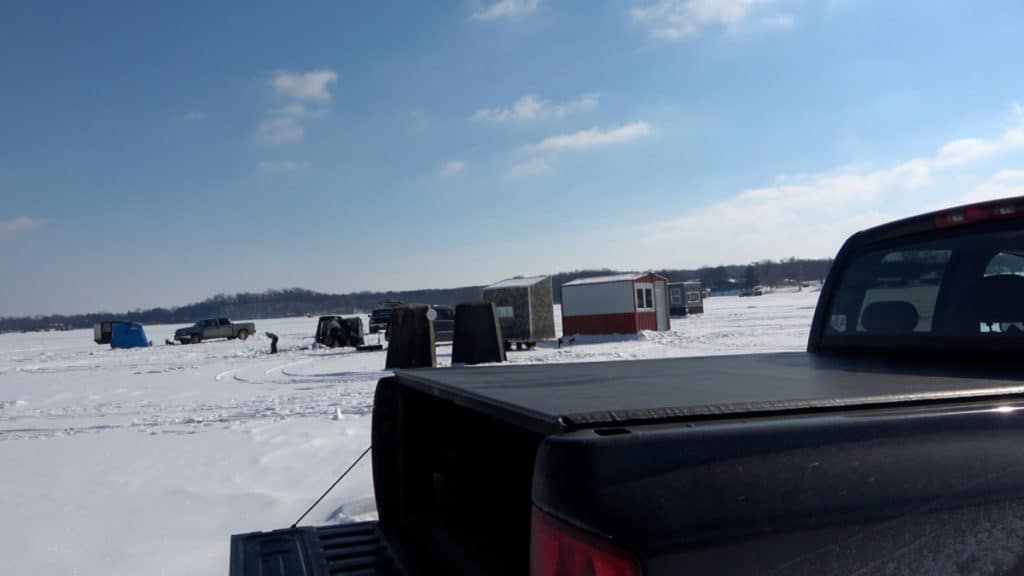 Not only did it have the most fish, but also the most shacks. Unfortunately, most of the fish consisted of very small bluegills that were very interested in my bait, but not in biting it.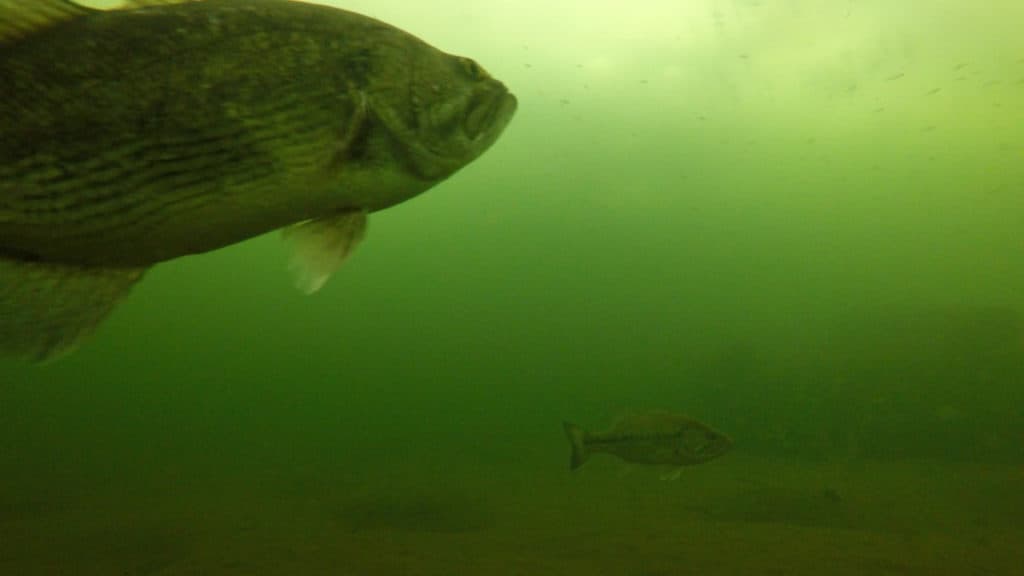 I noticed a couple of nice bass hanging around, and I even saw a northern hanging close to the bottom of the ice.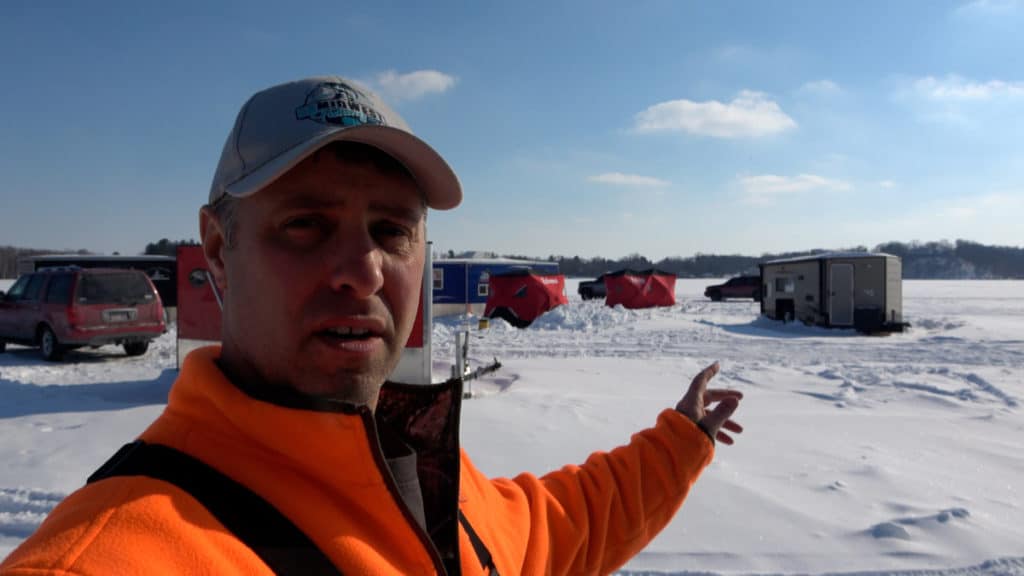 Next stop was site #12 on the southeast side. We had to skirt the perimeter of the shacks to get a spot, which means we weren't always over the cribs.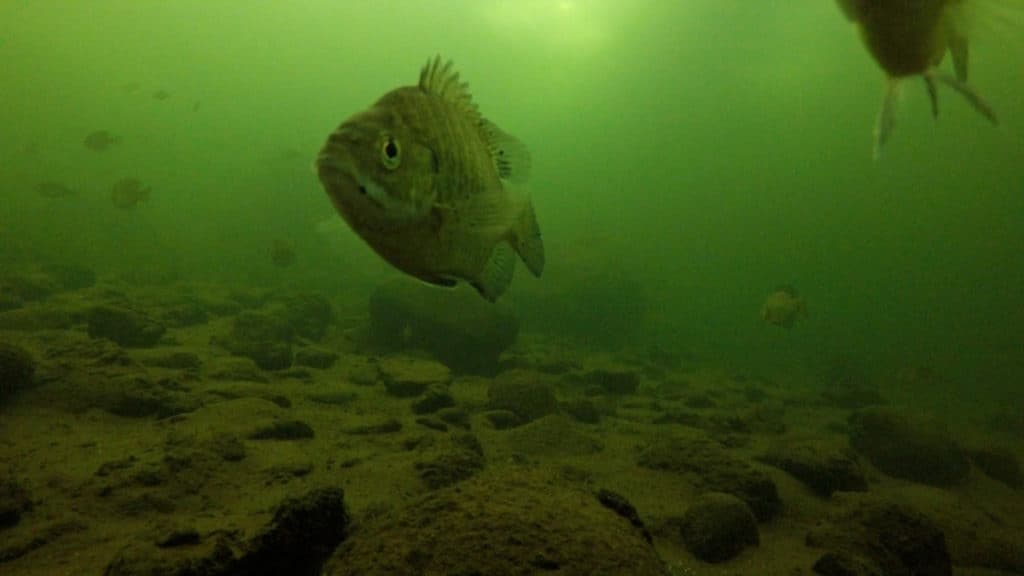 We were over some rocky ground just out of sight of the cribs, but we did see a few fish. The bluegills were once again putting on a show, but not actually biting.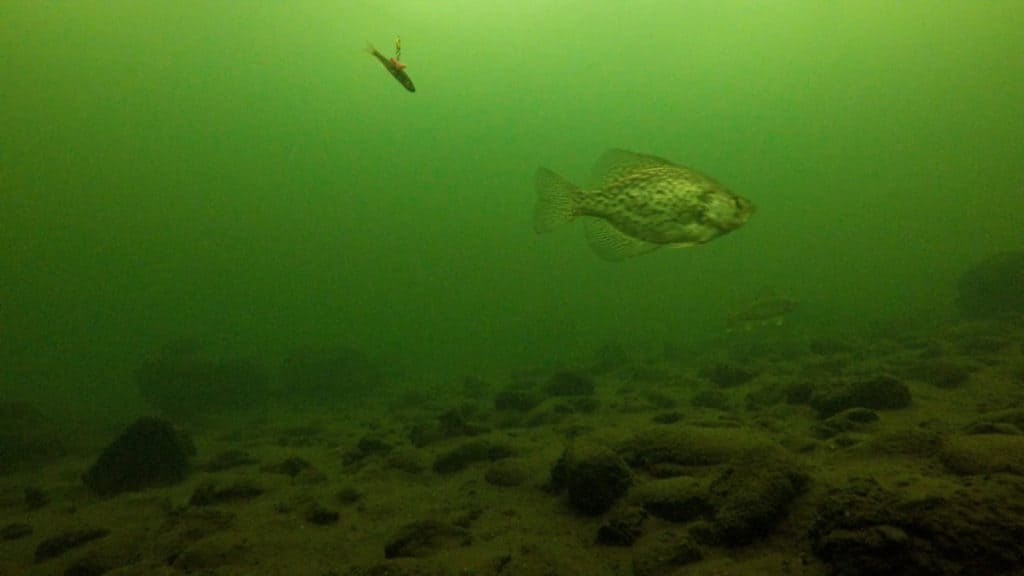 We also saw some crappies, a walleye and a sucker here. We were at the bottom of the slope. When I pointed the camera up the slope, I saw many more fish hanging out up there.
From there we moved north to site #7. Once again, we couldn't get right over the cribs because there were too many shacks to compete with.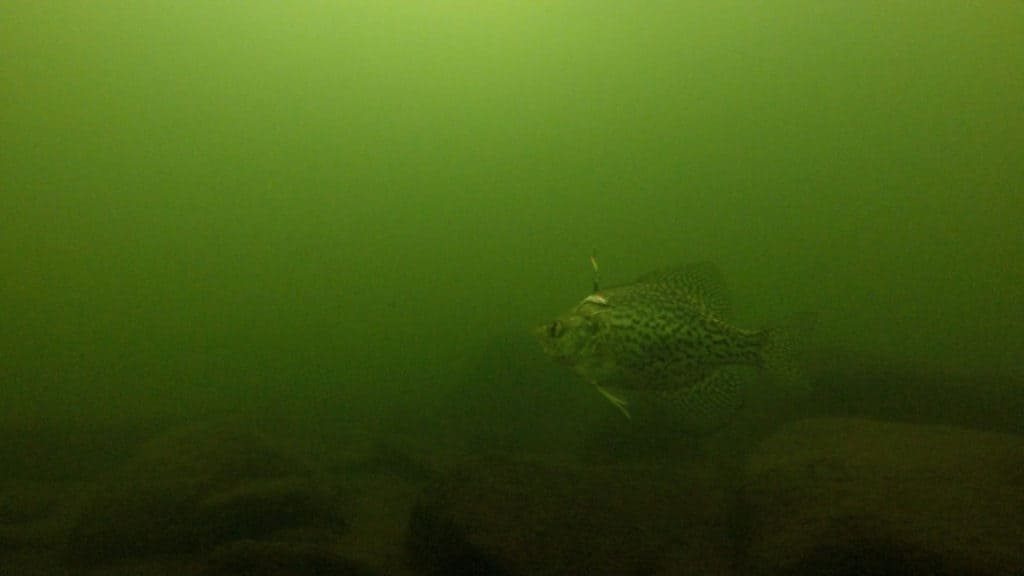 The water was deeper here at site #7. We didn't see a whole lot. Just this crappie who looked at our bait, then swam away.
It was getting later in the day, so we headed back to site #11 where we started.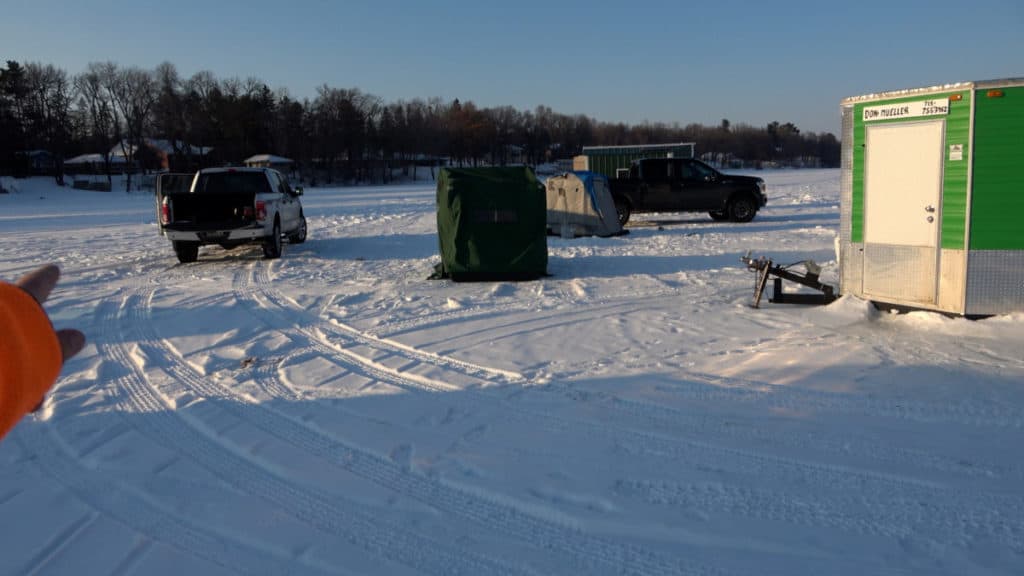 Unfortunately some people moved in and were blocking our previous holes. We were too far from the crib now to see any fish. We left the lake around 5pm, but Dennis stayed behind and fished out of his one man shack. he was able to set it up right in the middle of all the ice houses. He called me when he got home and said he was pulling in crappies as fast as he could get a line down.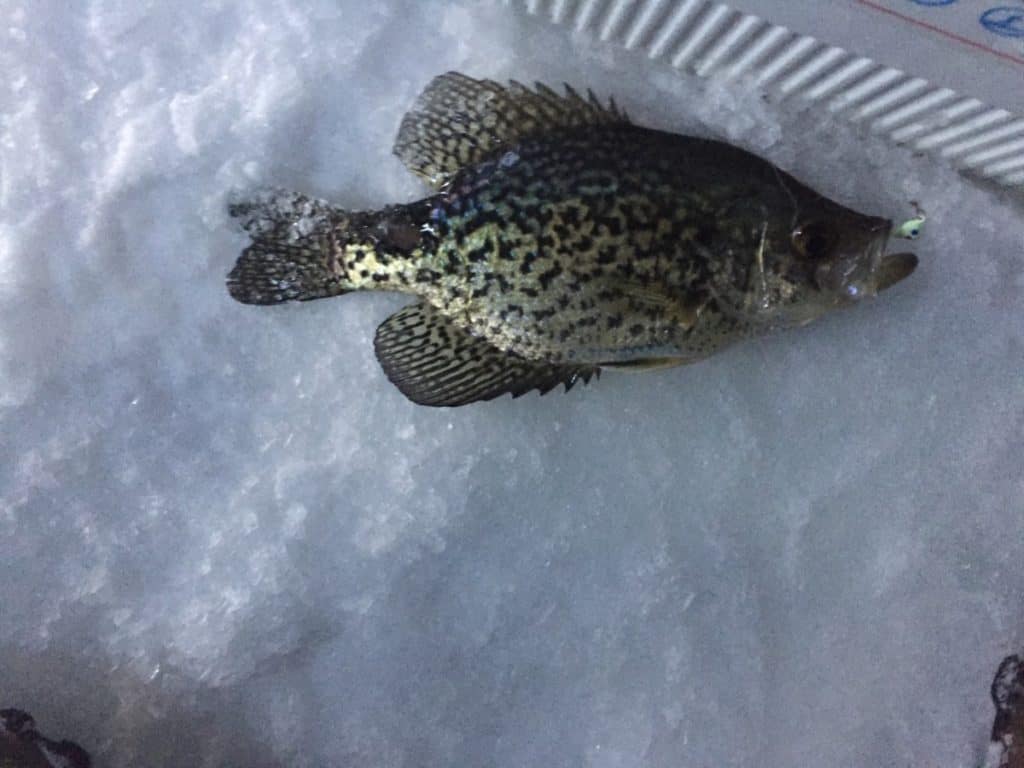 Here is a photo of one of his crappies.
Bottom line is, this lake is a great lake to fish, but you will have competition out there. In the winter, just look for the clusters of shacks. In the summertime. you will need to dodge recreation boaters as well as dealing with weeds.
Thanks for visiting Go Midwest Fishing Lake Reviews. While you are here, check out some other interesting article like, "Cargo Trailer to Ice Fishing House." Also, come hang out with us on my YouTube channel here.