Lake Stats
Acres: 25
Max Depth: 12 feet
Bottom: 0% sand, 0% gravel, 99% rock, 0% muck
DNR Interactive Map: Click Here
Google Maps Location: Click Here
Fishing Regulations: Click Here
Fish Species
Panfish (Common)
Northern Pike (Common)
Largemouth Bass (Present)
Walleye (Present)
Watch The Video Here (also at end of post)
Boat Landings
Most people fish this lake from the shoreline, but if you want to put a boat in the water, there is one boat landing on the southwest end where the river flows out to the St. Croix River.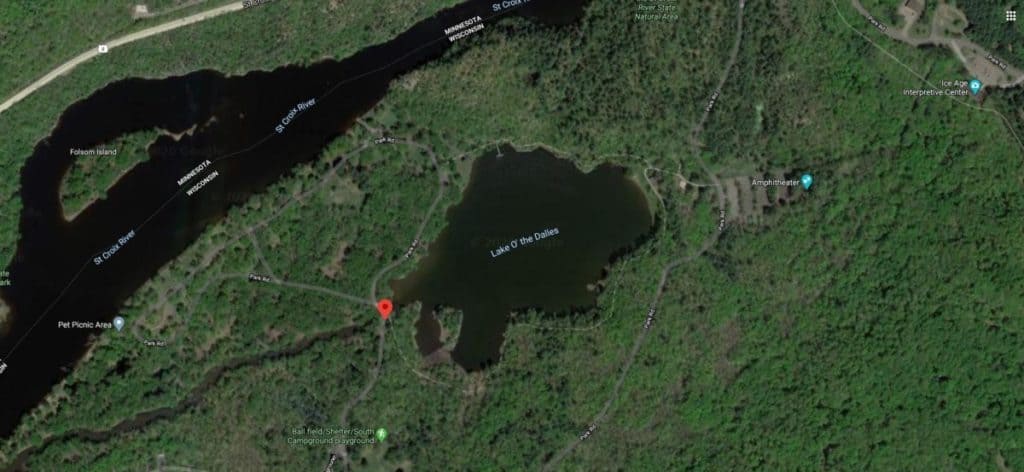 There are no motors allowed on this lake. It would be a good lake to use a kayak or canoe.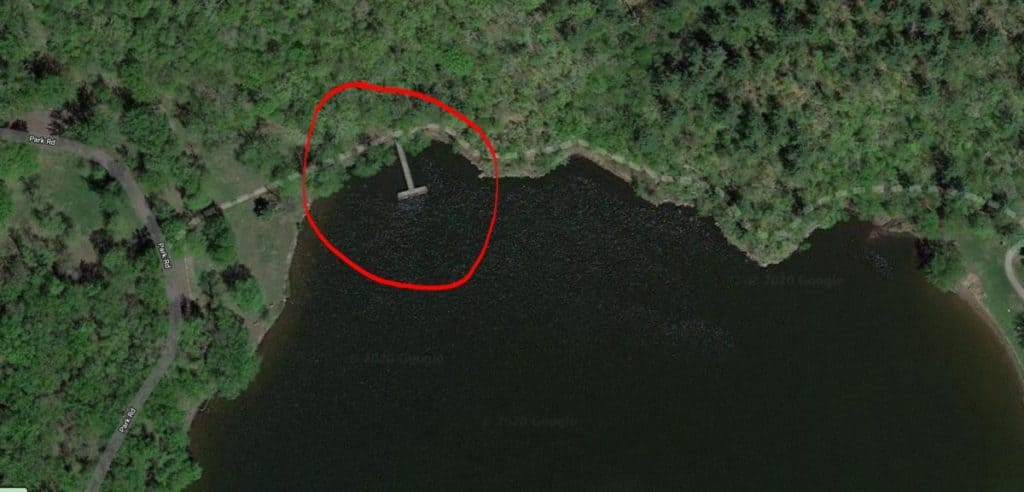 A good place to start fishing this lake, is the fishing pier on the north end.
Commentary
Lake O' The Dalles is located in the middle of Interstate Park on the Wisconsin side. Not to be confused with Interstate Park on the Minnesota side. Its basically one park that covers two states, divided by the St. Croix river. You can learn more about Interstate Park here.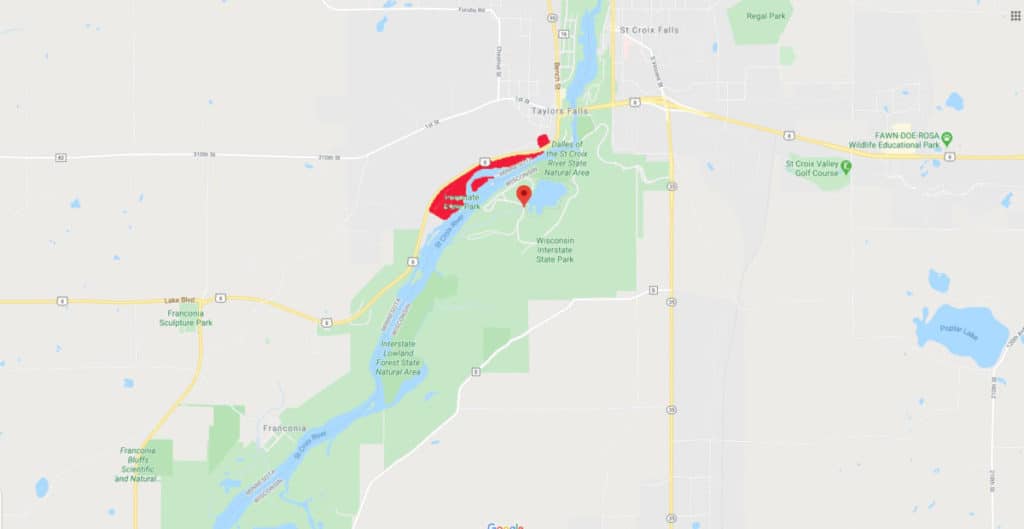 The Wisconsin side is much larger, but the Minnesota side has some very interesting features. Both sides give you some very scenic rock cliffs that go vertically down to the St. Croix river.
Here are a couple of pictures I took while camping there.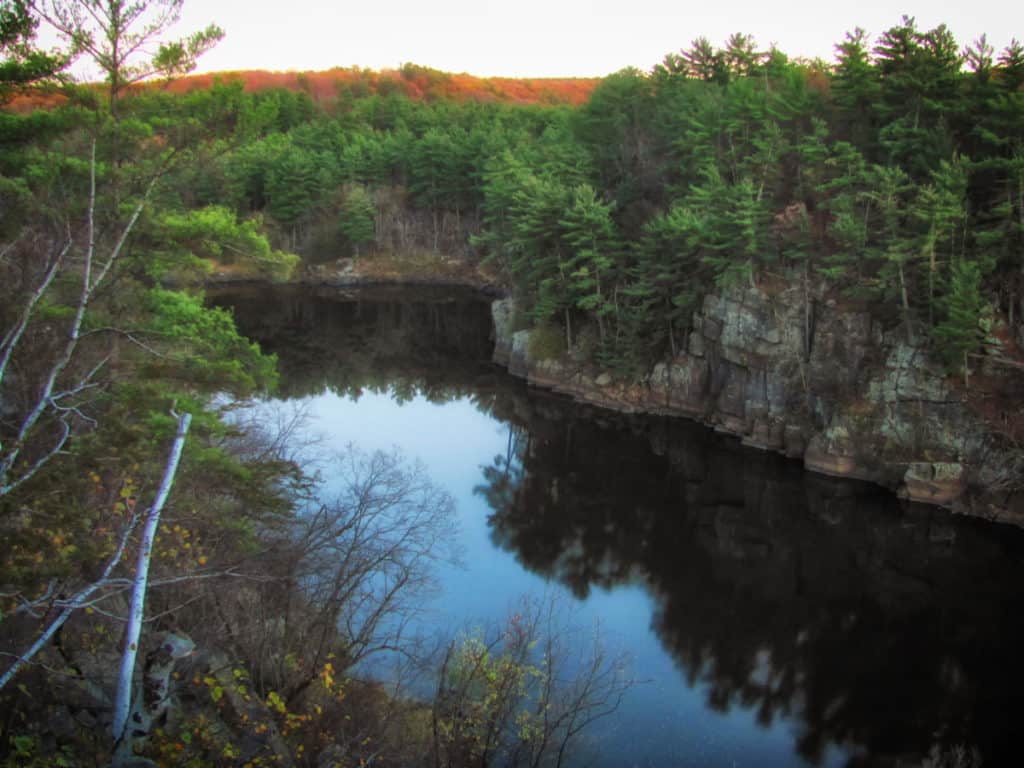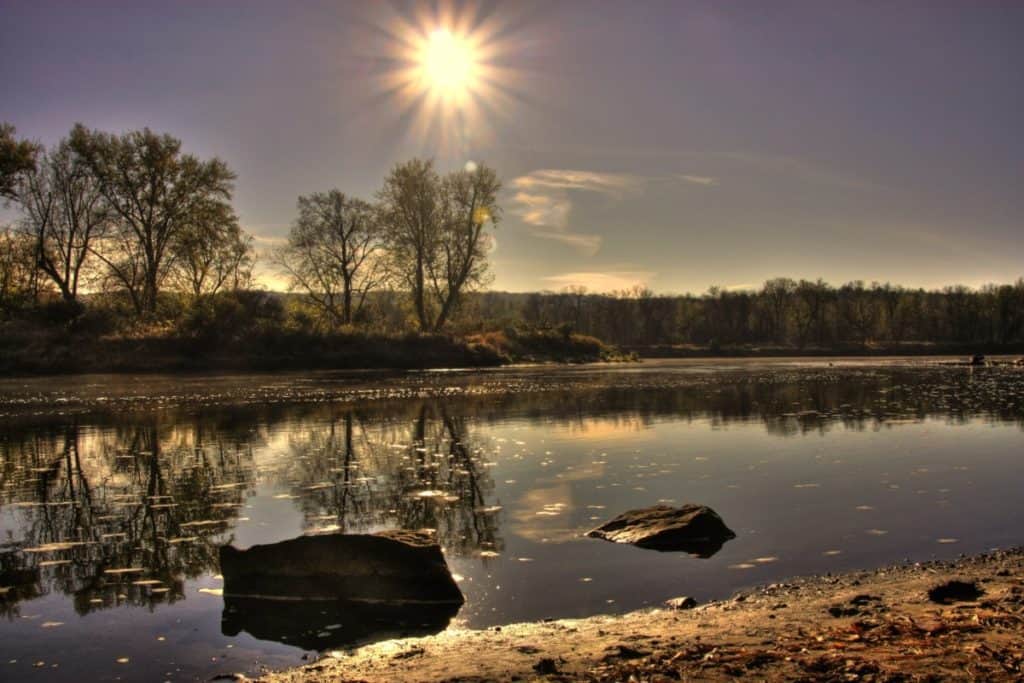 Obviously this is a very beautiful place to visit. In fact, I proposed to my wife on the cliff overlooking the St. Croix river. But the question you want to know is, "Is this a good place to fish?" Yes, bring your fishing poles if you visit the Interstate Park.
Lake O' The Dalles is available for fishing. It is only 25 acres and is mostly fished from the shoreline. There is a boat landing, but your only going to get a small, non motorized boat like a kayak or canoe in there.
Interstate park on the Minnesota side is in the town of Taylors Falls. This is one of those places you have to see at least once in your life. It may be a small town, but it is packed with things to do.
Our favorite place to eat there is Schoony's malt shop. If you like pizza and ice cream, this is the place. Main street is lined with places to eat, so take your pick.
If you didn't bring your own canoe or kayak, there are a couple shops in town that will not only rent them to you, but will drop you off and pick you up too.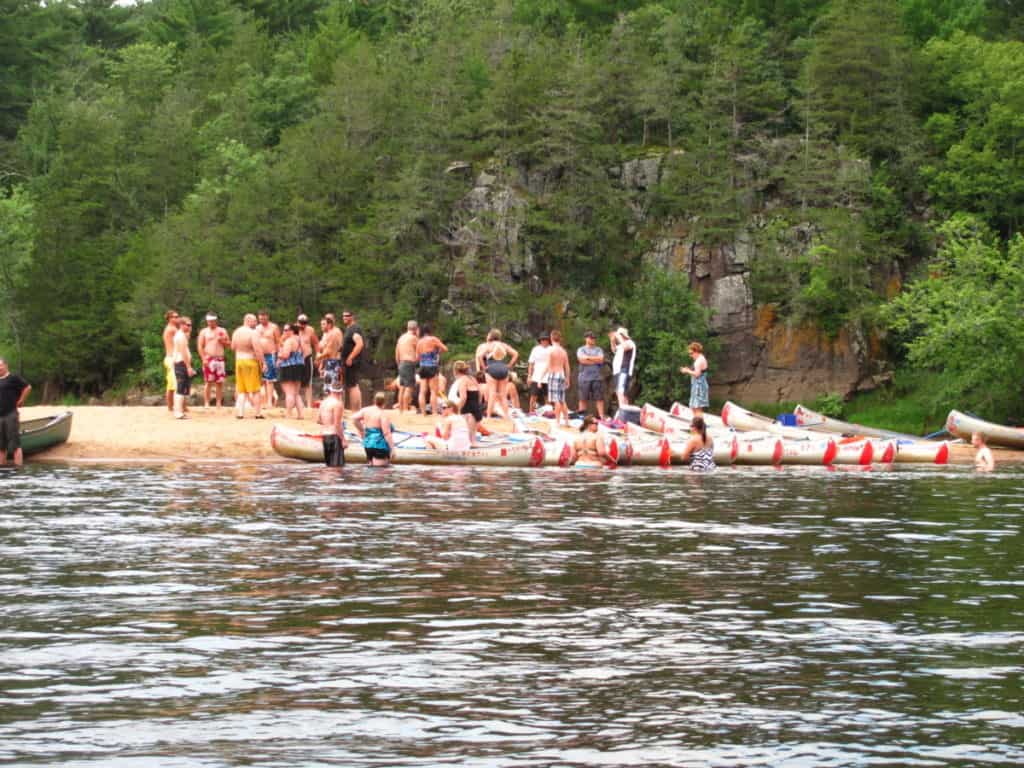 For a little more excitement, a few miles away is Wild Mountain. In the wintertime it is a ski hill. In the summertime, it transforms into a whole different place, with go carts, alpine slides, and a water park.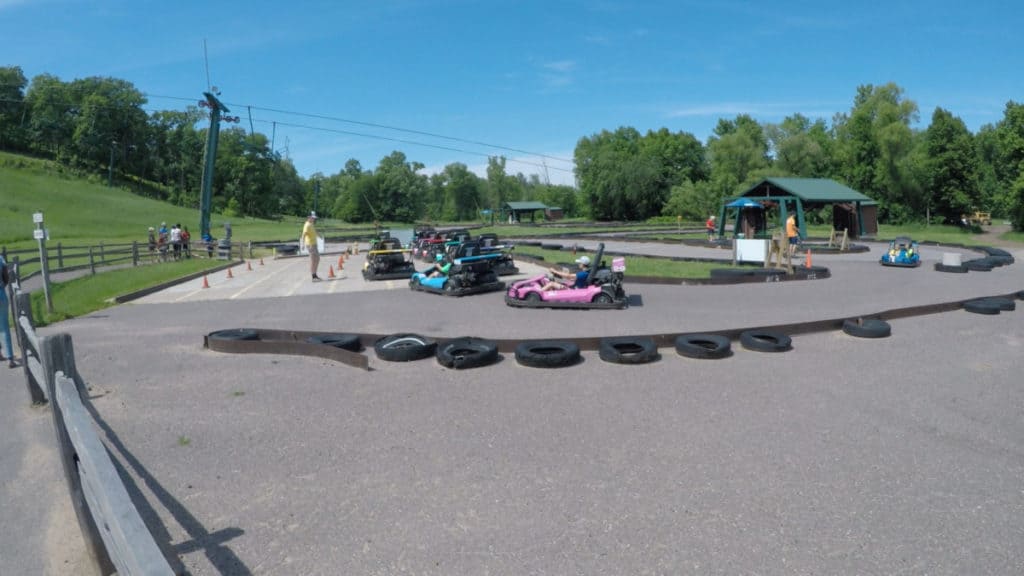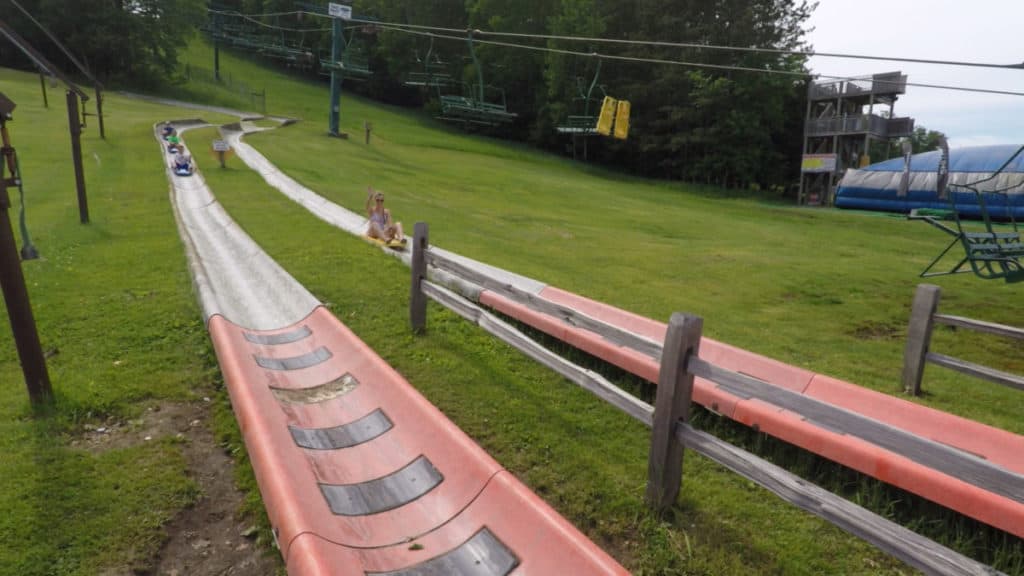 Don't forget to stop at Wild Mountain Winery while you are there. I've been there many times, and highly recommend them. They are very friendly, and might even give you a personal tour.
You can find out more about Taylors Falls here. When you cross the river into Wisconsin, you enter the city of St. Croix Falls, nick named, "The city of trails." You can find things to do in St. Croix Falls here.
Fishing Experience
The easiest place to fish Lake O' The Dalles is the fishing pier on the north end. This is where I fished it, although there were a few folks spread around the lake, fishing from the rocky shoreline. Below are a few photos looking out from the fishing pier.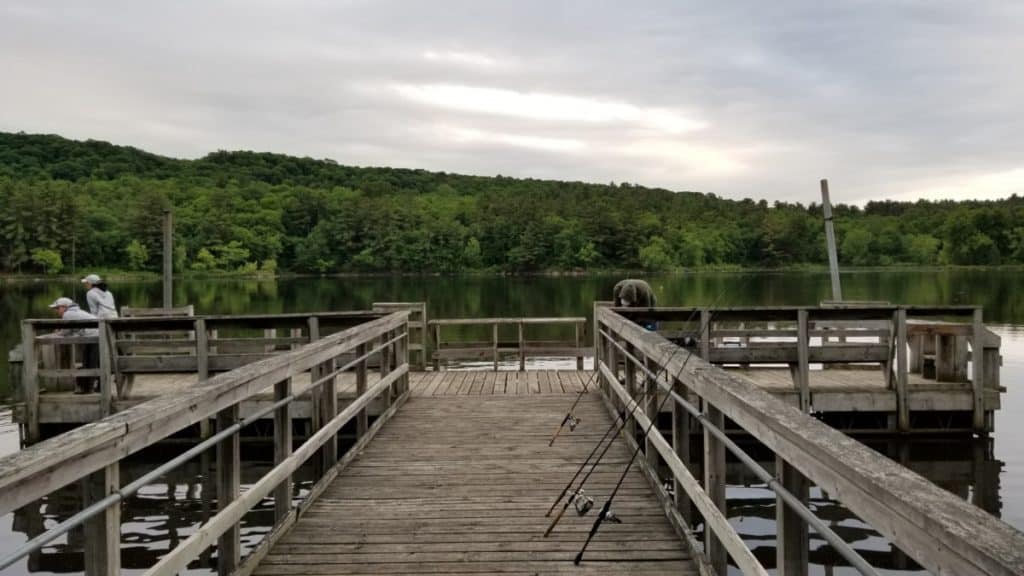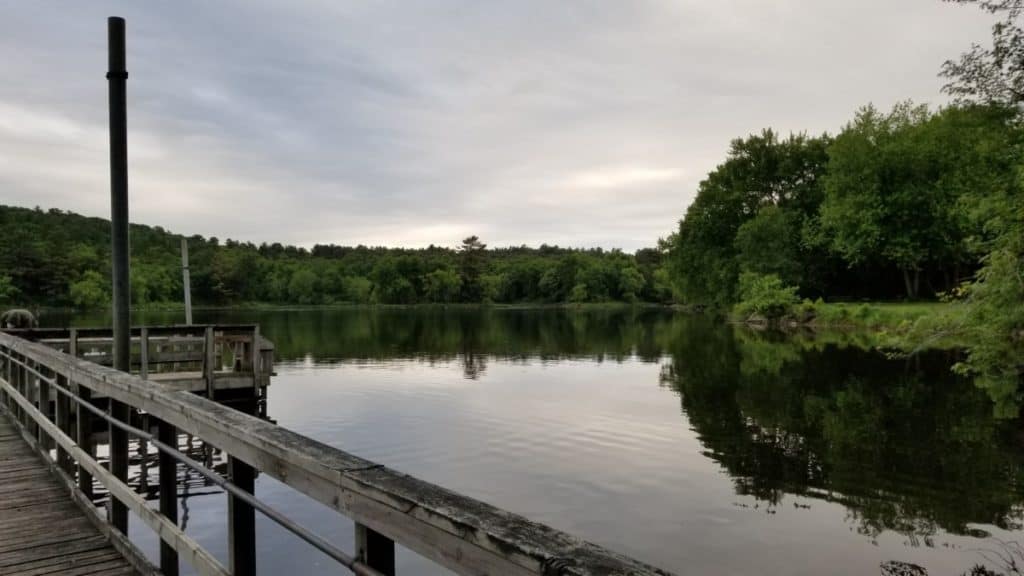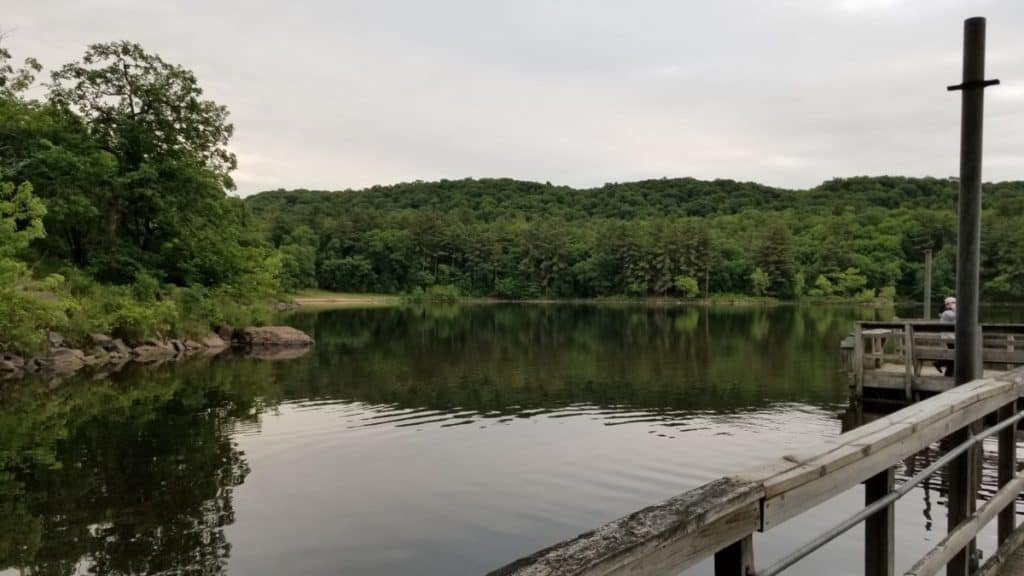 We threw a few spinner baits without any luck. There is suppose to be some northern pike and bass in here, but we didn't see any signs of them. You might need to get in a small boat and check out some other parts of the lake to find them.
We did find quite a few panfish, mostly crappies. They were all schooled up, close to the shoreline in the shallow water. They were a little tough to catch though.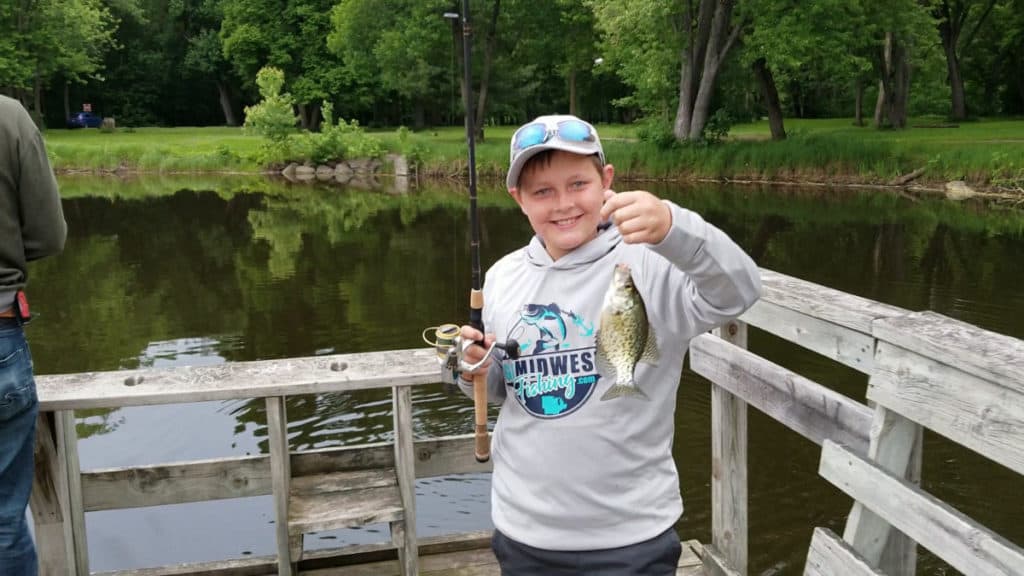 There were a few bluegills mixed in with the crappies. The ones we caught were actually pretty good sized.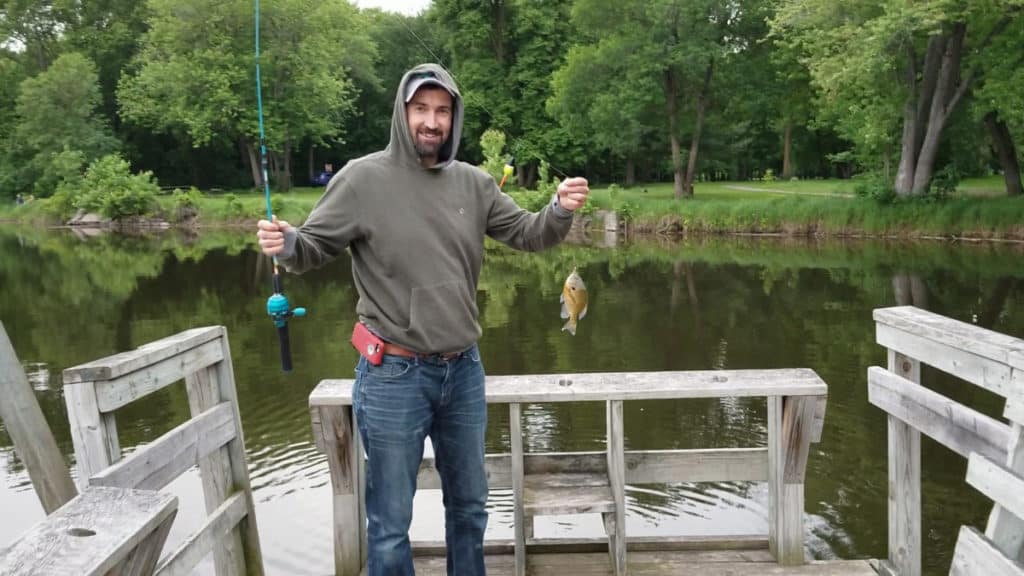 I think we saw more turtles than anything. This place was loaded with snapping turtles, so watch where your sticking your fingers! See how well they blend into the water.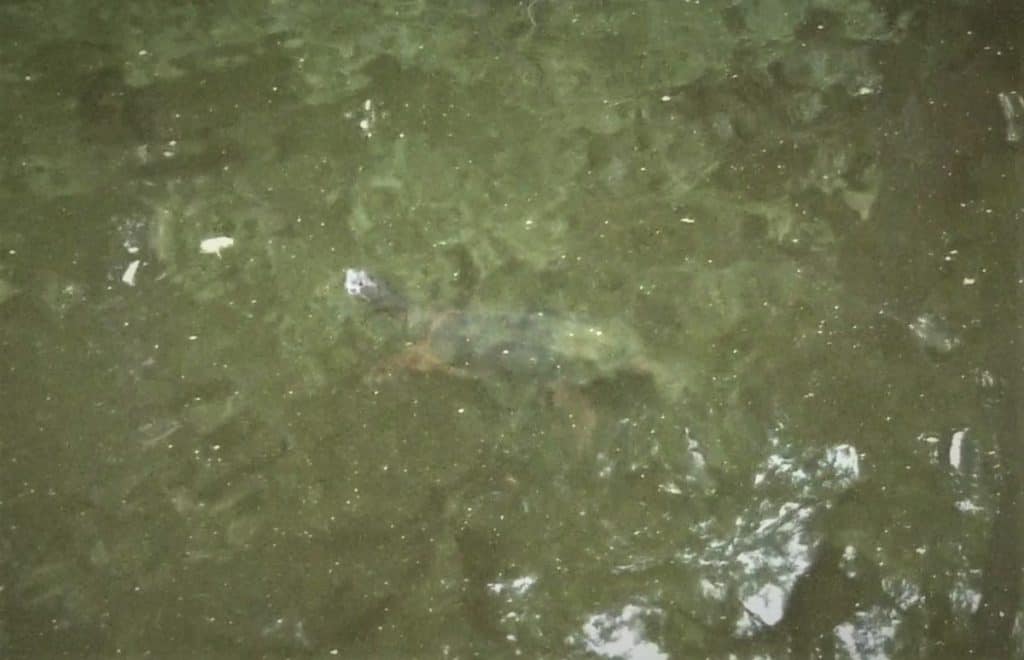 If you happen to be camping at Interstate park, remember to bring the fishing poles. Although the fishing is nothing to brag about, its still fun and will give you an activity to do while you camp.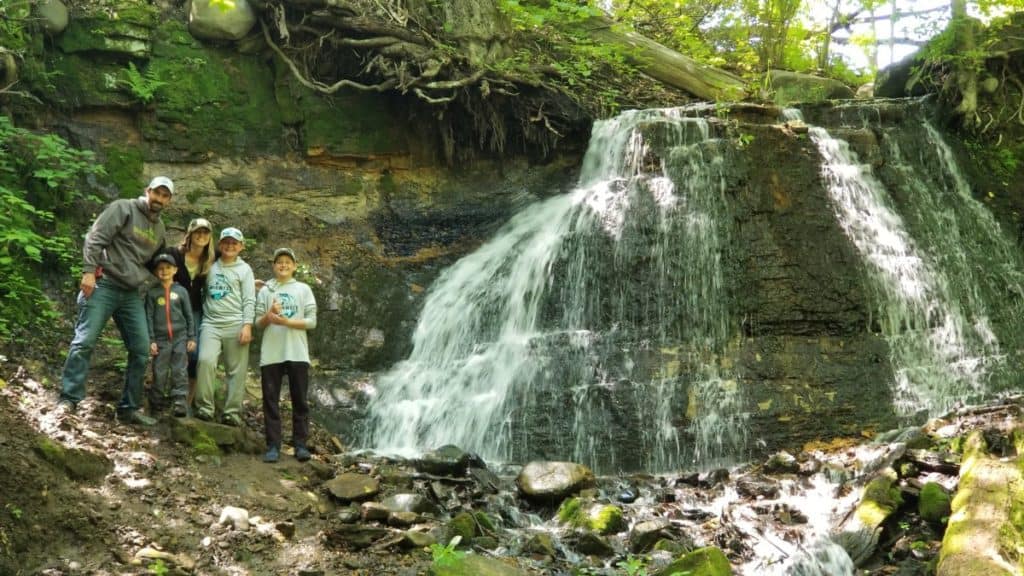 It is kid friendly, with a nice fishing pier and plenty of shoreline to throw a line in. When you are done fishing, you can take a hike on one of the many trails. There are so many sights to see, you can spend a lot of time here. Just remember to bring the mosquito dope.
Video
Watch Us Fish Lake O' The Dalles
Thanks for visiting Go Midwest Fishing Lake Reviews. While you are here, check out some other interesting articles like, "Is it legal to fish with an RC boat?" Also visit our YouTube channel for a more interactive experience.