Deer Lake Stats
Acres: 786
Max Depth: 46 feet
Mean Depth: 26 feet
Bottom: 75% sand, 15% gravel, 0% rock, 10% muck
Fish Species in Deer Lake
Musky (Common)
Northern Pike (Present)
Walleye (Present)
Largemouth Bass (Common)
Panfish (Common)
Watch us ice fish Deer Lake in March
Boat Landings on Deer Lake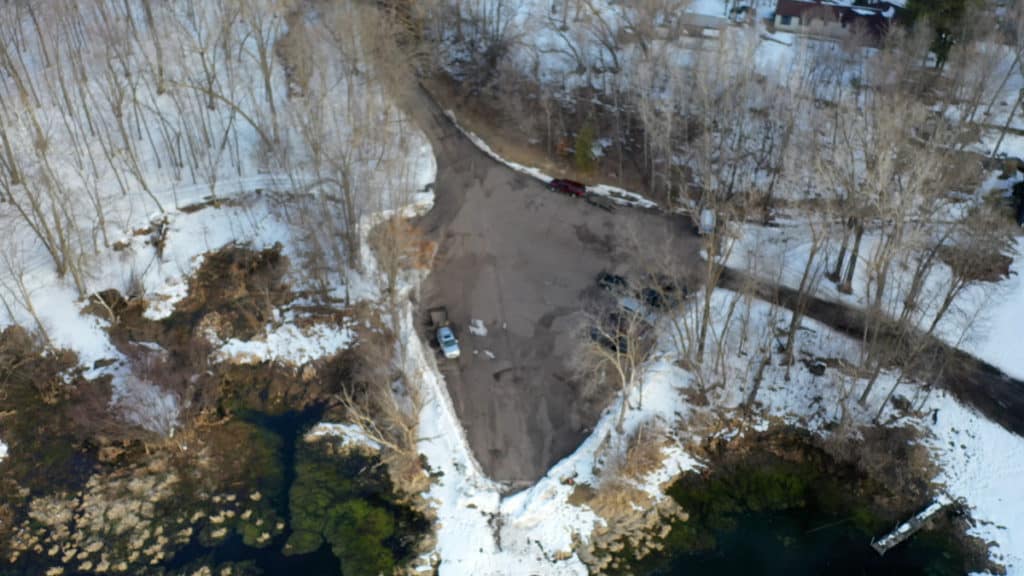 Deer lake has one public landing on the far northwest side of the lake. It is just a short ways off Hwy 35.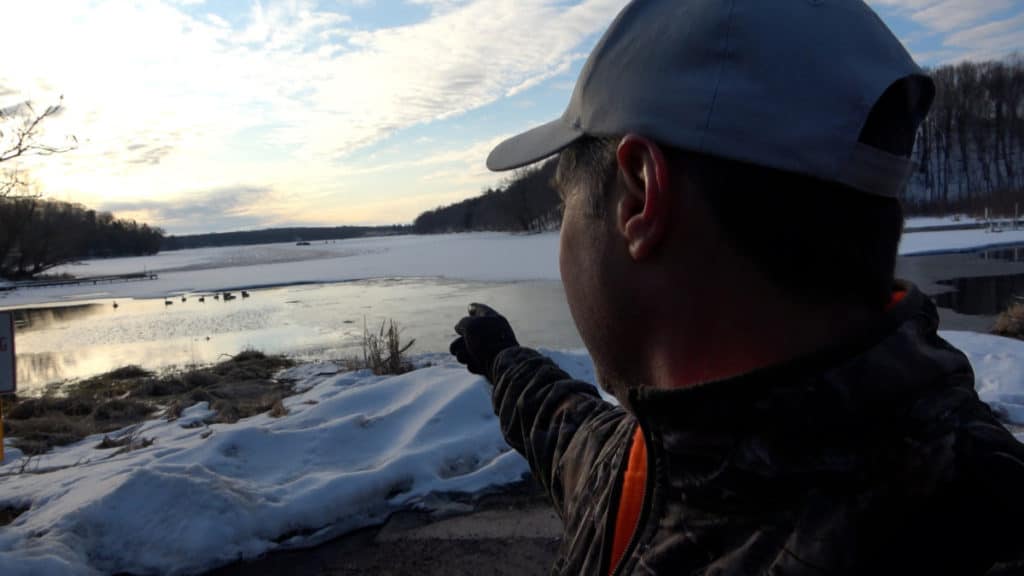 What I didn't realize until arriving here is that there is open water at the landing, so you can't use the boat launch to access the water in the winter.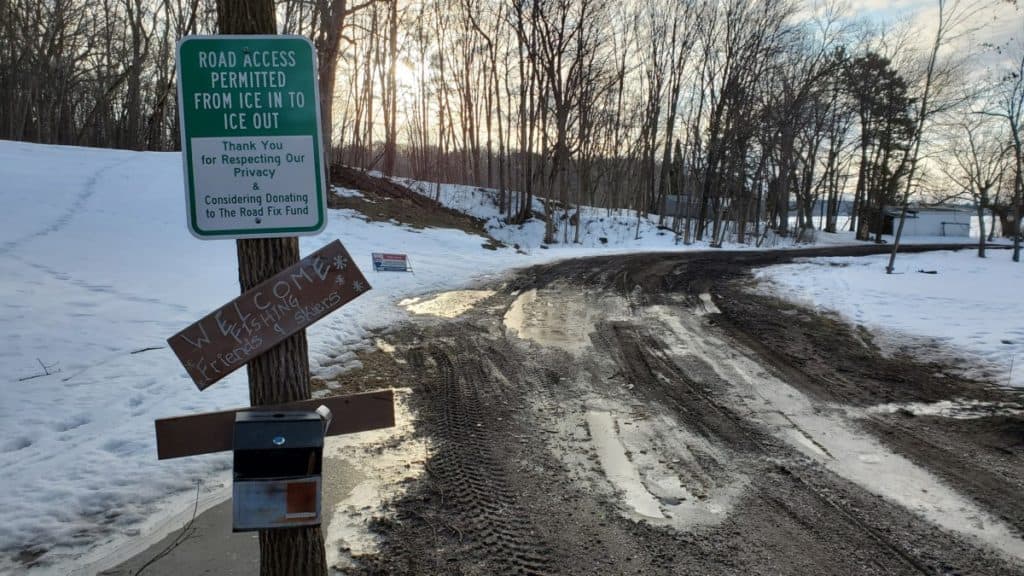 Luckily someone put in an access road that goes around the open water. I was here on a warm day, so it was quite a muddy mess. The road could use some improvements, which is why they have a donation box to help improve the road.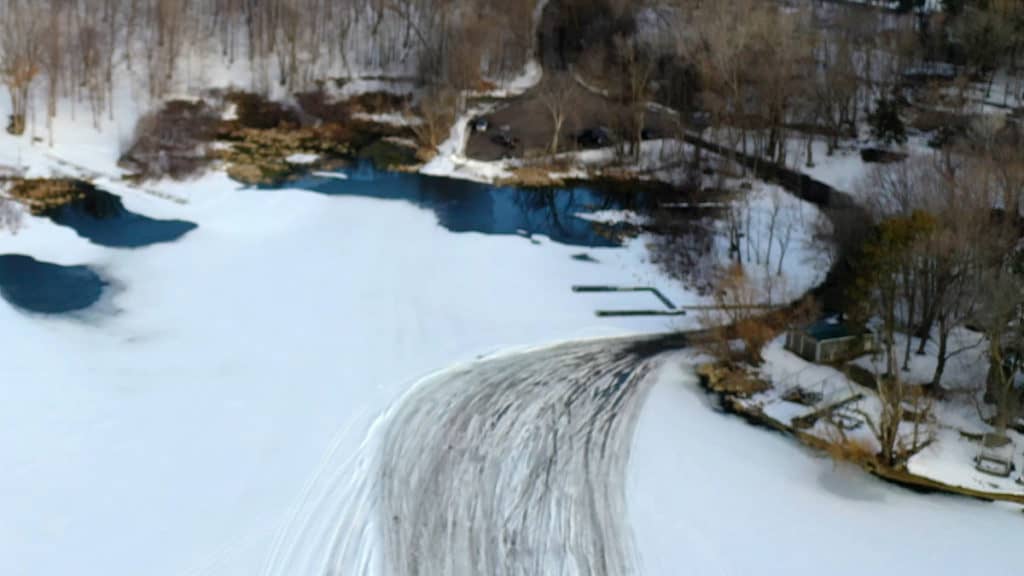 Even though the access road is real close to the open water, trucks were driving on the lake with no problem. Since I have not been here before, it looked a little too scary for me, so I drove my ATV on instead.
Commentary on Deer Lake
Deer lake is located just off Hwy 8, between Balsam lake and St. Croix Falls in Wisconsin. I drive by it all the time. You can get a good view of the east end of the lake when driving on Hwy 8. I've been wanting to try it out and finally got the chance to go.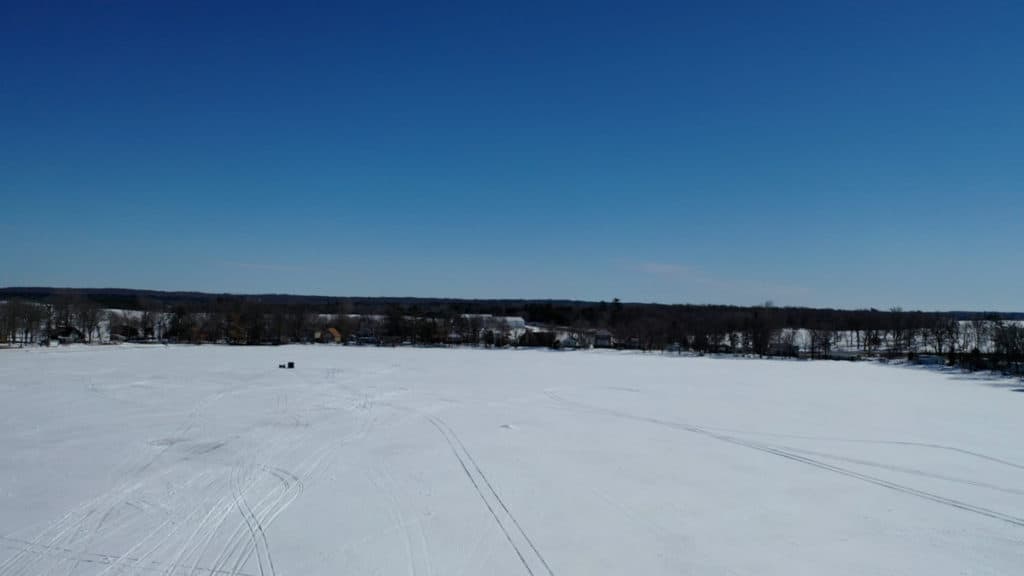 Just behind the shoreline in the above photo, is Hwy 8. The Deer Lake Improvement Association and the Deer Lake Conservancy have worked very hard to clean and maintain this lake. See their Facebook page here. It is in close proximity to the Twin Cities and the St. Croix Valley and has become a very desirable place to live.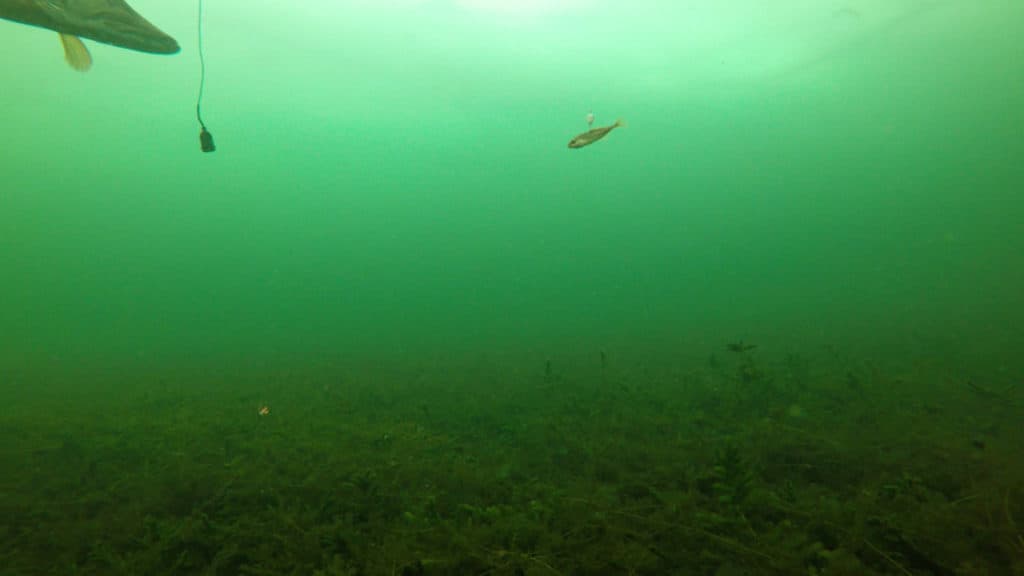 Deer lake is well known as one of the premiere fishing lakes in northern Wisconsin. It contains bass, walleye, northern pike, panfish, and some good sized muskies. The photo above shows a nice musky swimming by to check out what we got hanging in the water. He stayed at the very top of the camera so I didn't get a great photo of him, but you can see how clear the water is here.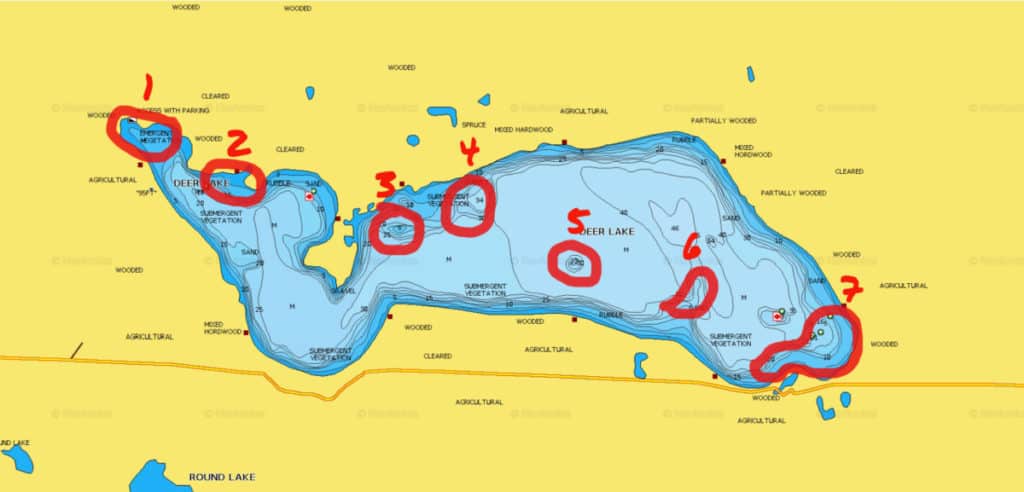 If you want to fish Deer lake, here are the spots you will want to try out. Spot 1 is just off the landing. The picture of the musky above is from this spot. I drilled a few holes near spot 2, but didn't see much. Spot 3 was great! We saw tons of fish here. There were a few people fishing by spot 4, so I didn't try there, but I'm sure its comparable to spot 3. I did try spot 5 and didn't see any fish. Spot 6 has a sandbar that sticks out. I did not try there. Spot 7 was also a great spot. We saw lots of fish there.
Fishing Experience on Deer Lake
I fished Deer lake with Reggie in early March. It has been in the 40's for the last week and the ice was melting quick. This will be the last ice fishing day of the season for me.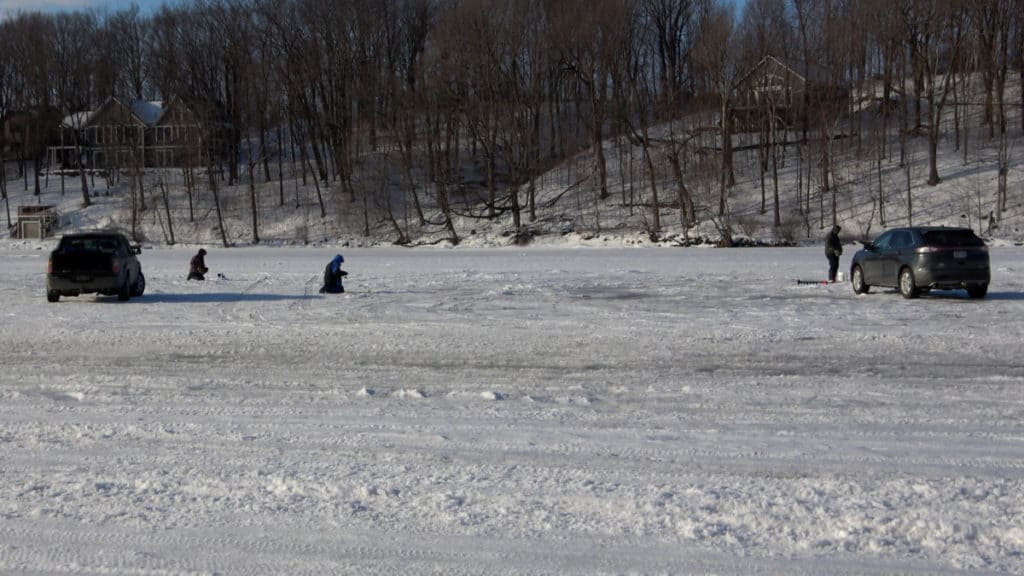 Just off the landing is where what appeared to be a bunch of local fishermen. I figured they knew where to go, so we set up a short distance from them. We saw a few small panfish, then the muskie came trolling through, and scared away all the fish.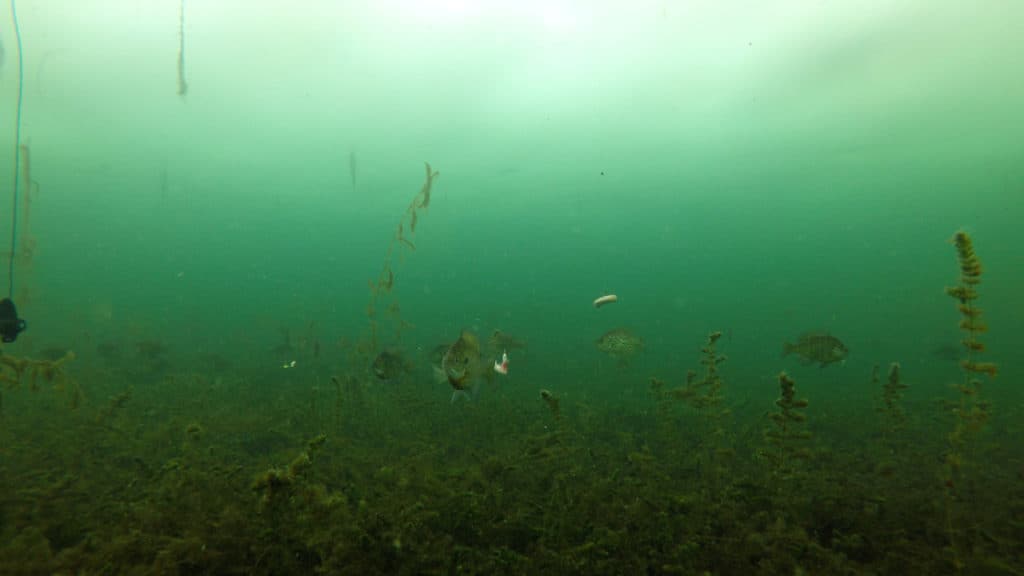 Spot three had abundant bluegills and a few crappies. There was a nice bed of weeds on the bottom for them to hide in.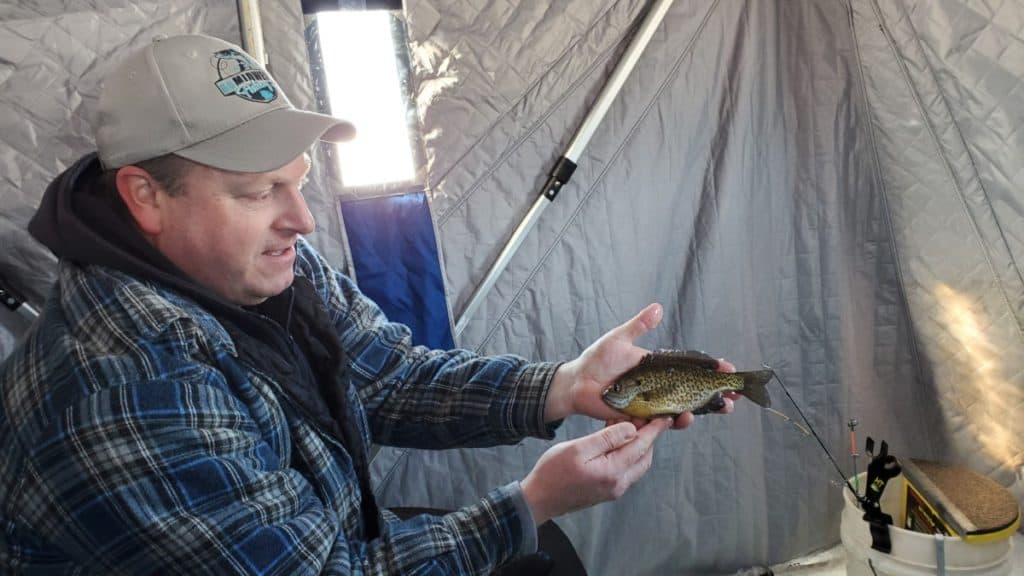 Here is Reggie displaying a nice bluegill. We caught several nice ones in this spot. Reggie had some Baitmate Classic Scent Fish Attractant. At first the fish were hesitant to bite, but after putting this attractant on, we noticed an immediate increase in strikes. I was skeptical if this stuff works, but I saw the difference it made, so now I can recommend using the stuff.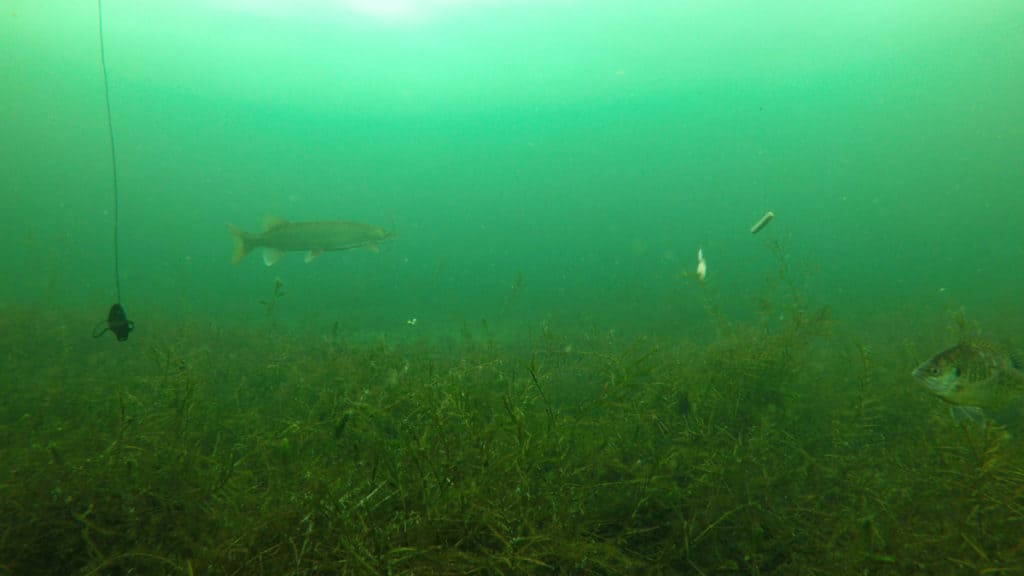 Here is a great shot from the far east end at spot 7. I was surprised to see this bluegill willing to come check out my bait with a musky swimming by.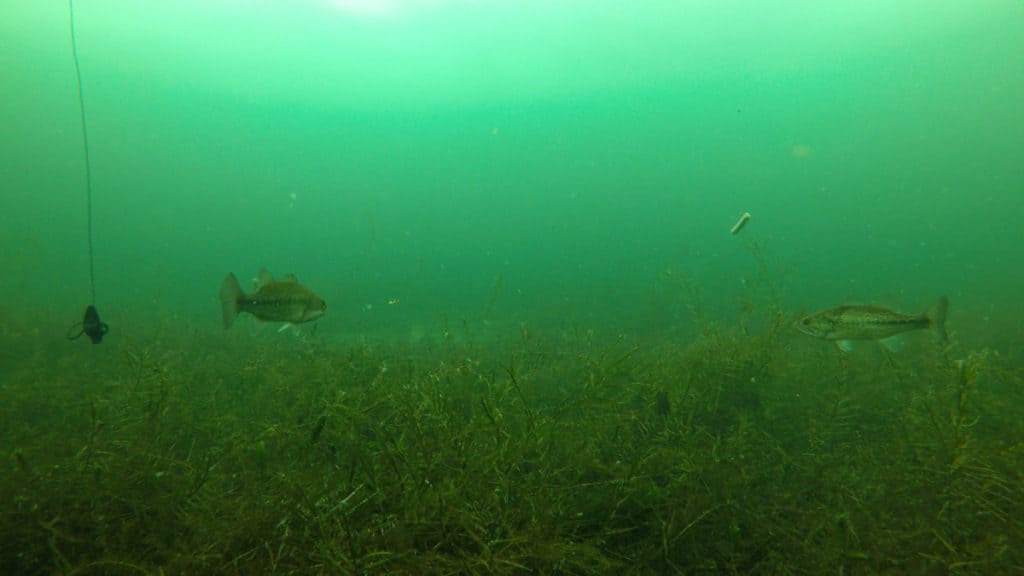 Here is another great shot of two bass honing in on Reggie's bait. You can see the hotdog in the background, We put it on a tip-up in hopes to catch a northern, but no such luck today.
This was a fun lake to take a look underwater. The water is so clear and the fish put on a good show for us. After watching fish underwater for the last year, I'm learning a lot about fish behavior, especially how curious they are. Having two cameras, a hotdog and two lures hanging in the water, you would think that fish would be leary of coming around, but I find the opposite. It usually draws them in. They love looking into the cameras. Clear lakes like this give me a good chance to observe their behavior.
Thanks for visiting Go Midwest Fishing Lake Reviews. While you are here, check out some other interesting article like, "Cargo Trailer to Ice Fishing House." Also, come hang out with us on my YouTube channel here.