Gilmore Lake Stats
Acres: 371
Max Depth: 36 feet
Mean Depth: 16 feet
Bottom: 85% sand, 5% gravel, 0% rock, 10% muck
DNR Contour Map: Click Here
Google Maps Location: Click Here
Fish Species In Gilmore Lake
Northern Pike (Common)
Walleye (Common)
Largemouth Bass (Common)
Panfish (Present)
Boat Landing At Gilmore Lake
There is only one public boat landing at Gilmore. Its located right at the narrows on the west side. It's a short gravel offshoot coming off of Narrows Trail. There isn't much room to turn around, so will need to turn around on the main road and back all the way down to the landing.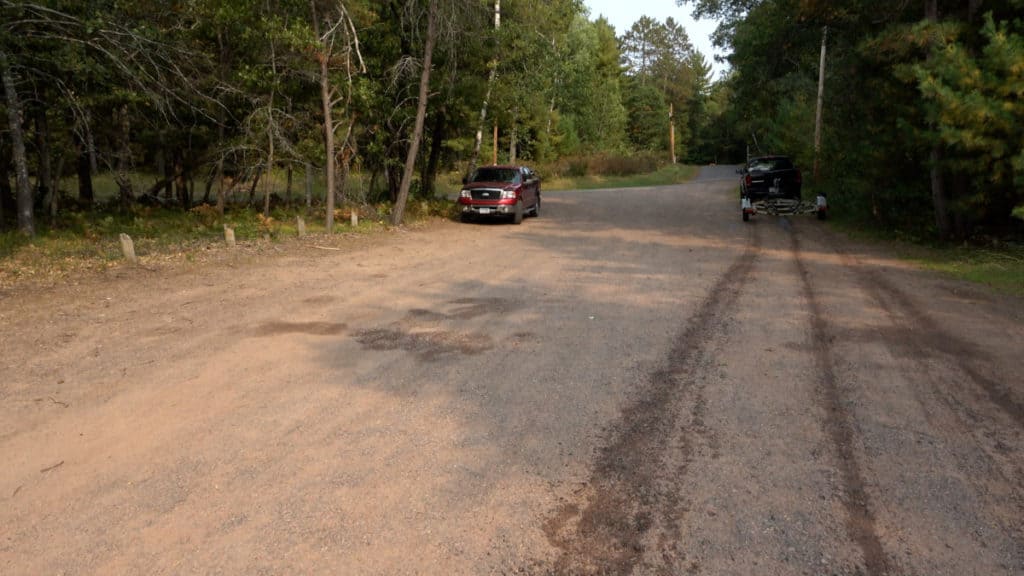 Like many of these types of boat landings, parking is along side the gravel road. There was only one other truck here when we fished it.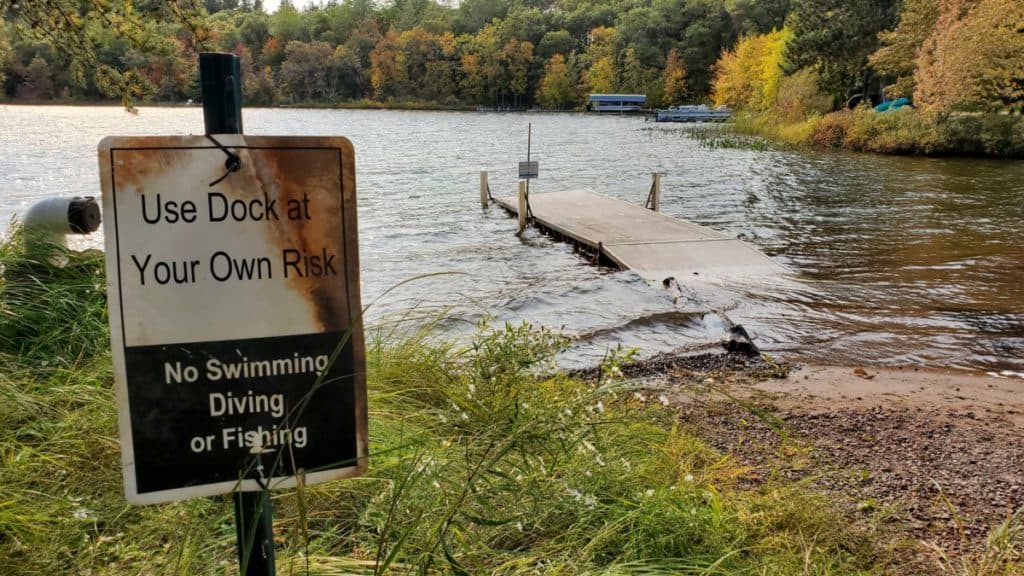 This landing does have a dock, but this is the first time I've ever seen a sign that says, "Use at your own risk." As you can see, they aren't kidding! Considering they put a sign up that looks like its been hanging around a while, I don't foresee them fixing it anytime soon.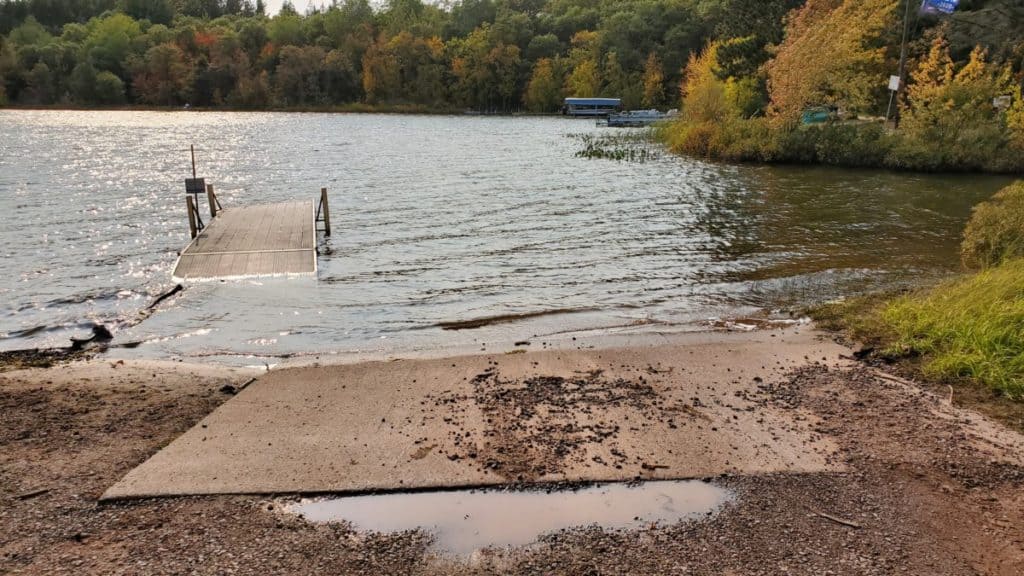 The actual landing was decent, and other than having to jump onto the dock, everything went well.
Commentary About Gilmore Lake
As you pull up to the landing, you are greeted by a sign from the "Gilmore Lake Property Owners Association, Inc." They welcome you, and kindly remind you to follow the rules.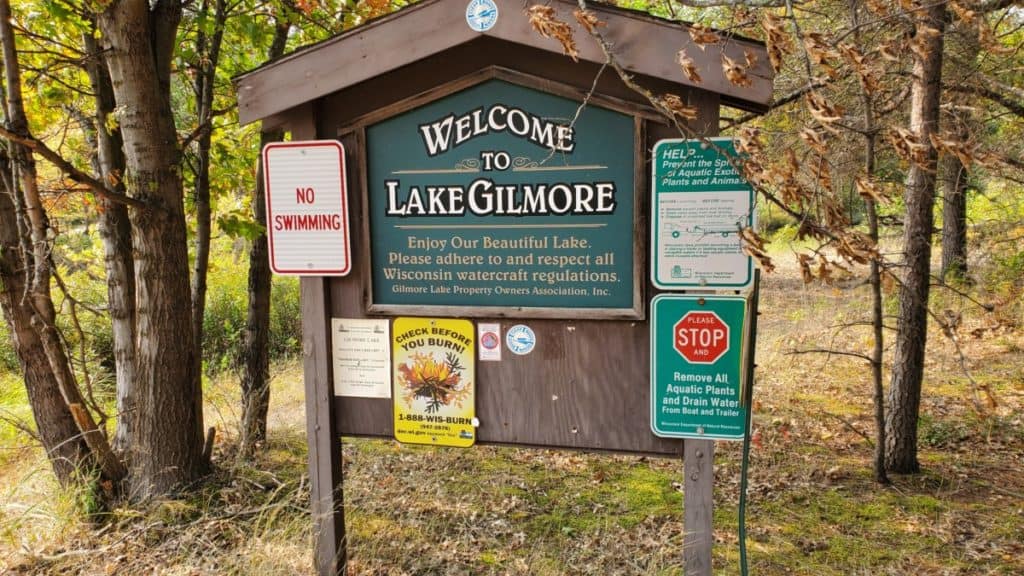 Gilmore's water is slightly stained. It contains some walleye's, smallish northern pike, a good number of medium sized bass, and the usual assortment of panfish.
It has several deep pools, two narrows, sharp drop-offs along the shoreline, and a shallow bay on the north end.
Gilmore has a self sustaining population of northern pike, largemouth bass and panfish. Walleye management has been going on since the mid-1930's.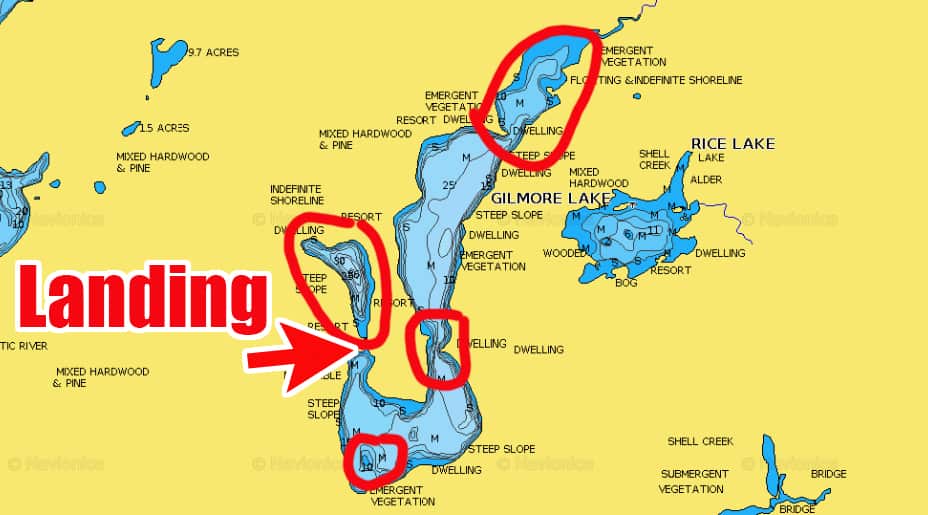 Here is a map of the best spots to find fish on Gilmore. Going north from the landing, you will need to go under a bridge to access that hotspot. Unfortunately my 18 foot boat was too big to fit through the tunnel, but it is suppose to be a good spot for walleye and crappie. It also contains the max depth spot of 36 feet.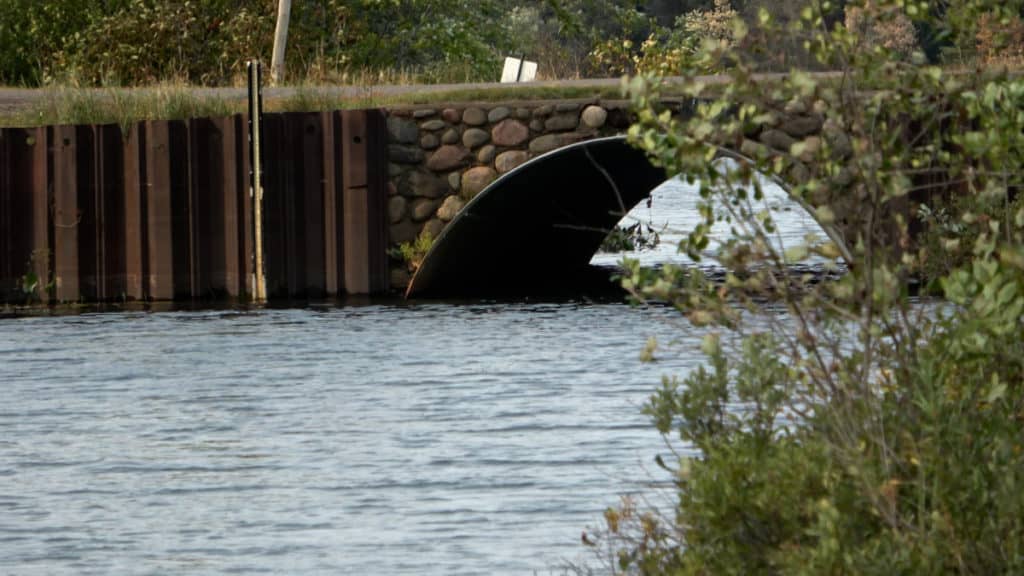 Heading south from the landing, you will run into a hump out in the middle that comes up to 5 feet deep. Then as you continue around the horseshoe and head north, you will go through the second narrows.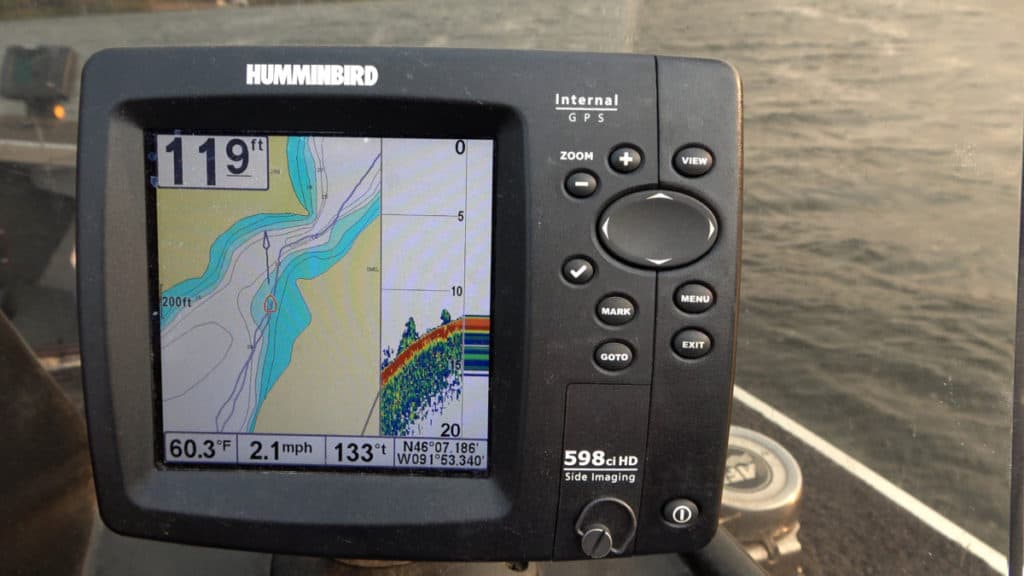 I was marking lots of stuff through the narrows, including some fish. This would be a good spot to spend some time looking for walleye.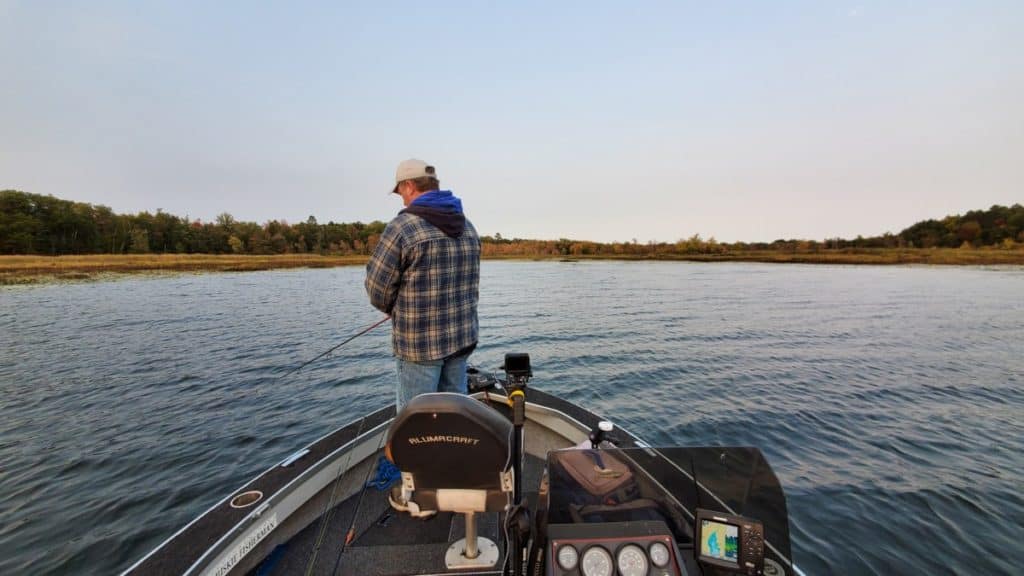 Finally, all the way up in the north end is where you will find some northern pike and bass. It is a large bay with lots of 5-10 foot waters. It has nice weed cover and holds plenty of fish.
Fishing Experience On Gilmore Lake
Reggie and I fished Gilmore on a very windy day in late September. At least the temps were in the 70's and the sun was shining. Gilmore is near our cabin in Minong, Wi so I've been wanting to try it out.
The first thing I notice about this lake is it's weird shape. It looks like a horseshoe, with one leg being much longer than the other. The other thing about this lake, is that it is narrow with steep shorelines. We normally like fishing shallow waters and weedy bays for northern and bass, so this isn't the typical lake we seek out. With that said, we are always excited to try something new.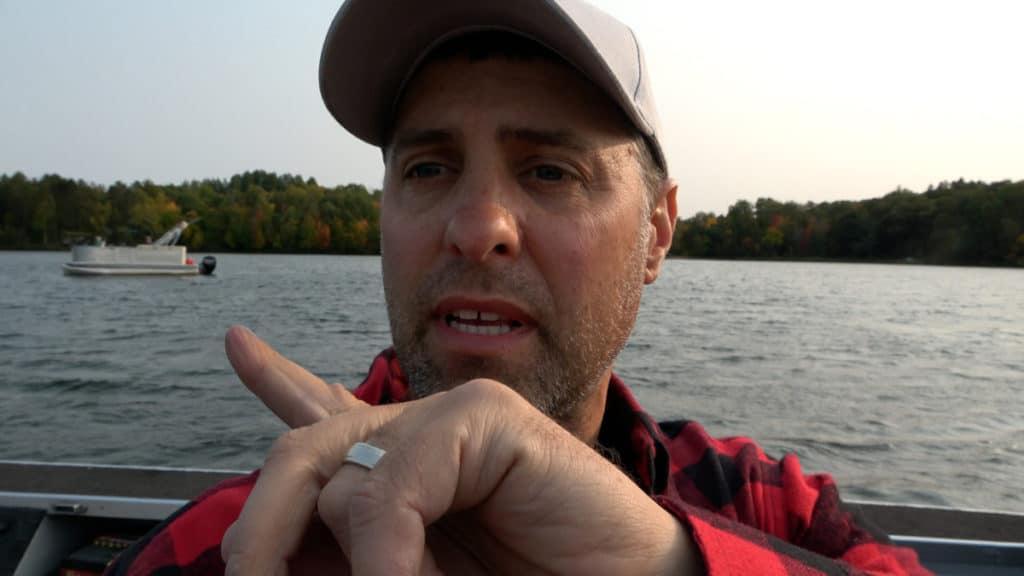 We started out at that first hotspot on the south end of the lake. It looked really good, but we had no luck. Then a pontoon boat moved in right next to us (the only other boat on the lake), so we moved on.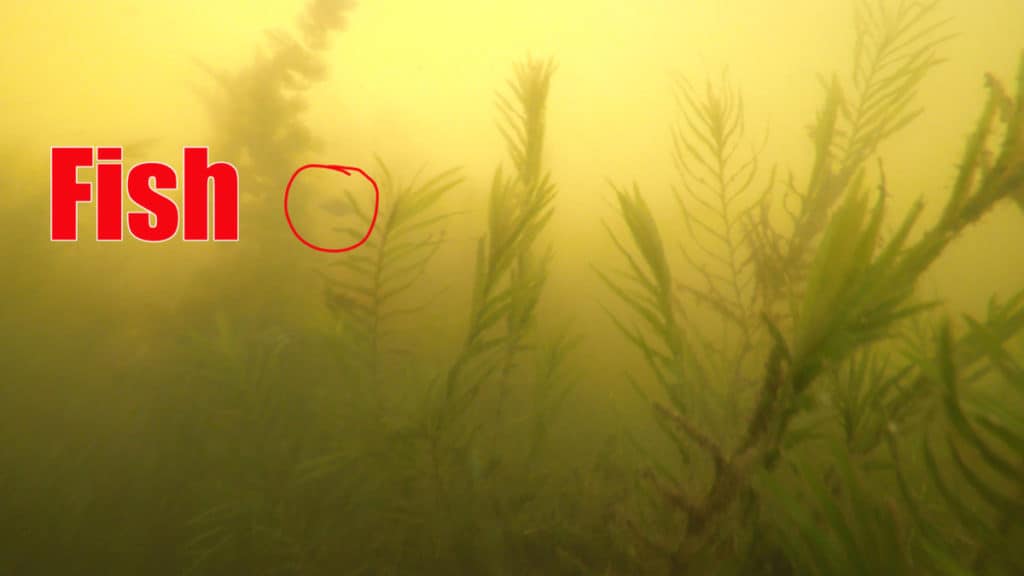 The above picture shows the nice weedbed at that first hotspot. You can also see the stained tint the water has.
Then we motored up to the narrows. This looked like a good spot to troll a deep crankbait, so that's what we did.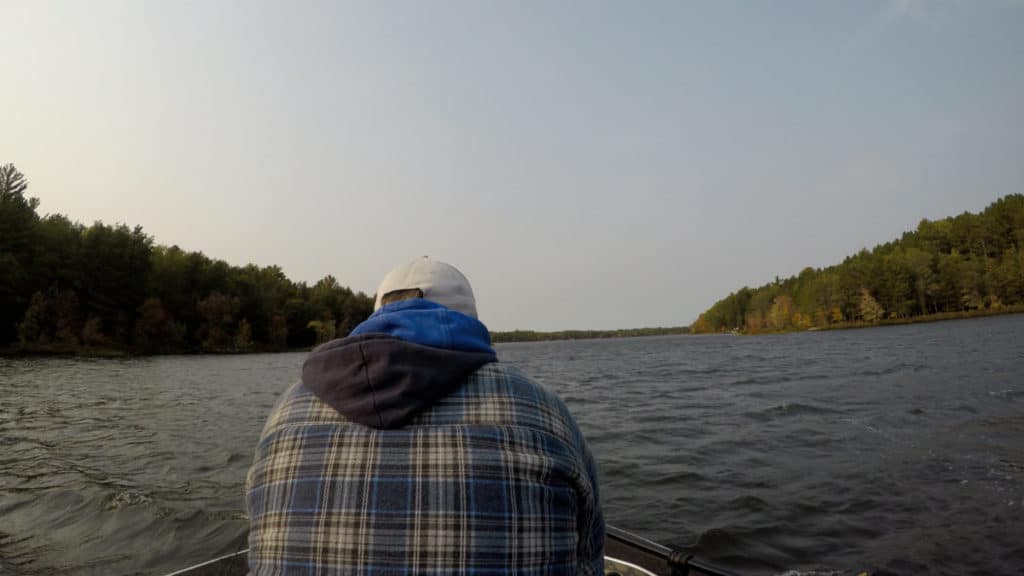 The fish finders was going crazy with lots of stuff, but we never did get a bite here despite trolling back and forth several times.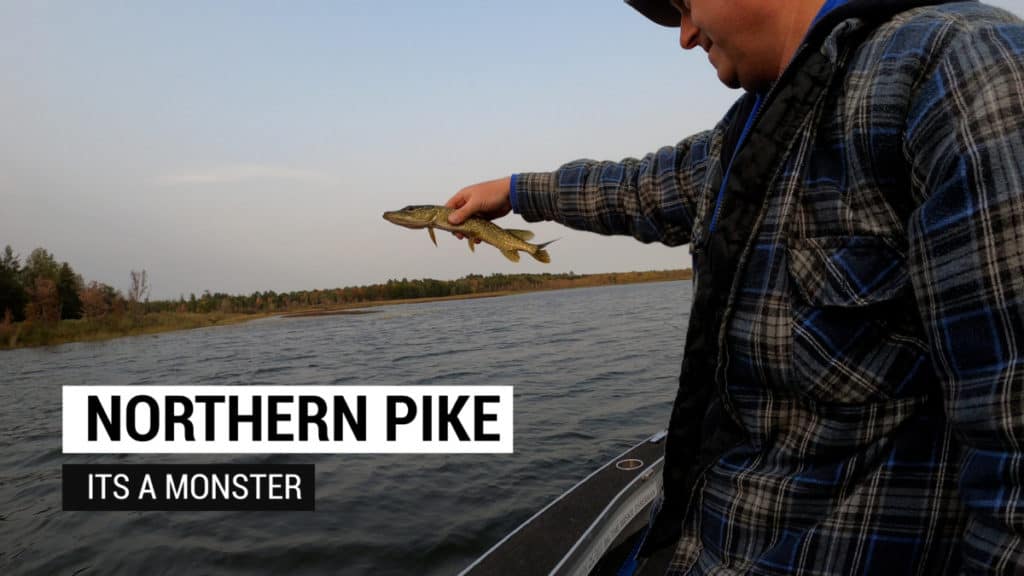 We then headed up to the far north end where we caught our first fish… a tiny northern pike. That was soon followed by a 13 inch largemouth bass.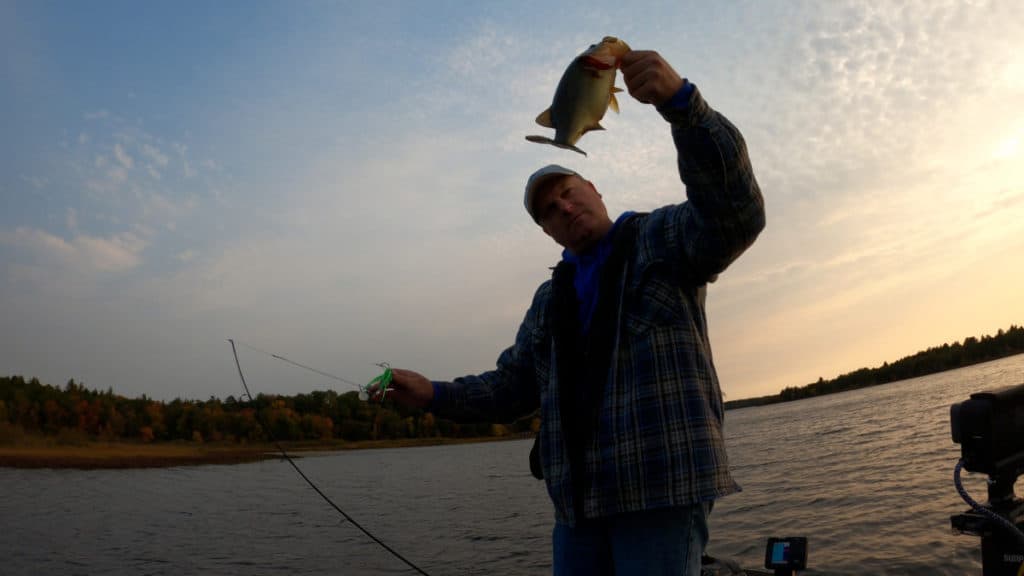 By now the sun was setting and it was time to head back to the landing. The wind was still blowing hard and we had a heck of a time getting the boat on the trailer.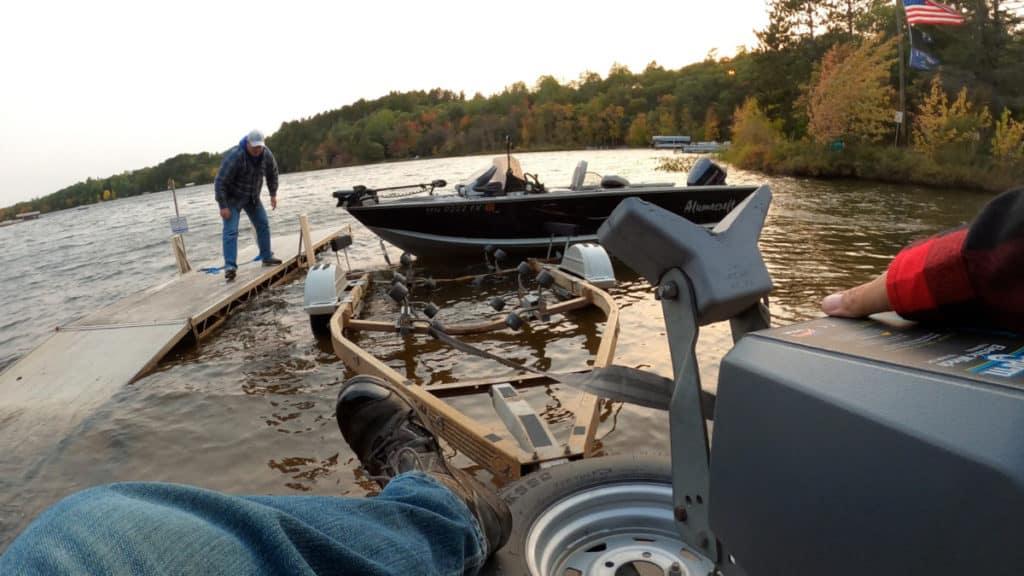 When we finally got the boat out of the water, I met a young couple that just was out on the lake in an inflatable boat. They live around here and said that Gilmore is actually a pretty decent place to fish. Especially if you are after some nice panfish. I think we just got there on a day that wasn't very good for fishing.
Thanks for visiting Go Midwest Fishing Lake reviews. Check my other great articles like, "Is it legal to fish with an RC boat." You can also come hang out with us on my YouTube channel here.