Lower Eau Claire Lake Stats
Acres: 784
Max Depth: 41 feet
Mean Depth: 22 feet
Bottom: 80% sand, 9% gravel, 1% rock, 10% muck
Shore Length: 7.78 miles
Water Color: Clear
Water Clarity: 14 feet
Fish Species in Lower Eau Claire
Musky (Present)
Northern Pike (Common)
Walleye (Common)
Largemouth Bass (Present)
Smallmouth Bass (Present)
Panfish (Common)
Watch us try to ice fish here in February
Boat Landings at Lower Eau Claire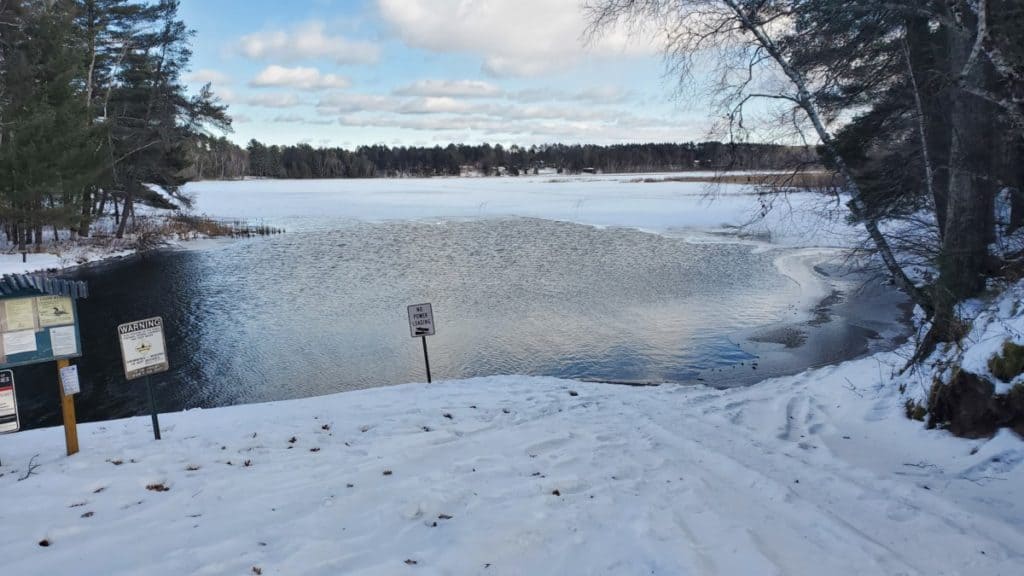 Lower Eau Claire lake has one public boat landing located on the south end. The boat launch goes down a fairly long steep hill to the lake.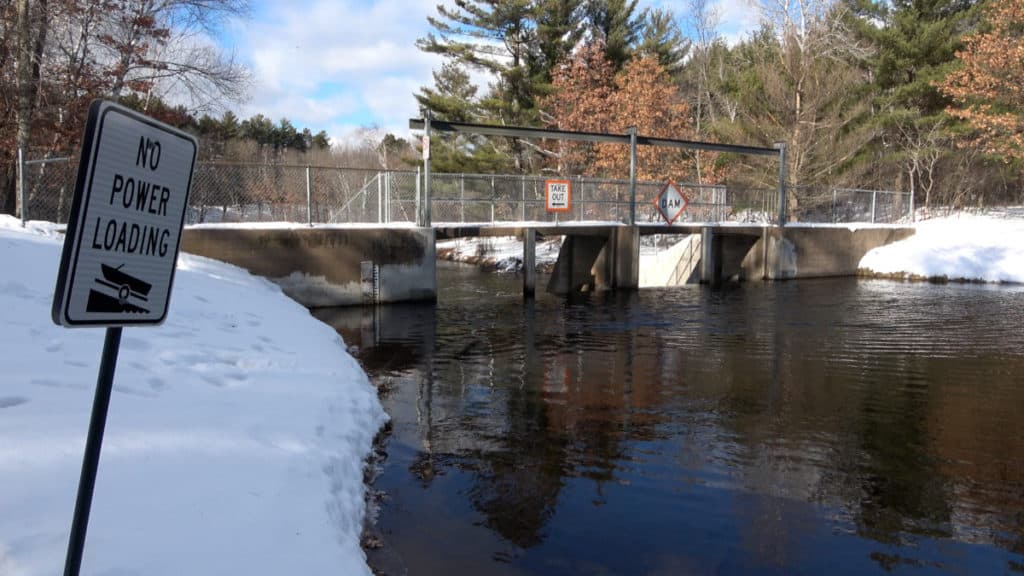 The boat landing is located right next to the dam. I was here in January. I planned on ice fishing, but there was open water at the landing due to the water flowing over the dam. Since this is the only public landing, we were unable to get on the lake.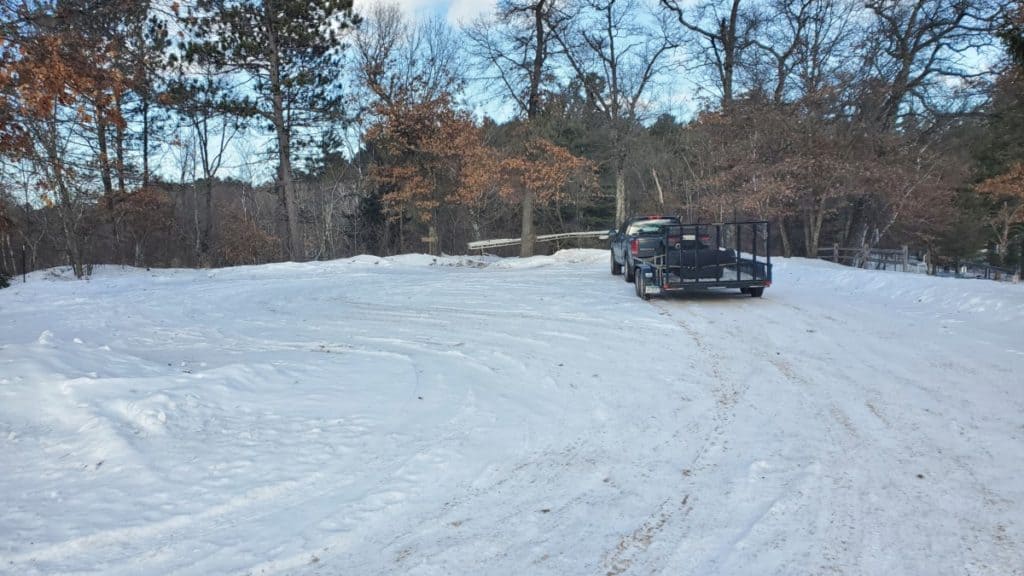 The parking lot is just above the boat launch. It appears to hold around 5-6 vehicles.
Commentary About Lower Eau Claire Lake
Lower Eau Claire is located in northern Wisconsin and is part of a chain of lakes. This chain is made up of 11 lakes, the largest three being, Upper, Middle, and Lower Eau Claire. Like the other two lakes, Lower Eau Claire is a known musky water. The numbers aren't high, but there are trophy fish in here.
Just south of the boat landing is Mooney Dam County Park. It has 11 non-electric campsites, along with picnic and grill areas.
Lower Eau Claire is the shallowest of the three lakes, and also the weediest. For more information on where to fish on Eau Claire Lake, check out this article from MidWest Outdoors.
Fishing Experience on Lower Eau Claire
I was here in late January, expecting to do some ice fishing. What I didn't realize was that I wouldn't be able to get onto the lake. As you saw above, the dam keeps the water open near the landing.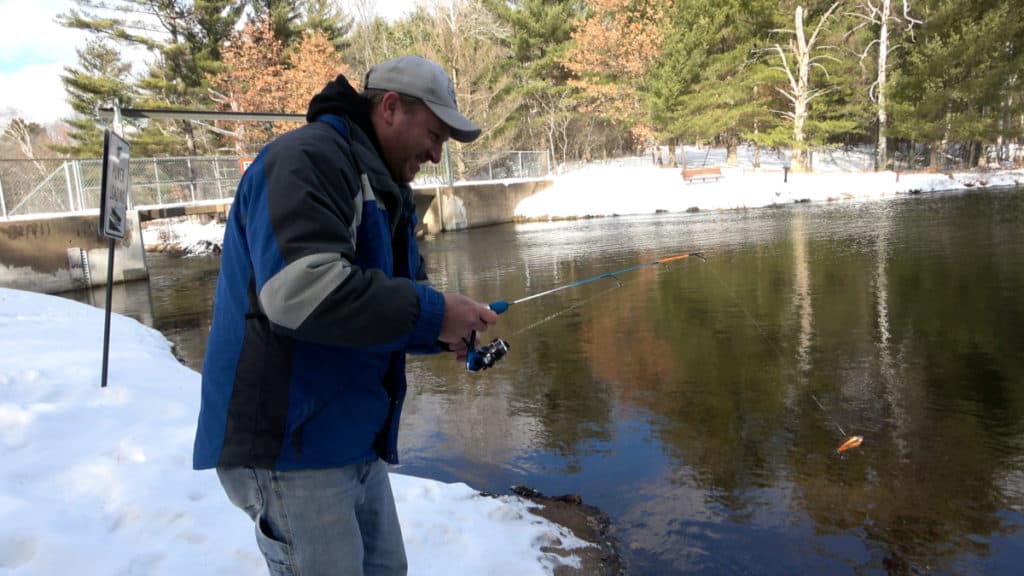 We just spent the last two days fishing Upper and Middle Eau Claire with out any luck. The weather was terrible and we barely saw any fish. I wasn't too upset that we couldn't fish here, but I didn't come all this way not to get a line in the water. Reggie used his small jig pole with a spinning reel on it and tossed it in front of the dam.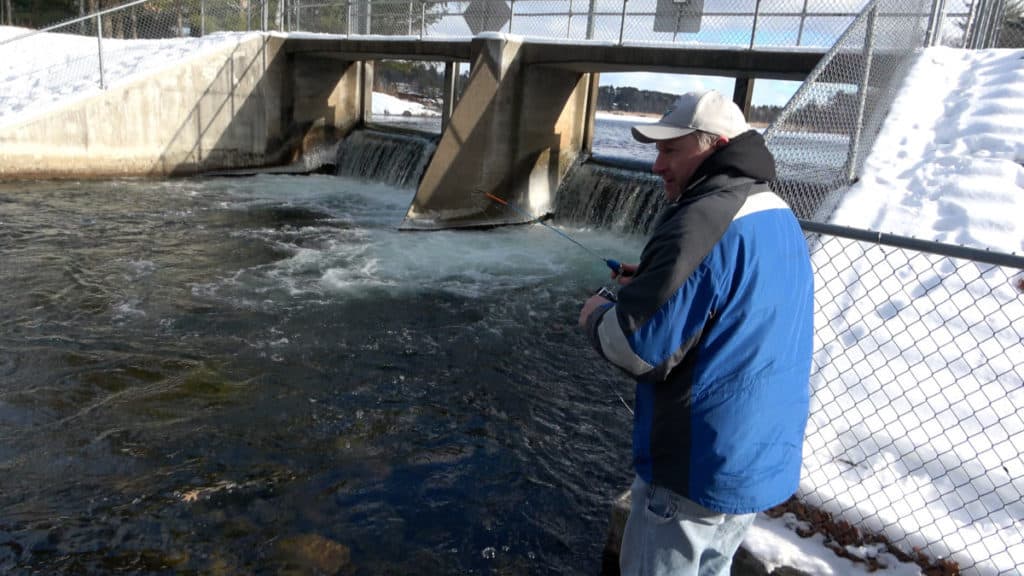 The water was very clear and shallow. We didn't see any fish in the immediate area, nor did we expect to. While we were here, Reggie made a few casts below the dam too.
Rapala just came out with this new lure called the "Blade." I've been using it for ice fishing. It can be used for vertical jigging as well as being pulled as a crank bait. It looks a lot like a Rat-L-Trap. It has two positions where you attach the line, depending on how much you want it to rattle. This is what Reggie was tossing in the water. So far I haven't caught anything on it, but I will let you know when I do.
I wish I had more to tell you about this lake. From my own experience on the other two lakes and from what I've researched, the Eau Claire chain of lakes can be tough to fish. It doesn't hold a high number of fish, but it does have some big ones. I don't think it's worth fishing in the winter. You might have better luck fishing in the summer.
Here is a nice drone flyby of Lower Eau Claire lake in the summer time.
Thanks for visiting Go Midwest Fishing Lake Reviews. While you are here, check out some other interesting article like, "Cargo Trailer to Ice Fishing House." Also, come hang out with us on my YouTube channel here.