Lower McKenzie Lake Stats
Acres: 206
Max Depth: 17 feet
Mean Depth: 9 feet
Bottom: 12% sand, 50% gravel, 0% rock, 38% muck
DNR Contour Map: Click Here
Google Maps Location: Click Here
Lower McKenzie Fish Species
Musky (Present)
Northern Pike (Common)
Walleye (Present)
Largemouth Bass (Common)
Smallmouth Bass (Present)
Panfish (Common)
Boat Landings At Lower McKenzie
Lower McKenzie has one public boat landing located on the north end. From Zehm Rd, turn south onto McKenzie Path Rd. Drive about 1/2 mile down a gravel road and it will dead end at the lake.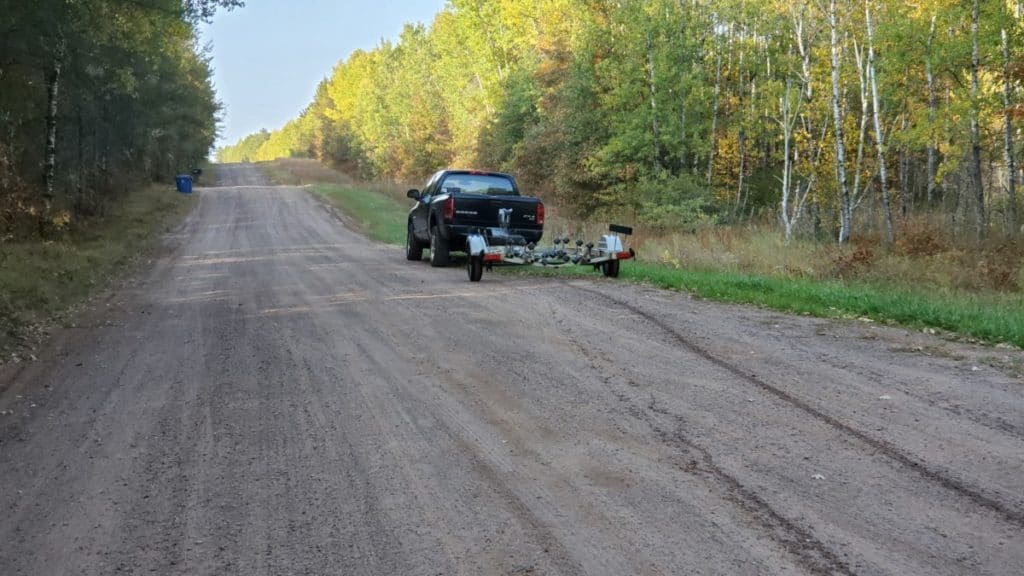 Parking is along the side of the road. We were the only ones here, so parking was not a problem.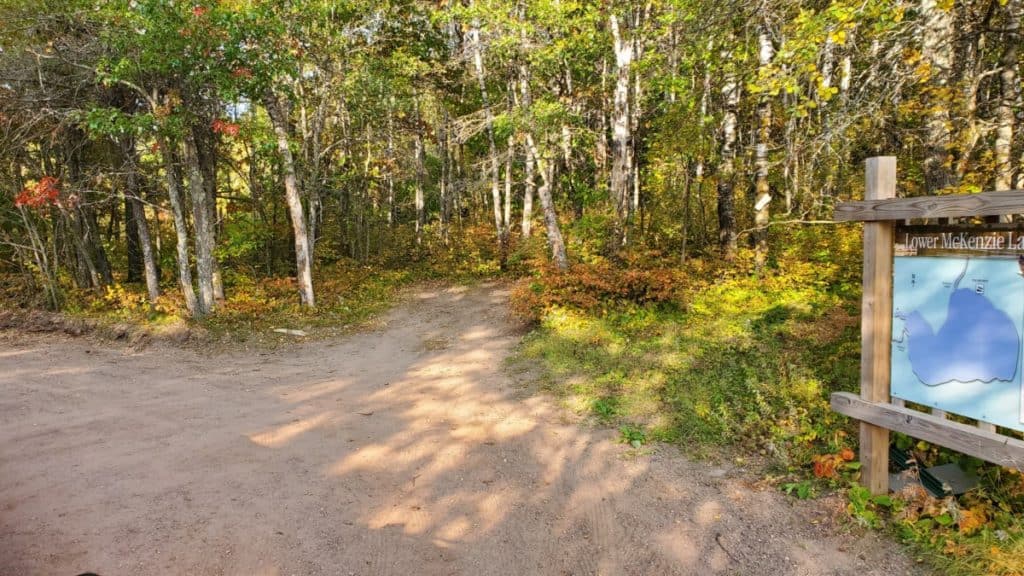 There is a spot to get your rig turned around, but its basically a hole in the woods. It gets the job done though. The boat launch is gravel and does not have a dock.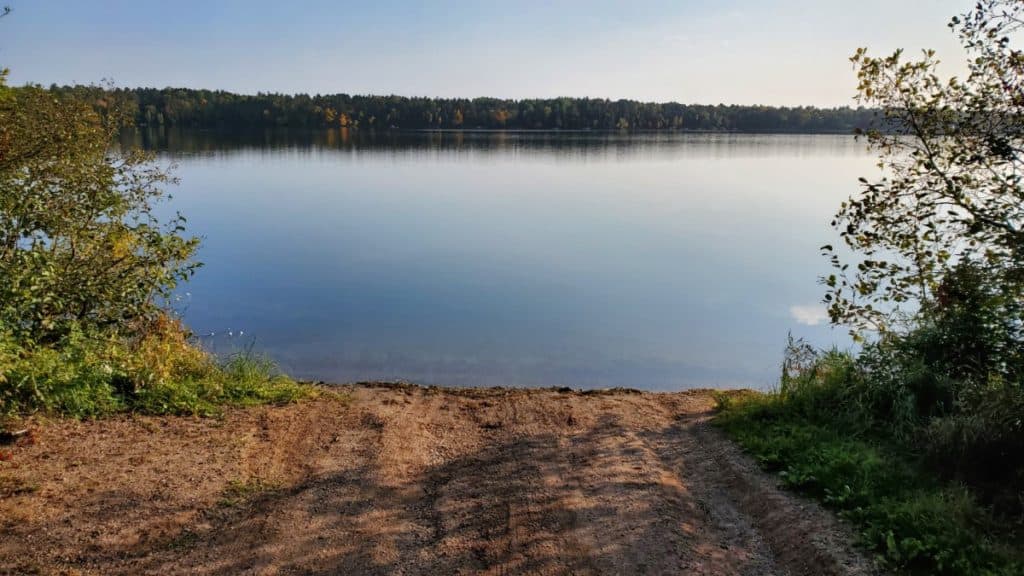 Here is a nice aerial view on the boat landing. You can see the weed lines which provide good fishing for bluegills right off the landing.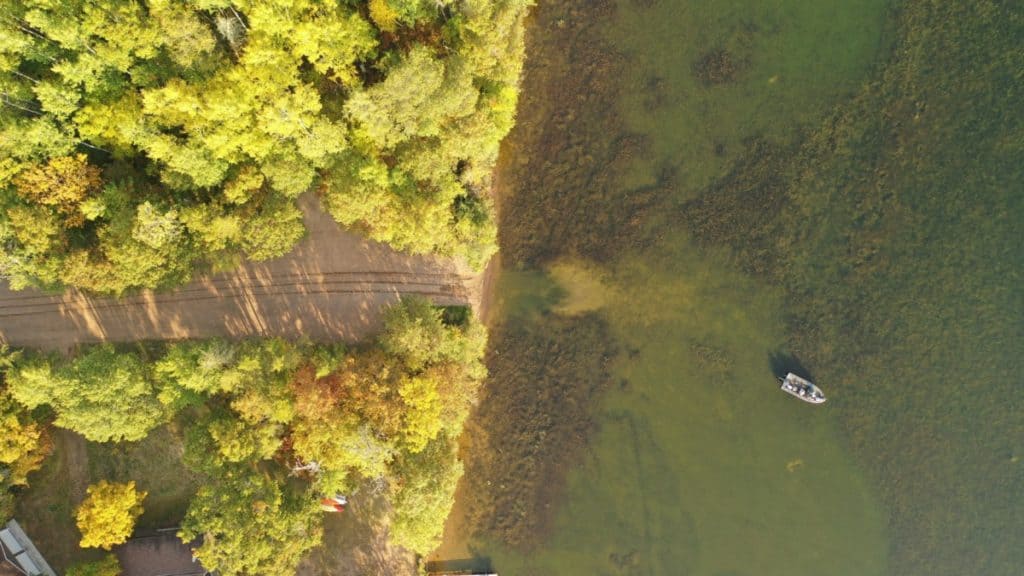 Commentary about Lower McKenzie
Lower Mckenzie is the smallest of the three McKenzie lakes, and is north of the other two.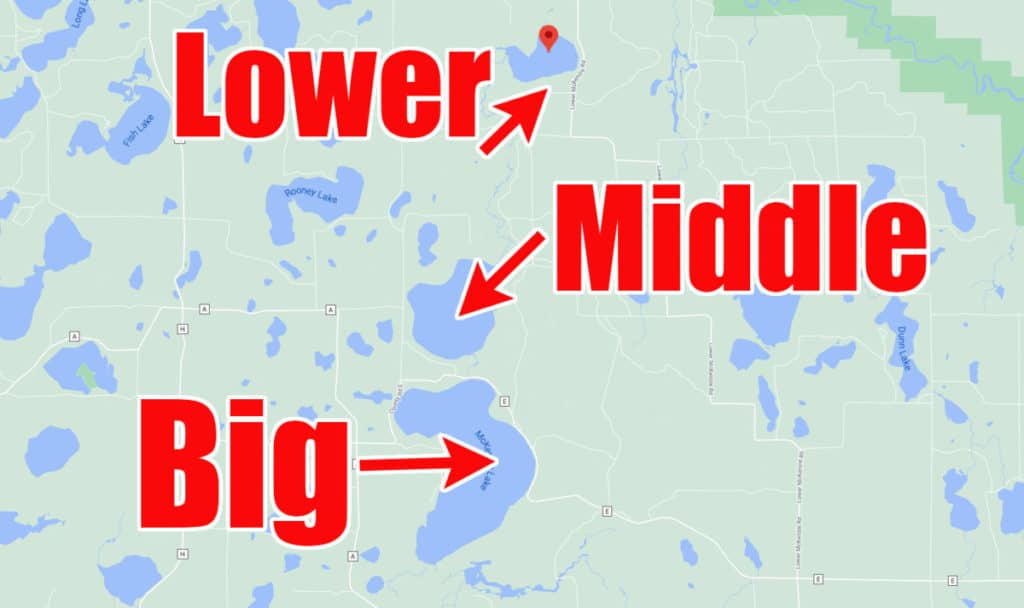 All three lakes have a good assortment of gamefish, including muskies, but they are very different experiences. If you want to catch a musky, then you are better off trying Big McKenzie.
Lower McKenzie is the lake to choose if you are after some nice bluegills in the 8 to 9 inch range. It's also suppose to have some big slab crappies, although I never caught one while here.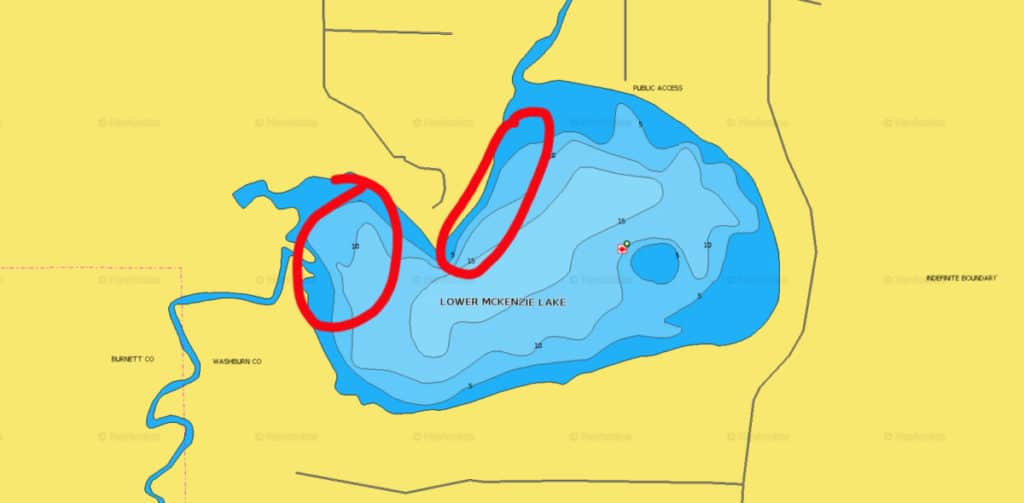 Above is a map of where we had the best luck fishing. You can catch fish almost anywhere here, but if you focus on these two spots, you will have better luck.
From what I've learned, this lake gets little pressure in the summer, but it picks up in the winter when anglers are hungry for some big panfish.
Fishing Experience On Lower McKenzie
Reggie and I fished here in late September. We fished Big McKenzie in the morning, then came back to fish lower McKenzie in the evening. We got here at 5pm and stayed for about two hours.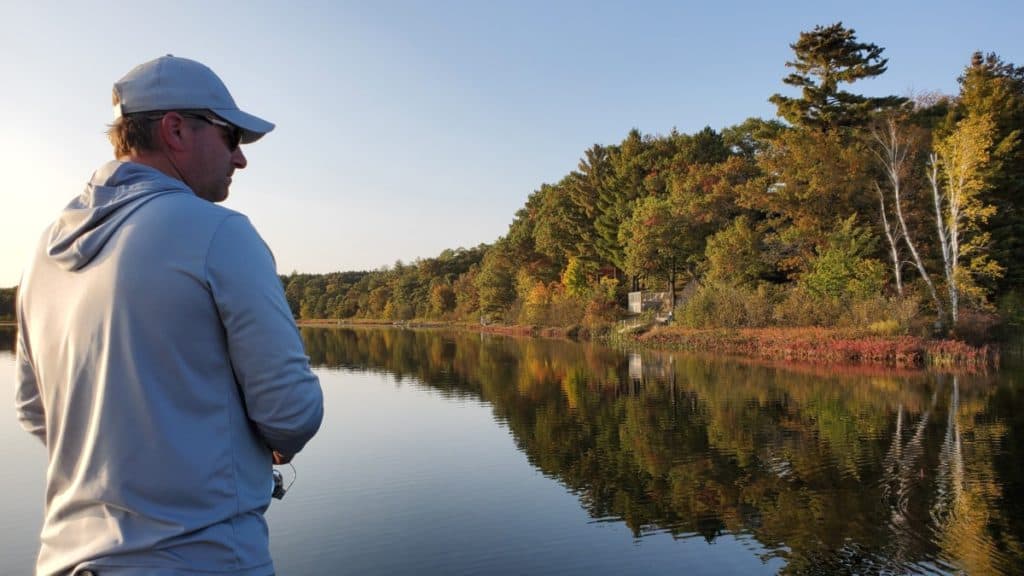 It was a beautiful, warm evening with calm winds. The water is not as clear as Big McKenzie, but it is still clear enough to see the weed beds and good spots that hold fish.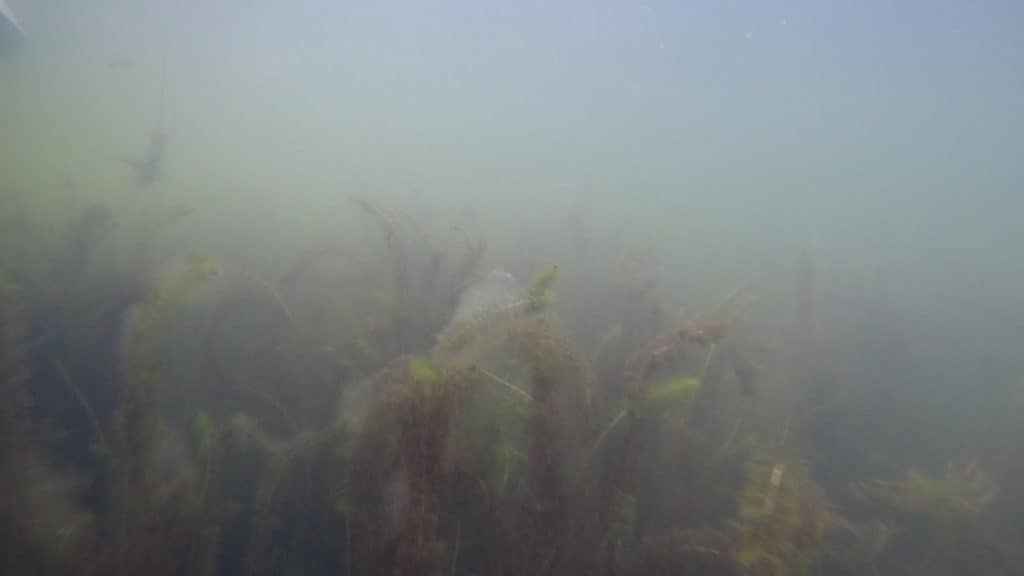 Above is an underwater shot in about 10 feet of water. I had a bunch of bluegills chasing the camera, but you can't see them because they stayed behind the camera. As you can see, the water is a bit murky, but was able to see down a good 6 feet.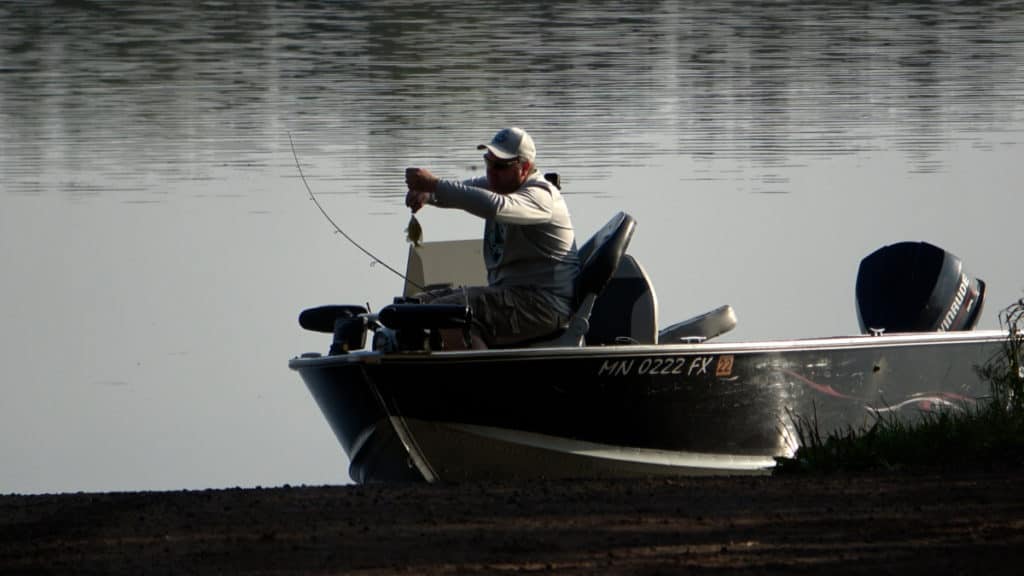 We started off good. Reggie was catching bluegills before I was even able to get in the boat. We pushed off and caught several more not too far out.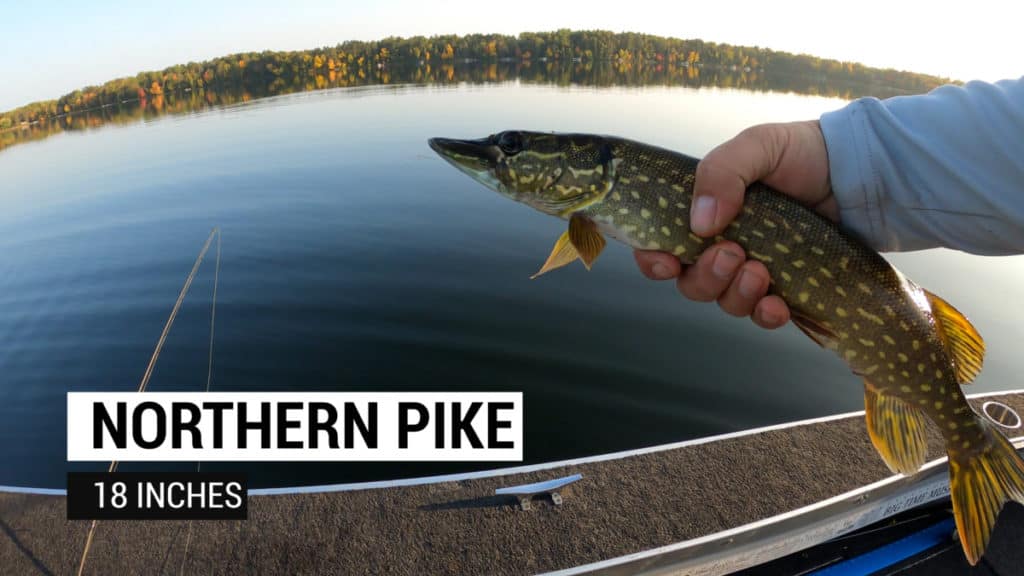 We worked our way down the shoreline heading southwest. That's where I caught the first northern pike. It was only 18 inches, and seemed to be the norm for this lake.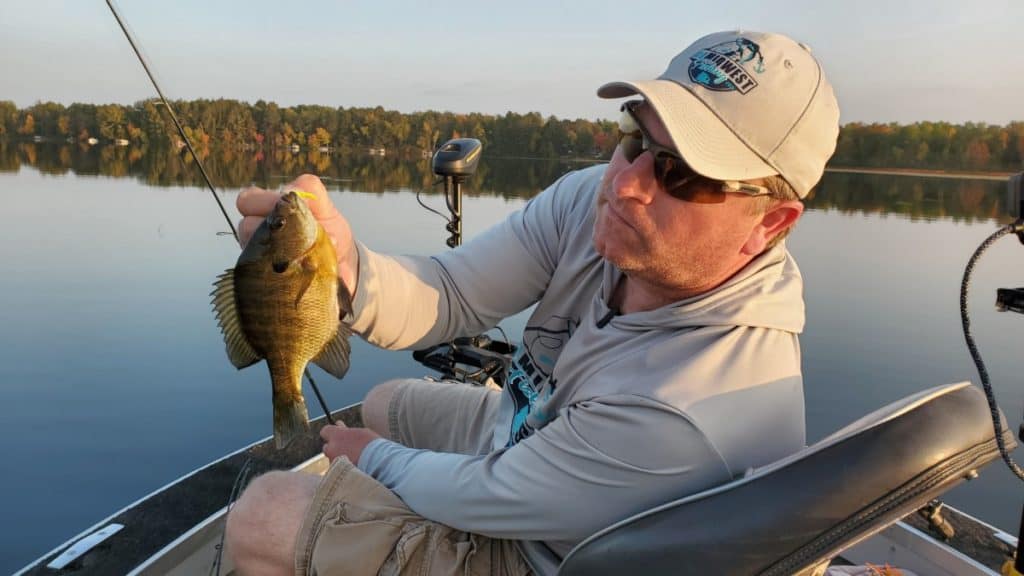 We spent some time in the west end of the lake. This is where we caught our biggest bluegills.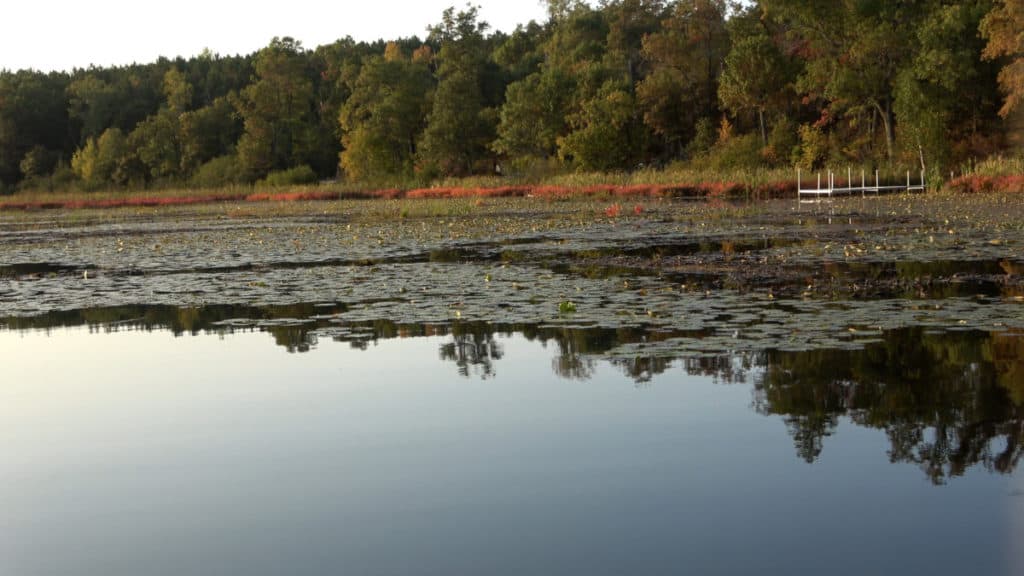 The west end has lily pads that stretch out far from shore. This might be a great spot earlier in the year for some bass.
We headed back in when the sun was setting, which provided us with some great views of the lake.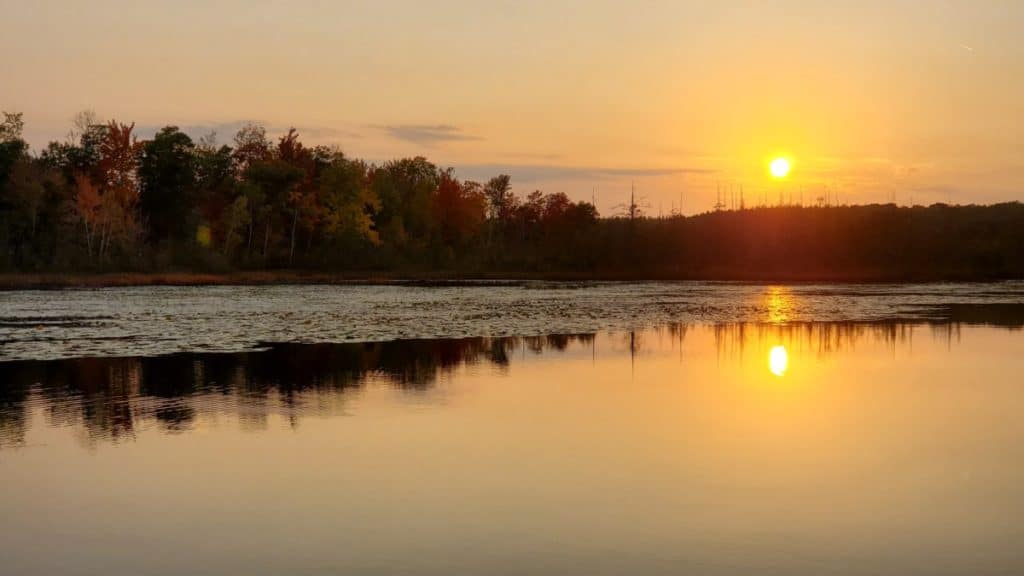 Even though we didn't stay long, we had a lot of fun catching bluegills here. It's definitely a lake to try out. If you get a chance to ice fish here, I would love to hear about your experience. You can email me at: [email protected] Also feel free to suggest other lakes you would like to see reviewed.
Thanks for visiting Go Midwest Fishing Lake Reviews. Check out my other great articles like, How much does a boat motor weigh? I'd love it it you could hang out with us on my YouTube Channel here.