Lake Stats
Acres: 181
Max Depth: 24 feet
Mean Depth: 11 feet
Bottom: 50% sand, 0% gravel, 30% rock, 20% muck
DNR Contour Map: Click Here
DNR Interactive Map: Click Here
Google Maps Location: Click Here
Fish Species
Musky (Common)
Panfish (Common)
Largemouth Bass (Common)
Northern Pike (Common)
Walleye (Common)
Smallmouth Bass (Present)
Sturgeon (Present)
Boat Landings
There is one public landing on the north side in the center of the lake.
The town of Mercer is developed on the north side of the lake. As you drive down main street (HWY 51), turn south on Lakeview Ave. This street will dead end at the lake. I did not see any designated parking spots, so I parked along side the edge of the road.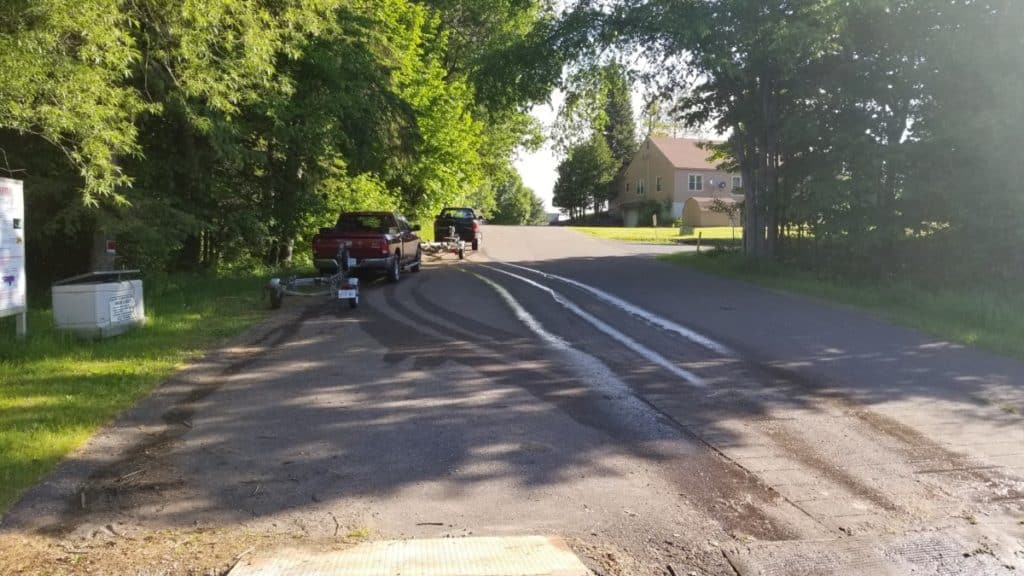 The road is also the entrance to St Isaac Jogues Church. There is no real turn around area, but the road is wide enough that it's not a big problem. You might have issues if you have a longer than average boat.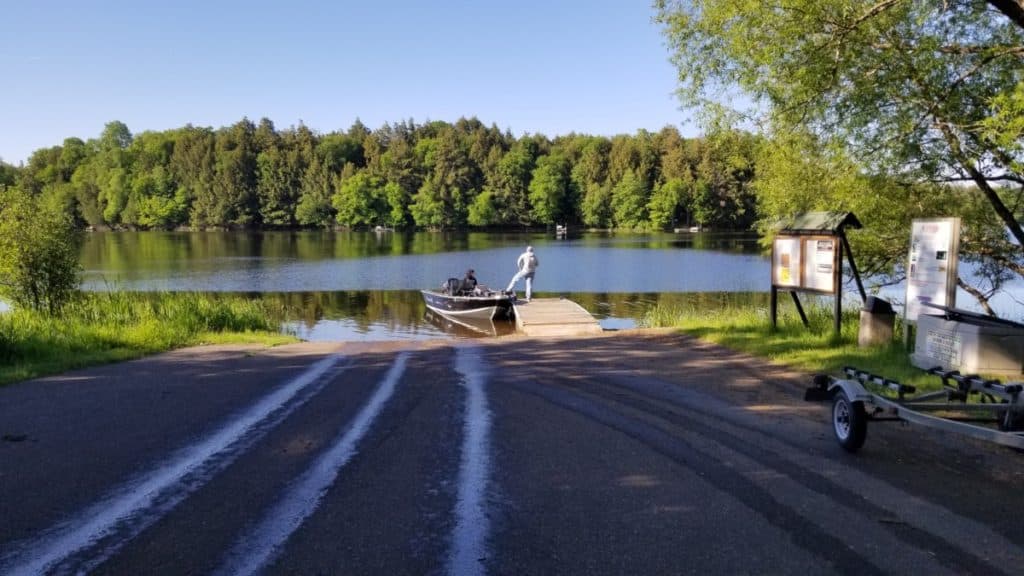 The landing has a very nice dock, and launching the boat was easy.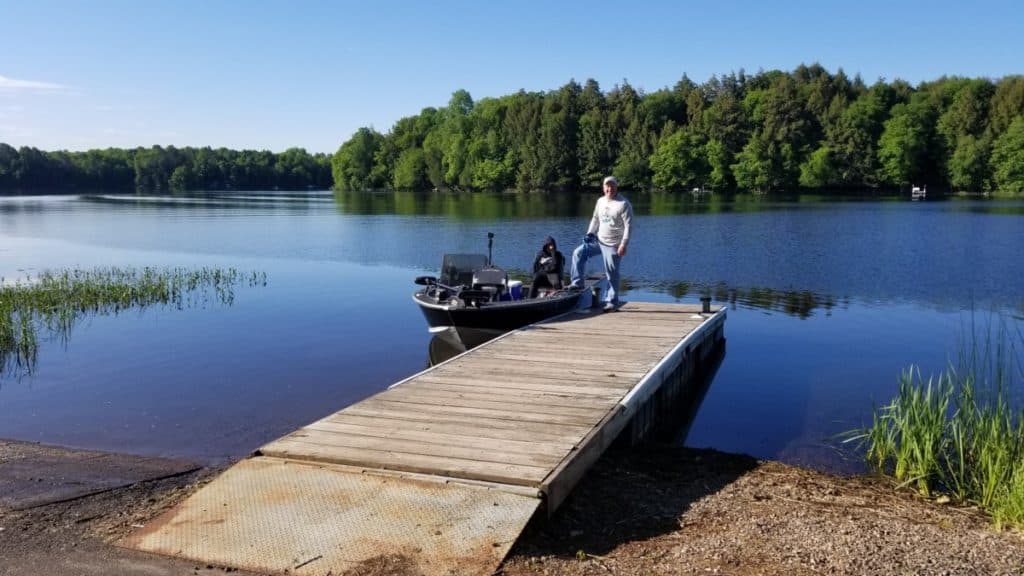 The signs a the landing area encourage you to use non lead fishing tackle for the safety of the wildlife.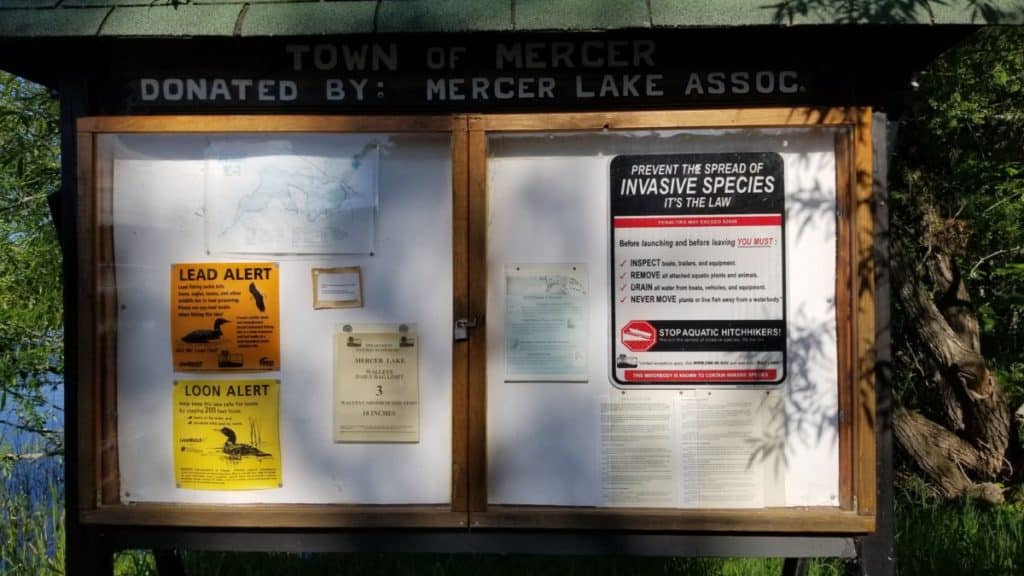 Like most lakes in Wisconsin, they are cracking down on invasive species. Here is the list they posted to watch out for.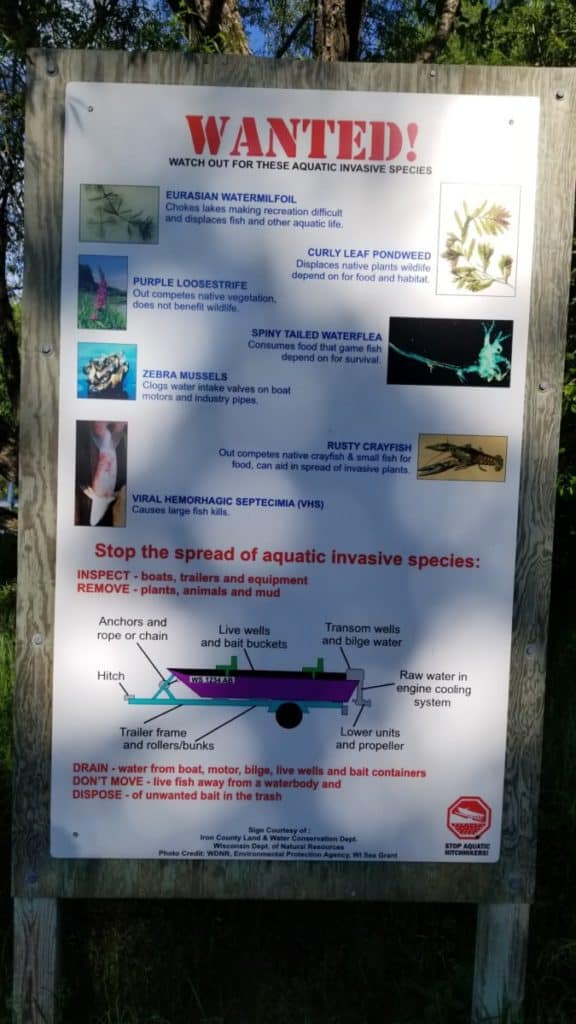 Commentary
Mercer, the "Loon Capital" is located in the Heart of the Wisconsin Northwoods. The town is surrounded by lakes, all similar in size. We fished a few of these lakes, but this is the one named after the town… or vice versa.
I found this to be a really nice town to visit. Here is a list a reasons to come to this area.
Over 200 lakes in a 20 mile radius
Over 125,000 acres of clean waters teeming with game fish
Nearly 300 miles of trout streams
Includes world famous Turtle-Flambeau Flowage, home of bass, trout, walleye, northern, crappies, perch, scrappy bluegills and explosive musky
377,900 acres of forest land
Sand Beaches, cool forests, sun-filled days and brisk nights
Boating, swimming, hiking, cycling, water skiing, nature study, hunting, ice fishing, archery, golfing, and loon watching
You'll find it all in Mercer and all set in the natural beauty and serenity of the True Northwoods
Learn everything you ever wanted to know about Mercer here
The lake itself is very interesting. It has a unique shape and lots of varying bottom structure. It has lots to offer for such a small lake. According to the WI DNR website, it even contains muskie and sturgeon.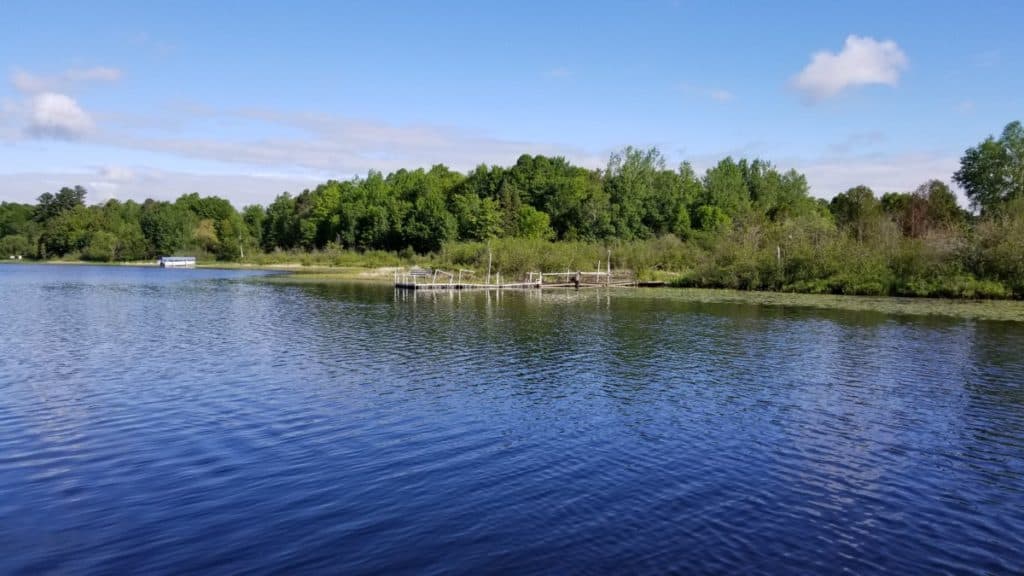 The shorelines are lines with lily pads and a good part of the lake is fairly shallow and covered in cabbage. Ideal spots to throw some shallow running crank baits or spinners.
It has a couple of deeper holes too around 20 feet deep. The west end is marked by several buoys. I didn't get too close to them, but it looked like there were a bunch of rock piles near the buoys.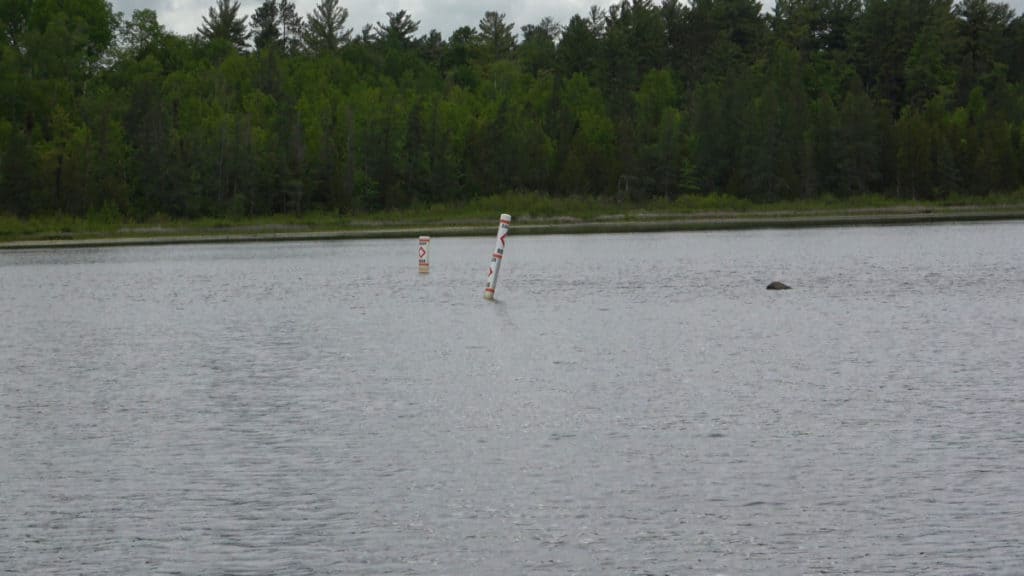 If you go all the way to the end of the lake on the west end, it gets shallow and is filled in with lily pads.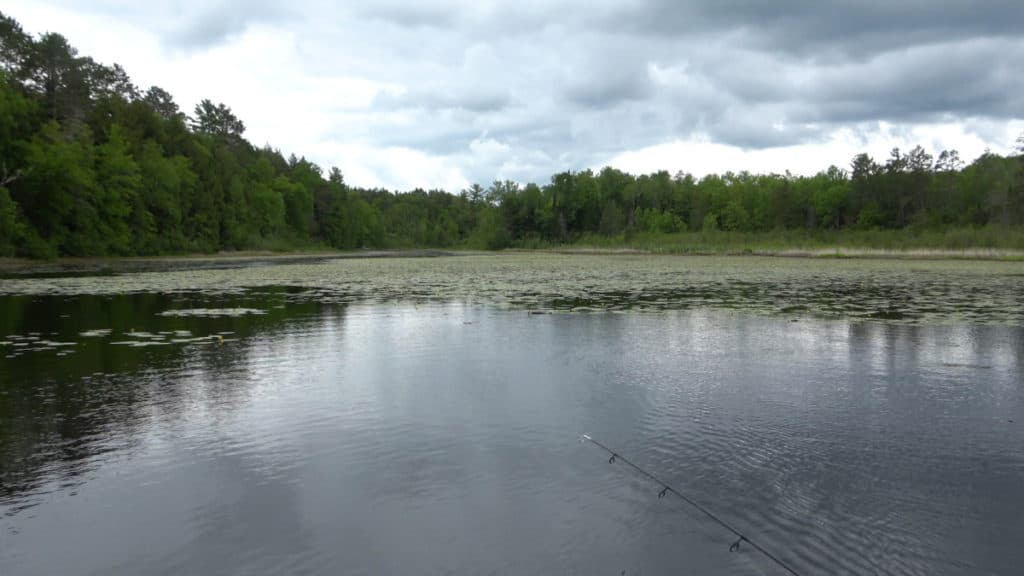 I thought I would slaughter some bass here, but I only pulled one out of there.
Fishing Experience
I fished this a the end of June on a nice clear day. The temp was 70 degrees and it was a picture perfect day. It did cloud up and looked like it was going to rain about halfway through, but it never did.
We spend half a day here. Started out in the morning and were off by lunch time. Even though it is small, there are so many places to throw a lure, you could spend some significant time here.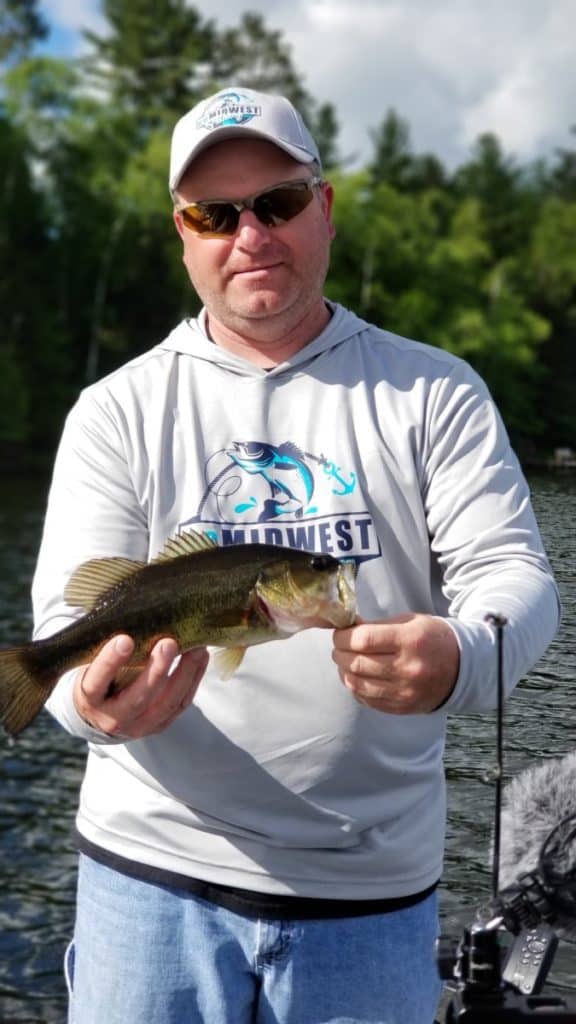 The stats show a variety of fish here, but we only pulled in some small to medium sized bass and northern pike. Part of the reason we chose this lake is because it contains muskie. We didn't see any signs of muskie while we fished it.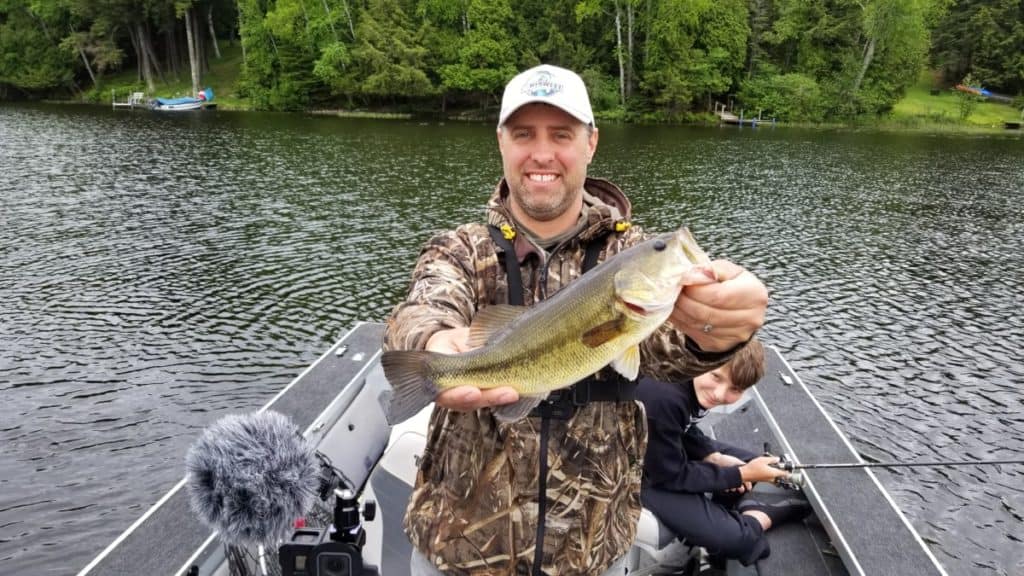 The northern pike were all about the same size, around 22 inches. Except for Reggie's 8 inch pike, which luckily fell off before reaching the boat, and I could tease him about it.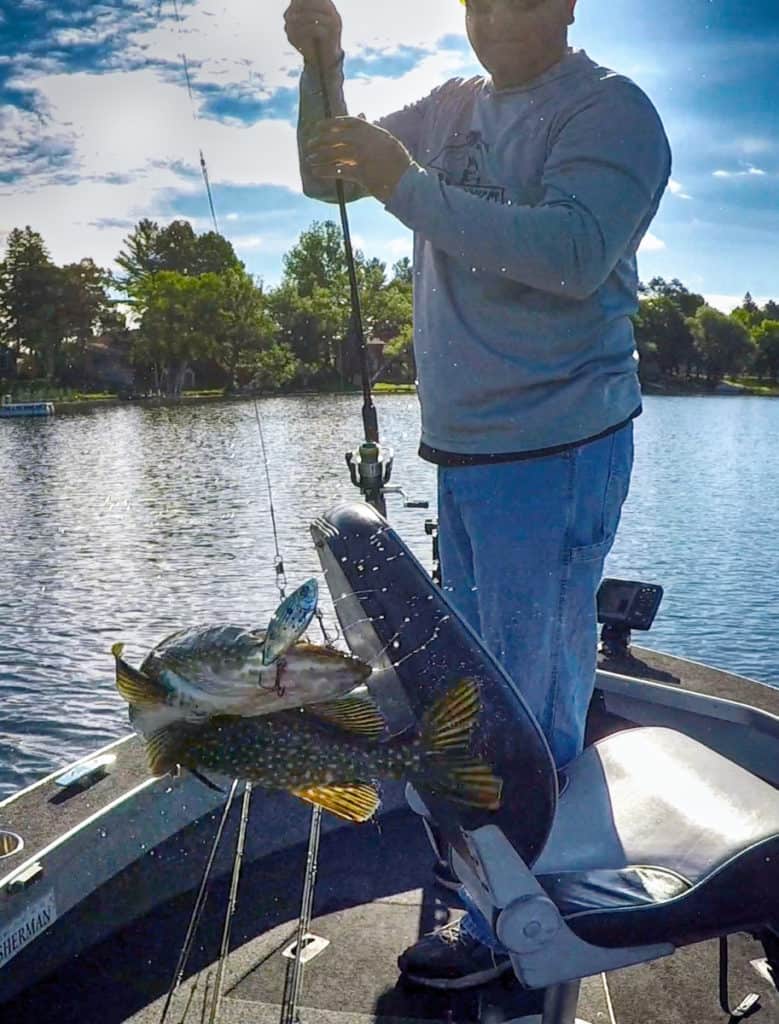 Overall, I really enjoyed fishing here. I would like to come back again and maybe spend more time out here. I'm also curious how it would be in the fall time.
If you are in the area, I would encourage you to try it. It is easy to get to, and there is a bait store a few blocks away on main street in Mercer.
Watch us fish Mercer Lake in late June
Thanks for visiting Go Midwest Fishing Lake Reviews. To see an easy way to light your portable ice shack, Click Here.