Lake Stats
Acres: 757
Max Depth: 39 feet
Mean Depth: 11 feet
Bottom: 88% sand, 1% gravel, 1% rock, 10% muck
Nearest Town: Minong
Fish Species
Panfish (abundant)
Largemouth Bass (common)
Northern Pike (common)
Walleye (common)
Musky (Present)
Smallmouth Bass (present)
Watch our latest fishing trip from late Sept below
Landings
There are two public boat landing on Lake Nancy. One on the West side on Three Mile Rd. The other one is on the East side off Karling Ct.
I've only used the one on the East side, and although I have driven the boat past the other landing, I never actually noticed it. The one I use off Karling Ct has never been very busy when I have been there. There is no turn around, but the road is plenty wide to do a "U" turn with a boat.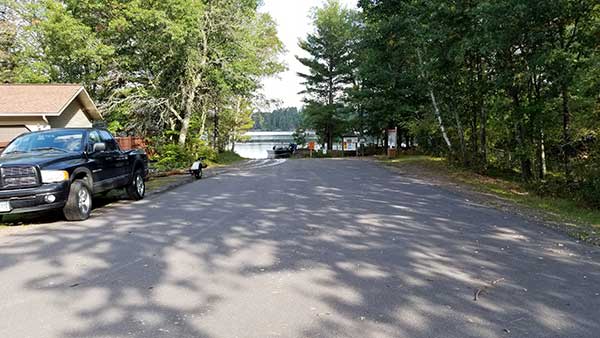 As you can see from the photo, there are no actual parking spots for trailers, so I just park along the edge. There is room enough for a couple trucks, and if that fills up, you can always park along the road too. It's not a very busy road so it's safe to park on.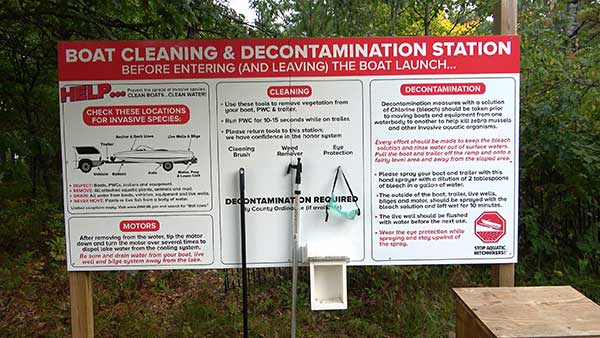 If you have been fishing in WI, you may have noticed these decontamination stations showing up at many lakes. They have a wooden box with a sprayer inside filled with bleach water. They also provide tools to scrub your boat and poles to grab weeds from underneath.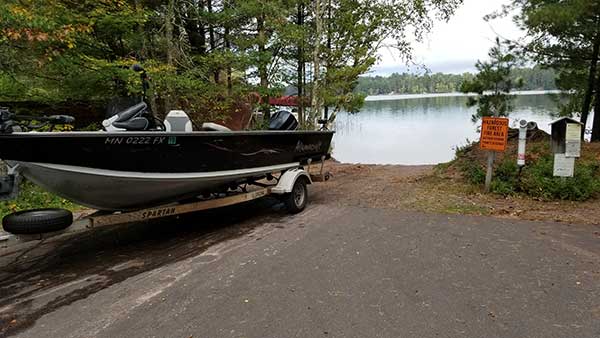 The actual landing changes from pavement to sand/gravel. It's a very shallow landing, so plan on getting your truck tires wet when launching.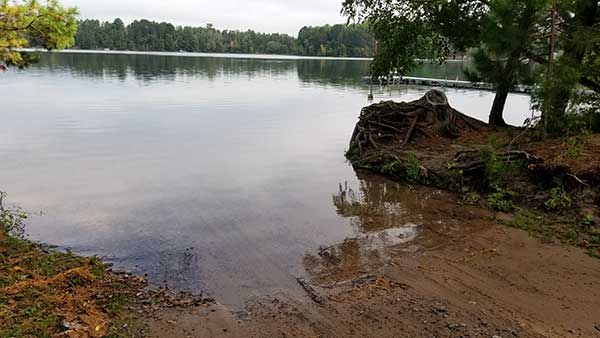 On the plus side, there is an upturned stump on the right side of the landing that you can use as a makeshift dock. Just pull your boat along side it, and jump in.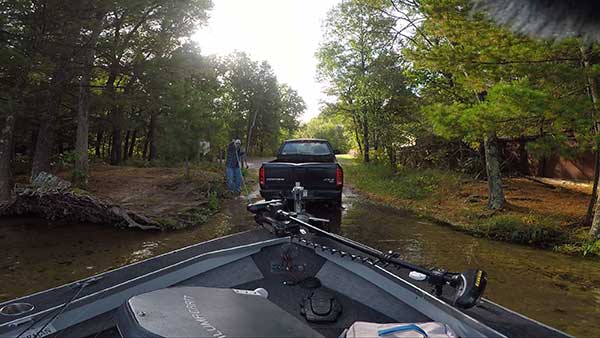 Commentary
I love this lake, even though I never catch many fish here. Here is why I like it. It's actually 5 lakes in one. Each part of this lake has its own personality.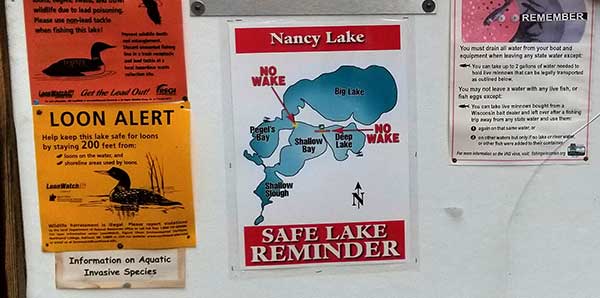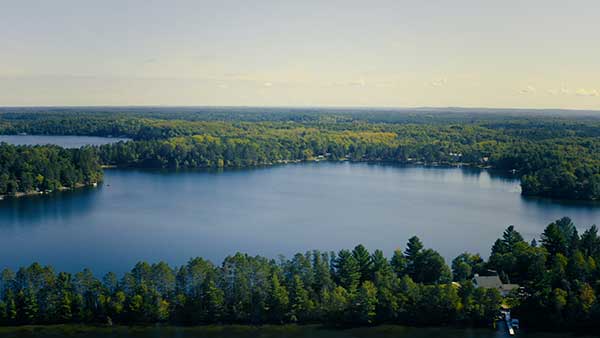 If you launch on the east side you will be in "Deep Lake." I'm guessing it got this name because it contains the deepest part of the lake at 39 feet, straight out from the landing. It has plenty of nice cabbage weed-lines along most of its shoreline.
Going through the channel into the second lake called "Shallow Bay," you will notice a change in the bottom structure. It quickly gets shallow and turns a golden brown, due to the sandy bottom. In the hot summer months, you might find the "redneck yacht club" parked on this sandbar having some fun in the water.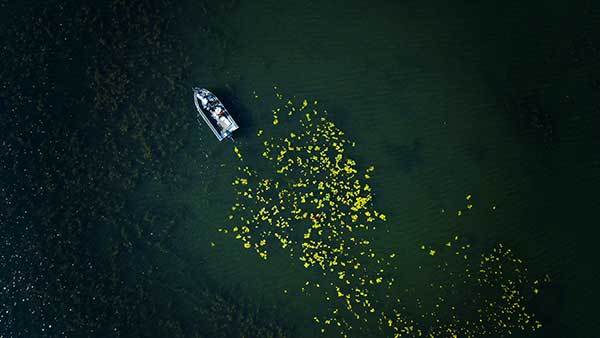 As you go deeper into Shallow Bay, a weed-line developes and you will also see a patch of lily pads out in the center. This is where I've caught most of my bass on this lake. They are usually on the smaller side though.
If you go deep enough into this bay, it turns into the "Shallow Slough." I never made it that far back into the bay because it gets so shallow and weedy it is hard to drive the boat through it. I doubt its worth fishing.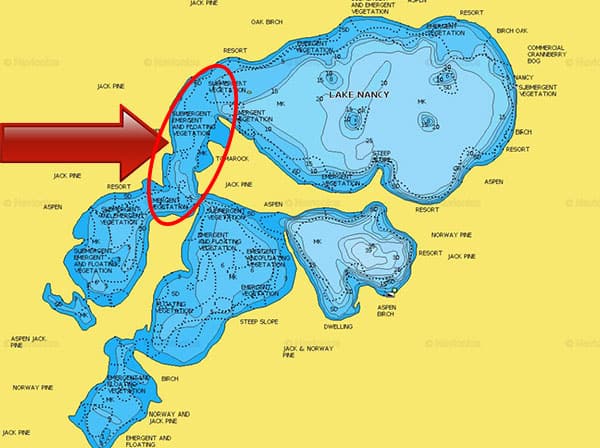 Going through the next channel, if you go right, you enter a narrow area leading to the Big Lake. To the left is Pegal's Lake. I always go to the right, down the channel. It looks like good fishing for northern pike or musky. It is only about five feet deep and full of cabbage.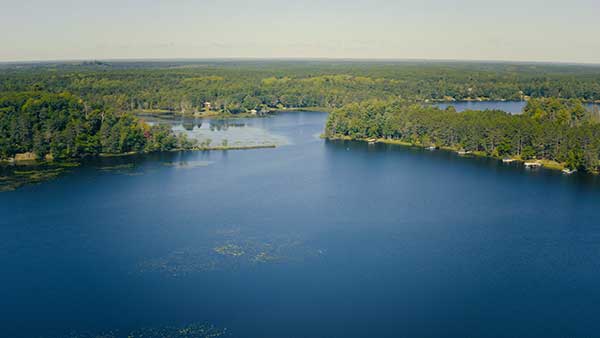 If you follow the narrows, you will enter into Big Lake. It has several small humps throughout the middle that gets as shallow as 5 feet. In the past, I have raised a musky or two on these humps. I usually just head to the far back (northeast) part. There is a fairly large shelf that comes out, and seems to hold fish.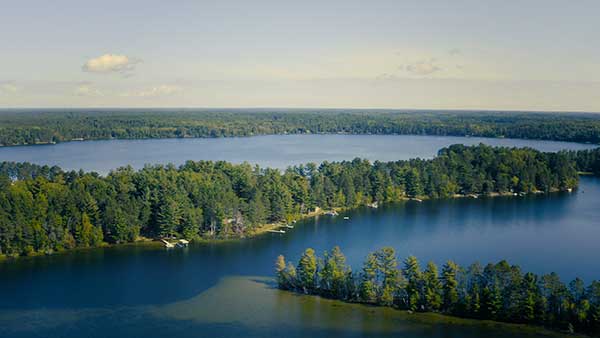 Its a big enough lake that you can spend all day here, and if it's hot enough, you can always jump in and cool off on the sandbar. I have never caught enough fish here to keep me fishing all day, except for one experience, I will tell you about next.
Fishing Experience
I've fished this lake several times, and have had some experiences I won't soon forget. On one occasion, after a full day of fishing, we ended up on the far end of the Big Lake. Unfortunately, we exhausted all of our battery power. The boat motor wouldn't start, and the trolling motor was dead. We tried every trick in the book to get something to work, but got nowhere. It was 8 pm and was starting to get dark. We had to come up with something, and our only option we could see was to paddle the boat all the way back to the landing. It would be over 2 miles and we didn't have a paddle.
We were in a 16 ft Sylvan, and it was a fairly heavy boat. The only thing in the boat that resembles a paddle, was a boat cushion. We had to hang over the side of the boat and do our best paddling with a boat cushion.
The only reason we were able to do this, was because the wind was dead calm. As the hot summer day turned into night, the fog settled in, and it was thick! It took over 4 hours to make it back to the landing. By then, it was after midnight, and getting a little spooky out there. Its amazing all the weird sounds you hear at that time of night.
Needless to say, my boat got some upgrades after that night, including a second starting battery, and a fold up paddle. The most embarrassing part of this whole scenario… was the fact that under the hood of the motor, was a emergency pull start rope hiding in a pouch.
On a different occasion, we were at the far back end of the Big Lake again. We rode out a thunderstorm in the evening. After the storm we got to experience a beautiful sunset that included a double rainbow.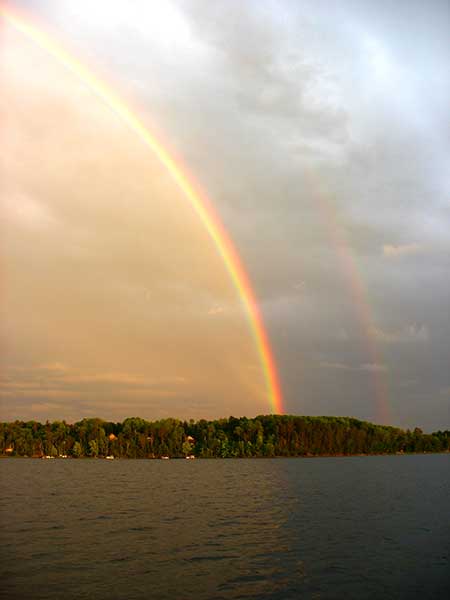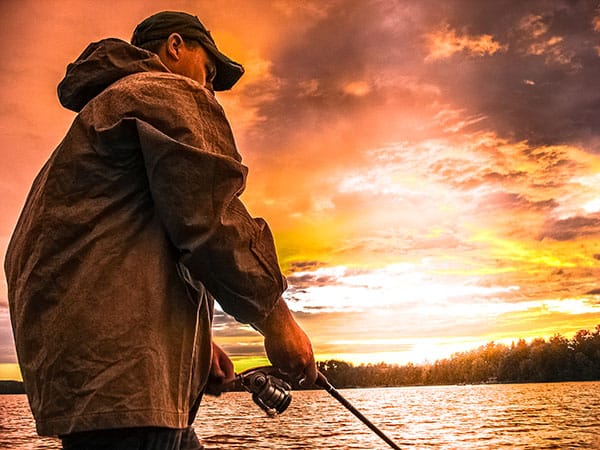 Riding out a storm is nothing new, we've done it many times. The weird part was just before dark. It seemed like out of nowhere, a huge swarm of either swallows, or bats, (I can't remember which) came out over the lake to eat all the insects buzzing just above the water. There had to be thousands of them, and they were swooping just above our heads. They were getting close enough that we had to hide for safety on the floor of the boat. It lasted about 15 minutes, and then they left. It was quite a sight to see.
As far as the actual fishing went, we caught a few bass and northern pike. We've also had some musky follows, but never caught one. At times, we have found pockets of crappies, which were decent sized. There are walleye in this lake, but I have never tried to target them.
Overall, I do like this lake, but I never expect to catch a lot of fish here. I enjoy the scenery and variety of fishing structure I can cover in one lake. If you are in the area, I don't think you would regret trying out Lake Nancy.
Thanks for visiting Go Midwest Fishing Lake Reviews. Check out our other interesting articles, like "Amazing Bass Facts." Get to know us on our YouTube Channel.