Lake Stats
Acres: 50
Max Depth: 32 feet
Mean Depth: 17 feet
Bottom: 67% sand, 32% gravel, 0% rock, 1% muck
Nearest Town: Minong
DNR Contour Map: Click Here
DNR Interactive Map: Click Here
Google Maps Location: Click Here
Fish Species
Largemouth Bass (Common)
Northern Pike (Common)
Panfish (Present)
Walleye (Present)
Watch our trip to Pear Lake on Sept 24th
Landings
This is a small lake with only one landing on the far north side of the lake.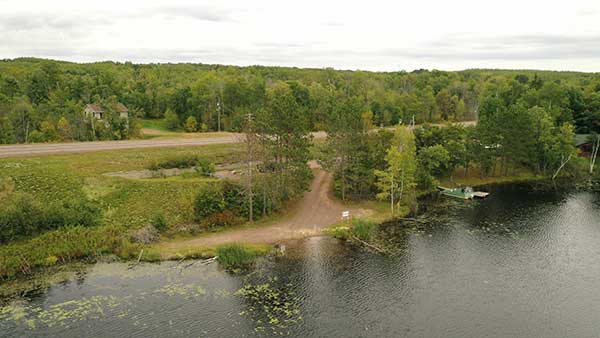 There is a small offshoot road from Hwy 77, that turns into a dead end road. From that road, there is a gravel road that Y's off to the left and goes down a hill to the lake.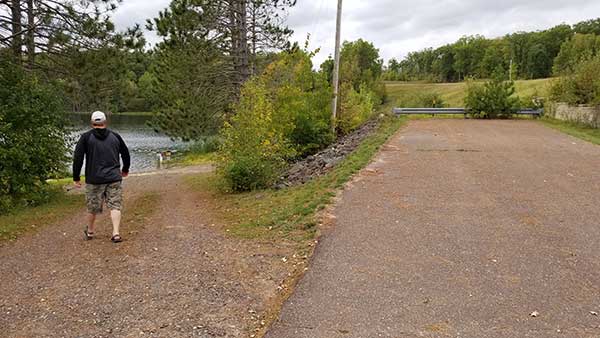 When you get to the bottom, there is just enough room to pull past the launch area, parallel to the lake.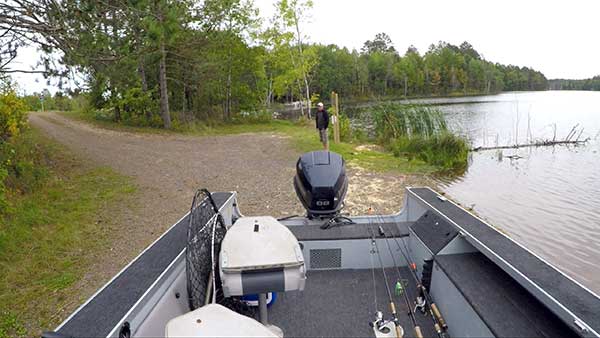 Then it's a sharp turn backing up to get the boat into the lake. The only place to park is up top on the paved, dead end road.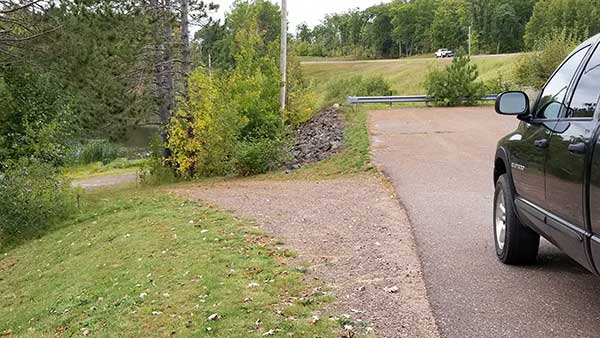 I Know the water was high, but I still had to laugh at this sign that was in the water.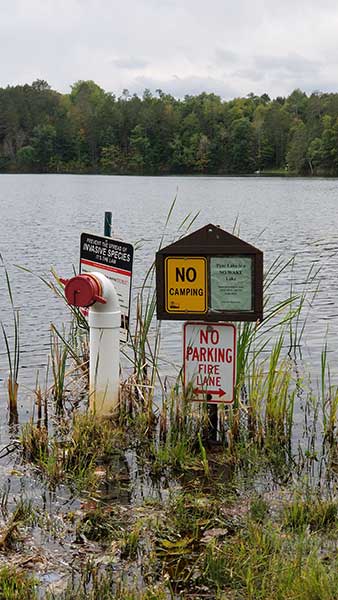 Commentary
I have driven past this lake many times driving to my parents cabin that is only a few miles away. I was told there were no fish in this lake, so I never even tried fishing it. Recently, I discovered I had relatives with a cabin next to Pear lake, and they told me there actually are fish in there. I was excited to try it out. I was always curious to find out for myself if this lake was any good.
It was a windy morning, with thunderstorms forecast for the afternoon. I decided this would be a good lake because it was close by and small. It would be easy to get off the lake if needed.
I noticed that the lake was calm even though it was windy. It is a small lake that sits down in a hole, so the wind blows right over the top. There are rarely any people fishing this lake, so you don't have to get in line for the landing either.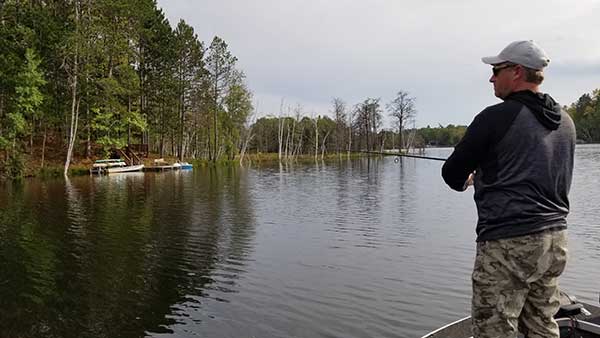 Being in the Wisconsin northwoods, you feel like you are getting away from it all. It is a beautiful area surrounded by trees.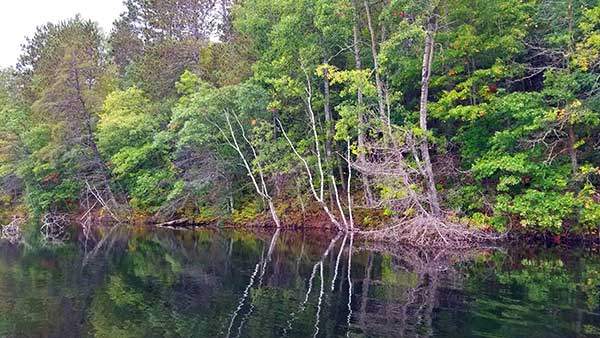 On the far south end of the lake you will find large patches of lily pads. It looks like it would hold a lot of fish, but it seemed to only hold very small bluegills that are hard to catch because they are so small.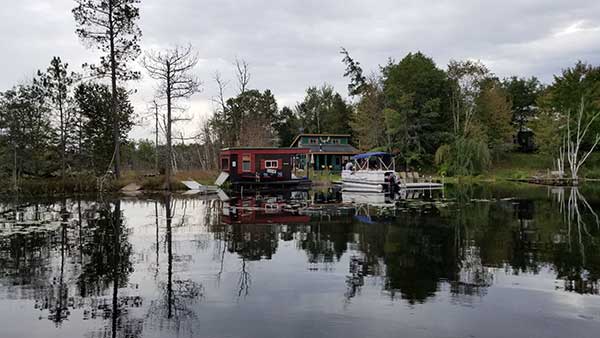 This person seems to have a very secluded place all to themselves. We had to get a closer look at this place because it looked so interesting.
Even though you are in the middle of nowhere when on this lake, you can actually drive into the town of Minong in about 10 minutes.  It is a small town, but has everything you might need. Have you heard of Jack Links beef jerky? Well, Minong is where it all started. You will see their headquarters here, and just about every building seems to bear their name.
Fishing Experience
I've only fished this lake once, and had pretty good luck. I wasn't sure what to expect, but immediately we started getting bites right off the landing, which turned out to be one of the best spots to fish in the the whole lake.
The first fish I caught was a decent sized bluegill, which surprised me. I was expecting nothing but small ones.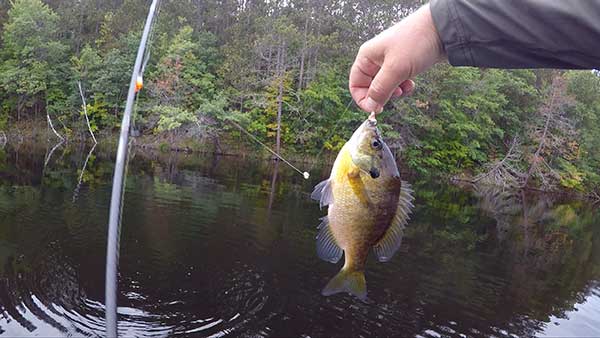 I got excited too quick because the next several fish I caught were tiny! Overall there seems to be a mixed bag of bluegills here. It seems like one in every five caught were of decent size. The majority of them are congregated in the northern end by the landing. The southern end of the lake is much smaller and seemed to hold nothing but baby bluegills.
After catching several bluegills, we tried for some bass, and it didn't take too long before we had one on. The bass were about what I expected for this lake. They were around 10-12 inches long.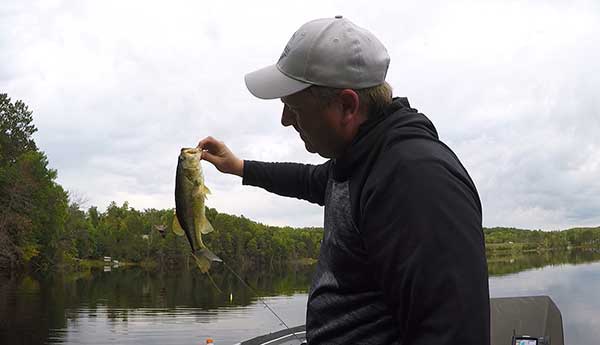 We were almost done fishing and I was starting to wonder if there were any northern pike in this lake. That's when I finally got one. It was nothing to brag about, but it proved that you can catch a northern here.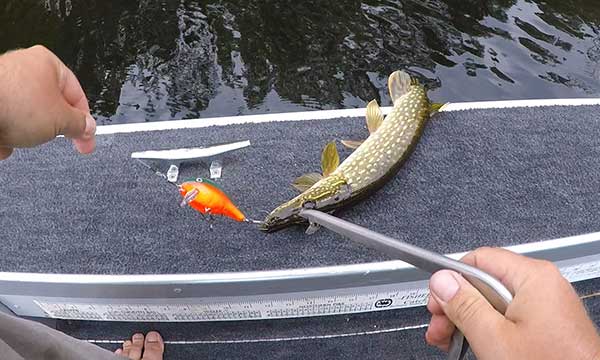 Overall, I enjoyed fishing here. We had the lake to ourselves and caught enough fish to keep us entertained. You probably won't catch a trophy here, but it's a place kids would enjoy going to. I'm glad I tried it, but probably won't be back there soon.
There are lots of wonderful lakes in the Minong area, so if you happen to be staying in the area, you could easily hit several lakes in one day. I've been fishing this area for many years, and always do pretty well.
Thanks for visiting Go Midwest Fishing Lake Reviews. Check out other interesting articles, like "How Much Does A Boat Motor Weigh?" Don't forget to visit us on YouTube!