Pickerel Lake Stats
Acres: 89
Max Depth: 38 feet
Mean Depth: 12 feet
Bottom: 95% sand, 0% gravel, 0% rock, 5% muck
Shoreline: 2.43 miles
Fish Species in Pickerel Lake
Northern Pike (Common)
Walleye (Common)
Largemouth Bass (Present)
Panfish (Common)
Watch us fish Pickerel lake in February
Boat Landings at Pickerel Lake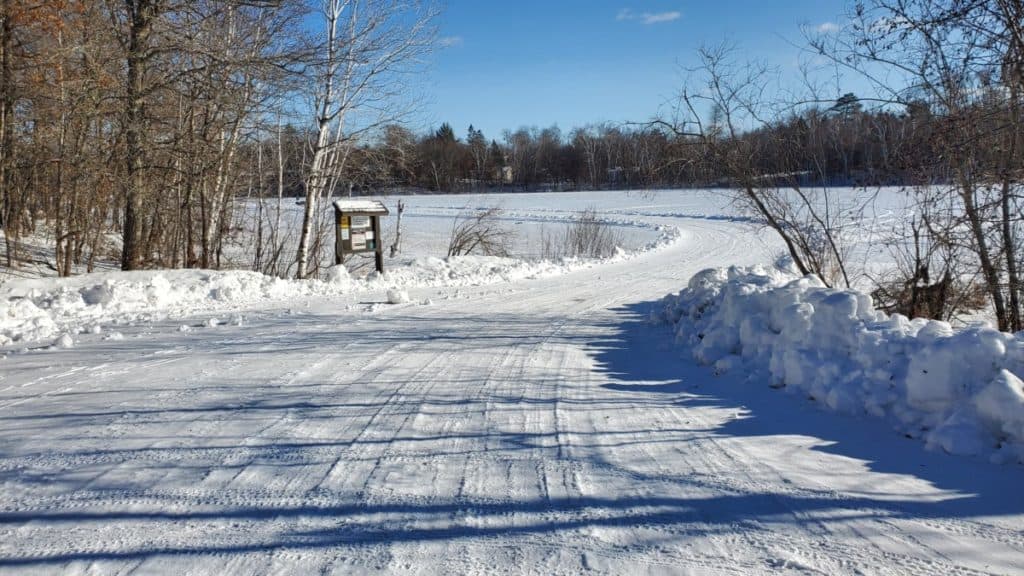 Pickerel lake is a small lake and only has one public boat landing located on the west side. It is a short distance from HWY 27. Turn east on Pickerel lake road, then right onto the public landing.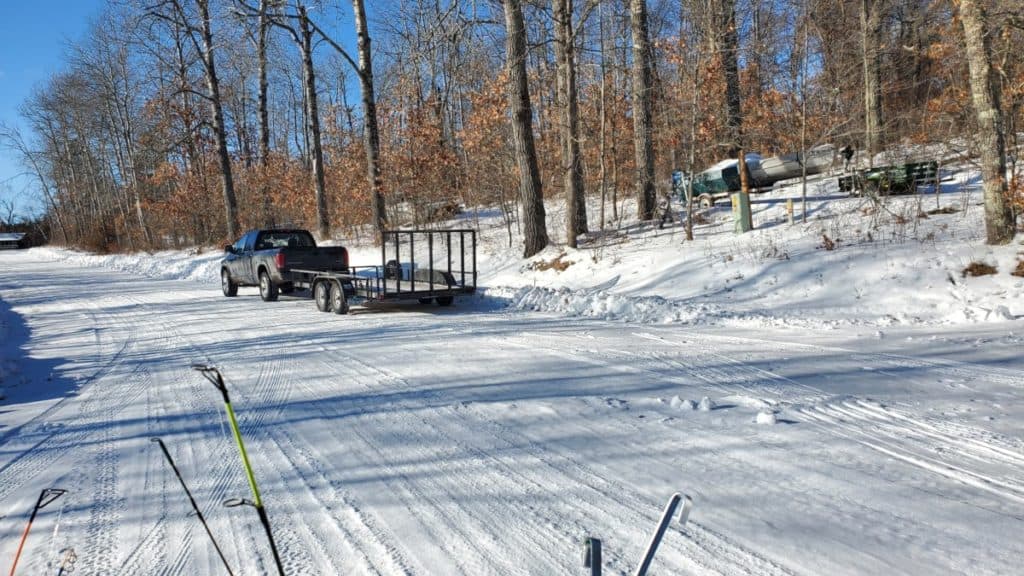 The landing is basically a road that dead ends at the lake. There are no designated parking spots, so just park alongside the road.
Commentary on Pickerel Lake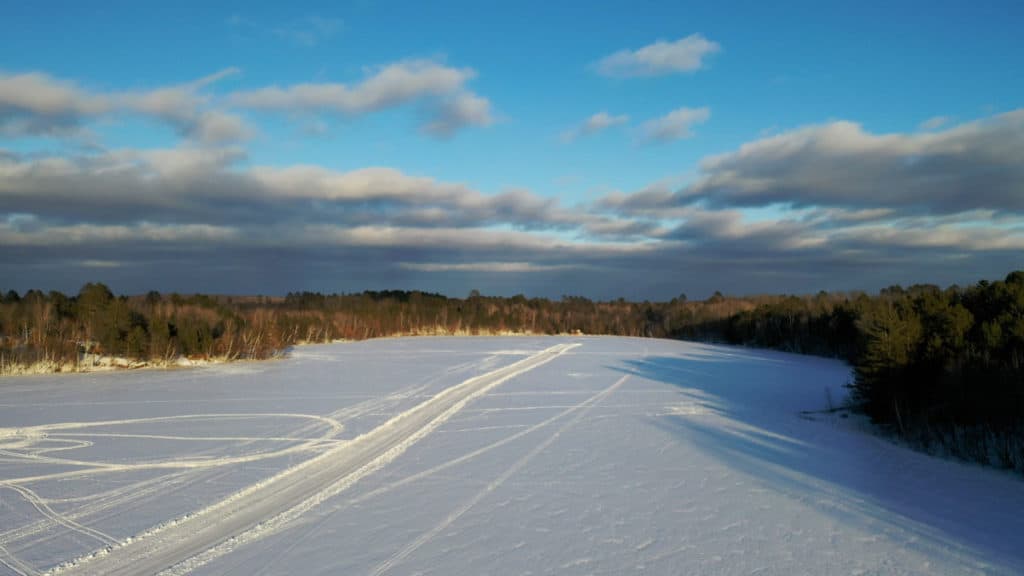 Pickerel lake is part of the Eau Claire chain of lakes comprised of 11 different lakes. It has clear water and is not very weedy. According to the Sportsman's Connection Guide Book, it contains good northern pike, fair numbers of largemouth bass, and a few large walleyes and muskies.
The WI DNR website does not mention any muskies, but considering the the other Eau CLaire lakes are known musky waters, I don't see why they wouldn't be in here also.
I noticed my Navionics map didn't show any depth contours for Pickerel, but you can see a map that does above. You can clearly see the west end where the landing is has very shallow water. The 38 foot hole is near the east end.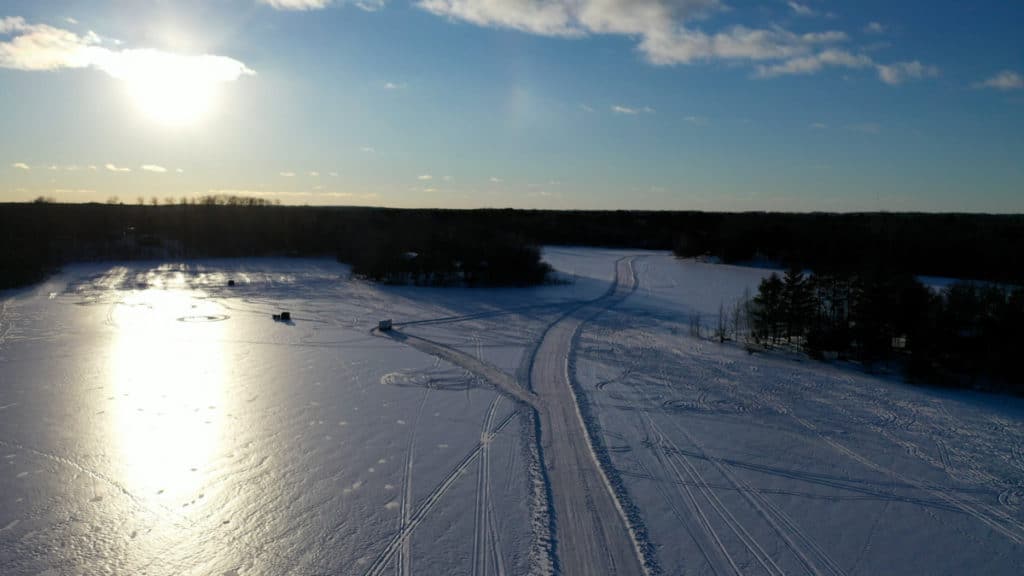 The photo above is from late January. Someone took the time to plow a road from the landing to the far end of the lake. I don't know if they do this every year, but it was nice.
Fishing Experience on Pickerel Lake
Reggie and I just finished fishing Upper, Middle, and Lower Eau Claire lakes. We spent two days exploring these lakes and came up empty. We couldn't even get on Lower Eau Claire due to open water at the landing. Since we couldn't fish there, we looked around for a nearby lake that would work.
We tried Birch lake, and Robinson lake. We couldn't get on either one due to poor ice conditions. Then we tried Pickerel, and were happy to see a nice landing and a plowed road across the lake.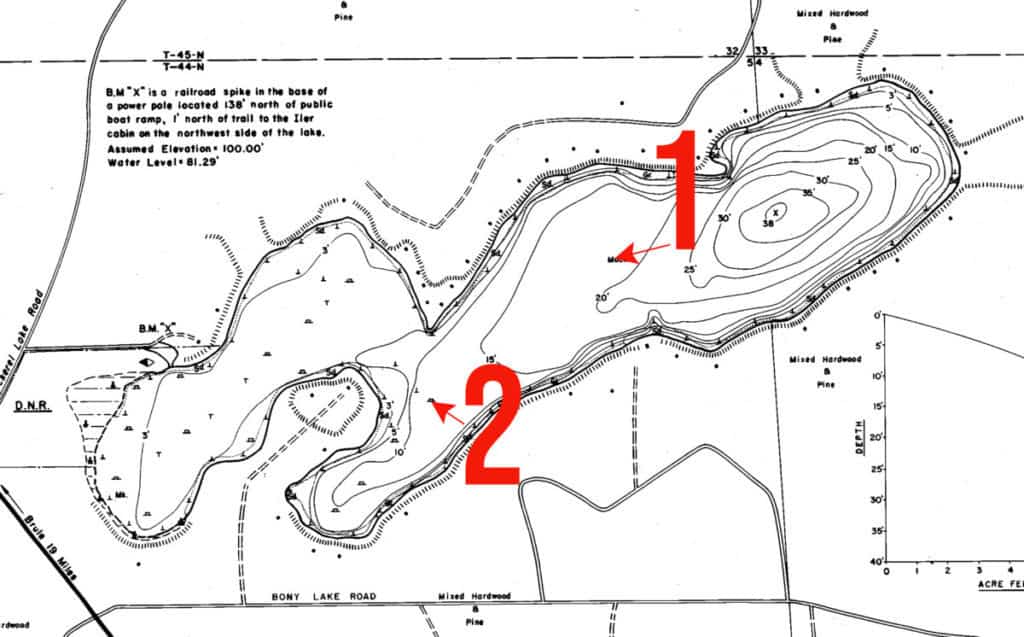 We were the only ones on the lake, and my Navionics maps didn't show anything, so we drove across the lake until we found what appeared to be some old holes at spot 1. Reggie drilled some holes and took a look with his new Moocor underwater camera he just got off Amazon. He didn't see anything good, so we moved to spot 2.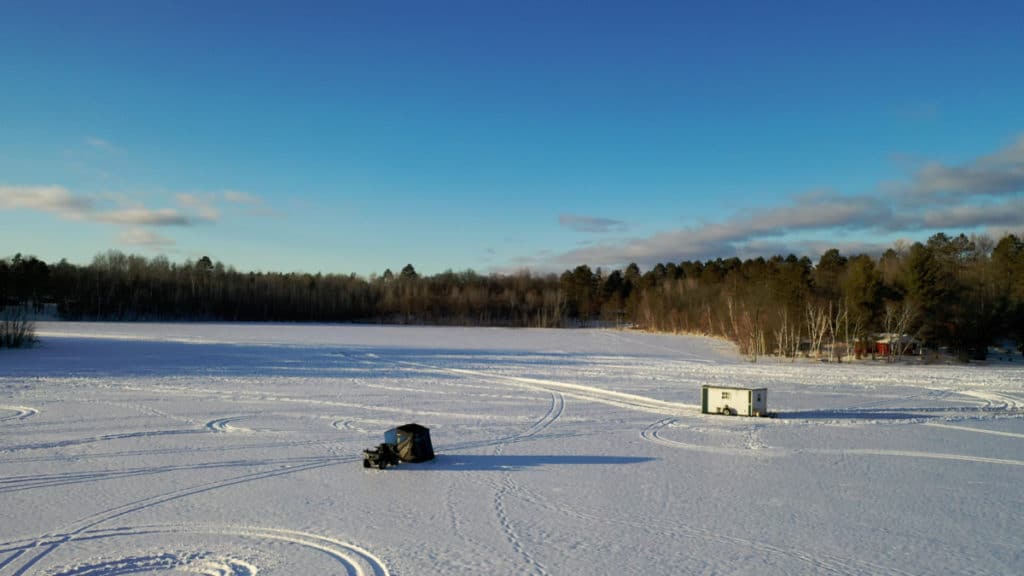 We set up next to a permanent shack with no one in it. Reggie dropped his camera down again, and immediately saw what we thought were walleyes. We drilled a few more holes and started fishing.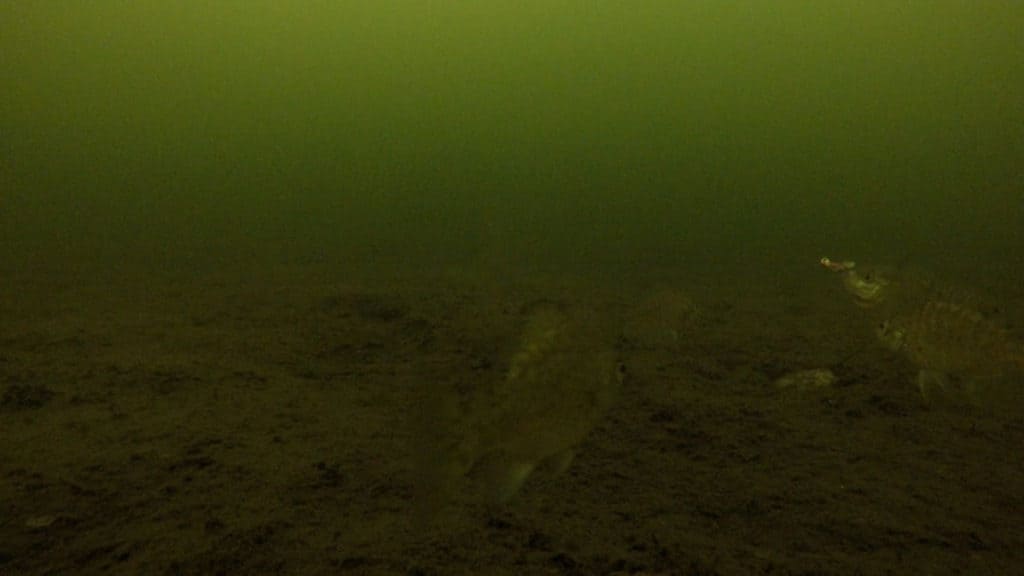 We didn't see anymore walleyes, but the bluegills quickly came in. They were all pretty small. I had to put on a smaller hook to catch them. It didn't matter though. After two days of getting skunked, we were just happy to catch something.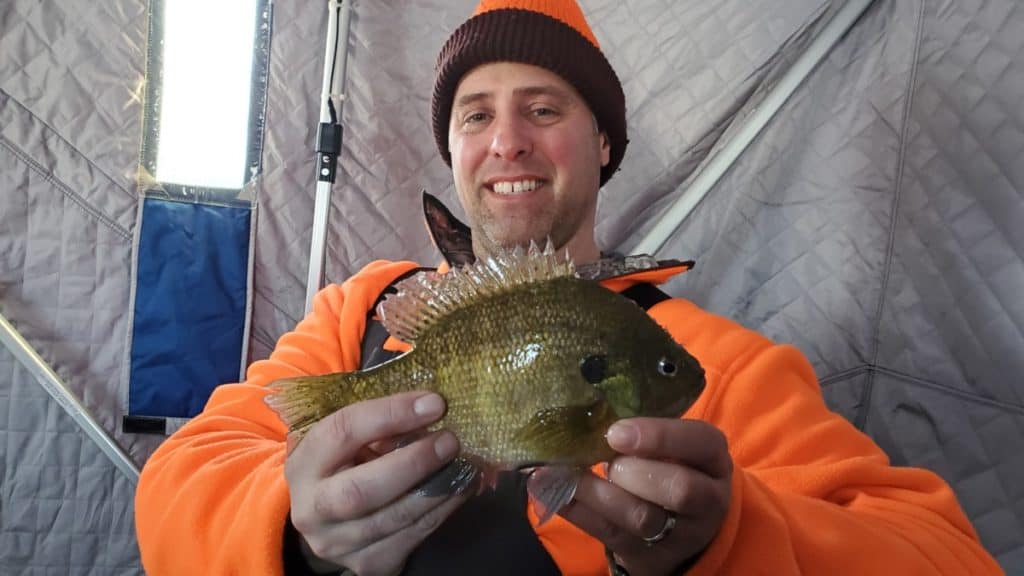 Then, just before we were getting ready to leave, this big guy came out of nowhere and took my bait! It was a good way to end the night.
Pickerel is a small, easy to fish lake with clear water. I had fun here and think its worth checking out. You can expect lots of small bluegills, but apparently there are some bigger ones in here too. I'd like to see what the walleye and northern look like in here, but that will have to wait until next time… unless you have some photos or stories to tell? You can let me know at [email protected]
Thanks for visiting Go Midwest Fishing Lake Reviews. While you are here, check out some other interesting article like, "Cargo Trailer to Ice Fishing House." Also, come hang out with us on my YouTube channel here.