Stats For Rice Lake
Acres: 859
Max Depth: 19 feet
Mean Depth: 9 feet
Bottom: 90% sand, 10% gravel, 0% rock, 0% muck
Fish Species In Rice Lake
Musky (Common)
Northern Pike (Common)
Walleye (Present)
Largemouth Bass (Common)
Panfish (Present)
Watch us fish Rice Lake in late September
Boat Landings On Rice Lake
According to the Wisconsin DNR website, Rice Lake has six public landings. I used the one at Veterans Memorial Park. I also drove by the one next to the dam, just off of main street in the city of Rice Lake. I will show you these two. For the other ones, you can click here for location maps.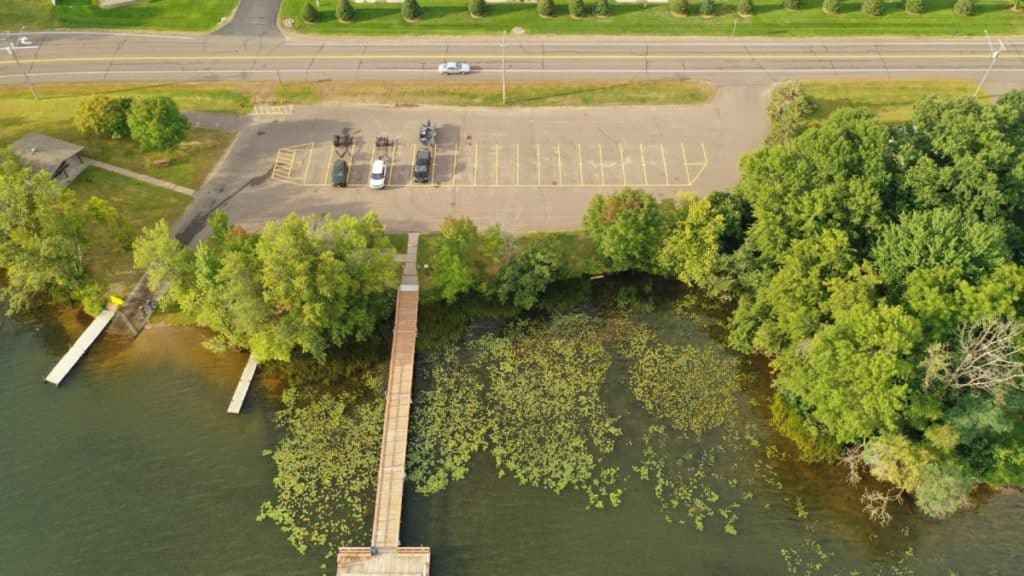 The landing at Veterans Memorial Park is on the far south end. As the name states, it is a park, so it has nice bathrooms, a pavilion, and a really nice fishing pier. My only complaint is that the parking spots are a little short.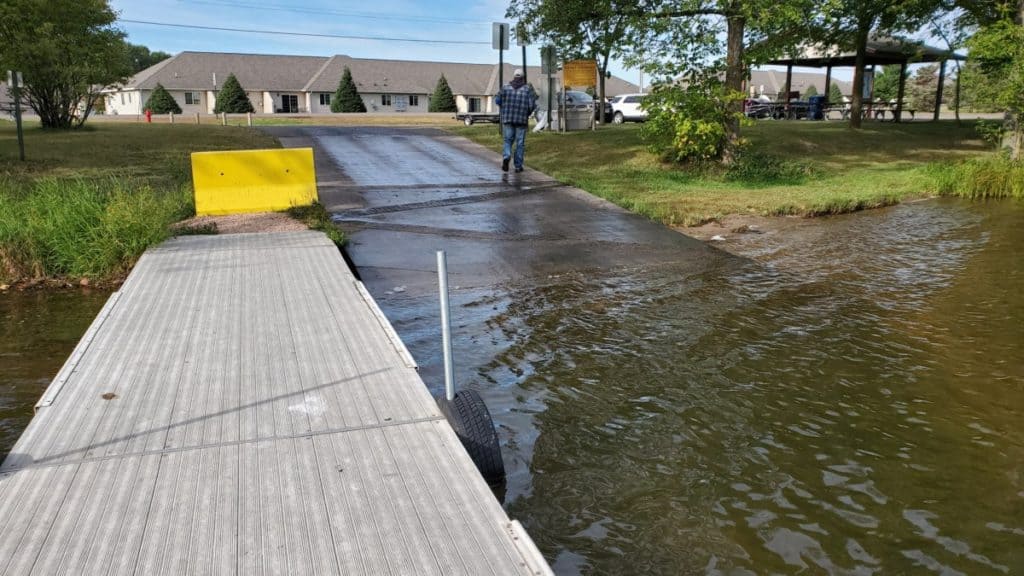 The boat launch is concrete with an aluminum dock. It is a very easy place to put your boat in. I was here in late September and there were very few people here.
Right in the center of the lake, next to the dam, you have access to another landing right off main street.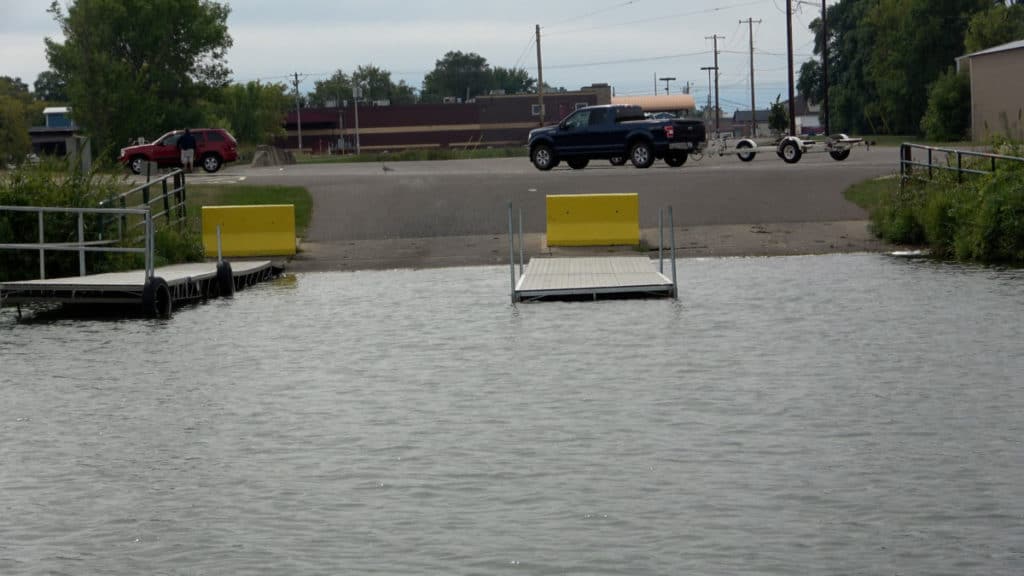 As you can see, it has two lanes and a dock for each. Like the other landing, this is a park. It has a paved walking trail, and is on a peninsula so you can overlook the lake. I noticed at both landings, they put concrete barriers in front of the docks. I'm not sure why.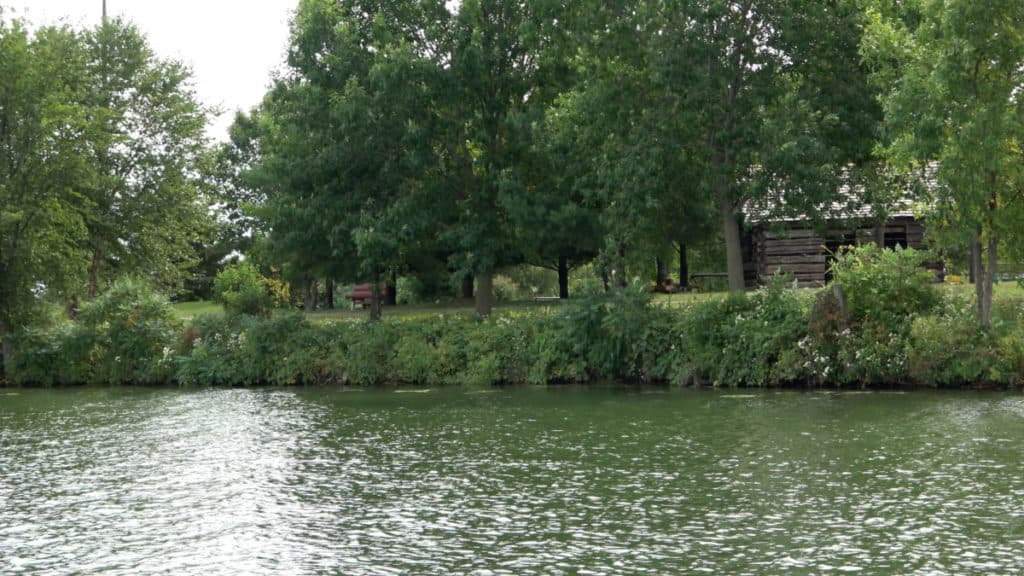 Commentary about Rice Lake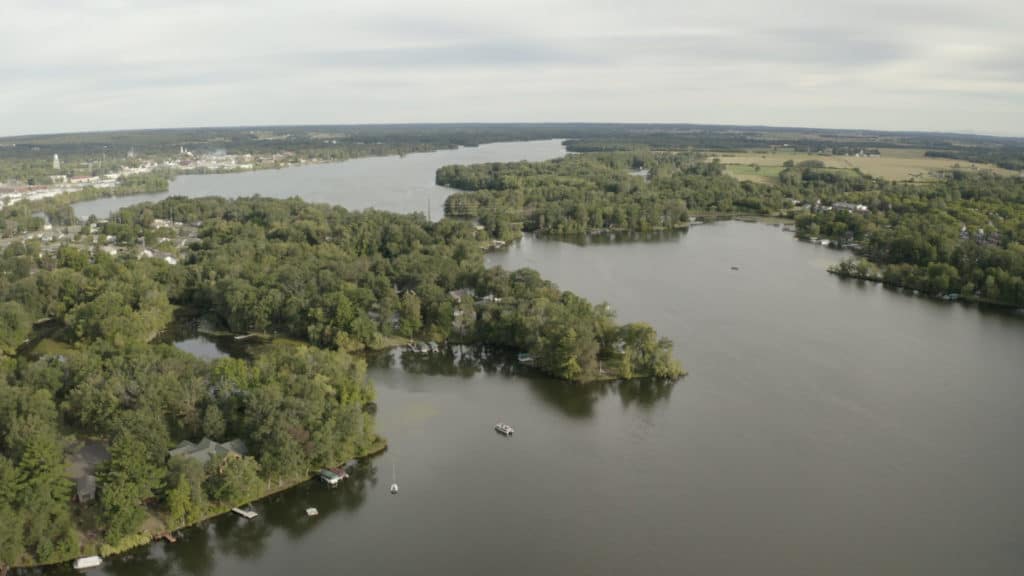 Rice lake is a very accessible lake located in the city of Rice Lake, WI in Barron county. It contains a variety of fish for the big game fisherman, including some impressive muskies. The sign at the boat launch shows a few more species in Rice Lake than the DNR website mentions.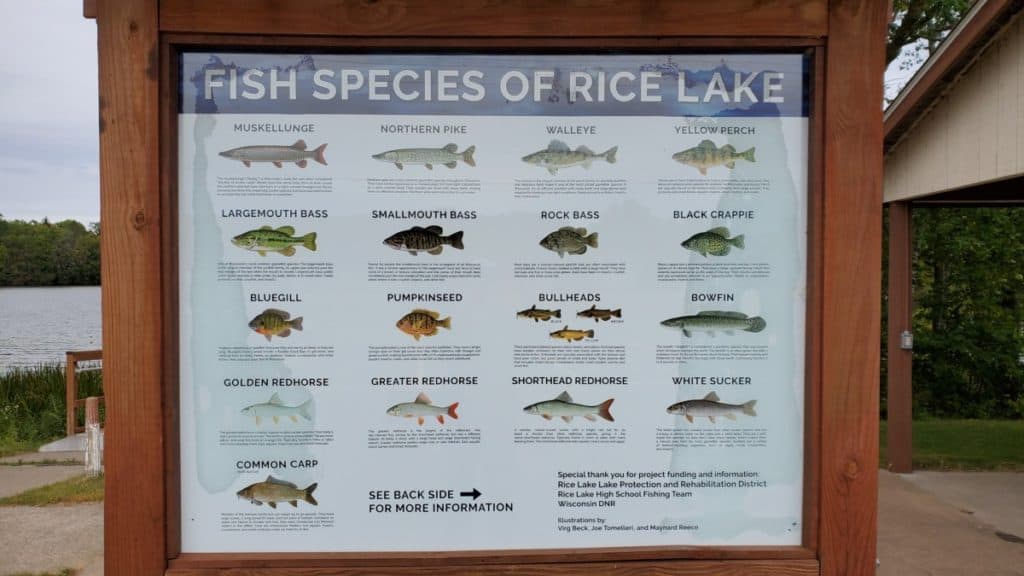 In the fall you will see many boats out there slinging musky baits. Muskies were first stocked here in 1987.
This is one of those lakes that you might see more people fishing here in the winter, than in the summer. If you are here in the summer, the fishing pressure is light and you shouldn't be bothered by too many boats. The cool thing about this lake is the many parks along its shore. One I've been to many times is Narrows Park. Its on the south end at the "narrows."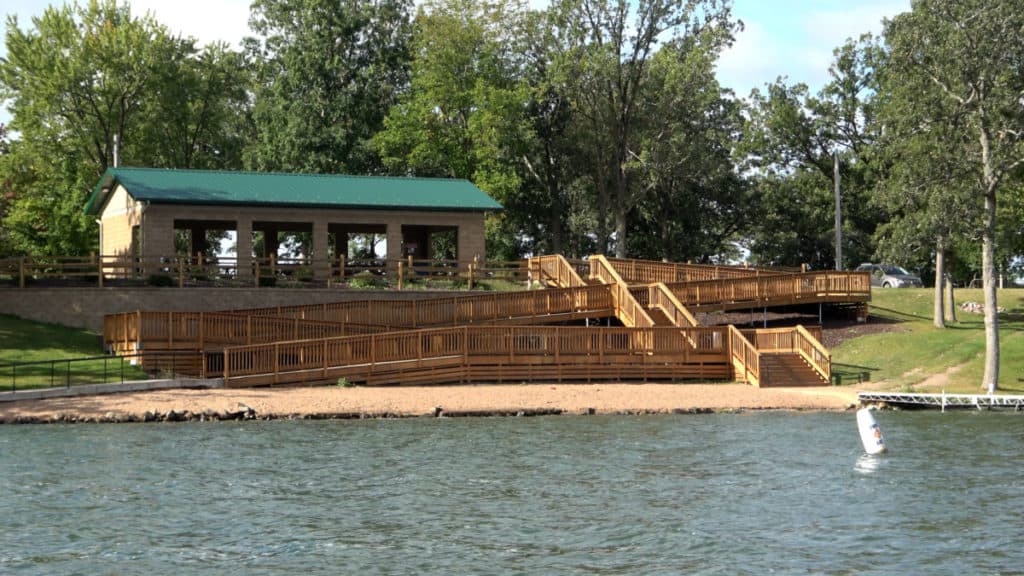 Rice lake develops a moderate algae bloom by late summer and can be hard to fish for this reason. Boat and jet ski traffic is kept down quite a bit because of this and the amount of weeds in the lake. Here is an underwater photo I took in late September.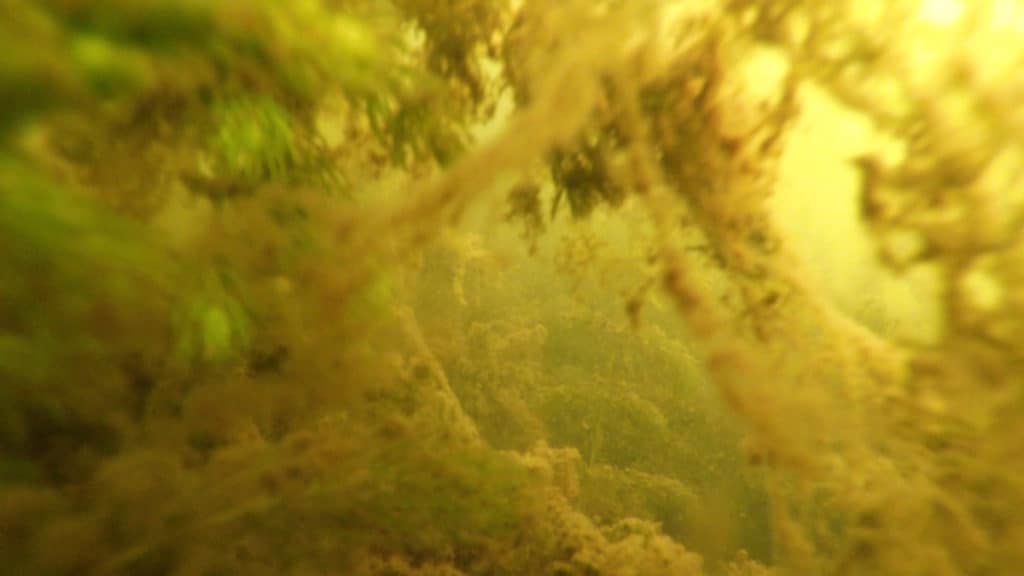 If you want to try fishing Rice Lake, here are few of the hot spots to try.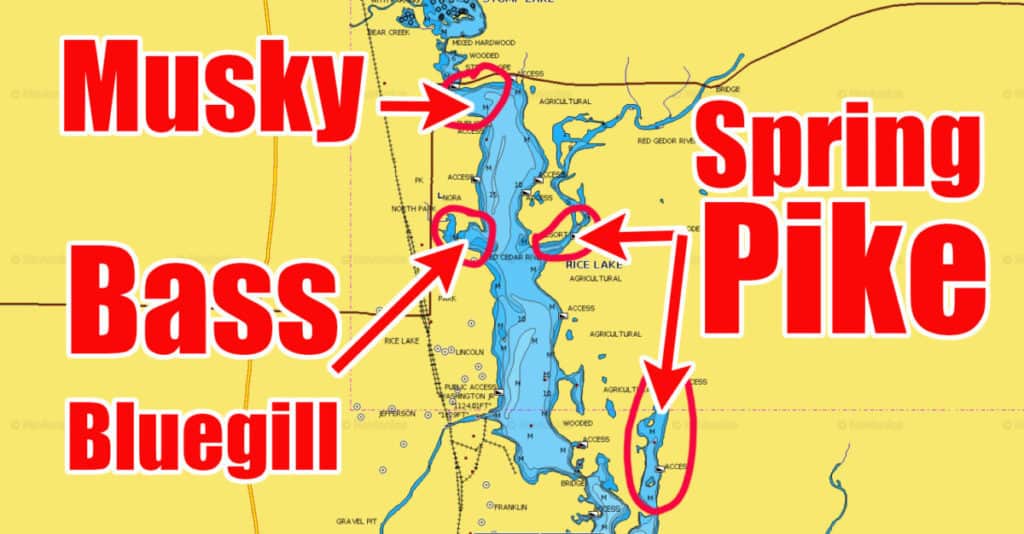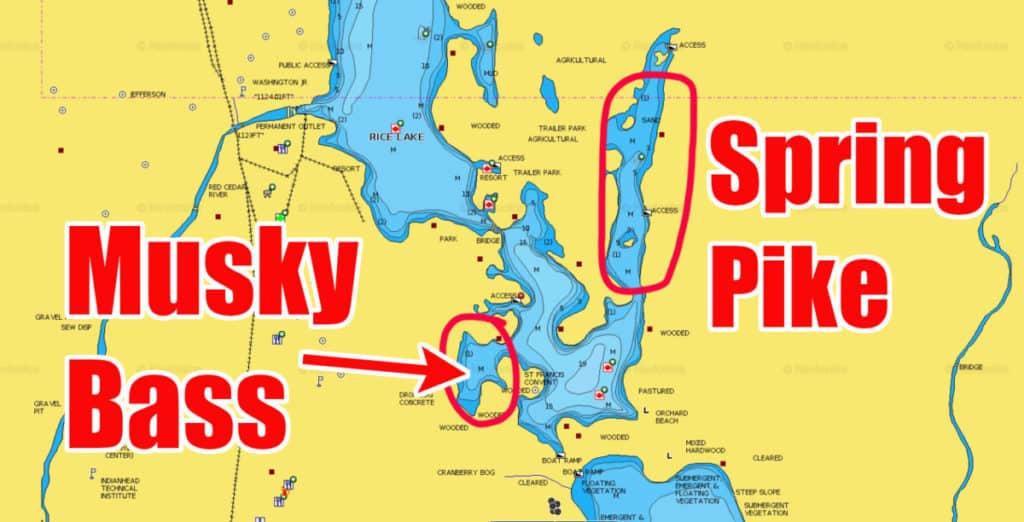 Fishing Experience On Rice Lake
I have fished Rice Lake three times now. Every time was in the summer and I don't have much to show for it. The first time I fished here, I was running my boat wide open to the far north end, when my motor exploded, and chunks of metal went flying everywhere. It was a long ride back to the landing with the trolling motor. The battery was all but dead when we got back.
The second time here we were testing out Reggie's new boat. Look at the smile on his face.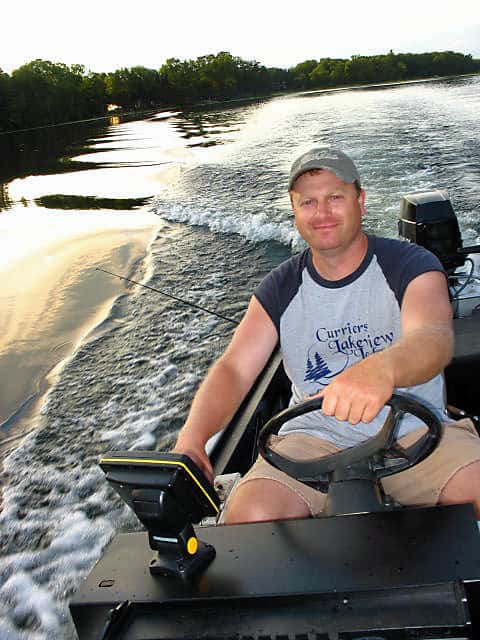 We actually caught a few fish on that trip, including a bowfin (dogfish).
Our latest outing (see video at beginning) was in late September. The lake was filled with algae and a cold front just passed through. It dropped twenty degrees overnight. I wasn't expecting much, and I was right.
We started out near the landing at Veterans Memorial Park. There are some areas that look awesome with lots of lily pads and nice little bays.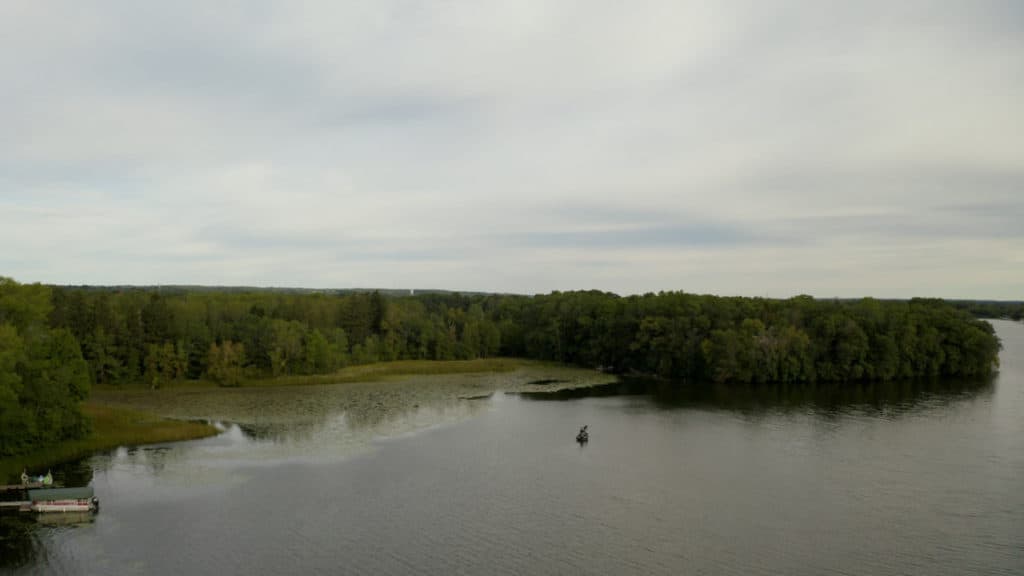 We didn't even get a bit here. It was a very windy day coming out of the north. We decided it would be better to head straight to the north end and use the wind to drift south. The north end is a popular spot for musky fishing. When we got there, two other boats were already there doing some musky fishing.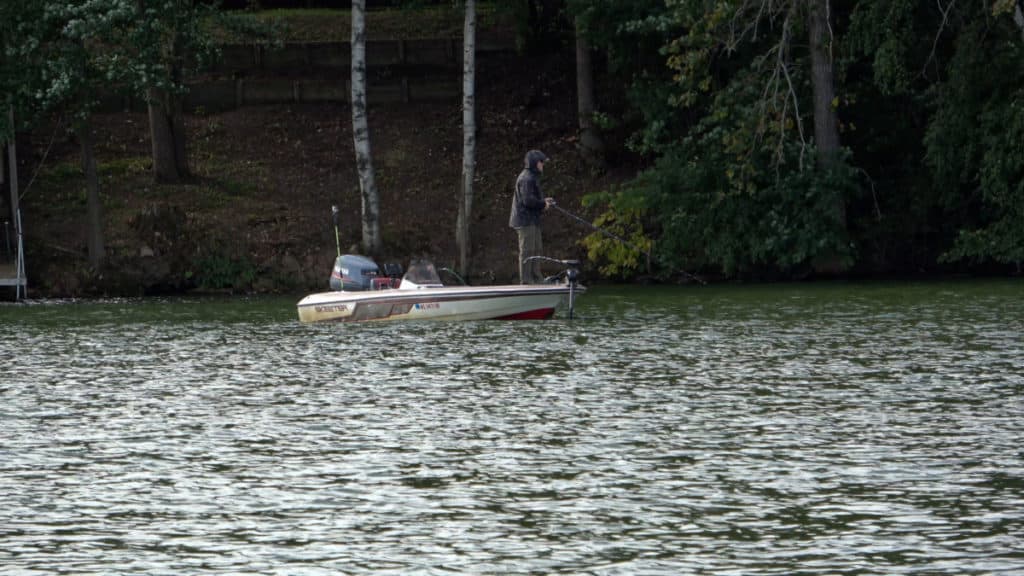 Then we tried halfway down. First we fished the west side by Indian mounds Park. It was calm and stagnant there. It was loaded with baitfish, but that's all we saw. Then tried the east side by the river inlet. We saw another musky fisherman here. He said he had a couple of follows but nothing committed.
From there we tried by the dam. I did have a bite here, but I didn't hook him. Reggie showed me a picture of his daughter with a nice bass she caught at this spot.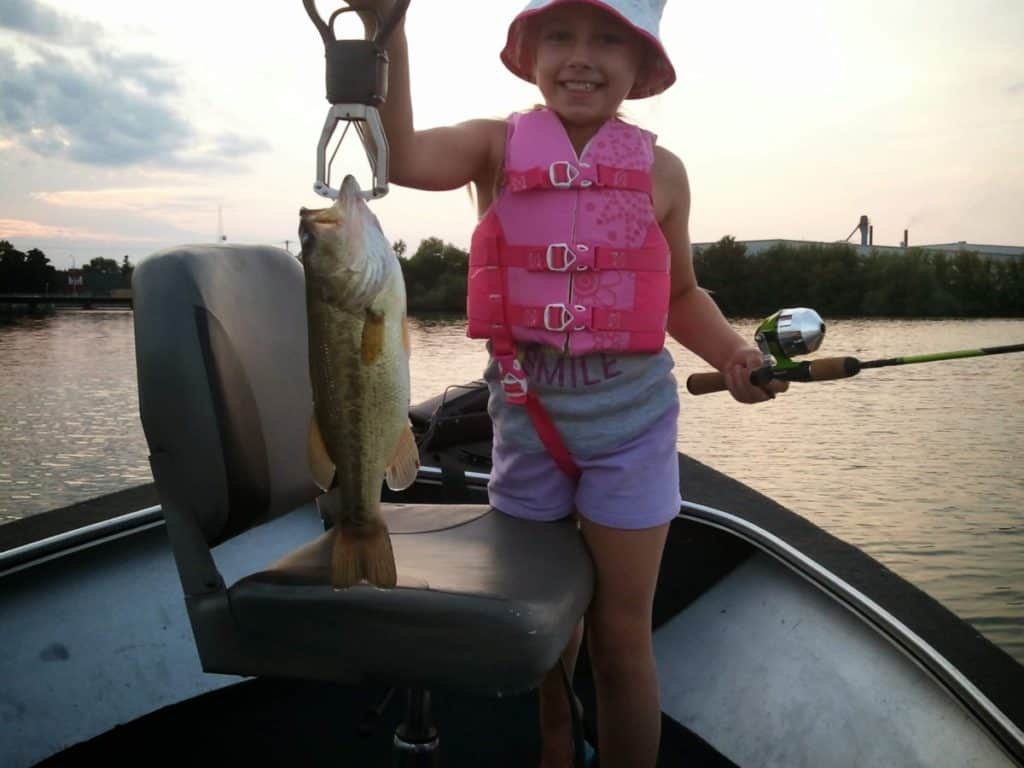 Finally we ended back where we began. I had one more bite here. This time I had one one for a few seconds, but then pulled in a bunch of weeds. That one was definitely a fish, despite my lack of evidence.
Conclusion
Even though I have seen pictures and heard stories of people catching big muskies here, I have yet to experience it myself. If fact, I rarely catch much of anything when I'm here. I think I would have better luck if I tried it during the winter months.
If you are a musky fisherman, then I think it would be worth your while to try this lake out. If you are after other species, you might get lucky, but for me, I think I will keep exploring other lakes.
If you do fish here, I will suggest either spring fishing, or fishing through the ice. Musky fishermen might catch a big one in the fall.
Thanks for visiting Go Midwest Fishing Lake reviews. Check my other great articles like, "Is it legal to fish with an RC boat." You can also come hang out with us on my YouTube channel here.