Turtle-Flambeau Flowage Lake Stats
Acres: 13,545
Max Depth: 50 feet
Lake Type: Drainage
Water Color: Brown Stain
Bottom: 69% Sand, 20% Gravel, 15% Muck, 5% Rock and Boulder
Google Maps Location: Click Here
Fish Species in the Turtle-Flambeau Flowage
Walleye (abundant)
Northern Pike (abundant)
Muskie (common)
Smallmouth Bass (common)
Largemouth Bass (present)
Panfish (common)
Lake Sturgeon (persent)
Watch out our last outing on the flowage in mid June
Boat Landings for the Turtle-Flambeau Flowage
Like any large lake, there will be multiple boat landings to choose from. A few are more popular than the others. Just beware that some of the landing might be too shallow to use when the water levels are low.
I've only been to two of the landings. Since we camped at the Lake of the Falls campground, we started off using that landing.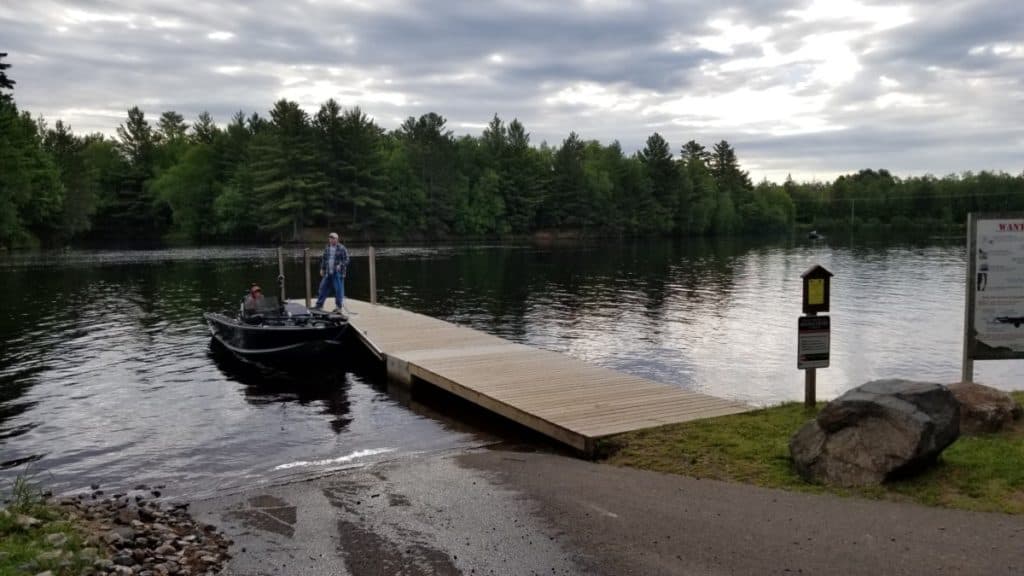 This landing is in the channel that connects Lake of the Falls lake to the flowage.
If you put your boat in here, you will be at the very top of the flowage and it will take some time to motor to the larger part of the lake. You can always fish the channel as you make your way down.
The other landing I went to is Fisherman's landing. This is one of the most popular landings, probably because it is centrally located and you are able to reach most of the lake from here.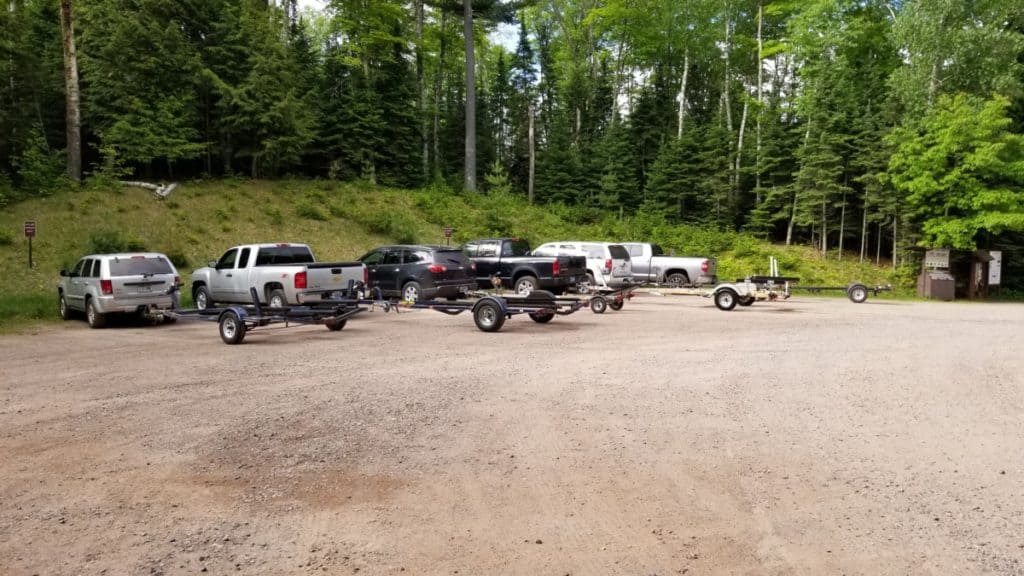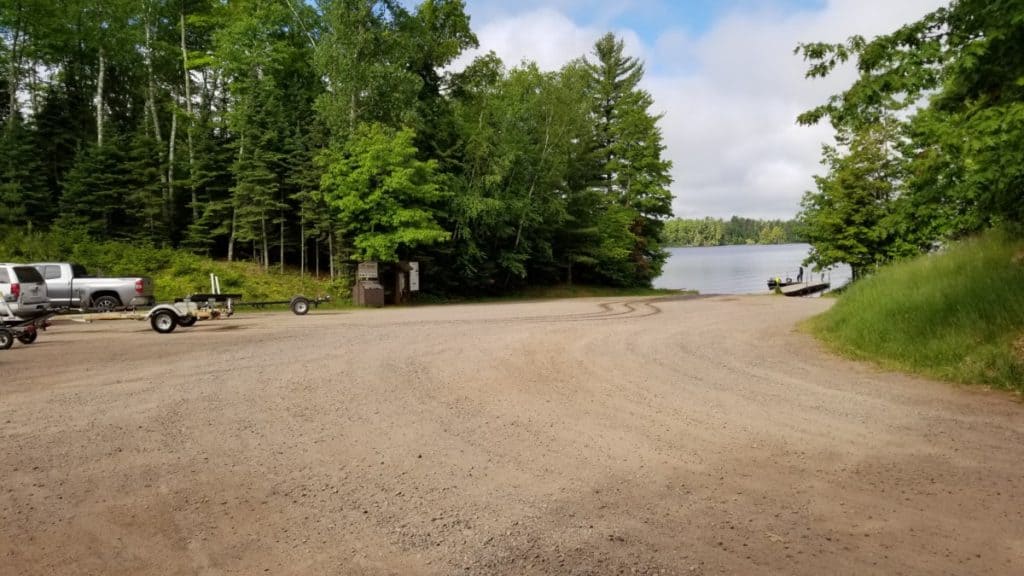 You can park right at the boat launch area, or if that is full, you can park just up the hill in the overflow parking.
Commentary on the Turtle-Flambeau Flowage
The Turtle-Flambeau Flowage is one of the top recognized waters in Wisconsin. The flowage was created in 1926 when a dam was constructed and flooded eleven natural lakes, and formed a reservoir of approximately 14,300 acres. Much of the shoreline has been preserved because the state purchased 12,000 acres in 1990 consisting of 114 miles of shoreline and 195 islands.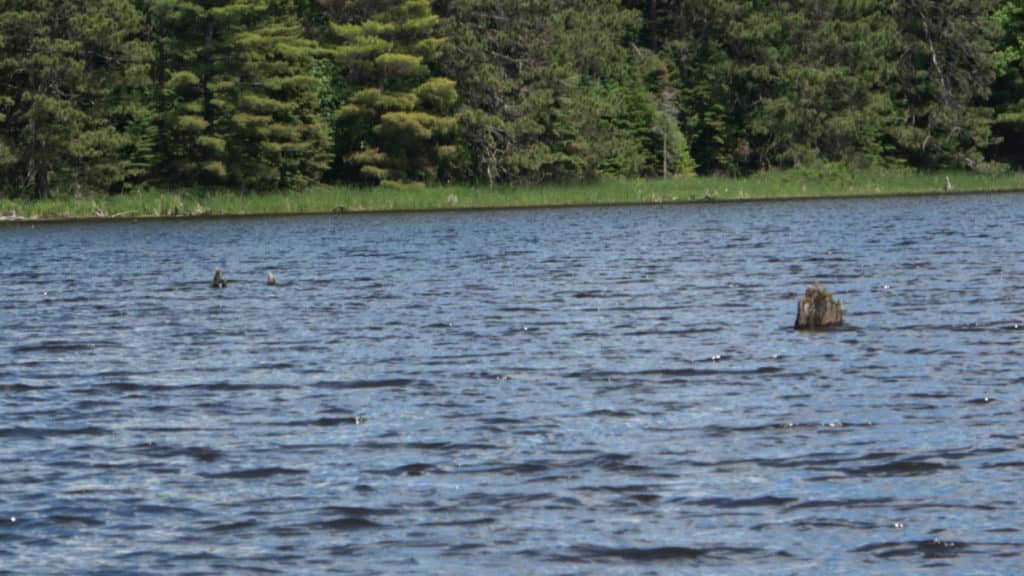 Keep in mind that this is a flowage, and hazards are everywhere. This is not a lake that you want to cross at full speed. Take your time and use maps. I like to leave a GPS track of where I've been, that way I can trace my way back to the landing without hitting any obstacles. Especially when it gets dark.
The flowage supports a diverse array of fish, but it is best known for it's superb walleye fishery. Walleye are abundant and provide a majority of the sport fish harvest. I can't say I fish a lot for walleye, but I still manage to get one now and then.
The flowage is also a good place to catch your trophy muskie. That's what I'm usually after when fishing here. The majority of the fish are between 36 and 42 inches, but there has been some documented over 50 lbs. Catch and release is significant to maintaining the larger fish in the system. Muskie populations are dependent on stocking.
Northern pike while abundant, have slow growth rates and rarely reach 25 inches. The vast majority are 18 to 20 inches. They think this might be because of a short lifespan. They usually don't make it more than four years.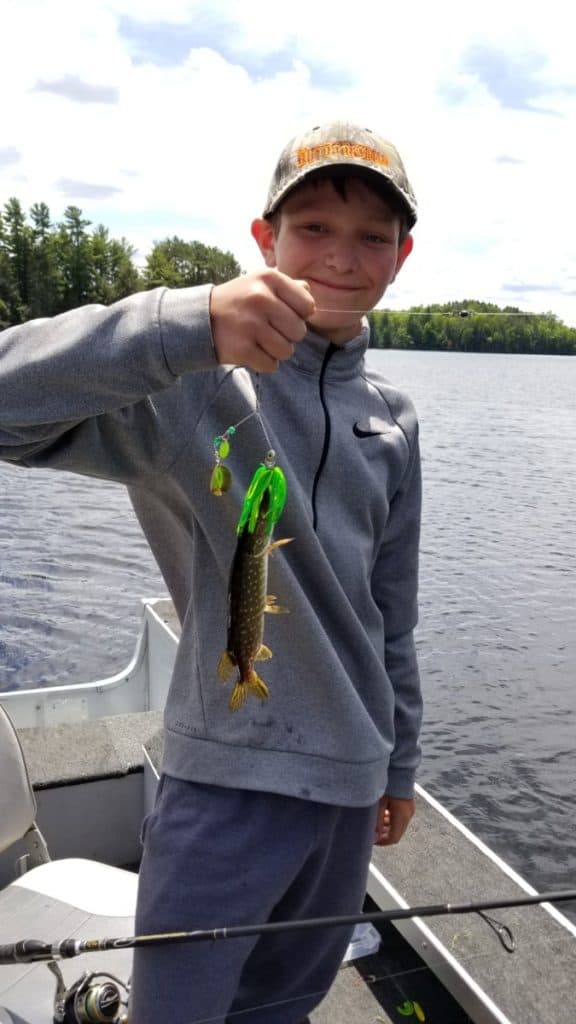 Now lets talk about smallmouth bass. The populations have dramatically expanded in the last two decades. A survey found the average bass to be 15.7 inches. The fish seem to be heavy for their size and referred to as being "robust, or footballs." It is now a place to catch trophy smallmouth as well.
Panfish populations are only moderate. Crappies or perch seem to be the main ones to fish. Perch are fast growing and achieve good sizes. There have been some decent sized bluegills reported too, even though the populations are down due to over fishing in the past.
Largemouth bass are scarce and probably not worth fishing for.
Overall, this is a great lake for pristine wilderness. It has the highest number of eagles. osprey, and loons of any Wisconsin lake.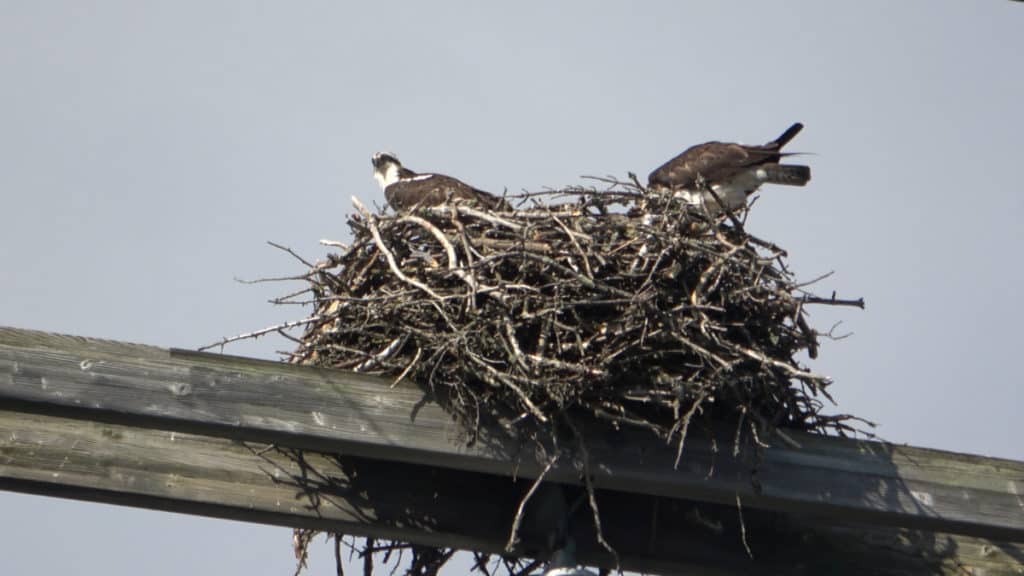 Fishing Experience on the Turtle-Flambeau Flowage
I've made two week long trips here so far. We've caught fish on every outing, but I wouldn't call the action "hot". What I like is the variety of fish we did catch. Many of them caught on the same lure.
Our goal was to catch a muskie. Our first time here we did manage to catch some muskie. In fact, Reggie caught his biggest muskie, as of this writing, on this trip. It was 40.5 inches. The cool thing is that he caught a 28 inch muskie, and on his very next cast, he caught the big one.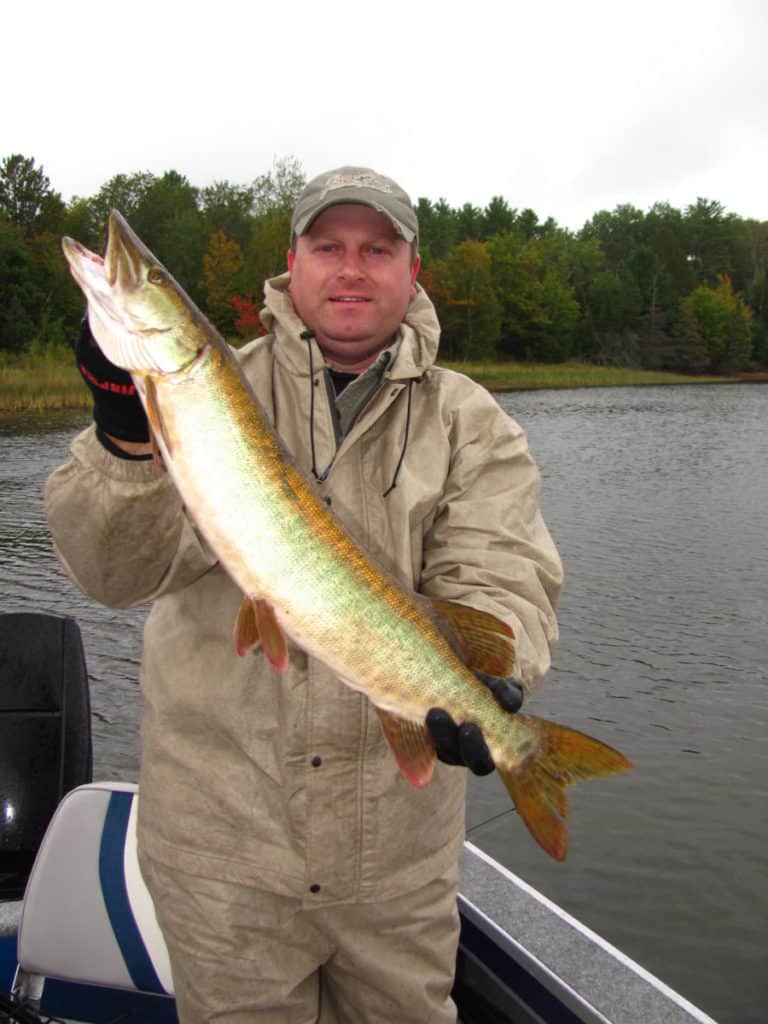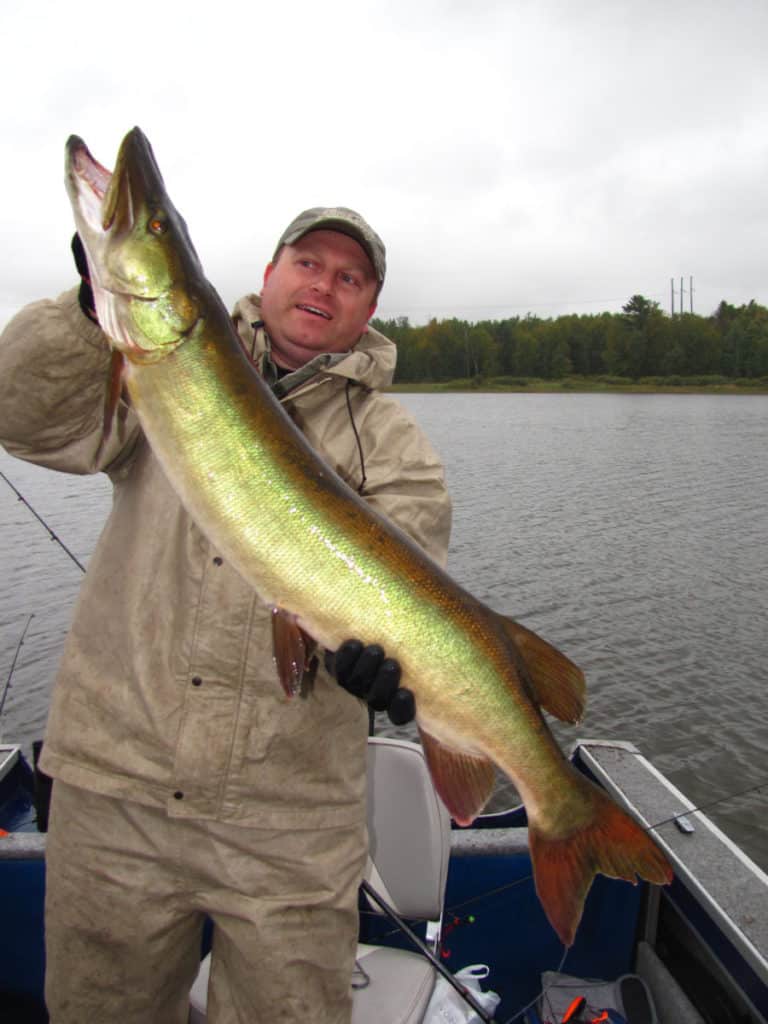 We caught a few smallmouth bass too. Here is an example of one of them.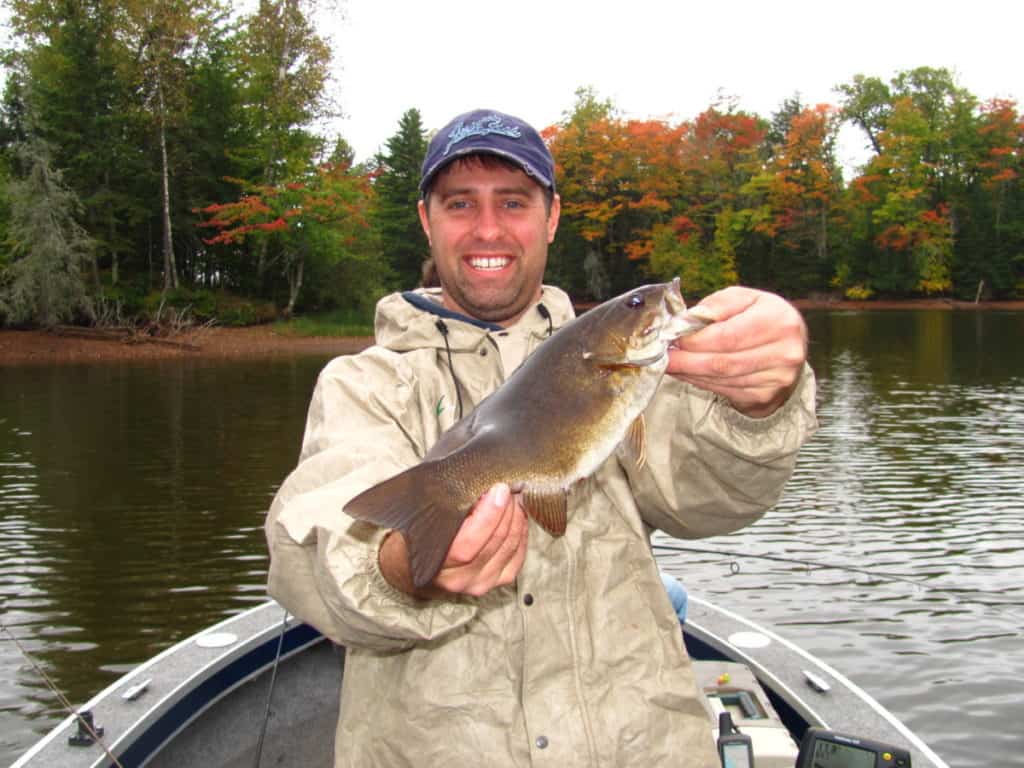 On our last trip here, we mainly caught northern pike. Just like the info states, they were all on the small side.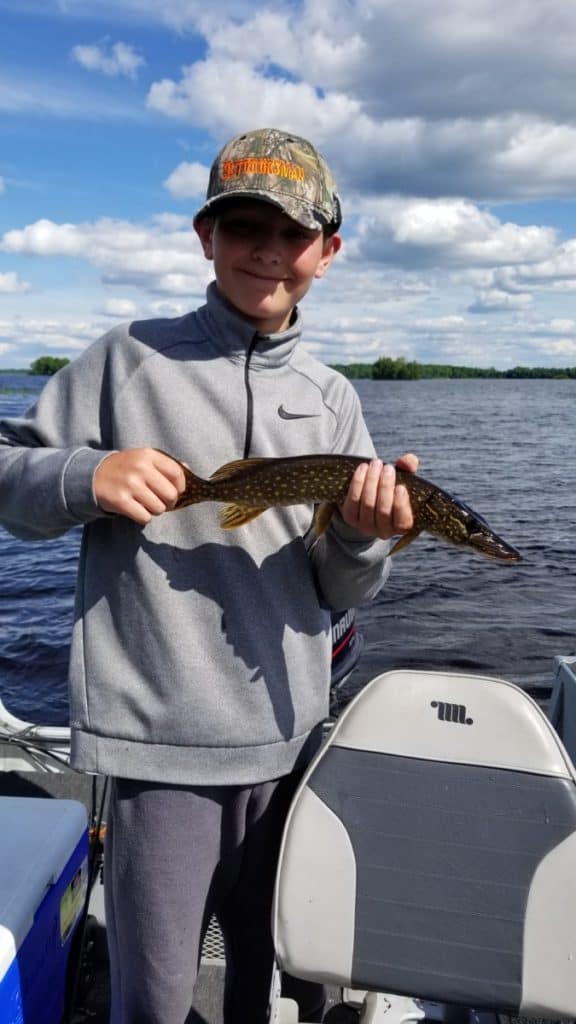 We caught a perch by surprise on a green spinnerbait.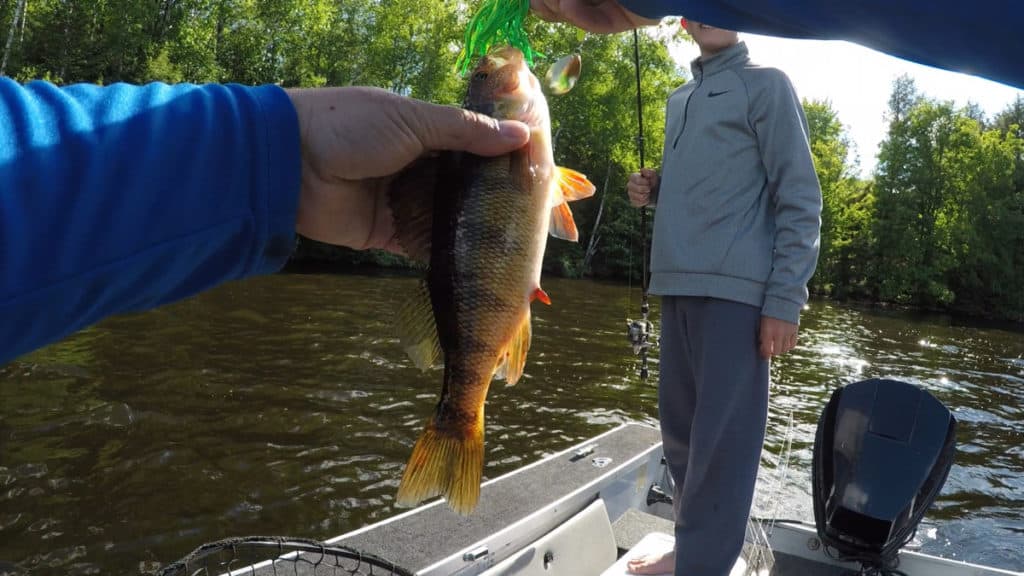 Thanks for visiting Go Midwest Fishing Lake Reviews. Check out some of my other interesting articles like, "Refilling One Pound Propane Bottles." You can come hang out with us on my YouTube Channel as well.