Upper Eau Claire Lake Stats
Acres: 1024
Max Depth: 92 feet
Mean Depth: 29 feet
Bottom: 50% sand, 30% gravel, 0% rock, 20% muck
Water Clarity: 26 feet
Fish Species in Upper Eau Claire
Musky (Present)
Northern Pike (Abundant)
Walleye (Present)
Largemouth Bass (Present)
Smallmouth Bass (Present)
Panfish (Common)
Watch us ice fish Upper Eau Claire in late January
Boat Landings at Upper Eau Claire
There is one boat landing on the southwest side. The road is either named Island Road, or Peninsula Road. I see both names on the map.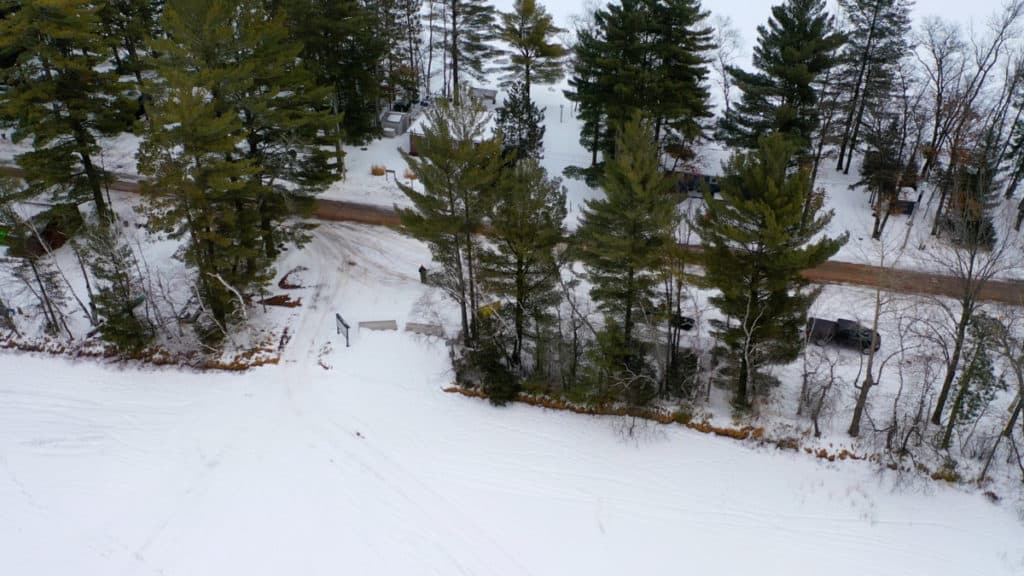 The landing is on the skinny part of the peninsula, so there is not a whole lot of room here. Parking is off the shoulder of the road, and has room for just a couple trailers.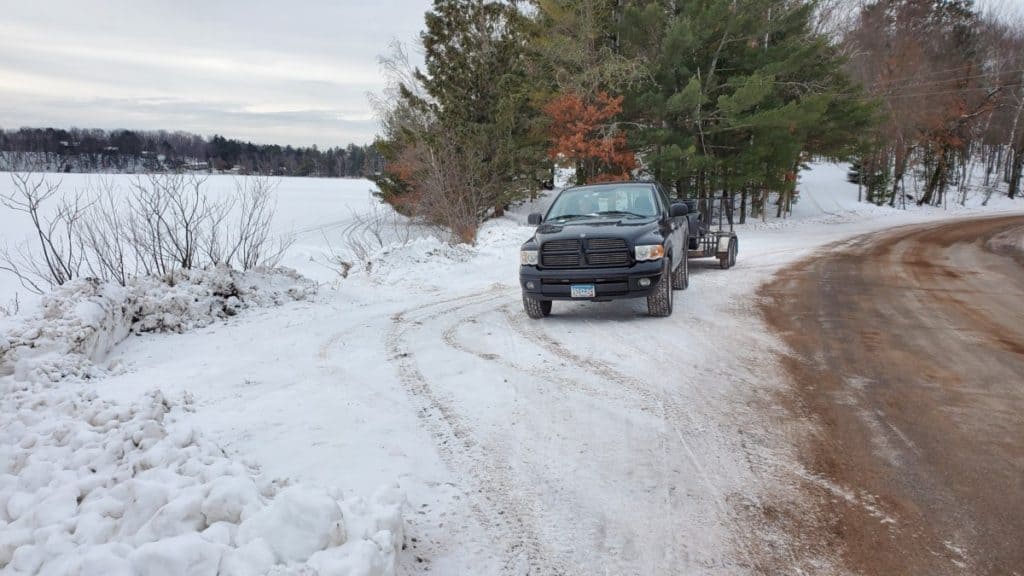 There is another landing, just north of the other one. I was unable to tell if this was an actual boat launch or not, due tot he snow cover. It did have just enough room off the side of the road to park though.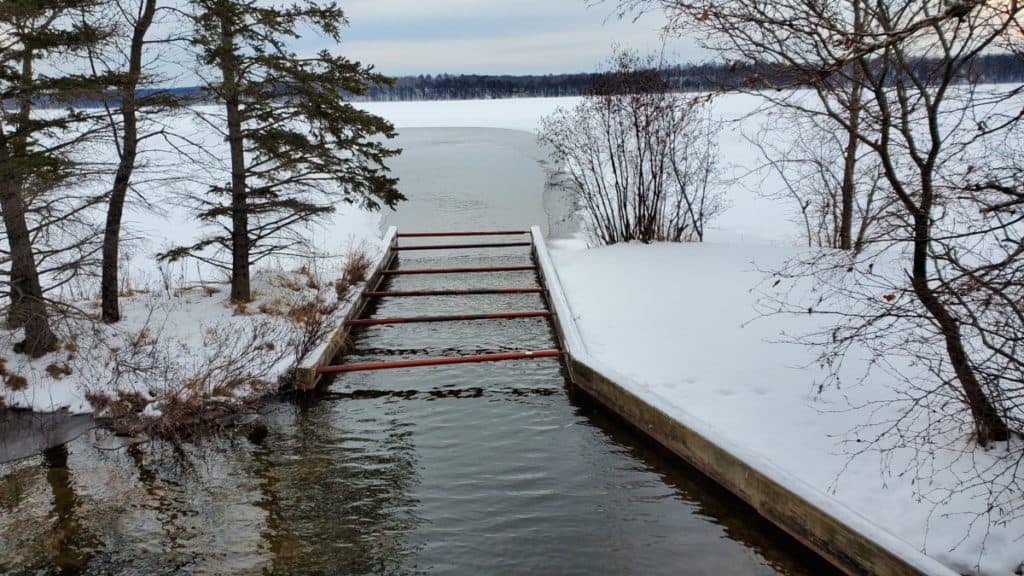 This landing is next to the channel that connects it to Birch lake. The flowing water keeps the water open in the winter. If you are ice fishing, I would advise to not use this landing, and stay far from it while on the lake.
Commentary on Upper Eau Claire Lake
A friend of mine had showed me a photo of a large Walleye he had just caught on the Eau Claire lakes, so I had to check it out.
It turns out, Upper Eau Claire lake is the largest of a chain of lakes comprised of eleven interconnected lakes. I spent two days here fishing Upper, Middle, and Lower Eau Claire lake.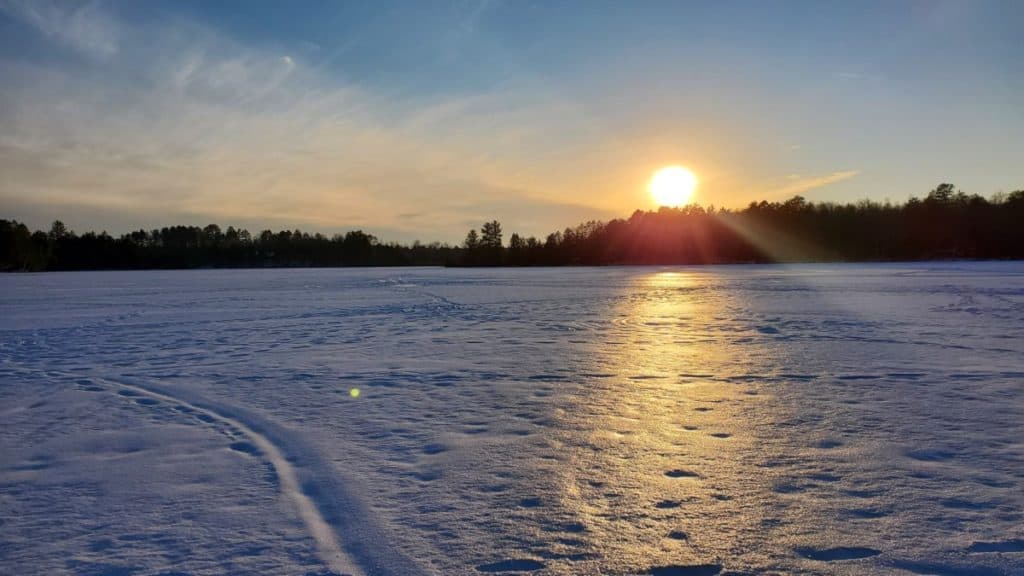 For my research, lets concentrate on Upper Eau Claire. First of all, the name can be confusing. It IS NOT in the city of Eau Claire. It is far from it. Most people know where Hayward, WI is, well just keep going north.
Upper Eau Claire is known for its large muskies, and for other species as well. What I didn't realize until I fished here is that catching one of these large fish is tough!
This lake has very clear and deep water with little bottom structure. It also contains ciscoes, which are favored by the muskies and large predators. These big fish will follow the ciscoes, and might be so filled up on them that they won't be interested in your lures.
If you want to try fishing here, the above map shows the hot spots that you will want to try. I only fished here in the winter, and would say, "don't bother coming here." It might be a different story in the summer, but I think you will still have a tough time fishing, although you might catch a trophy.
If you need fishing supplies, Jim's Bait & Convenience Store is located between Upper and Middle Eau Claire lakes. They had a good supply of fishing gear. I was the only one there when I stopped in, and from the looks of it, possibly their only customer that day.
Maybe they were just having a bad day, but they had nothing to offer when I asked for info regarding the lakes. In fact, I felt like I was inconveniencing them by being there. I won't judge them from my one visit, but being able to provide a little info about the lakes you serve would be very helpful to future fishermen.
Fishing Experience on Upper Eau Claire Lake
I was super excited to try this lake. I even took a few days off work, along with my buddy Reggie. We planned a two day fishing trip and even got a hotel nearby so we could maximize our time on the lake.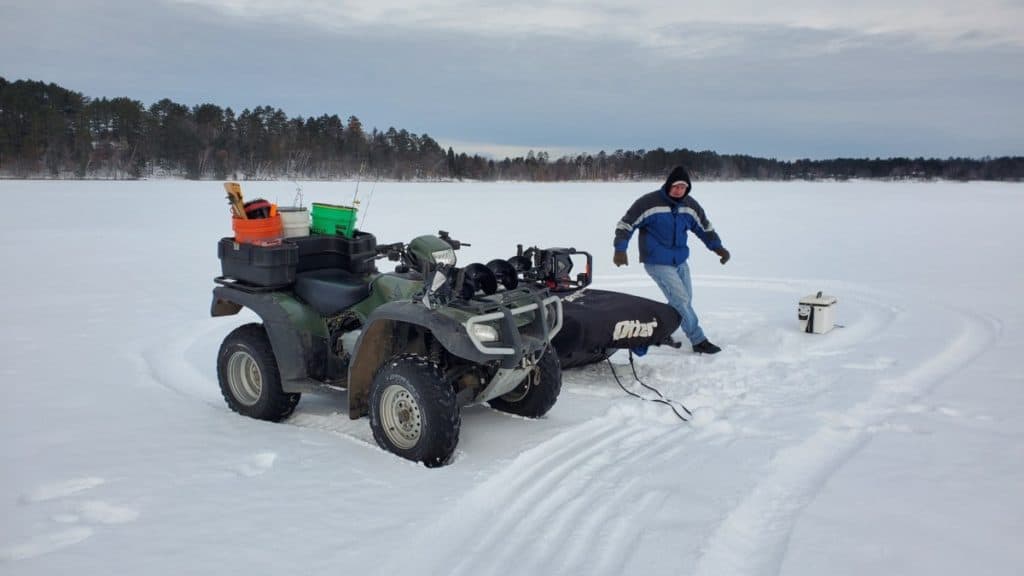 I knew this lake had super clear water, and since I love taking underwater video, I though I was going to get some spectacular footage. I should have known better when I realized we were the only ones on this lake. I hardly found any old ice fishing holes which could help me find where the popular fishing spots are.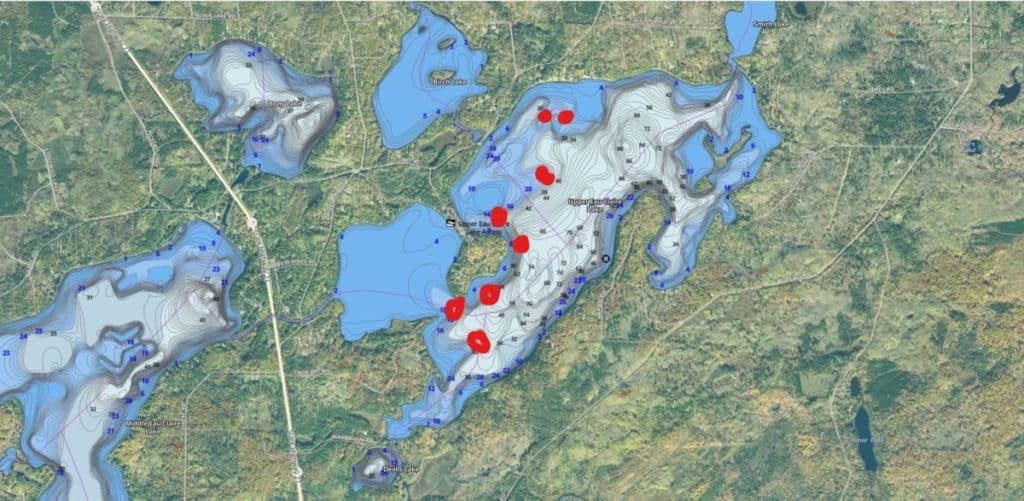 Above are all the spots we tried fishing. Eight spots in all. We didn't see a single fish and we fished here the entire day! After reviewing my underwater footage when I got home, I did see two bass, a perch and a couple bluegills, but they were all moving pretty slow.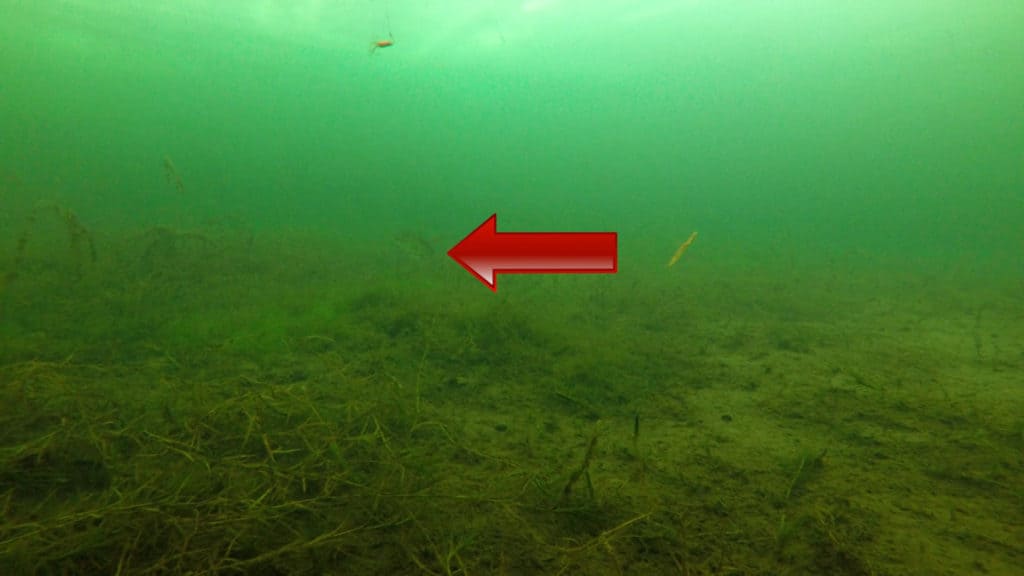 The arrow above is pointing to the bass, which is hard to see, but you can see how clear the water is.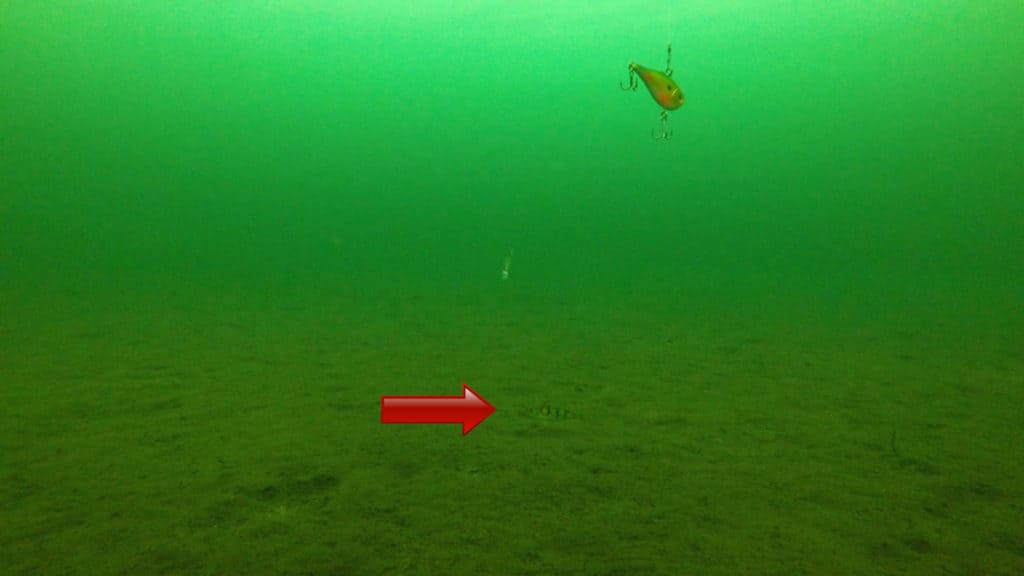 We never even noticed this lonely perch coming through all by himself. Notice how barren the ground looks.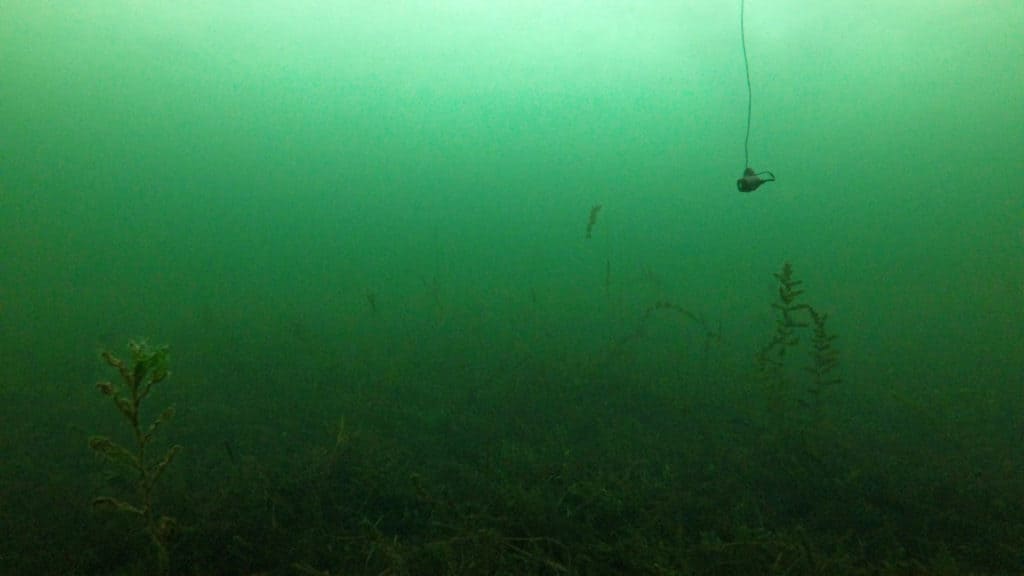 Even at 26 feet down, the water clarity is still pretty good.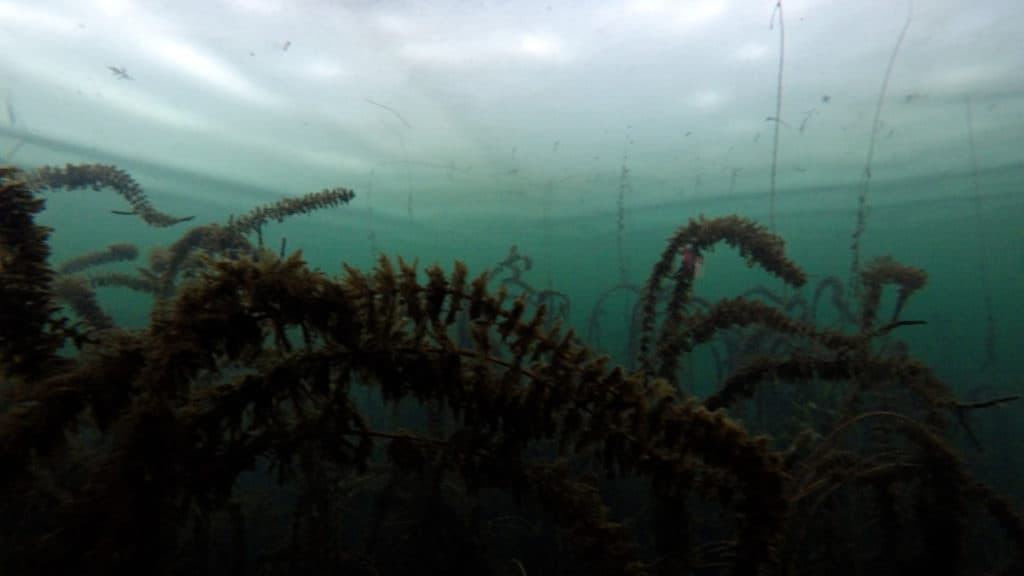 We did fish one spot on the north end that was showing bottom at 9 feet, but the weeds were nearly to the top of the ice.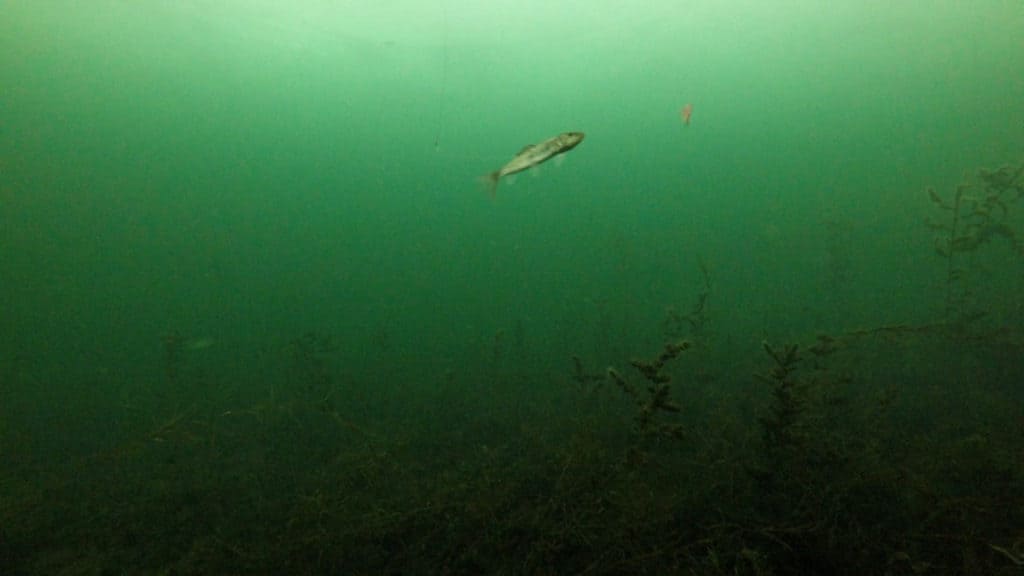 We even tried enticing the fish with a sucker minnow with no luck.
When they say this is a hard lake to fish, they aren't kidding. I've seen photos of people holding some nice fish, so I know they are in here. If you get serious about fishing this lake, you might come away with a trophy. For the average fisherman looking for some action, I would say you might have better luck going elsewhere.
Thanks for visiting Go Midwest Fishing Lake Reviews. While you are here, check out some other interesting article like, "Cargo Trailer to Ice Fishing House." Also, come hang out with us on my YouTube channel here.