Lake Stats
Acres: 427
Max Depth: 25 feet
Mean Depth: 14 feet
Water Clarity: Low
Bottom: 80% sand, 20% gravel, 0% rock, 0% muck
DNR Contour Map: Click Here
DNR Interactive Map: Click Here
Google Maps Location: Click Here
Fish Species
Northern Pike (Common)
Walleye (Common)
Largemouth Bass (Common)
Panfish (Common)
Watch us fish Upper Turtle Lake in September
Boat Landings
The landing is on the south end just off Hwy 8 at Wayside Park.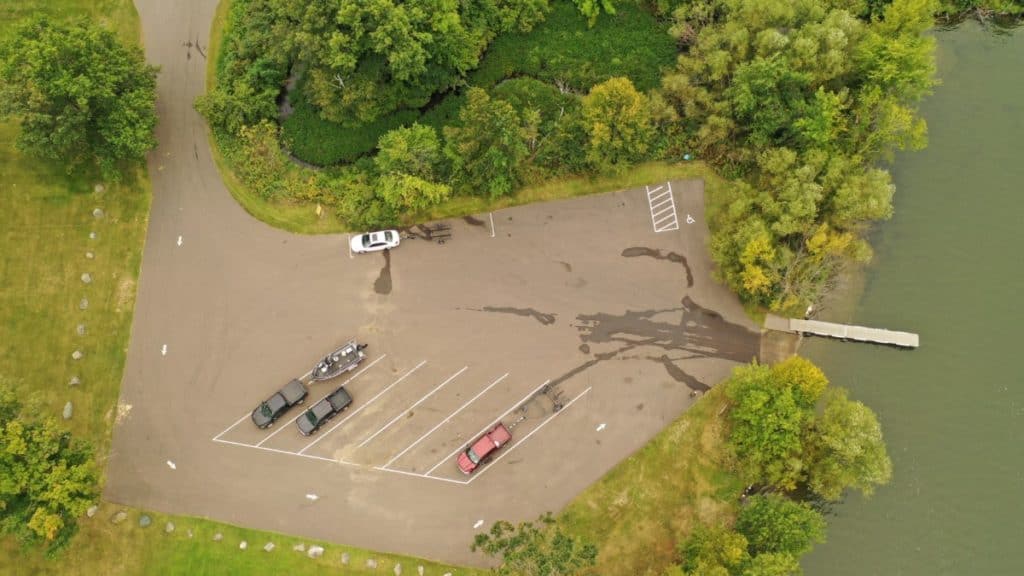 According to the DNR website, there are two boat landings. The other one being straight across from this one. I believe that is an error. The landing use to be on the west side of the lake, but was relocated to the east side.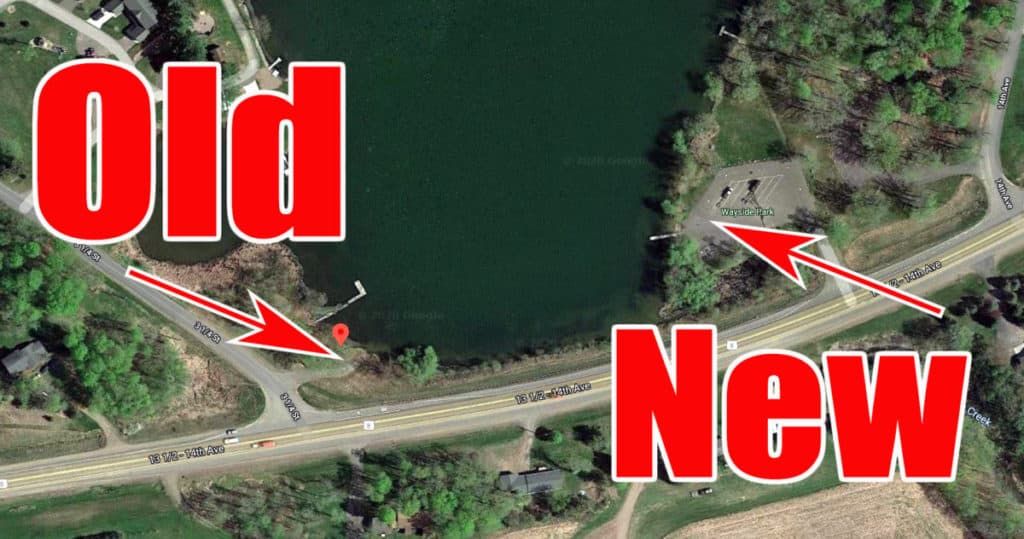 Being a fairly new landing, it is in really good shape. It is well designed and easy to use. It has a concrete launch pad and a nice modern dock.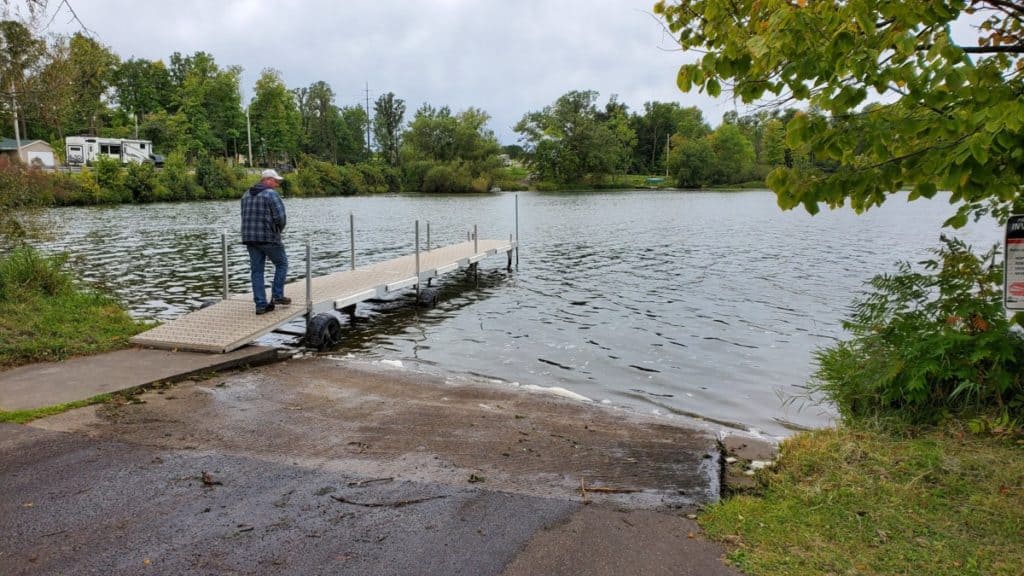 Commentary
Upper Turtle lake is a long skinny lake running north and south. It lies just on the north side of Hwy 8. On the south side of Hwy 8 is Lower Turtle lake. The two are connected via turtle creek.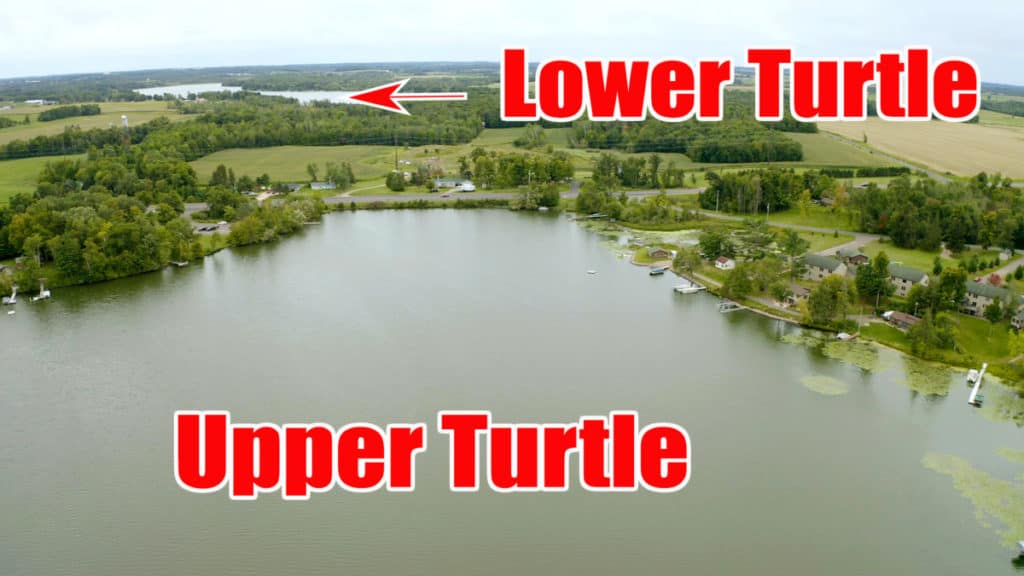 I'm a little concerned about the water quality here. You can find more information by clicking on the DNR Interactive map in the lake stats above. This is a quote from the DNR website:
"The waterbody is considered impaired, or in poor condition for designated uses which include the quality of fish and aquatic life, recreational use, and public health and welfare (fish consumption and related)."
The water clarity is low, but it didn't seem to affect the fishing while I was there. There is quite a bit of vegetation in the water. Especially along the shorelines.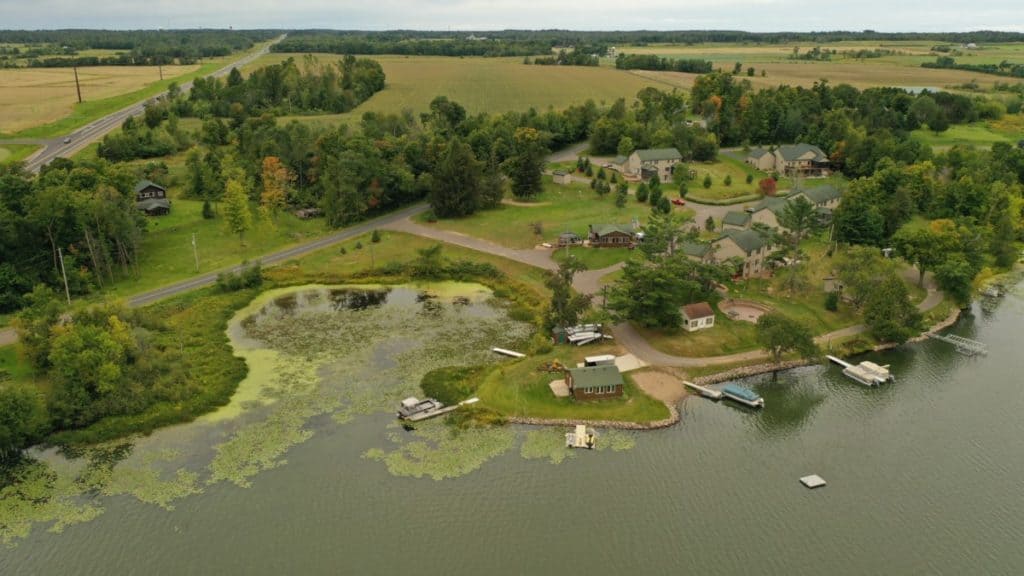 The south side of the lake is built up with homes. Mostly year-round residents. As you get to the north end, it looks much different, with tree lined shores.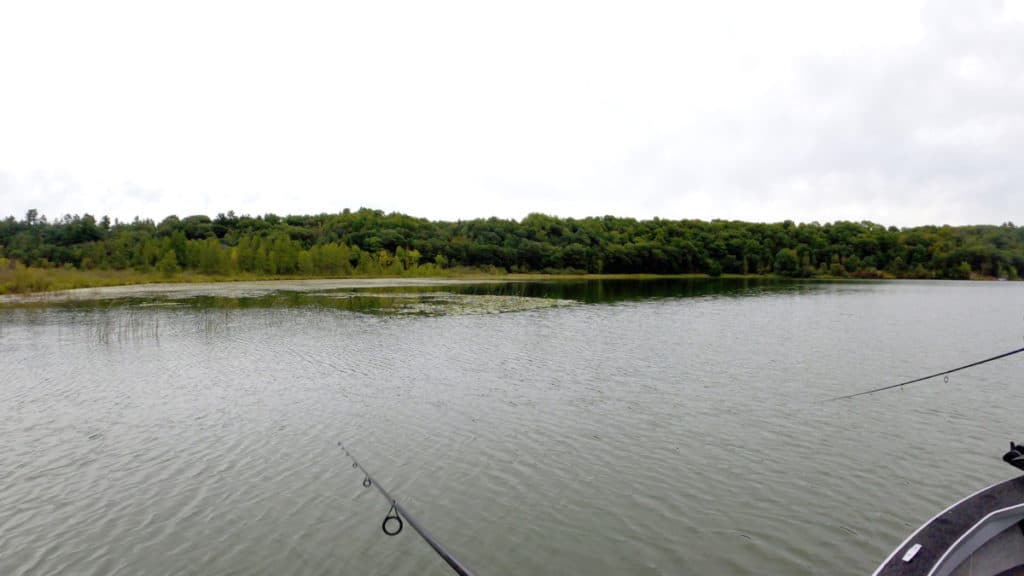 In the photo below, you can barely see my lure only two feet from the underwater camera.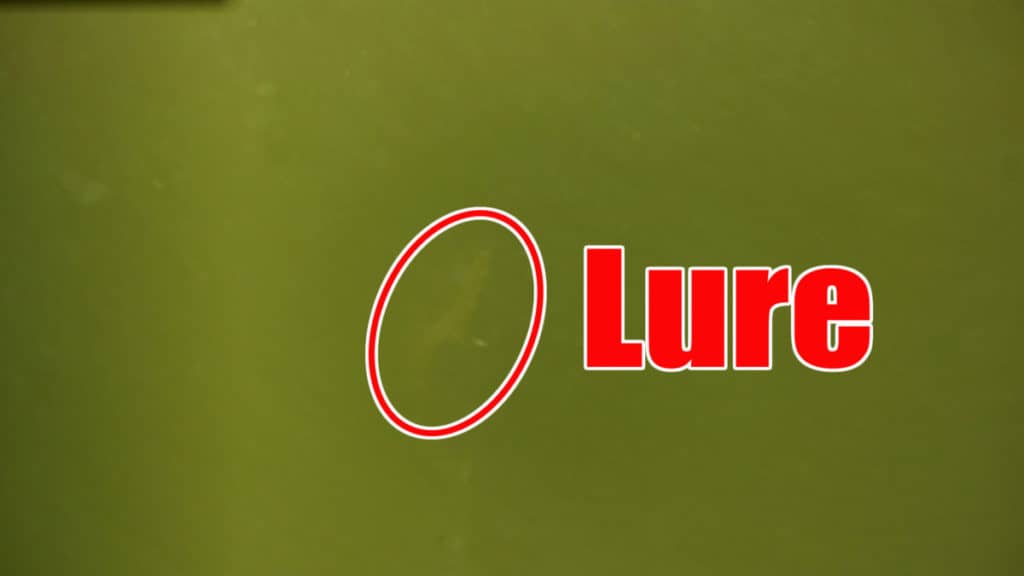 Despite everything I just mentioned, this is still a good lake to fish. We had no trouble finding bluegills and crappie in the north end. Northern pike seemed to be abundant also, and above average in size!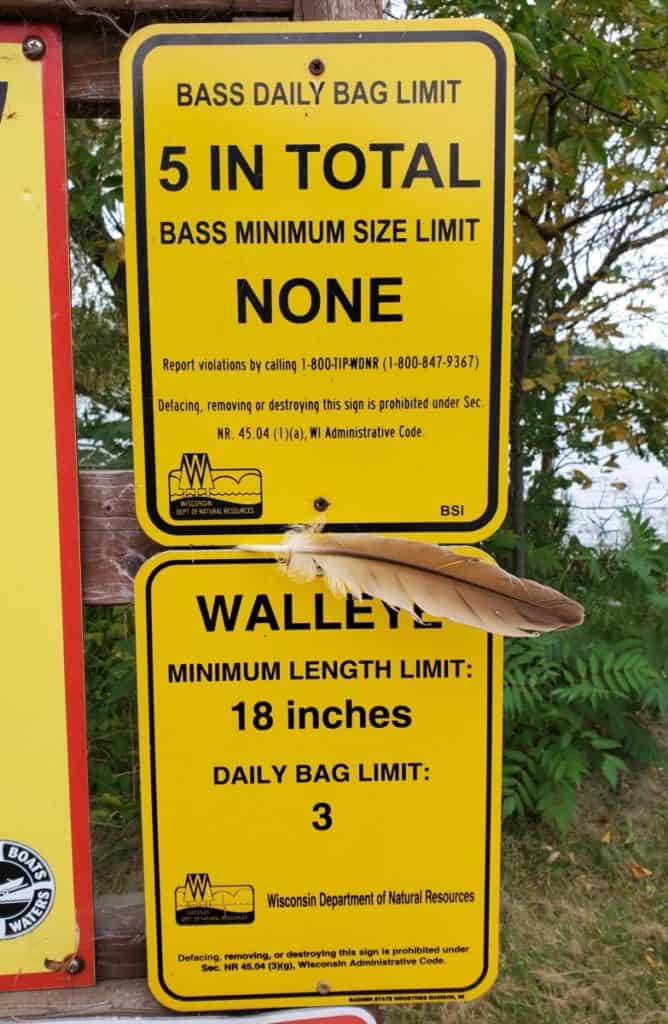 Above is the special fishing regulation for Upper Turtle Lake.
Fishing Experience
I fished here several years ago and caught a few smaller northern pike. I know we didn't get very far on the lake, so I wanted to try it again.
It is early September. Unfortunately the weather dropped 20 degrees overnight and it was cold and windy. Reggie and I fished the morning at Rice lake without any luck, so I wasn't expecting much at Turtle Lake either.
We started out by going straight to the north end of the lake.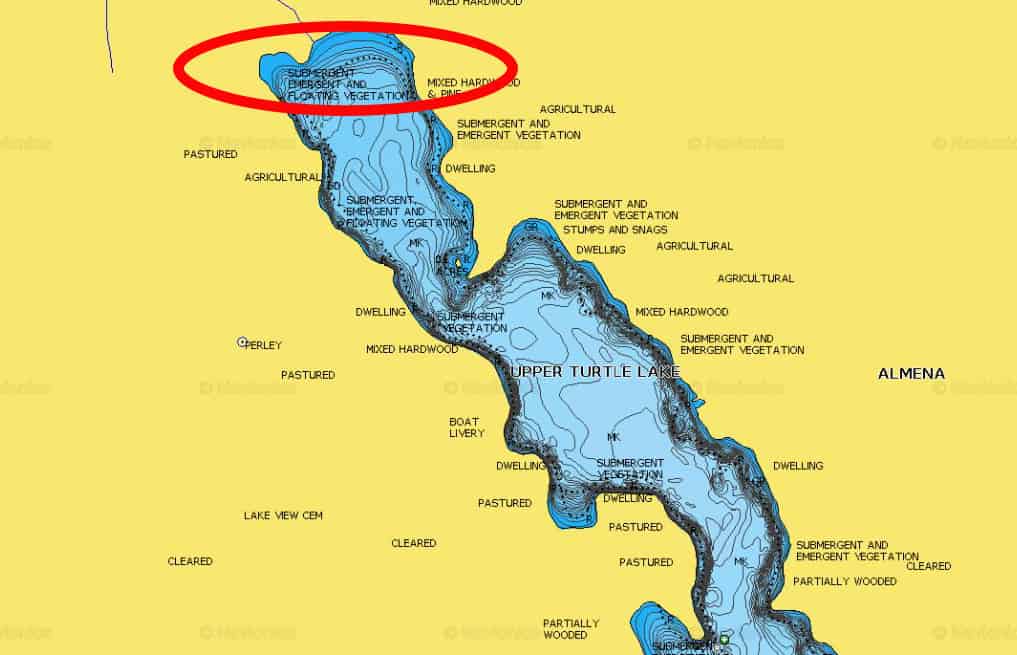 We had the most action here in the north end. It took a few minutes to get a bite, but once we did, we caught a few. My first hit was a northern pike, who slammed my crankbait right by the boat.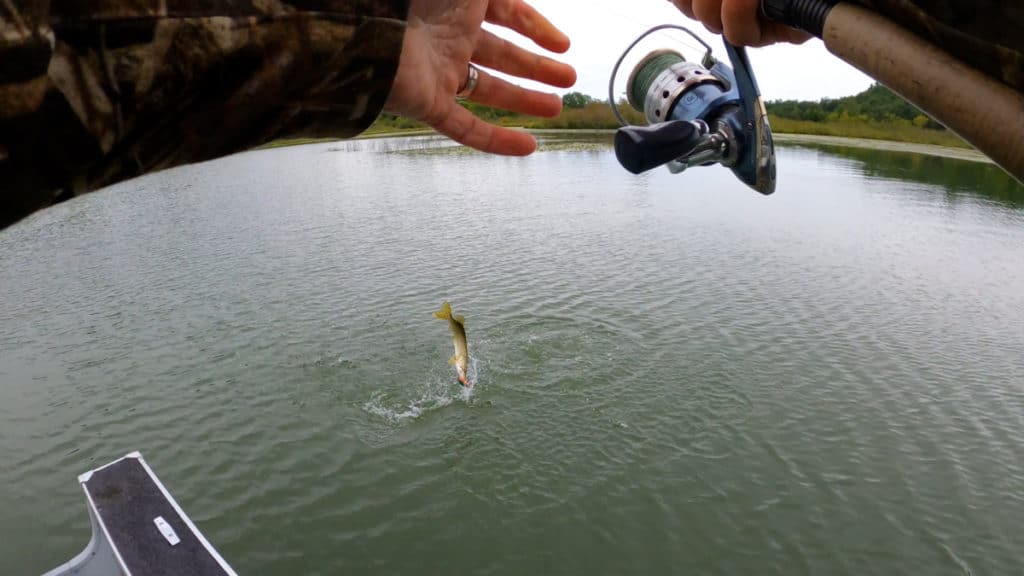 That northern measured 23.5 inches. It was soon followed by some crappies and bluegills. We could see them spotting on top of the water, and just threw a jig with some power bait right into the middle.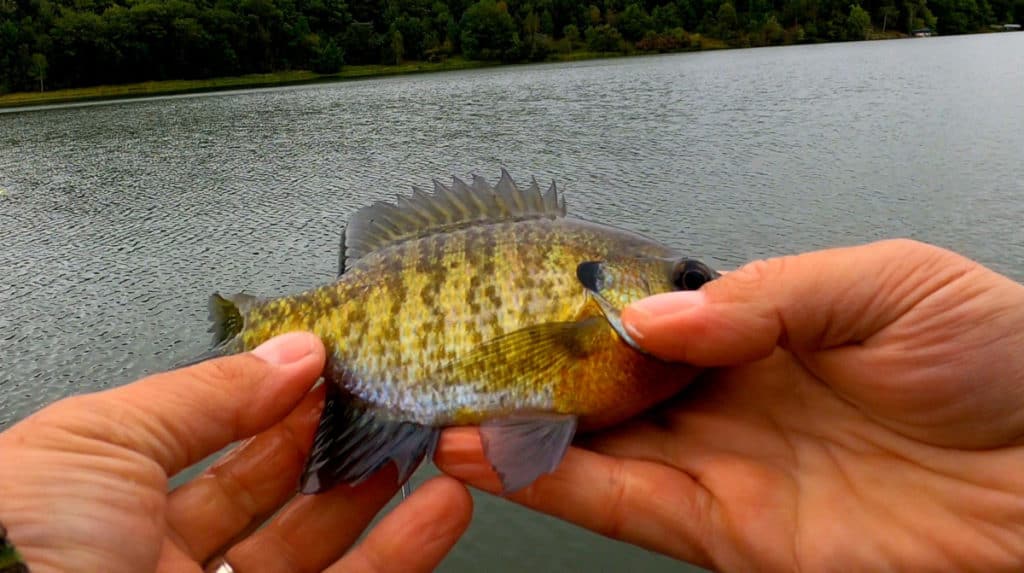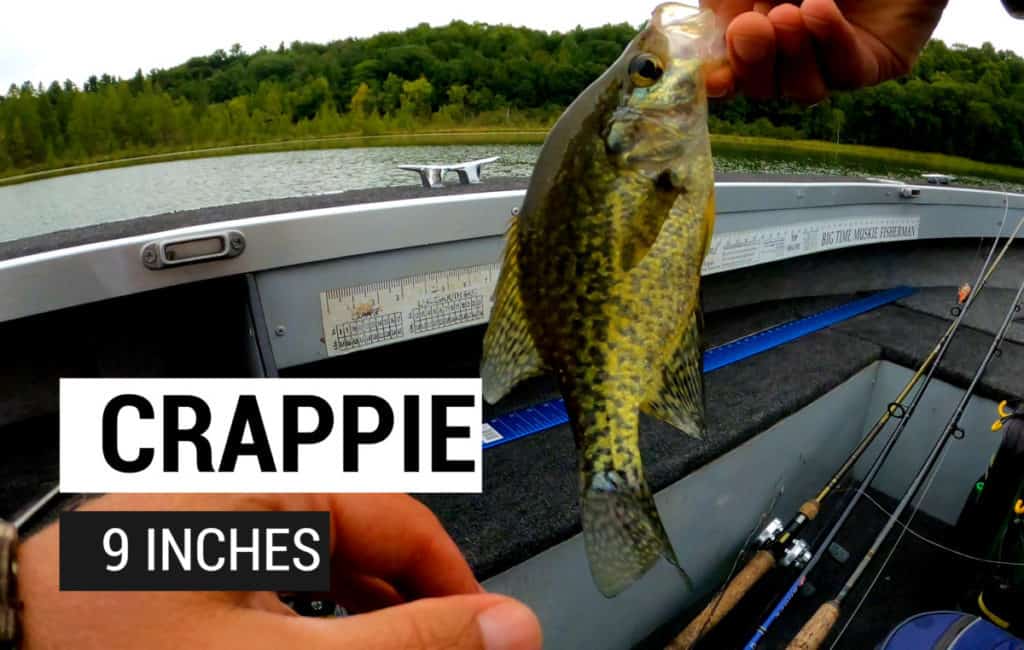 They weren't huge, but we had fun catching them.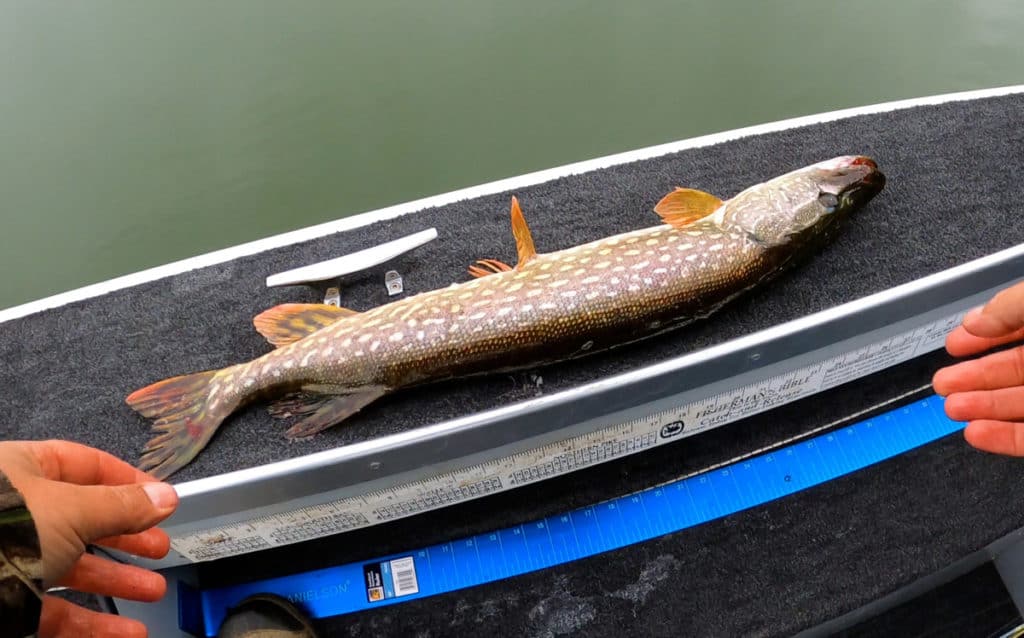 I pulled out a 27 inch northern pike, and Reggie had a similar one on too, but it got away.
We could have stayed here longer, but we wanted to check out the rest of the lake. Next we fished around a small island on the east shoreline.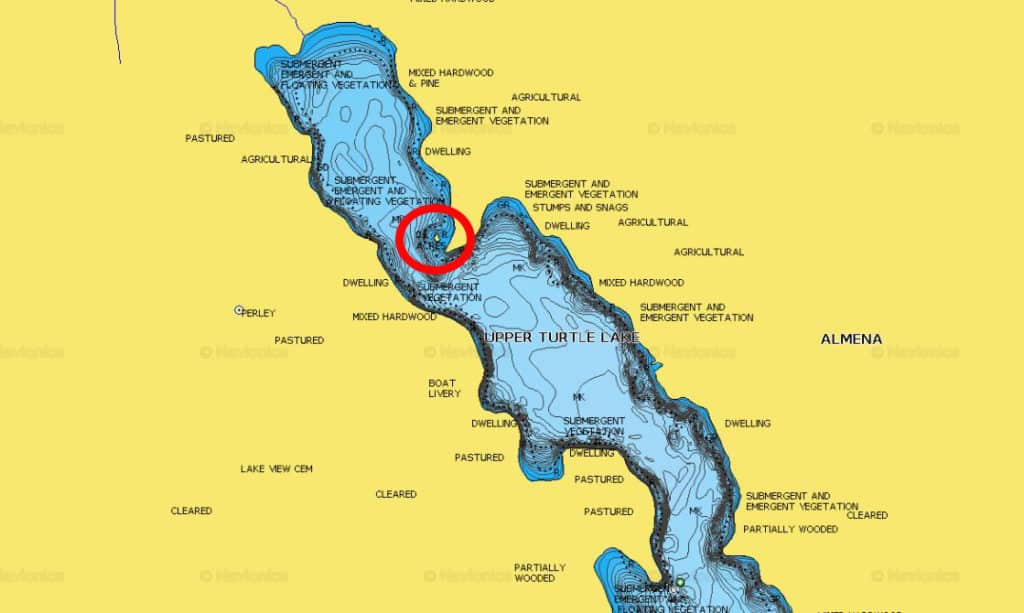 This looked really good. There was a lot of structure here, including some trees sticking out of the water. Unfortunately, the only thing we got was the trolling motor running into some rocks. It gets really shallow near the island.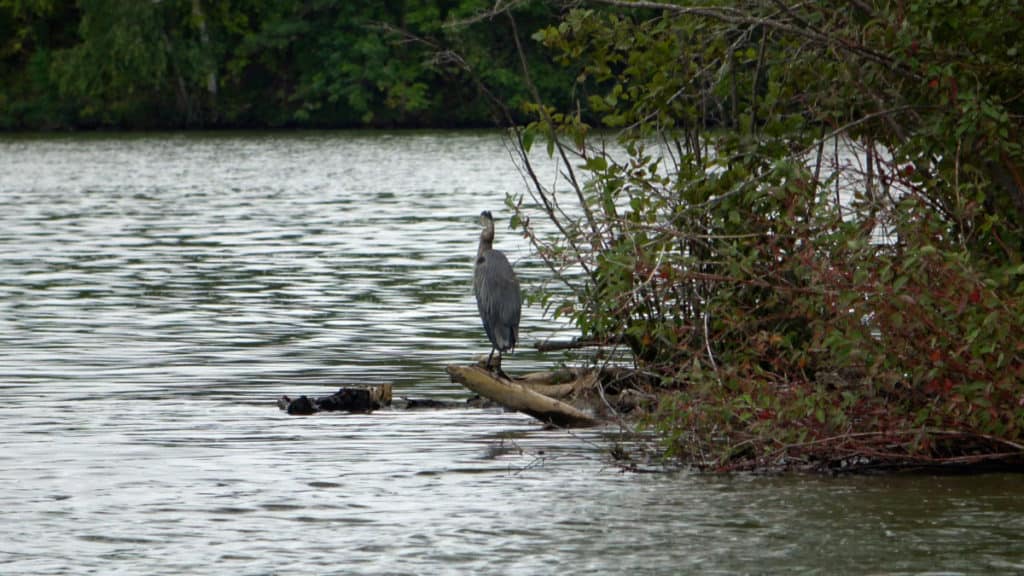 We dis see some wildlife though, including a Bald Eagle and a Blue Heron. Next we continued down the lake to a nice bay on the west side.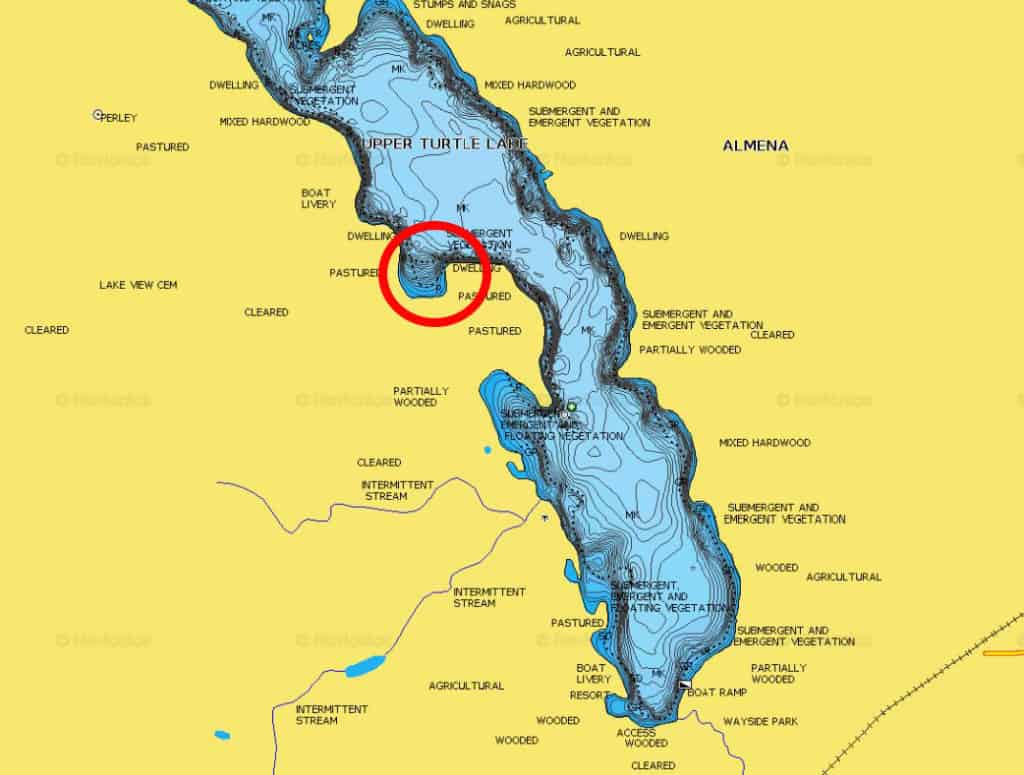 I had my highlight of the trip in this little bay. As I was recording it, my GoPro froze up just at the moment I caught the biggest fish. Why does stuff like that always happen at the worst possible moment! I didn't catch it on camera, so I pulled out my cell phone and took a photo.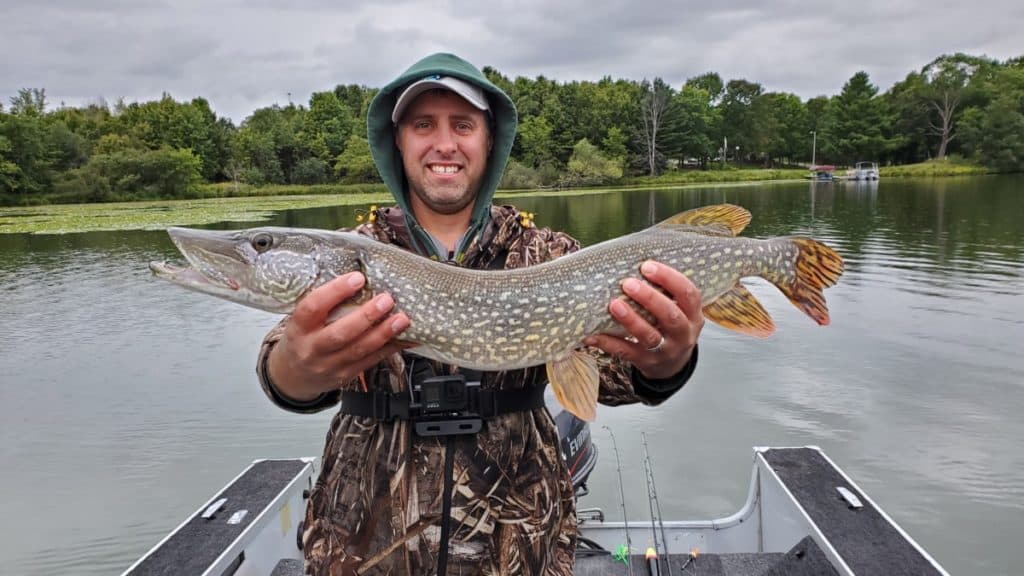 This was a 30.5 inch northern pike. The largest one of the day. At this point it started to rain, so we keep moving down the lake.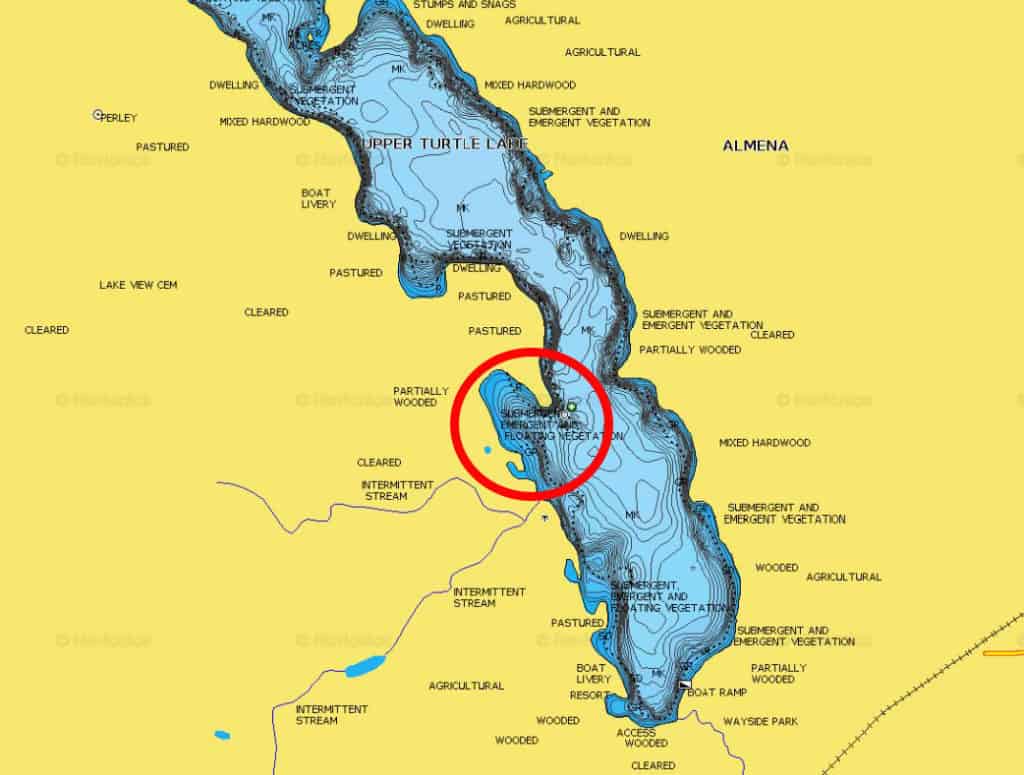 In the next spot, I pulled in a few more northern pike. One of which was really interesting.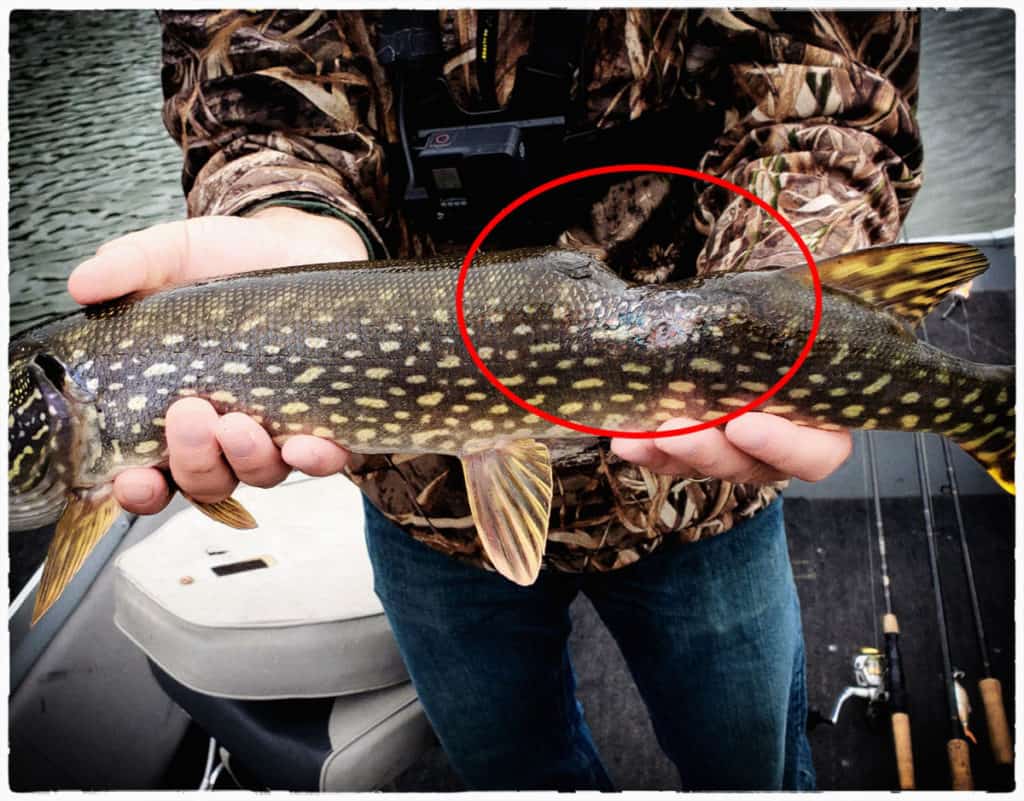 This northern had a huge chunk missing out of its back. It appears like it had a close call when it was younger. The wound has since healed over, and the fish swims normally despite missing part of its spine.
By now it was getting more rainy and starting to get dark, so we went to the far south end and tried a couple casts.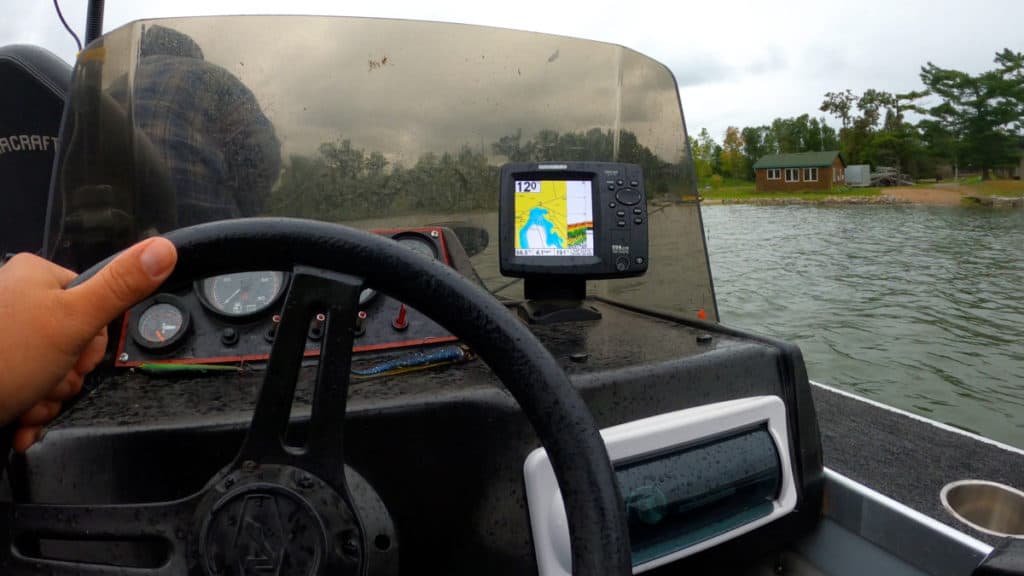 We didn't catch any more fish, so we called it a night. Overall, it was a successful trip. I was pleasantly surprised at the size of the the northern pike. We normally struggle to catch one over 22 inches. We didn't catch any under 23 inches here.
Maybe the bigger ones were biting that day, but it at least shows that is does have some decent sized fish there. I wouldn't hesitate to try it out for yourself if you are looking for places to fish in the area.
Thanks for visiting Go Midwest Fishing Lake Reviews. While you are here, check out some other interesting article like, "Cargo Trailer to Ice Fishing House." Also, come hang out with us on my YouTube channel here.