It's springtime! Time to pull your camper out of storage and get it ready for use. Unfortunately for many of us, this is when we realize that the canvas on our campers is in bad need of repair. That's what happened to me, and I just replaced all the canvas on my camper. Here's what you need to know.
Most canvas replacements will run between $800 and $1500, with the majority of them being in the $1000 to $1200 range. I replaced all the canvas on my pop up camper with three slide outs for $1,100 with an additional $300 to mail in my old canvas for them to use as a template.
Watch the entire process of replacing a canvas below
After researching which companies replace canvas, I narrowed it down to three. These ones seem to be the most popular. They are: Bear Creek Canvas, Canvas Replacements, and Fabricover.
Below you will find pricing charts from all three companies. I will select several camper brands for each company and give actual price quotes.
Bear Creek Canvas
| Camper | Year | Size | Price |
| --- | --- | --- | --- |
| Apache | 2000 | Two Slideouts | $1,100 |
| Coachmen | 1998 | Three Slideouts | $1,125 |
| Coleman | 2010 | Two Slideouts | $1,050 |
| Dutchman | 2004 | Four Slideouts | $1,150 |
| Jayco | 1990 | Two Slideouts | $925 |
| Palomino | 2008 | Three Slideouts | $1,125 |
| Rockwood | 2015 | Two Slideouts | $1,100 |
| Skamper | 1977 | Two Slideouts | $975 |
| Starcraft | 1986 | One Slideouts | $900 |
| Viking | 1990 | Three Slideouts | $1,050 |
Canvas Replacements
| Camper | Year | Size | Price |
| --- | --- | --- | --- |
| Apache | Not Specified | N/A | $1,075 |
| Coachmen | 1998-2004 | Two Slideouts | $1,300 |
| Coleman | 2009 | Avalon | $1,475 |
| Dutchman | 1998-2004 | N/A | $1,100 |
| Jayco | 1990 | Jay 1206 | $1,025 |
| Palomino | 1998 and Newer | N/A | $1,270 |
| Rockwood | 2005 and Newer | Three Slideouts | $1,475 |
| Skamper | Not Specified | N/A | $1,025 |
| Starcraft | 1986 | starlite 21 | $1,025 |
| Viking | 1997 and Prior | N/A | $1,025 |
Fabricover
| Camper | Year | Size | Price |
| --- | --- | --- | --- |
| Apache | 1959-1984 | N/A | $1,349 |
| Coachmen | 1998 and Newer | Two Slideouts | $1,349 |
| Coleman | 1998 and Newer | Two Slideouts | $1,699 |
| Dutchman | 1998 and Newer | Two Slideouts | $1,439 |
| Jayco | 1998-2001 | All Models | $1,249 |
| Palomino | All Years | Three Slideouts | $1,439 |
| Rockwood | 1998 and Newer | Three Slideouts | $1,549 |
| Skamper | All Years | 14′ Tandem Axle | $1,399 |
| Starcraft | 1966-1989 | All Models | $1,299 |
| Viking | 1997 and Prior | Two Slideouts | $1,349 |
Which Canvas Company Is Best
Bear Creek Canvas
After all my research, I went with Bear Creek Canvas. As far as cost goes, They seem to have the best price, followed by Canvas Replacements, then Fabricover. They are all real close in price, but if a $100 price difference means a lot to you, then Bear Creek is the way to go.
I paid $1,100 for my canvas. I was quoted $1,125. I was expecting extra fees and taxes added on to that. So when I got the bill for $1,100, I was very pleased. They gave me a winter discount of $25.
Pros:
They have the best website that is easy to understand and is straight forward. For pricing, all you do is select your make of camper, the year, and if you want a complete canvas, or partial. Then it gives you a price.
The directions say to call before placing an order to see if they have yours in stock, or if you need to send in your old canvas.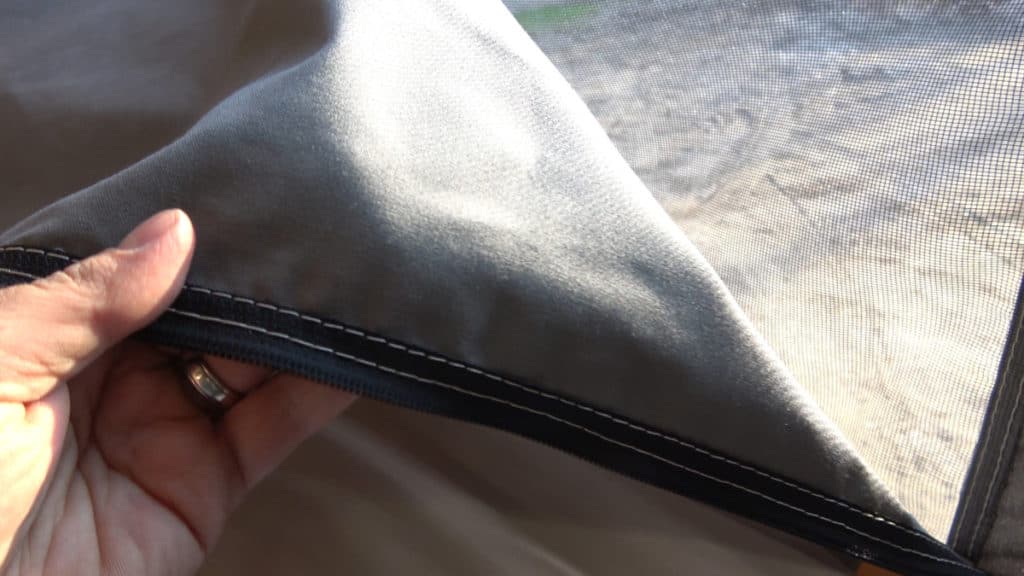 The company is run by some guys with experience and really seem to know what they are doing. I was very happy with the canvas I received and it looked and felt like it was very high quality.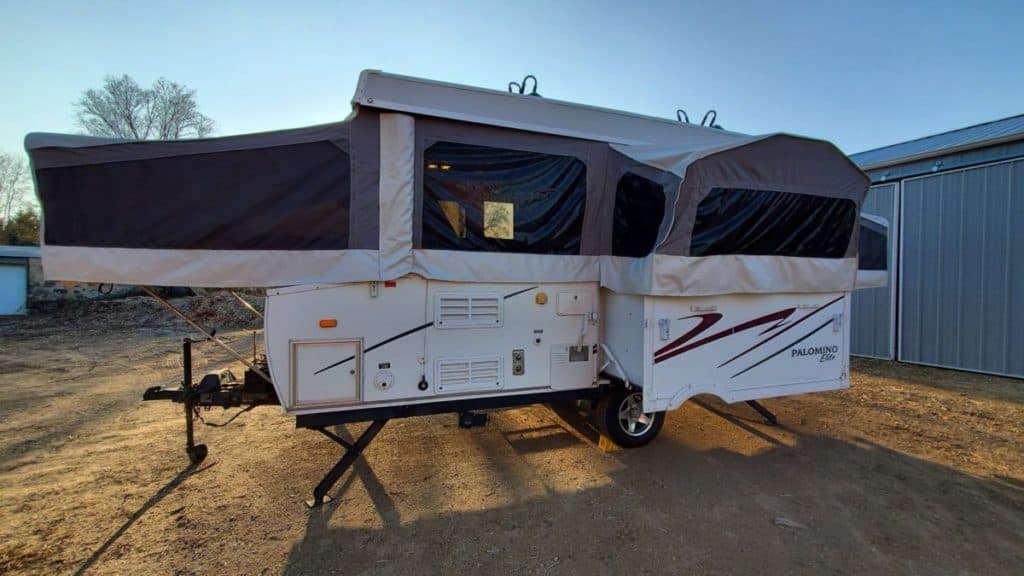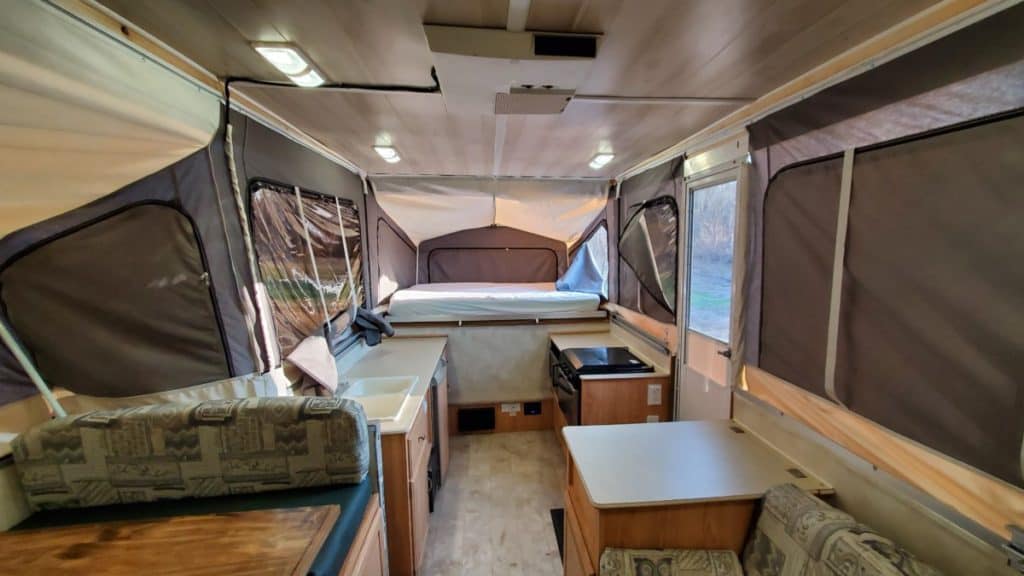 Cons:
They seem a little old school (which is fine), but their color selection reflects it. They offer only three colors, Green, tan, and grey.

They do add white vinyl trim which looks nice. They have example pictures of completed campers on their website, but all the photos look like they are from 1970. It could use some updating.
Canvas Replacements
I have not ordered from canvasreplacements.com, but I gathered as much info on them as I could. Here is what I found.
Pros:
They seem to have a similar shop compared to Bear Creek Canvas. In fact, they are only eight miles down the road from Bear Creek Canvas in central Wisconsin.
What I really liked, is that they have a video showing their operation. It appears that they were featured on "Rollin' On TV." See it below.
They have a great history page on their website describing how they came to be. It started in 1954 when Clyde Grambsch designed and built a camper for his family. He added some features that were not common in those days. The guy who painted it put, "Mfg, by Loyal Trailer Co, Loyal, Wis" under the taillight as a joke. Suddenly the post office was getting lots of inquiries about this company, which wasn't even real, so they went into business.
They are a Christian business and have high ethical standards. They treat their customers as they would want to be treated. They say "If we fall short, we will make it right.  Guaranteed."
I liked that they have many different canvas colors. They will be able to match your old canvas, or get real close anyway.
Cons:
I really only have one complaint, but it was enough to sway my decision to order from Bear Creek. I didn't like their website. When trying to get a price quote, it wasn't very clear what I was ordering. For some camper brands, you have to pick a year and a model, but some just had one option and a price with a click to buy button. I wasn't sure what it was that I was buying.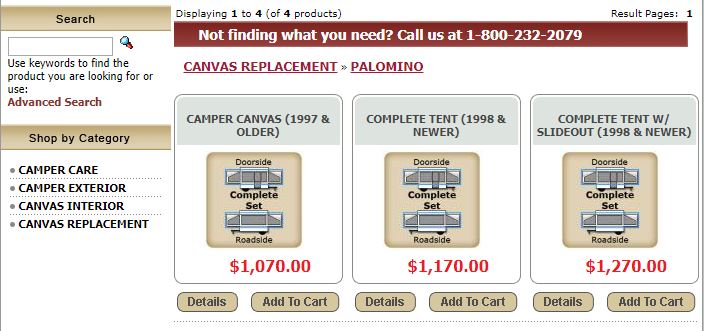 I realize that all I had to do was call and ask questions, but in the age of the internet, if there is someone else with all the info up front, I'm going there.
That, plus they were about $100 more in price (from what I could tell), so I decided to go with someone else. They seem to have great quality and are good people to work with, so I wouldn't hesitate to use them if I were you.
Fabricover
I have not used Fabricover either, but again, I will let you know what I found out while doing research on them.
Pros:
The pricing section on their website is easier to navigate. They have a drop down list of campers and prices next to them. You have to input the year, model and vin# of your camper before ordering. That makes me feel better about getting the right canvas replacement.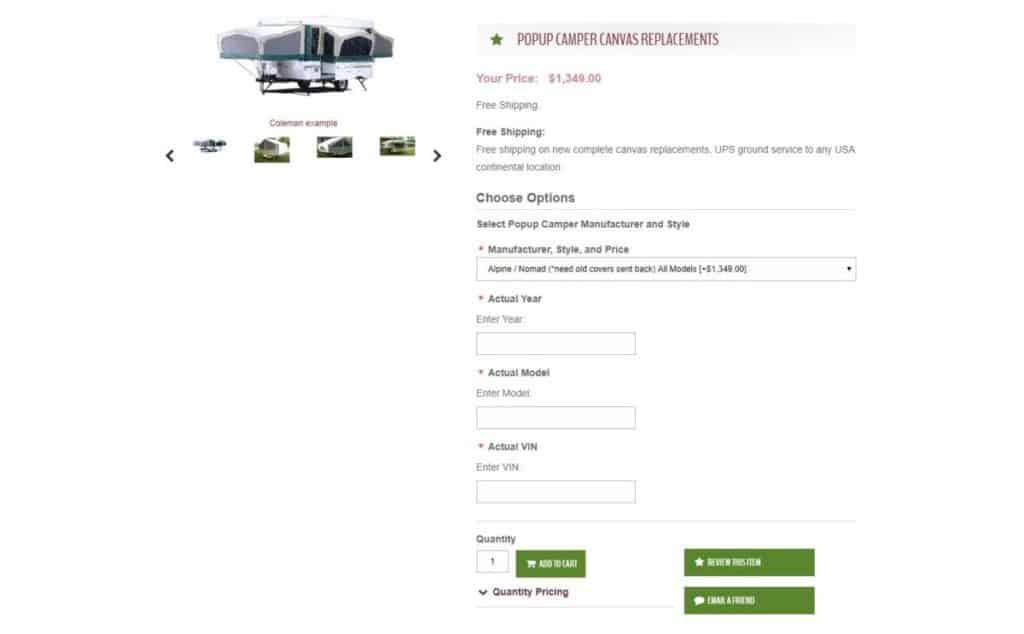 They are up front with what type of canvas you can expect. Their canvas is a 10.38 oz, water resistant, mildew resistant canvas. The color choices are,  taupe (standard), gray, or pearl gray.
All Jayco models 1993 and newer have an all vinyl, two-tone marine material. For Coleman models, they use an all gray canvas (1967-1982 models) or Sunbrella acrylic (1983 to present models) on the sides and gray vinyl on the bunk end roofs. For all other brands, they use a vinyl fabric.
Cons:
I see Fabricover show up on many different websites. They advertise as being an, "Idaho Canvas Brand." They have an address with a P.O. box in Idaho Falls, Idaho.
The funny thing is, when reading the description for getting a canvas replacement, it says, "manufactured by Canvas Replacements." In other words, if you order from them, you are actually just ordering it from canvasreplacements.com in Loyal, WI.
For that reason, I see no reason to use Fabricover. I would rather just go to the source instead of going through a third party. They are also the most expensive.
Other Things To Consider
Postage
Depending on your camper, you may have to send in your old canvas to use as a template to make your new canvas. I have a large pop up camper, so my canvas is heavier and will require a bigger box than most.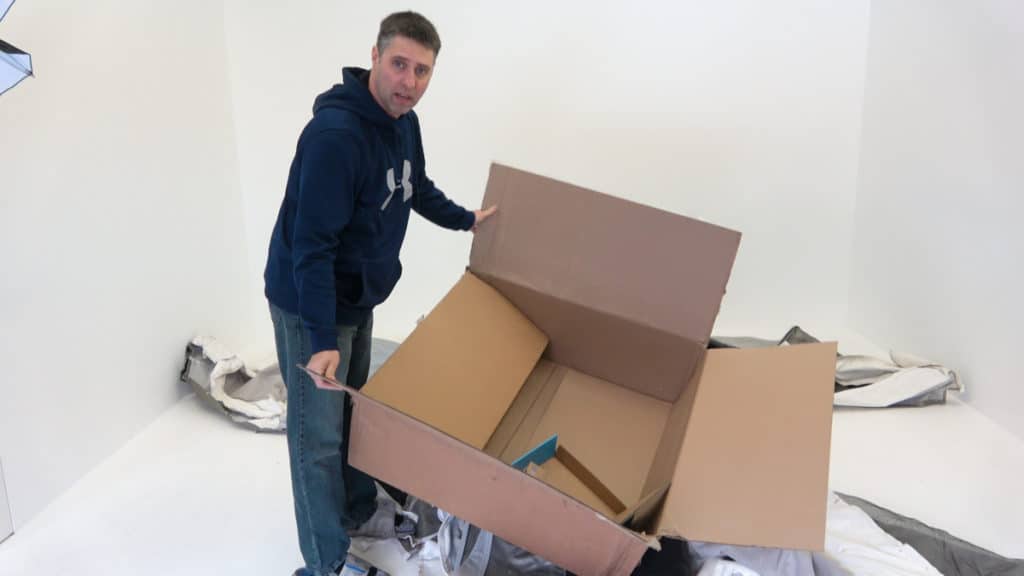 With that said, it weighed 60 lbs. The dimensions of the box were, 36x34x13 inches. I sent it via FedEx two day air for $338.84. I work for the airlines, so I get a 75% discount and only paid $84.71. Just keep in mind, it can get expensive to mail in your old canvas.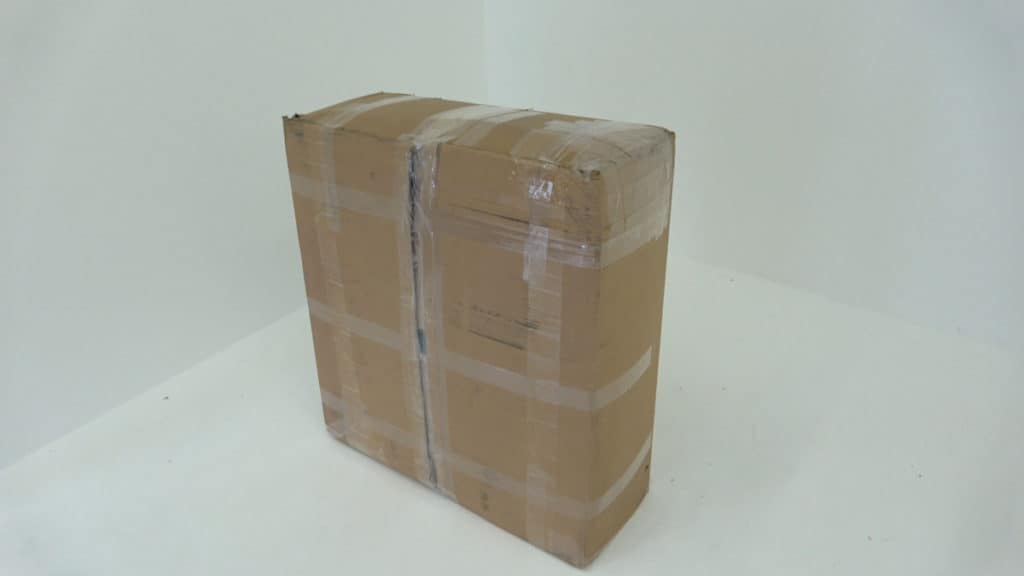 Of course, there are cheaper ways to mail it. If I were to send it via the United States Postal system, it would cost $97.85. I guess it depends on how quick you want it to get there.
Installation
I did the entire process myself, so I only had to pay for the cost of supplies. If you want to have someone professionally install it, then you will have to add an extra cost to you canvas replacement. You can expect to pay around $380 for someone to do it for you.
I would like to mention that this is an easy job that most people can do. It does not require a bunch of technical know how. If you can hang a curtain, you can do this.
I only had two issues when installing the canvas. First, if you have a pop up camper with a bunk at each end, even if they are the same size, it does matter which end you are installing. My beds are the same size on both ends, but the canvas is different sizes.
I initially installed them on the wrong ends. I had a really tight corner on one side, and too much fabric on the other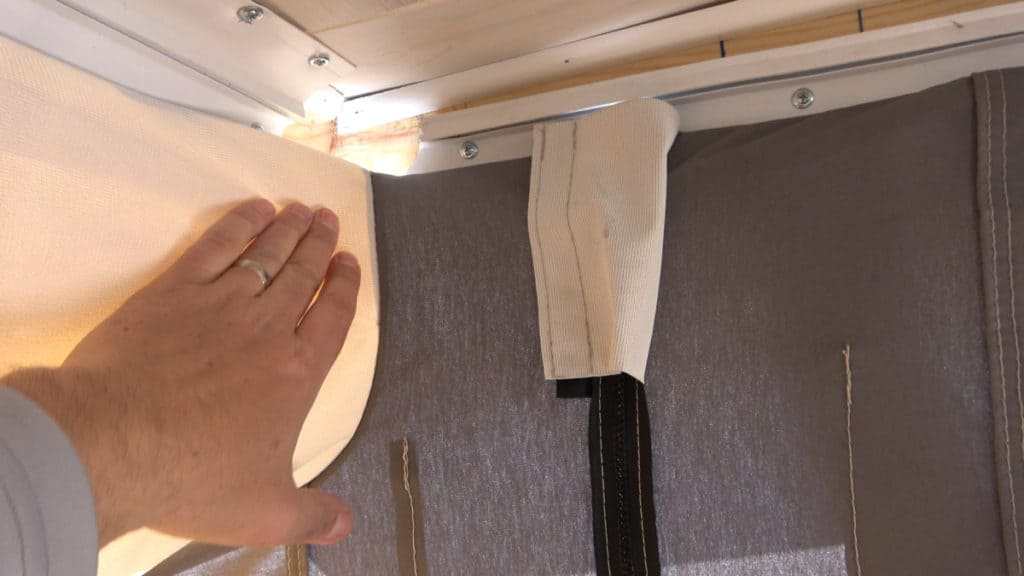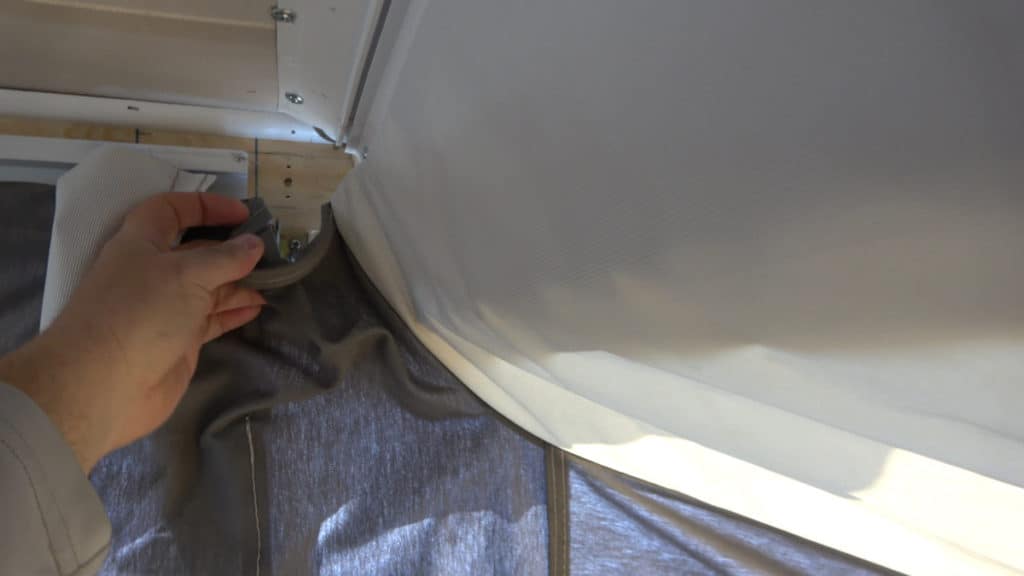 I thought the canvas wasn't made right, but just to see, I flipped the canvas ends to the opposite side. Everything fit perfectly! So it really does matter, even if they look the same.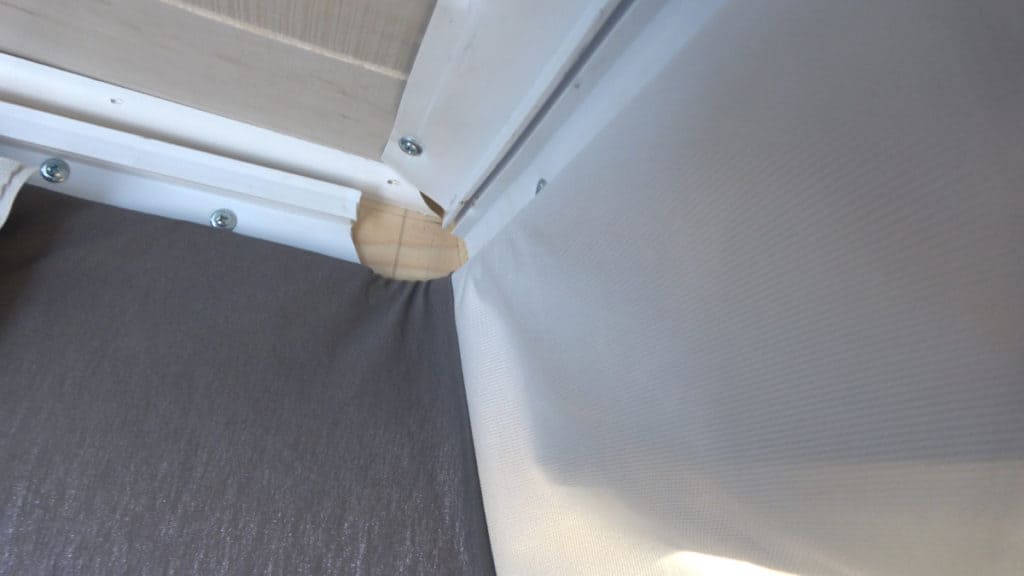 The next issue, I didn't get resolved yet. I'm sure it's user error, but here is my problem.
I have a third slideout for the dining table. The canvas for this section buttons to the outside. To make sure the buttons line up, they give you a bag of buttons to install yourself.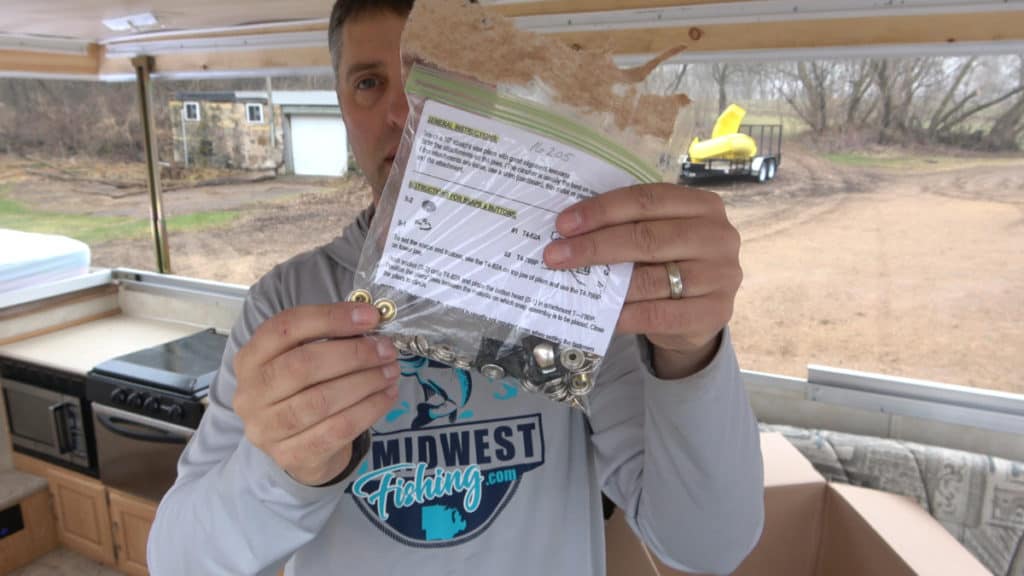 It comes with two pieces that slide over a pliers so you can clamp the button pieces together and install them on your canvas.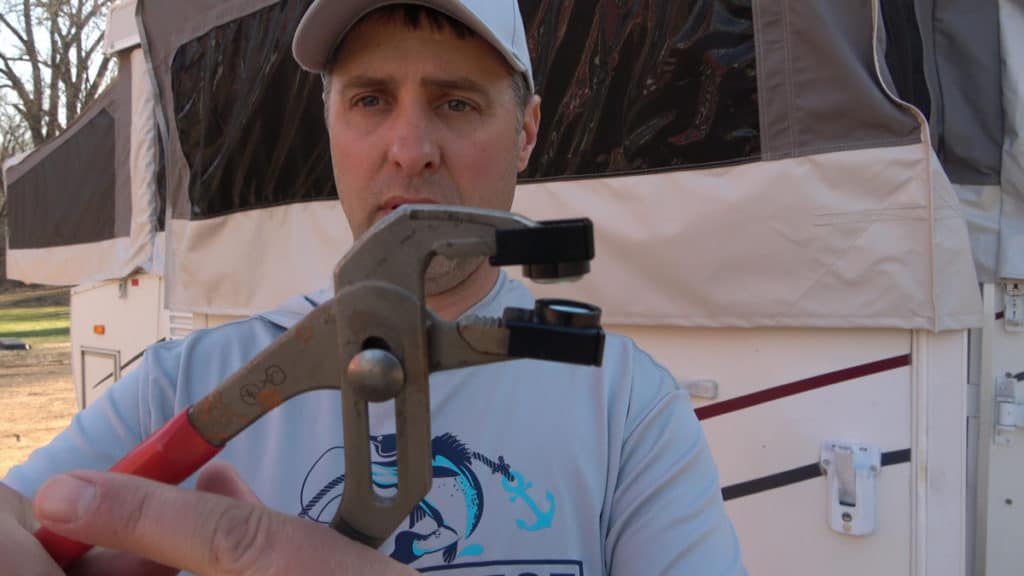 For the life of me, I could not get the buttons to smash together correctly. It does say to use a pliers with jaws that move vertically up and down. The pliers I had clamp together in an arc.
So I tried attaching the ends to a C clamp. I practiced on some old fabric. The button fell in pieces. So that idea didn't work either.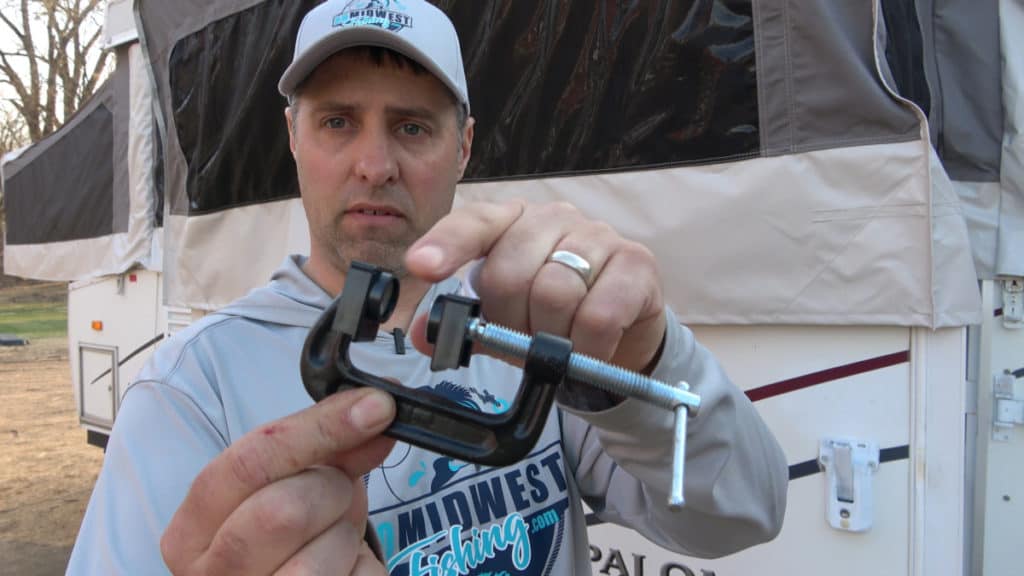 I may try again in the future, but for now it is going button-less. The inside attaches with Velcro, so its secured well enough that I'm not worried about it.
Timing
As you can imagine, the busiest time for these canvas replacement companies is during the camping season. The best time to order new canvas is during the winter season.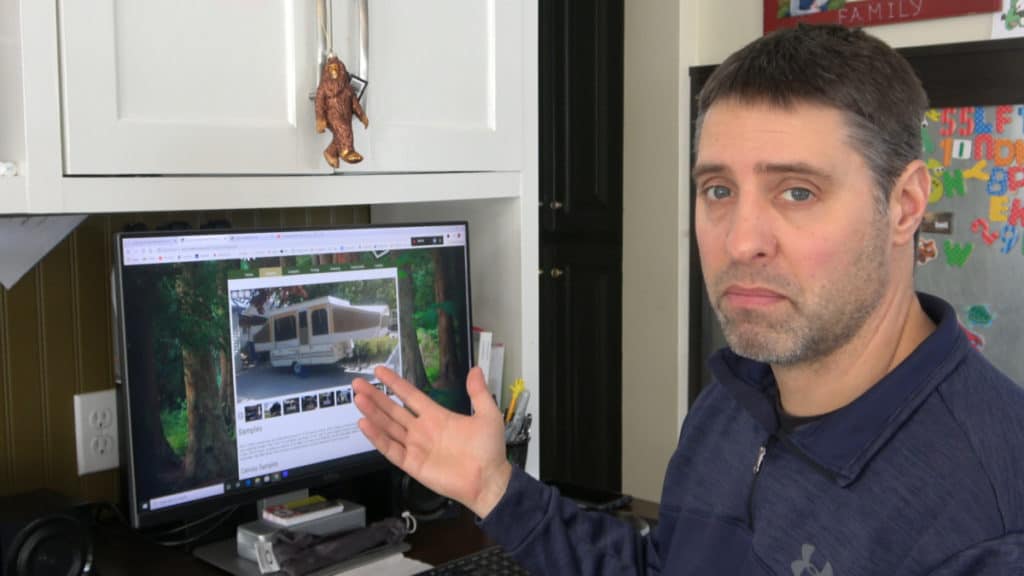 Generally, November through March is a good time to do this. I ordered mine in February. I was told it would take 4-6 weeks, but it would take 14-18 weeks not long after that.
Taking Care of Your New Canvas
Here are a couple things you need to know. Your new canvas will fit a little looser than your old canvas. It will tighten up over time and give you a nice custom fit.
Your canvas comes waterproof already. There is no need to spay anything on it for waterproofing. In fact, that might degrade the quality of your canvas by doing so. It should last ten years or more before needing any kind of treatment.
The new canvas is sown together with a thread that expands when it gets wet. They recommend you wet down your new canvas with a hose before use. This will expand the threads and seal up the needle holes.
Campers are not meant to be permanent structures, so you should not leave it in the popped up position for long periods of time. The sun will deteriorate your canvas quickly.
Also be careful with spraying things like insect repellents, and deodorants on or near the canvas, as this will also degrade its waterproof qualities.
Conclusion
I didn't realize how bad my canvas looked, and performed, until I put on the new canvas. It feels like a new camper now, and I love it! It is a fairly big expense, but if you get a lot of use out of your camper, it is definitely worth it, and it will allow you to get more years out of the same camper.
I hope this article was useful. I have many more helpful and interesting articles, so please feel free to browse around and take a look. I'm also building a library of the best lake reviews on the web. Check back often, as I'm constantly adding new lakes.
Thanks for reading, and good luck out on the lake!