South Center Lake Stats
Acres: 835
Max Depth: 109 feet
Littoral Area: 561 Acres
Shore length: 12 miles
Nearest City: Lindstrom
Water Color: Green
Water Clarity: 5.2 feet (2010)
Fish Species in South Center Lake
Northern Pike
Walleye
Largemouth Bass
Black Crappie
Yellow Perch
Bluegill
Sunfish (Green/hybrid)
Pumpkinseed
Bullhead (Black/Brown/Yellow)
Bowfin
Common Carp
Watch us fish South Center Lake on Super Bowl Sunday
Boat Landings on South Center Lake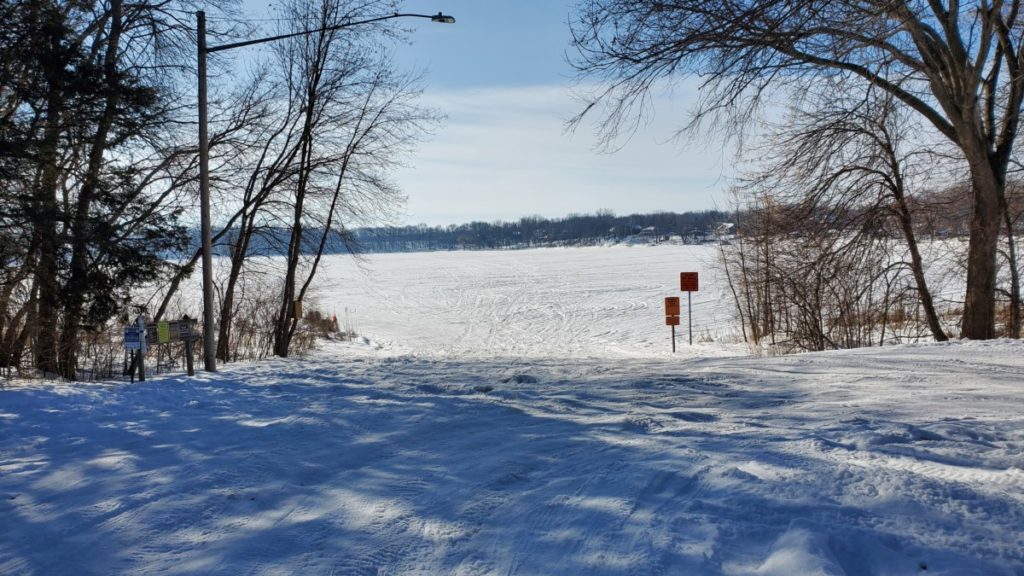 South Center Lake has one public boat landing located on the north side of the southwest bay.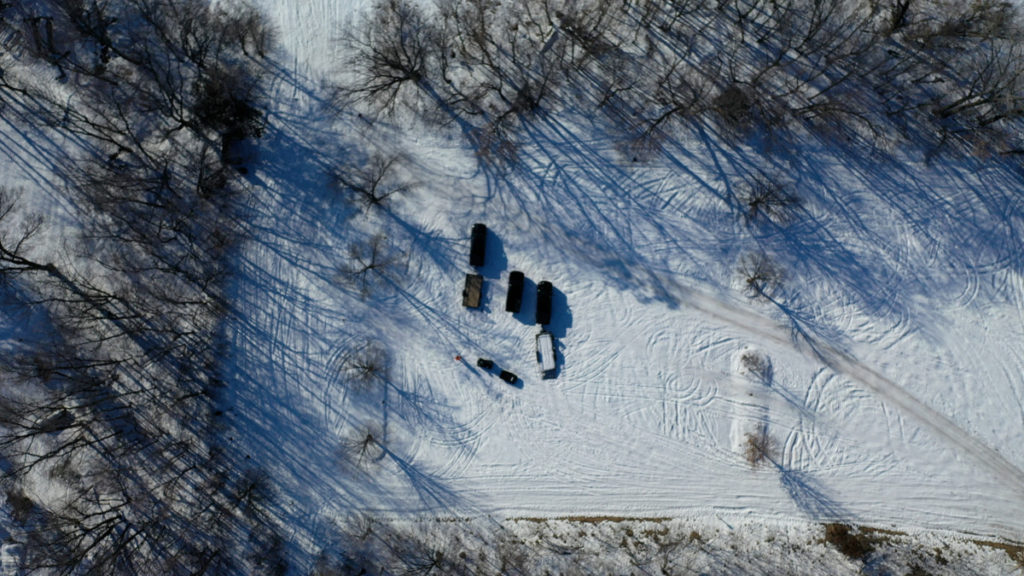 The parking lot at this landing is huge! It has spaces for 48 trailers, with 2 accessible spaces. I was here in the winter and the parking lot has not been plowed, so be sure to bring your 4 wheel drive vehicle.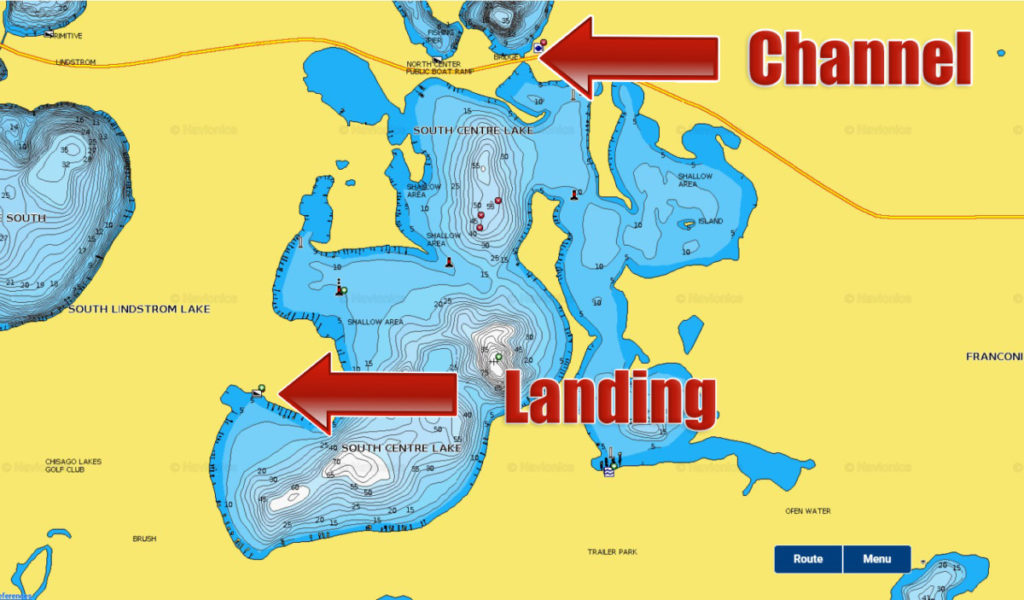 You can also access South Center Lake via a navigable channel from North Center Lake that goes under Highway 8.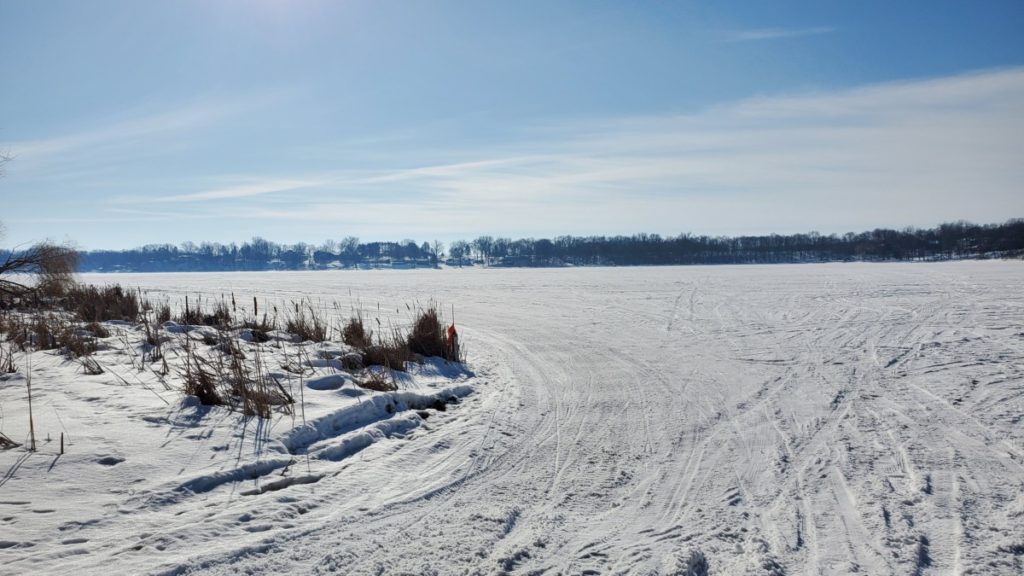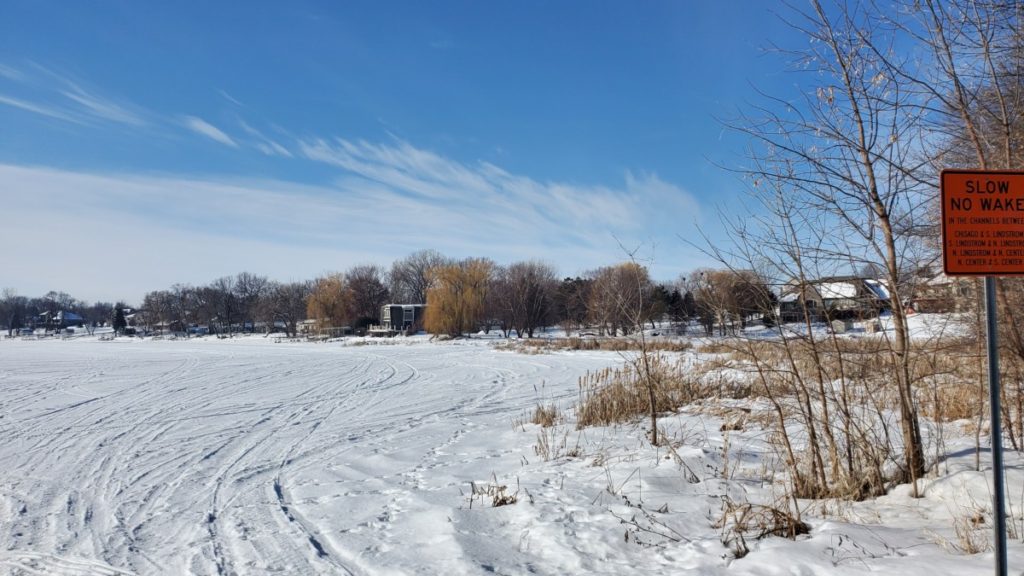 Here are a couple photos looking out from the boat landing.
Commentary About South Center Lake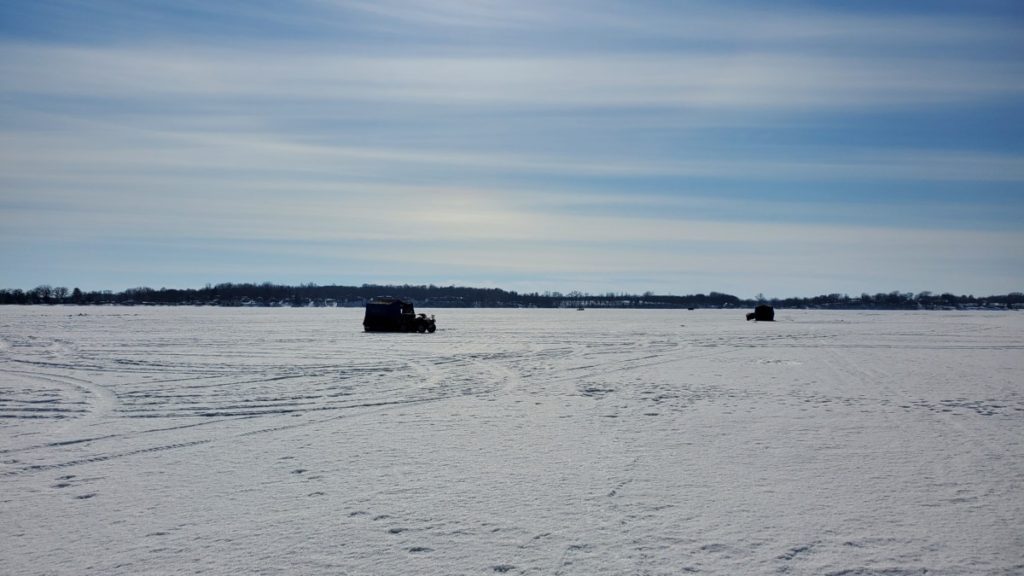 South Center Lake was selected as a Sentinel Lake by the MN DNR. This is an ecosystem monitoring system, and there are only a handful of lakes in the state chosen to be in this program. If you would like to learn more about this program, check it out here.
South Center Lake is a deep, medium-sized lake. It is part of a chain of lakes in southern Chisago County. I've fished many of the lakes in this area and they all have been impressive.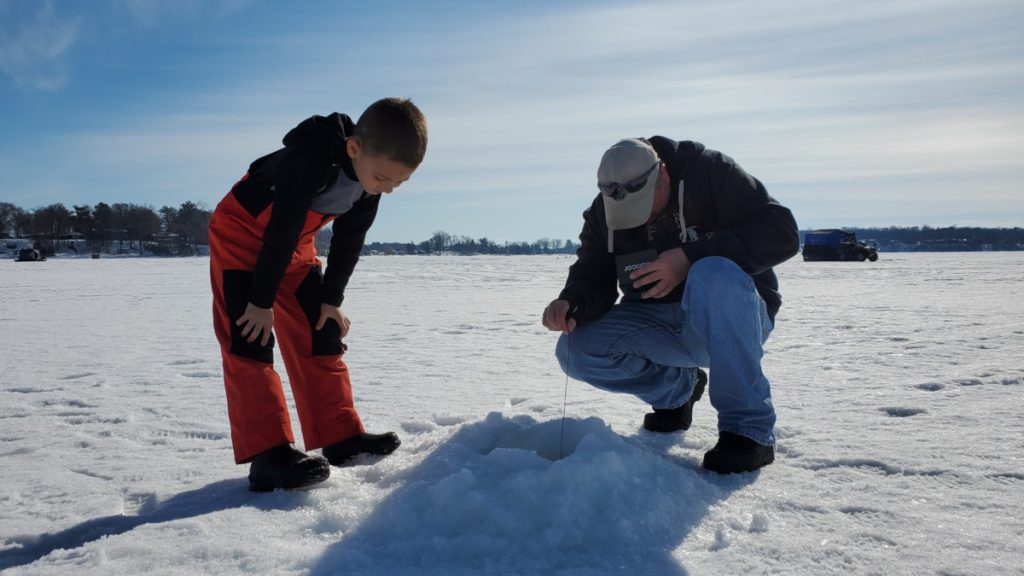 The bottom structure of this lake is interesting. It has several deep holes up to 109 feet down, but also has large shallow flats with abundant aquatic vegetation. This is a popular fishing and recreational lake and gets high pressure in summer and winter.
Oxygen runs deep in this lake and fish can be down as far as 40 feet, so don't be afraid to check out some of the deeper holes. Controlled drifting with live bait can sometimes be the ticket to larger fish, especially in the fall.
They do stock this lake with walleye, with the average catch being around 16 inches. The northern pike here can get to impressive sizes due to management. The average pike here is 27.5 inches. Largemouth bass are abundant here as well. The bluegills are plentiful, but overall small in size.
Fishing Experience on South Center Lake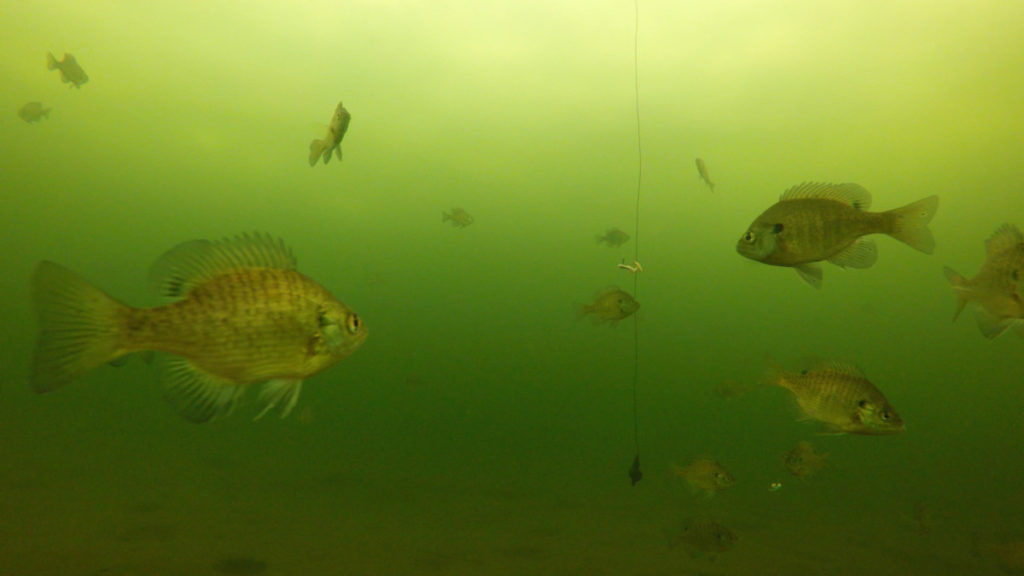 We went ice fishing here on Super Bowl Sunday. The above screenshots pretty much sums up our day at South Center Lake. We caught bluegill after bluegill. The year prior we also fished Super Bowl Sunday, but fished North Center Lake and caught 127 fish in a matter of a couple hours. Our goal was to beat that, and we did… 129 fish!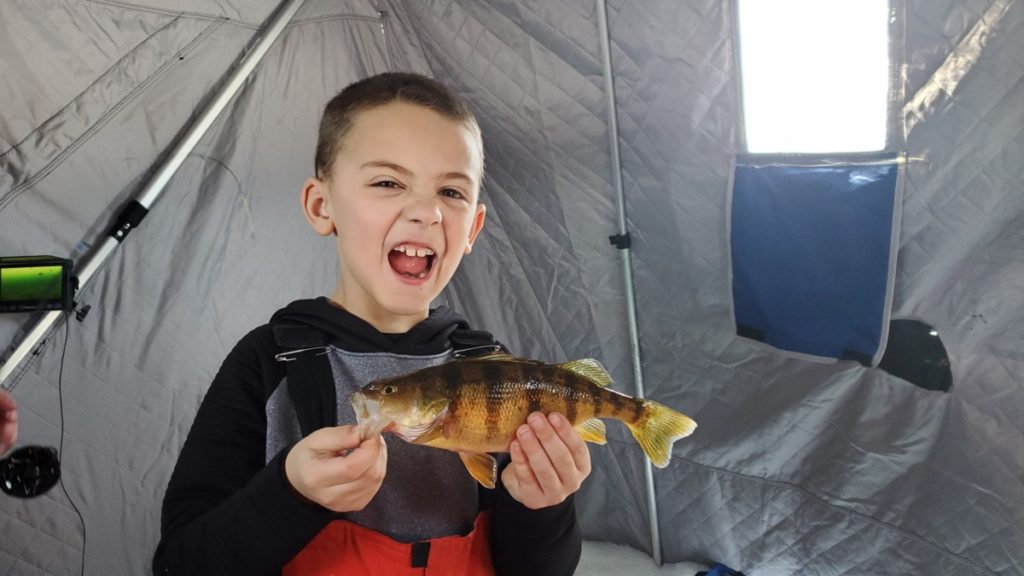 Even though almost every fish was a small to medium sized bluegill, we did manage to pull in a couple perch too. We used small tungsten jigs, but they were in the biting mood and didn't seem to matter what color jig we used.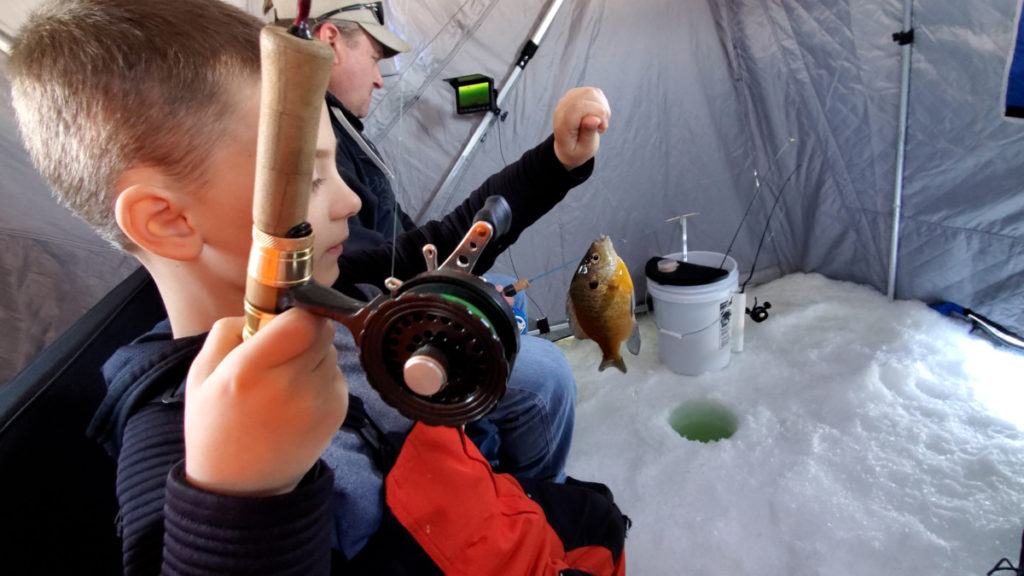 We could have caught many more fish, but we beat our record from last year, so we packed up and went home to watch the Super Bowl.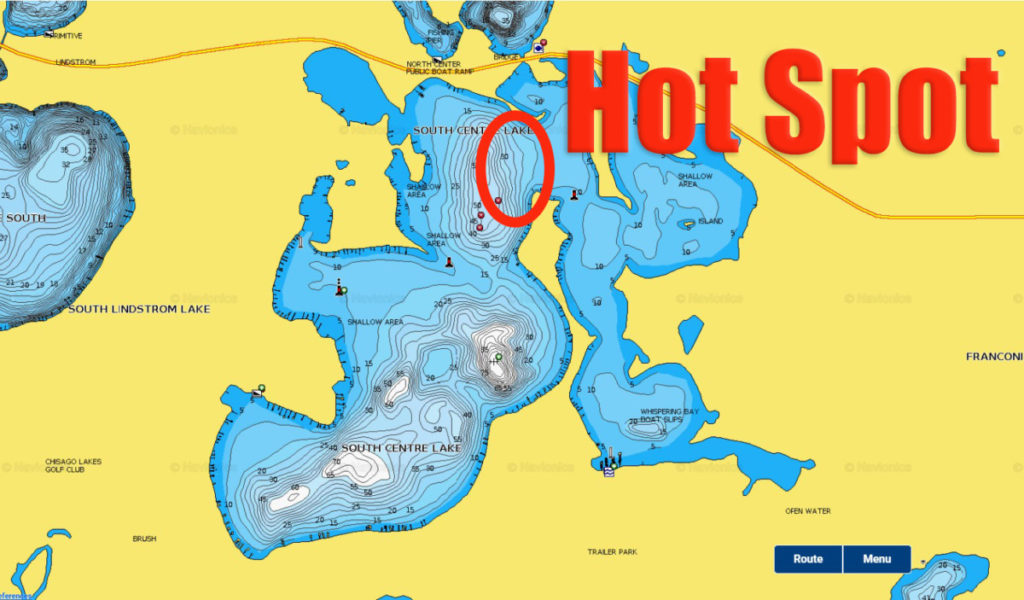 I'm sure there are plenty of awesome spots to fish on this lake, but here is where we found all our fish. In fact, I saw almost nobody on the south end of the lake. All the ice shacks were huddled together in the small area on the north end. I highly suggest using a map book to help finding good fishing spots. I used The Sportsman's Guide for the East metro area.
My Lake Rating
I give this lake a 4 (with 1 being, don't bother coming here, to a 5 meaning, drop everything and come fish this lake). This lake gets points for being close by with easy access, plentiful fish with lots of variety, and lots of great bottom structure to fish. Plus its surrounded by many other good fishing lakes so you can spend a few days in this area and hit several lakes at once. The downsides are like most good lakes, it can be too popular and gets a lot of pressure. It also suffers from a heavy infestation of Curly-leaf Pondweed and gets a heavy algae bloom in late summer, so the water clarity goes down.
Thanks for visiting Go Midwest Fishing Lake Reviews. While you are here, check out some other interesting articles like, The largest Bass Pro Shop in the World. You can also come hang out with us on our YouTube channel here.