North Center Lake Stats
Area: 749 acres
Max Depth: 46 feet
Mean Depth: 7 feet
Littoral Area: 608 acres
Shore Length: 12.12 miles
Water Clarity: 2.3 feet (2010)
Fish Species in North Center Lake
Northern Pike
Walleye
Largemouth Bass
Black Crappie
Yellow Perch
Bluegill
Sunfish (green/hybrid)
Pumpkinseed
Bullhead (black/Brown/Yellow)
Bowfin (Dogfish)
Common Carp
White Sucker
Watch us fish North Center Lake on Super Bowl Sunday
Boat Landings on North Center Lake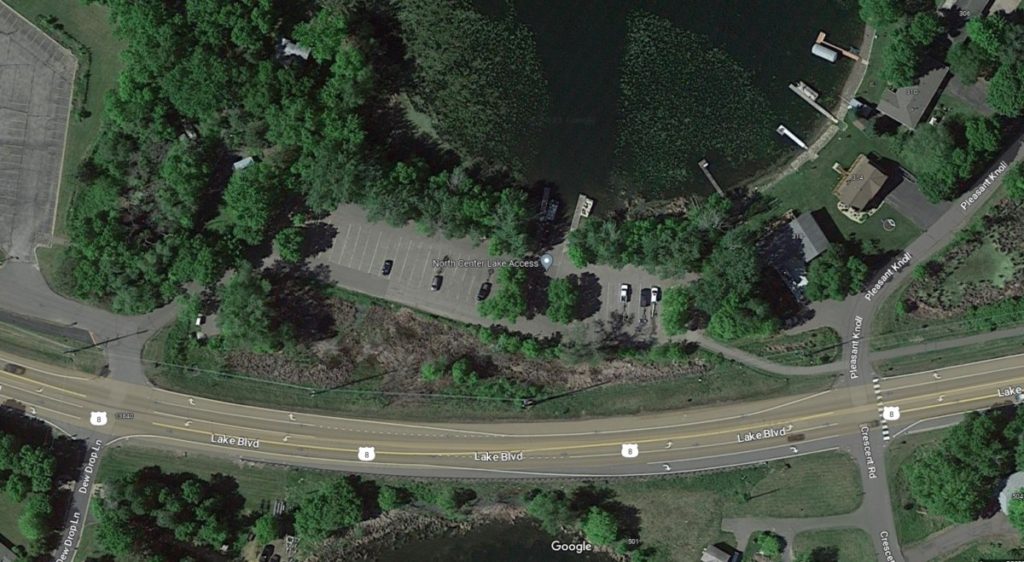 North Center Lake has one public boat landing on the south end. There is a second fee-access landing on the western side at a resort. You can also get here from South Center Lake through a navigable channel.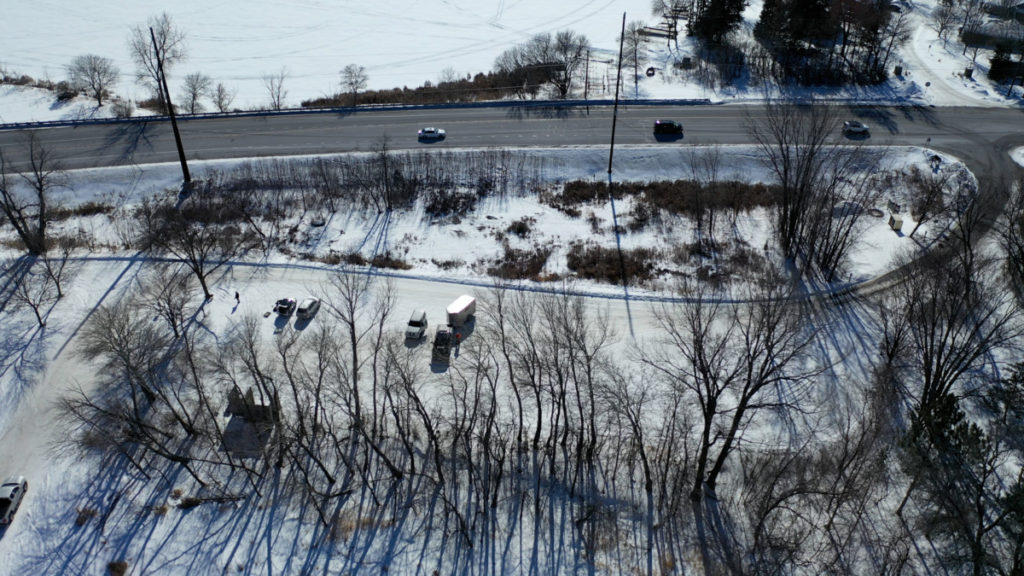 The public landing on the south end is directly off Hwy 8, and has plenty of parking with 28 trailer spaces, and 1 accessible space. It has a nice concrete boat ramp with docks, which was covered with snow when I was here, so I don't have any good pictures of it.
Commentary About North Center Lake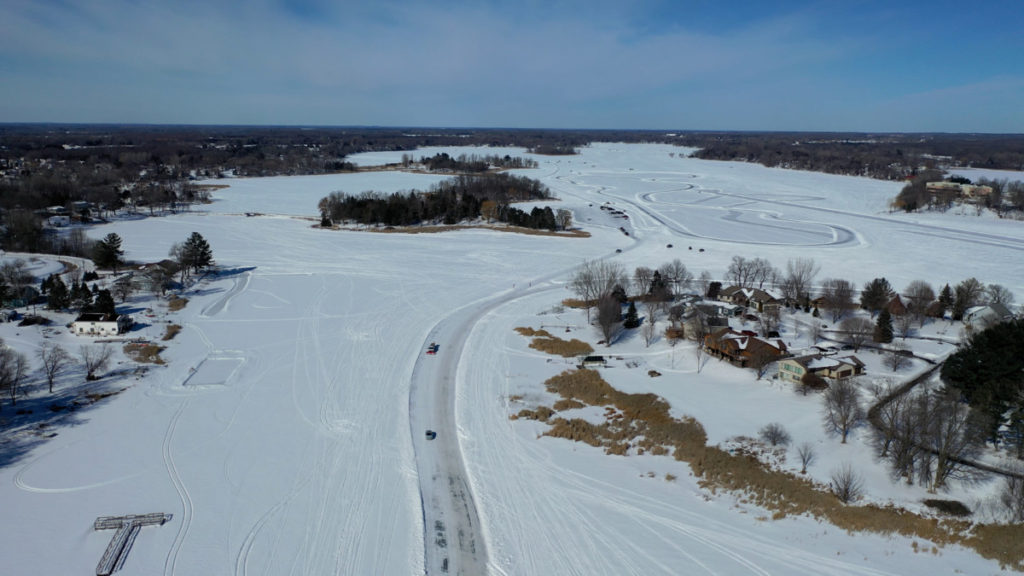 North Center Lake is a large lake at 749 acres. The two deepest spots are located on the far north and south ends, which make good hiding spots for fish after the water warms up. Everything in-between that is fairly shallow.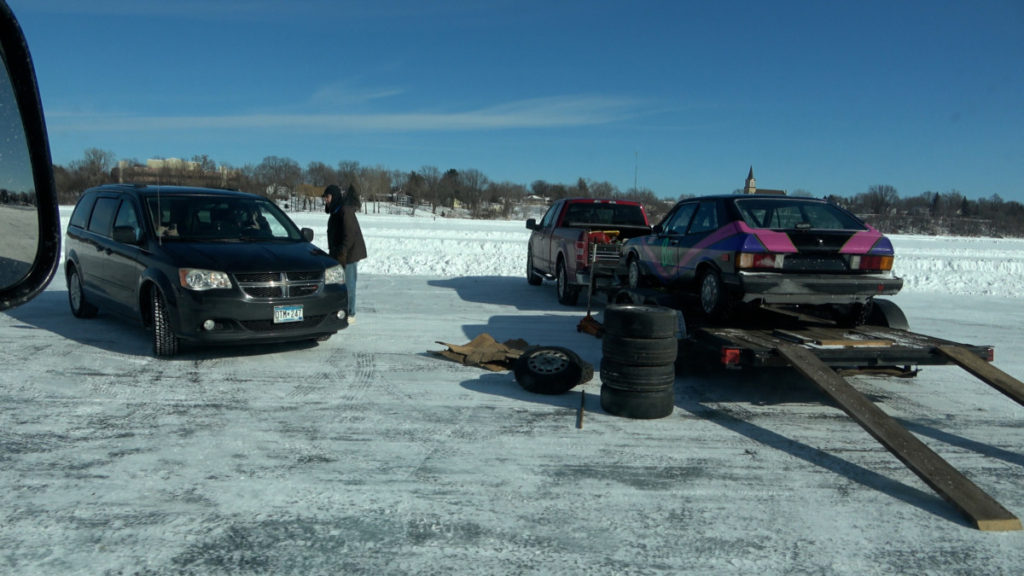 Since North Center is located near Center City, Lindstrom, and Chisago City, it gets a lot of fishing and recreational pressure. The day I was here, there was a fishing tournament and ice racing going on at the same time, which made finding a fishing spot difficult.
North Center is primarily managed for northern pike and walleye. If you like fishing for big northern pike, the average pike sampled here was over 6 pounds! The walleye weren't bad either at 3.1 pounds. Check the regulation book because there is a slot limit in place for northern pike.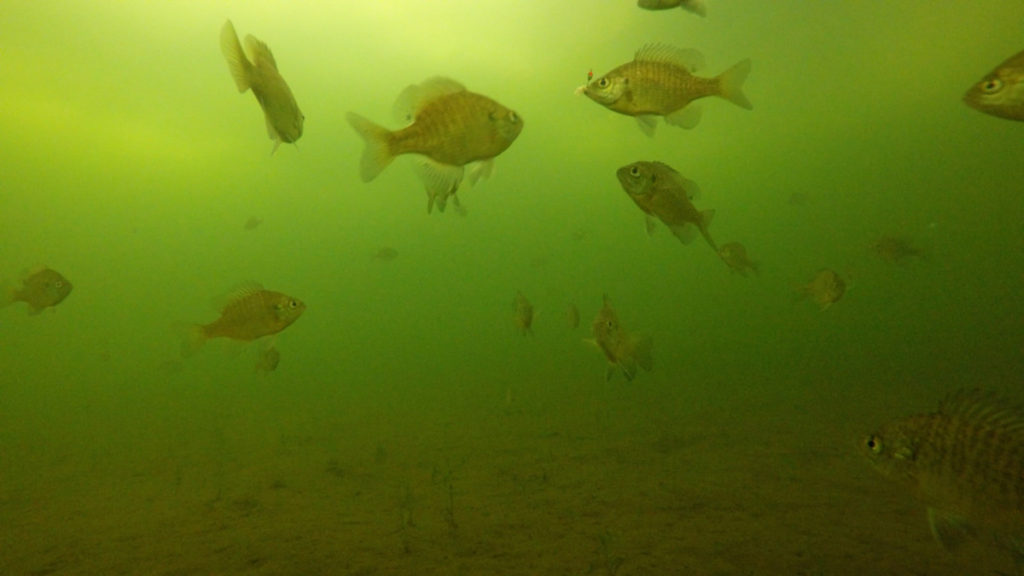 This is also a good panfishing lake. The bluegills here, although very numerous, are mostly on the small side. Same thing with the black crappies. You can find a few largemouth bass too by working the weed edges.
Fishing Experience on North Center Lake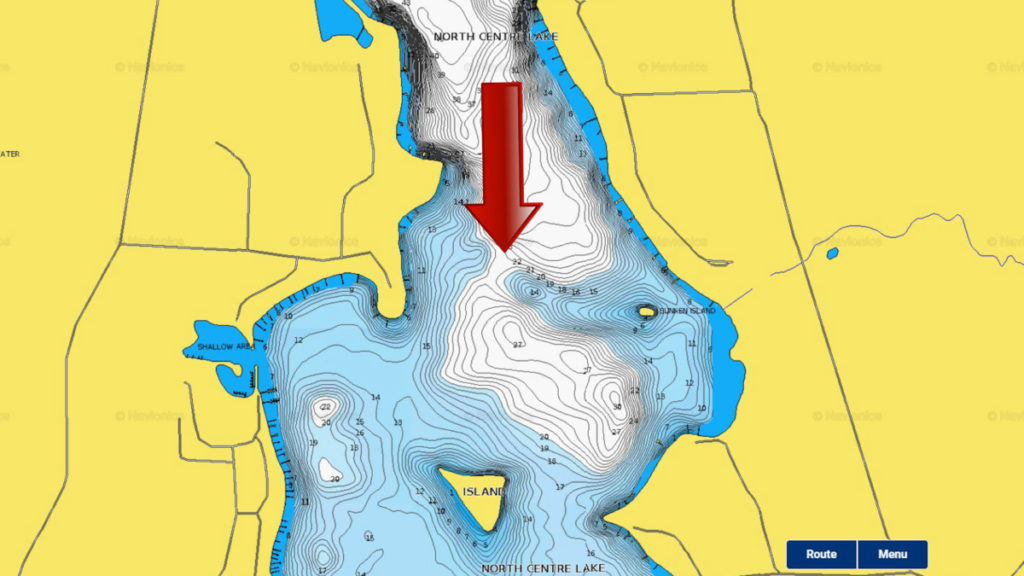 I went fishing here on Super Bowl Sunday. I thought this would be a good day to fish because everyone would be at home getting ready for the game. To my surprise, like I mentioned above, there was an ice fishing tournament and ice racing going on.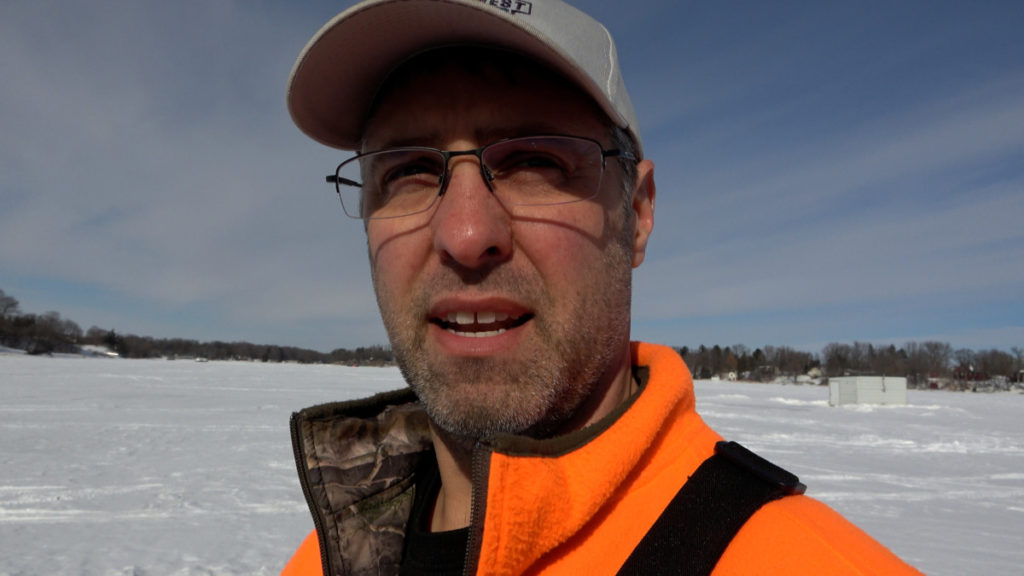 After some searching, I found a spot on the far north end of the lake. I chose a spot with humps on either side and a deeper channel between the two. I find these spots act like a funnel and concentrate the fish.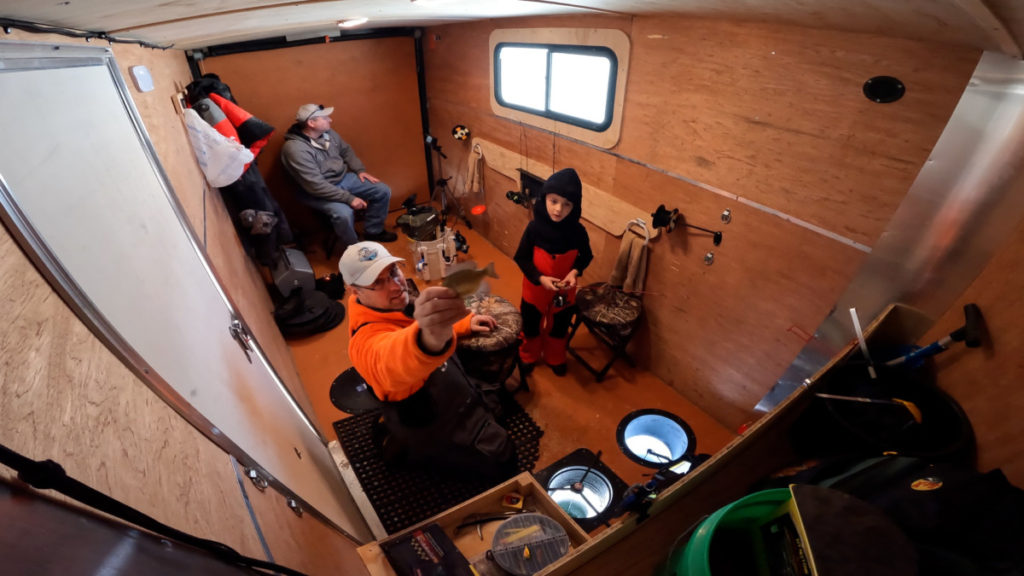 Even though I was the only one fishing this spot, and all the ice shacks were huddled in a group 50 yards from me, it only took a few minutes to pull up the first fish.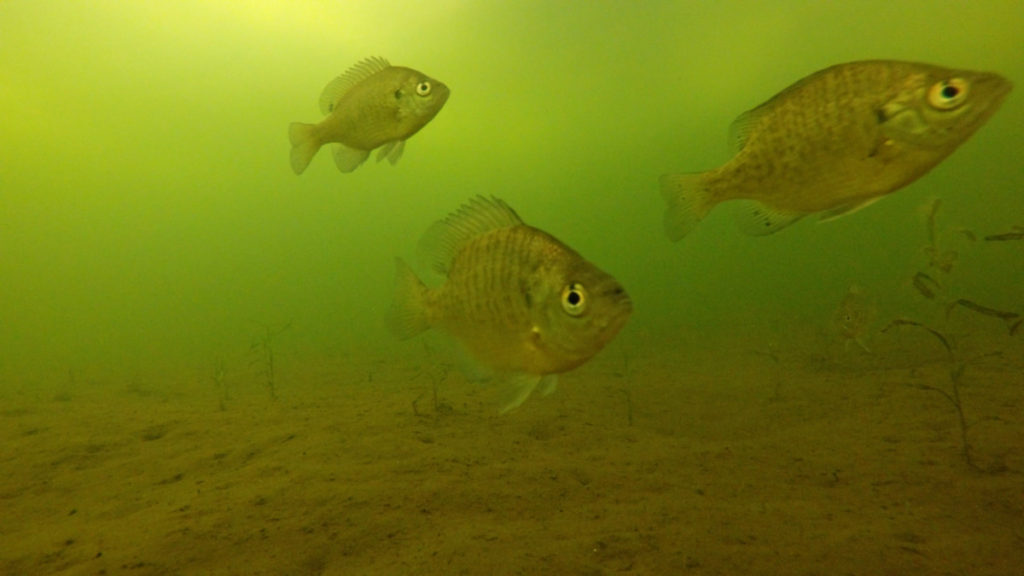 Normally I try to fish as much of the lake as possible to find where the best spots are, but in this case, we stayed here the whole time. The rest of the lake was occupied and we were catching fish one after the other, plus we only had a limited amount of time before the Super Bowl starts.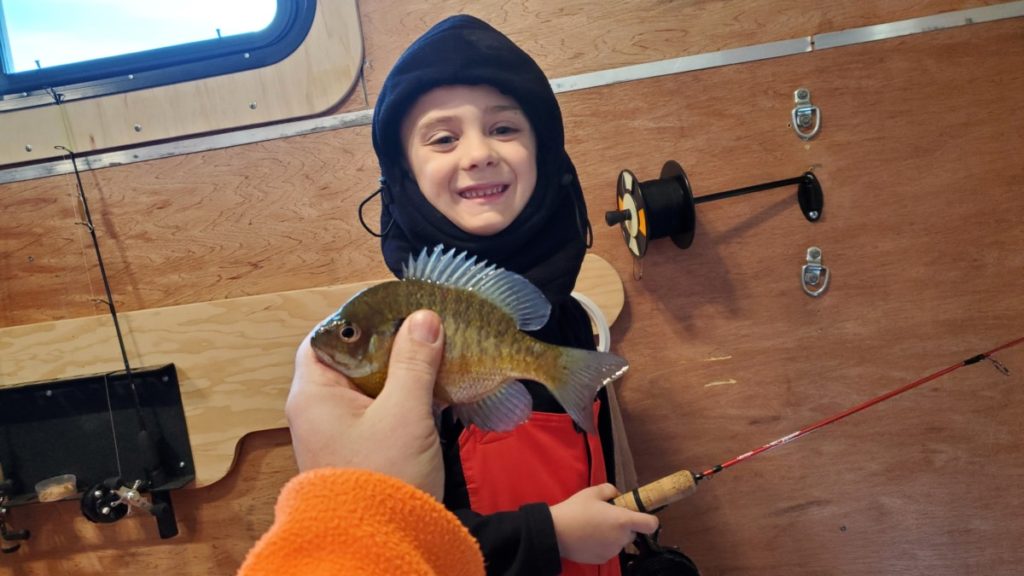 We were catching so many fish, my son Reed wondered if we could catch 100 fish in the 2 hours that we has available to fish. Challenge accepted! Before we went home, we ended up with 127 fish! We had such a good time that we went out again on the following years Super Bowl to South Center Lake, and we did it again! We stayed just long enough to beat our catch on North Center Lake. You will have to check out our review of South Center Lake to see how many we caught.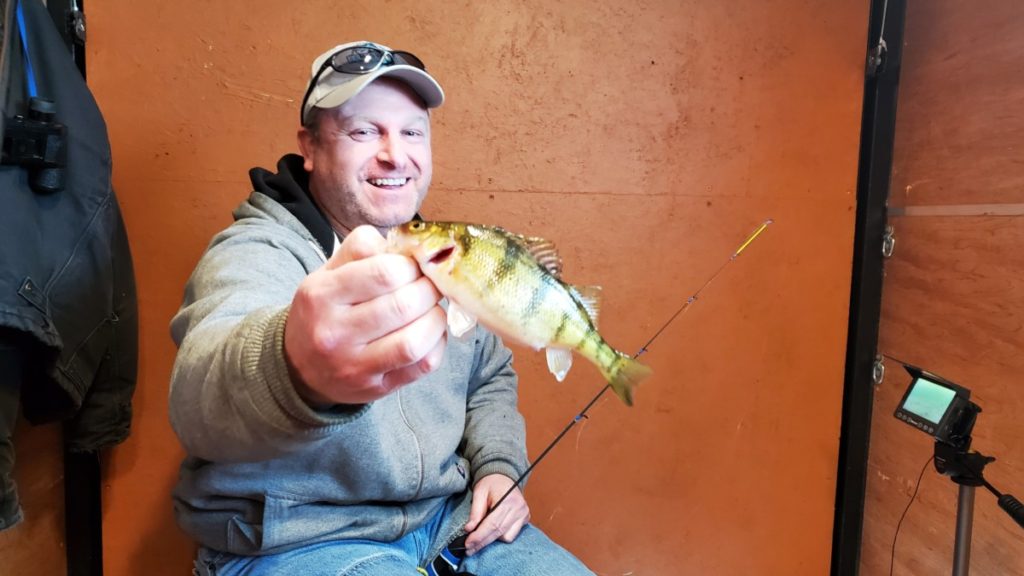 Along with all the bluegills, we had a few perch mixed in as well. On this trip, we only caught panfish. I think this would be a fun lake to try in the summer months as well. I love fishing for big northern pike, and this lake has them, so I might have to try it again when the ice is gone.
My Lake Rating
I give this lake a 4 (with 1 being, don't bother coming here, to a 5 meaning, drop everything and come fish this lake). I gave South Center Lake a 4 as well, and felt I couldn't play favorites here, since they are like brother and sister. I give it points for being an easy place to catch hundreds of fish, while also holding some monster northern pike. Its close to town and easily accessible. The boat landing is nice, but may not be big enough to handle all the traffic it gets, which brings me to its downside. This place is too popular for its own good. Prepare to share this lake with many other people. The water clarity is also low at 2.3 feet.
Thanks for visiting Go Midwest Fishing Lake Reviews. While you are here, check out some other interesting articles like, Making a cargo trailer ice house. You can also come hang out with us on our YouTube channel here.